People embark on our cycling holidays for a wide variety of reasons, and when Mark set out to complete our epic St Malo to Nice journey in France, he had one very particular reason in mind! It's not every day that we get a chance to be a part of something so special, and despite some setbacks, we reckon this will be a trip he'll never forget. Keep reading to find out what happened at the end of Mark's Iconic Journey…
'Recently my girlfriend and I embarked on the cycle trip of a lifetime – the iconic St Malo to Nice (inspired by Hannah and John). All excited about our trip, we landed in Jersey and cycled the whole island as warm up for the long 14 day journey ahead.
The journey from St Malo to Nice did not go as planned for myself as I was unable to cycle due to illness, but I had to get to Nice somehow! I spoke with the guides and let them in on a little secret about why I HAD to get to Nice (no spoilers yet though!). They all agreed 'come along for the journey and we'll get you to Nice on time'.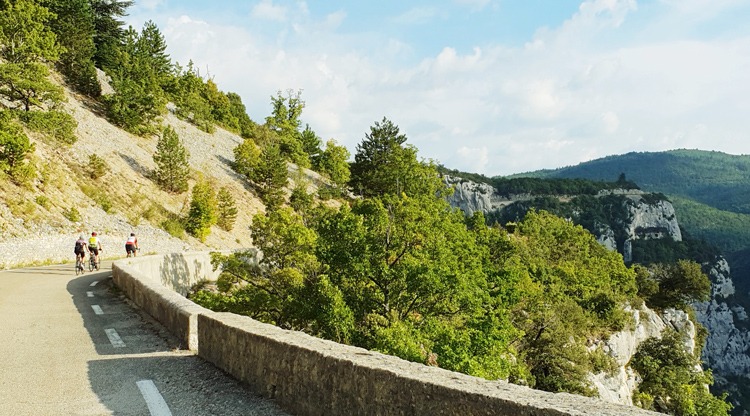 Every day was filled with panoramic views, gastronomic feasts and a chateau of grandeur. I had days when I was upset, but the guides (Tony, Frances and Rab) were always there for cuddles/oodles of happiness and support. I stayed positive as I knew the other cyclists had enough to think about, getting across France, so I helped out when I could with making lunches and making sure everyone was happy by playing music at the rest stops – I believe they all appreciated the High Plains Drifter music at one of the iconic lunch stops – 'The High Chaparral'.
I got to see how much work and love the guides put into looking after the team. I also made some good friends, shared some amazing sights and stories of courage and tenacity mixed in with the odd scream from a member of our group as she descended each gorge.
On the last riding day I tried to cycle but had little balance nor control, so Tony (the guide) was then on a mission to get me to the promenade in Nice before my girlfriend and the rest arrived.'
For those of you who haven't guessed it yet, Mark was racing to get there before his girlfriend because he was gearing up to propose. A member of the group managed to snap this perfect picture of the moment…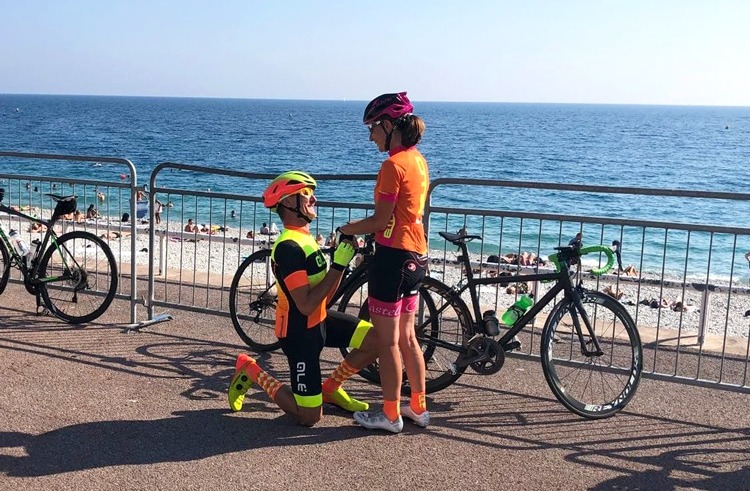 'The rest is history, and an incredible journey.
To all of you who made the journey with me and for me, I could not have continued without your loving care and constant encouragement!
We would like to thank…
– John and Hannah for researching a truly iconic journey, St Malo to Nice.
– The team who got me to Nice: Frances, Tony and Rab! Often you did not see my tears in the early days whilst watching each of you traverse across the central massive. As each day passed and you thundered across the plains and gorges I grow fonder and enamoured by each and every one of you.
– To the rest of the team who got Jill and myself to Nice on time. 'Cheers and I love you all', I know sometimes it must have felt awkward with me not cycling but we did it – you did it! You made me stay and I loved every minute of the journey.
– Thank you all for always asking how I was before I could ask you how you were!
For now a fond farewell but we'll see you all on the road.'
P.S. She said YES!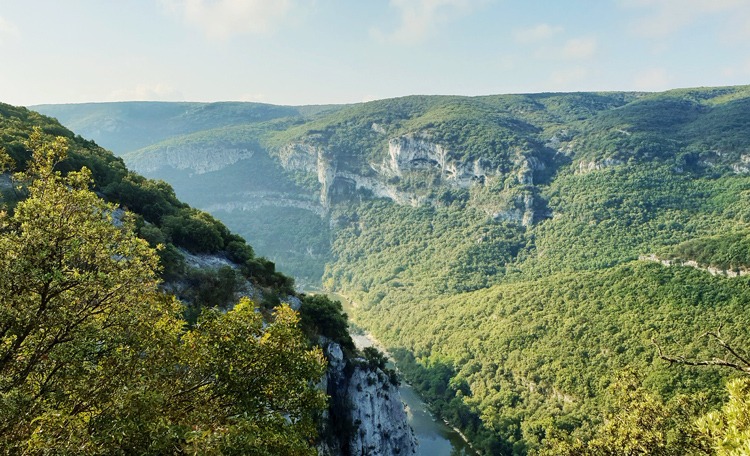 Feeling Inspired? If you've got a special occasion you'd like to celebrate in the saddle, or just fancy going the extra mile to make incredible memories, check out our full range of holidays or give our team a call for a chat.