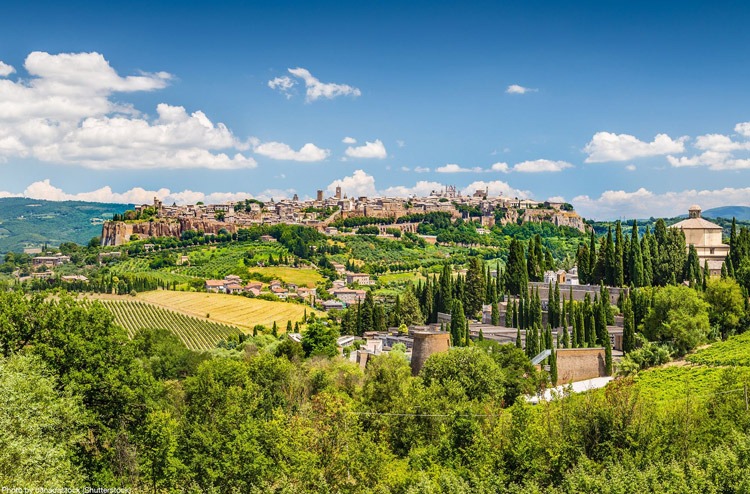 New for 2020 is an exploration and celebration of culture, cuisine and outstanding natural beauty through Italy's heartland. Our guided road cycling holiday, L'Adriatico al Tirreno, is a unique opportunity to experience world-class riding from place to place over 8 days, as we make our way from Riccione by the Adriatic Sea to Porto Santo Stefano at the shores of the Tyrrhenian.
Designed to combine some of Italy's most stunning and interesting routes and locations, every village and town we visit showcases renaissance architecture that has nothing to envy in Rome. Google the Duomo of Orvieto, Palazzo dei Consoli in Gubbio and the Basilica of San Francis in Assisi to see what we're talking about.
While you're there, you might want to check out Urbino, Spello and Montemerano too. Some of the places we'll be calling home for the night on our journey through Emilia Romagna, Marche, Umbria, Lazio and finally, Toscana. And, don't forget a star attraction, as we take in Europe's third smallest republic, San Marino, on day two.
If you love Italy and you love road cycling, you're going to adore our new journey in 2020.
Why cycle Coast to Coast in Italy?
Italy has always held a special place in our hearts with our Skedaddle Italia team designing routes and uncovering gems for more than 20 years now. Hot off the heels of our popular iconic journey of over 1000 miles, taking you tip to toe (go check out our grand traverse holiday for more details on that!) we were keen to introduce a slightly more manageable, but nonetheless rewarding experience on two wheels. Cue our Coast to Coast journey, covering over 300 miles in 8 glorious days. With a medley of fine riding, culture and cuisine it's perfect for road cyclists who feel confident in the saddle, but who might not want to be conquering massive mountain climbs every day. A great new addition to our escapes range!
Our journey starts in style as we land in Bologna, in the heart of Emilia Romagna. Lonely Planet named Emilia Romagna the best place to see in Europe in 2018 and we'll be discovering why.
A quick fact about Bologna: it is (supposedly) home to the oldest university in the world. The city is also adorned in Romanesque and Renaissance architecture, setting the tone for things to come. Of course, the gastronomical adventure is just getting started at this point too – brace yourselves. It. Is. Incredibile. More on that later on…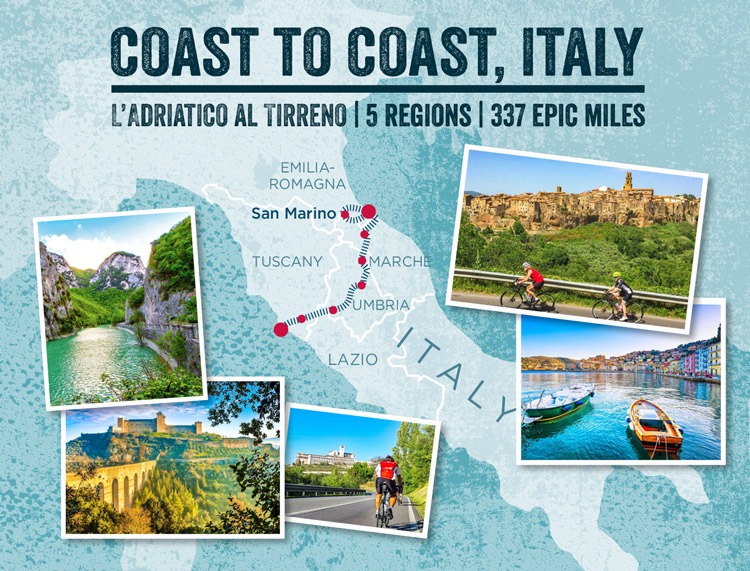 As is customary for any coast to coast, on day two we dip our back wheels into the crystal waters of Adriatic Sea before making our first spins on what will be a 343 mile ride in 7 days' time.
Our warm up begins on Riccione's coastal roads and hills, as they wind us all the way to the Republic of San Marino and back again. Host to the annual Nove Colli Gran Fondo, Riccione has a rich cycling history and atmosphere unlike anywhere else on our route.
It's day three, we're inspired, caffeinated and ready to leave Romagna behind as we roll into the hills of Marche and the passes, valleys and gorges of the Apennine Mountains. We're heading to Urbino, a walled city and world heritage site with remarkable Renaissance heritage.
The next region in our sights… Umbria. Also known as the Green Heart of Italy into which we tackle mountainous terrain that is densely wooded and picture perfect.
The roads and valleys are especially serene in Umbria, ideal for our riverbank picnics and the charming medieval towns dotted throughout the landscape. The one where heading to at the end of day four is the ancient town of Gubbio.
Just so you know, there is a fountain in Gubbio that is hidden in the back streets, called the Fountain of the Mad. If you dance around it three times and a local resident sprays you with fountain's water, you are entitled to the 'Mad Licence' or Patente da Motto. 
Some people might think you're mad for cycling across the country, so this is your chance to confirm their suspicions. You can buy a licence in a local shop or apply for the real thing through the local association.
Our residency in Umbria lasts for three full days and is a chance for some well-earned relaxation, indulgence and sight-seeing. Out shortest ride of the trip on day five, takes us deeper into what many consider to be the spiritual centre of Italy. 
Nothing in Italy can quite lift and enchant the spirit like its food. While in Umbria, our guides will make sure you're heading to the best osterias that serve bruschettas with a variety of toppings.
There are truffle sauces, sun ripe tomatoes with lots of garlic and a very simple olive oil and rosemary. Whatever they're serving that day is normally washed down with some fantastic local red wine. The good news is, we know quite a few of these places throughout our journey. Great people, friendly atmospheres and amazing places to sample the many joys of Italian food.
From Gubbio to Spello, we mark the halfway point in our journey with a visit to UNESCO World Heritage site, Assisi. We'll stop to admire the majestic Convento di San Francesco with lots of time to explore. Once back in the saddles, we can gently descend into the perfectly preserved medieval village of Spello.
By day six you're restored and raring to go on the longest stage of our journey. We hope. You will be!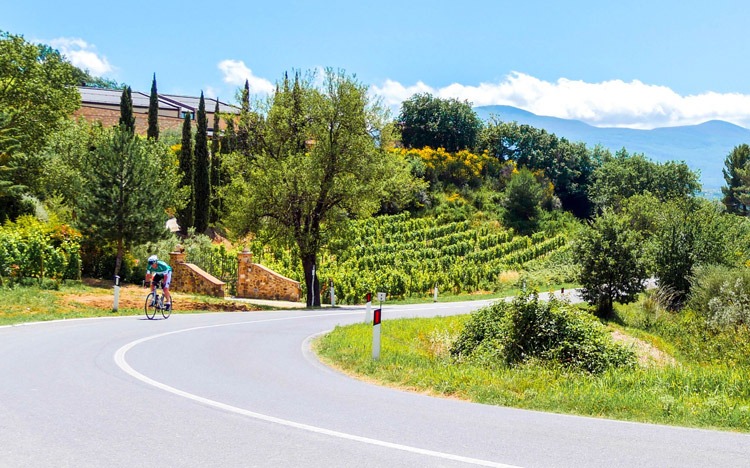 Continuing through Umbria's green valleys where the roads rise and fall repeatedly to make for an interesting ride, by the afternoon we'll be at the banks of the Tever river, closing in on beautiful Orvieto. In the evening, we'll head out into the ancient Etruscan city to a special trattoria that's hidden away for some mmm-inducing treats.
With only two days to go, we say goodbye to the green wooded mountains and hello to rolling hills, deep volcanic canyons, and wait for it, natural hot springs of Toscana.
Through pristine countryside we reach the shores of Lago di Bolsena, an almost perfectly circular shape that reveals its volcanic origin. Riding for 10km along its shoreline we ascend to one of the most dramatic locations on our journey, Pitigliano.  
Dating back to the 11th century, the town is practically carved out of the rocks, perched on a conspicuous limestone spur and striking an impressive pose against a beautiful volcanic backdrop. 
After lunch in its Jewish quarter, known as Little Jerusalem, we ride a final 30km between a landscape of craggy volcanic rock formations, deep valleys and thermal springs until we reach Montemerano, a town in the heart of Maremma renowned for the high quality of its local wine.
For the beginning of the end, we recommend you have a pre-breakfast sunrise dip in the local hot springs falls of Satrurnina. They're free and are an idyllic way to get yourself ready for the final day.
Our first break after 25km comes at Scansano with all of its wonderful views over Tuscany. From there, we drop down and into those famous vineyards and olive groves that line the way for 30km to the coast and a narrow causeway that eventually delivers us to Porto Santo Stefano.
The bustling little harbour marks our arrival at the Tyrrhenian Sea and the completion of our unforgettable journey across one of the world's most beautiful countries. Front wheels dipped,  tonight we celebrate in style in a local trattoria and raise a glass as we reminisce about our achievements and adventures. Perfetto.
The ultimate region to region taste experience
Emilia Romagna is the home of Parma Ham, Mortadella, Parmigiano Reggiano and Balsamic Vinegar. While here, you must try La Piadina Romagnola. This thin flat bread is traditionally cooked on a hotplate and filled with a variety of ingredients, the most traditional being the Squarquerone — soft cheese with Parma Ham and rocket. If you're still hungry after that, try the Tortellini or Cappelletti, pasta cooked in broth and filled with meat, ham, ricotta or spinach
Marche is a region defined by 'poor' food, that is, simple ingredients and super tasty. Two dishes you have to try while here are the Lasagna Marcheggiana in its rich meaty sauce, along with local Casciotta cheese. The second is Passatelli di Urbino, a kind of rustic pasta, of which the Urbino variety is made with added spinach, mince meat and eggs. 
In Abruzzo, truffles and beans feature frequently in cooking. Depending on the season, a simple Tagliatelle al Tartufo is a must, although you might want to start with some traditional rich soups, such as Spello's Cicerchiaa that's served with olive oil dripped bruschette. While in Orvieto, look out for a local speciality, the sweet or savory liver sausages called Mezzafegati.
During our brief time in Lazio, near Lake Bolsena, try the local lake-inspired specialities such as the fish soup called Sbroscia, the whitefish prepared alla Mugnaia and alla Bolsenese, and if you're feeling brave, eels in Vernaccia and grilled smelts. The eels are the true speciality here, being referenced in the Divine Comedy when Dante reminisces about eating them "alla vernaccia."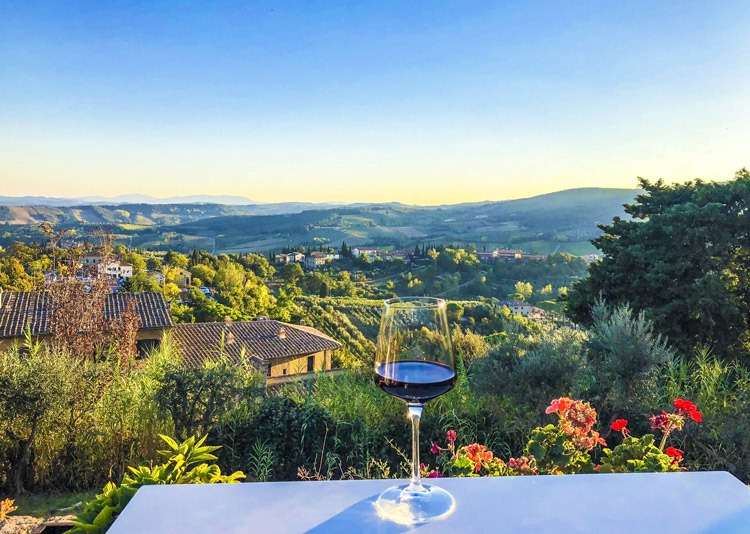 In Toscana Maremma, order the boar and acquacotta, a vegetable soup with tomato and egg. There's also papparedelle alla lepre or tortelli vegetables and ricotta with gravy, ravioli stuffed with chard and ricotta ecc. Tuscany is a land of hunters so wild boar, hare and pheasant feature heavily in dishes. Fortunately for us, it's also a land outstanding wine so try the Morellino di Scansano and Monteregio-Massa Marittima and Montecucco.
Feeling inspired? Find out more about our epic coast to coast journey from the Adriatic coast to the Tyrrhenian sea here.