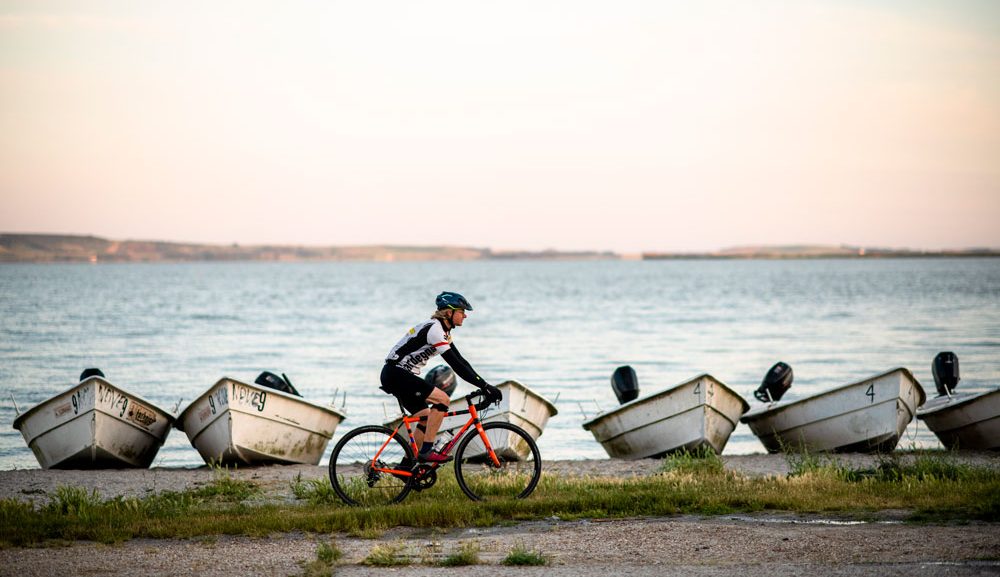 The beautiful Mediterranean island of Sardinia is home to Skedaddle Italia and we've been uncovering the very best cycling here for 20 plus years. Although it's part of our exciting new Gravel Riding range, 'Cape to Cape' in Sardinia is the result of many years of experience exploring the island's off-road routes. We caught up with local guide, Lieven, to learn more about the story behind this carefully crafted adventure on gravel.
Originally hailing from Belgium, Lieven has been living in Sardinia since 2012 and began guiding for Skedaddle in 2013. His enthusiasm for exploration, bike packing and gravel riding is contagious, and he brings a lot of fun and knowledge about the best trails. He's also an archaeologist turned gravel guide and is always eager to share his insights into Sardinian history!
---
What led to the creation of the Cape to Cape and how did you come up with the route?
"I've been riding my bike on Sardinia for the last 10 years, exploring the gravel roads long before gravel riding became trendy! When Skedaddle Italia asked me to create a gravel riding trip, it was more a question of linking the best stretches that I was already familiar with. I am on my home roads here and looking forward to showing clients all the best nooks and crannies!"
"Gravel riding gives you the opportunity to visit new and exciting places, away from the roads and on different trails than you would explore on a mountain bike. We cover a lot more ground and there's so much to see on this trip that you may not experience otherwise. Few tourists head into the rural heart of Sardinia and there's a real sense of riding off the beaten track. Tuscany's Strade Bianche, Veneto's trails and Emilia Romagna's gravel roads have become synonymous with gravel riding, but in my opinion, nothing beats Sardinia when seeking out an adventure on two wheels."
---
What do you love most about this route?
"It's hard to choose! The first and last days are special because you are standing on Capo Sperone looking out over what's to come, and then at the end, you find yourself gazing over what you have cycled from Capo Mannu. The route travels through some spectacular scenery in lesser-known parts of Sardinia. It changes with each day as we cycle along the coast and then explore the inland hills and valleys."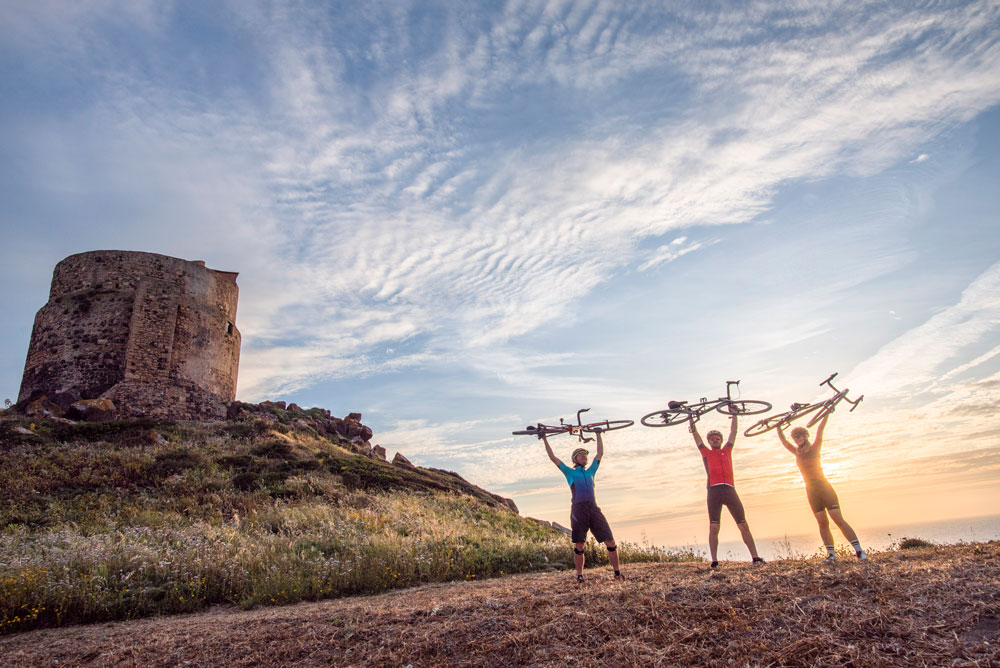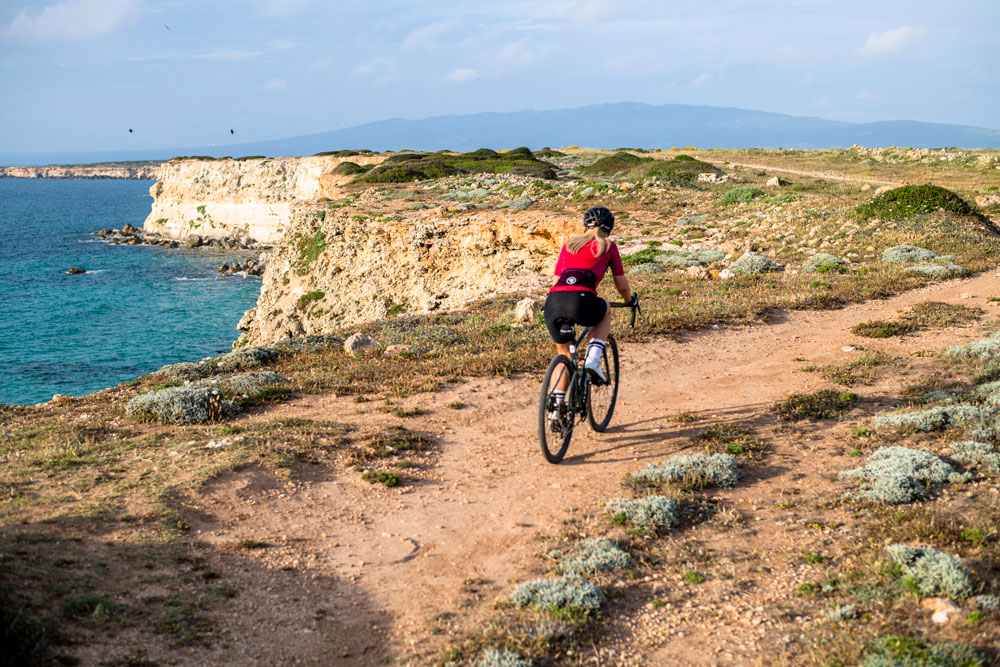 "As well as endless beautiful views, there's lots of exciting wildlife to spot along the way. Riding through the Sant'Antioco Salt Flats between the sea and the marshes you might catch a glimpse of flamingos, cranes, ospreys and spoonbills. Up on the basalt plateau of the Giara di Gesturi there are wild horses roaming in the cork oak forest."
"Sardinia has a rich history that dates back to pre-historic times and this special cycling route traces some of the island's most important heritage sites. We see the rock-cut neolithic burial grounds of Pranu Efis and visit Sardinia's only UNESCO World Heritage Site, the bronze age towers of Su Nuraxi at Barumini. Riding through the little town of Fordongianus, we stop to feel the warm spring water at the remains of the Roman baths before pedalling up to our hotel for the night, where we also take a soothing dip in the same thermal waters that the Romans bathed in!"
"Then of course there's the riding! The first day of cycling follows the spectacular Sulcis Coast on sandy beach trails. Things start to feel adventurous as we pick up dirt and gravel trails and ride inland towards the mountains, far away from the roads and tourists. One of the holiday highlights is climbing the gravel roads of Monte Grighine, the highest point of the route at 675m above sea level. Our reward is a spectacular view out to the coast followed by a fast and fun descent into the valley below in the warm light of the setting sun. There's an immense feeling of satisfaction as we enjoy speeding along the flat gravel roads of the Sinis Peninsula to reach the coast again after having explored the hilly rural heart of the island. The whole route has such a great mix of terrain, from compact dirt and gravel roads to sandy beach trails and some occasional rocky singletrack to test your skills."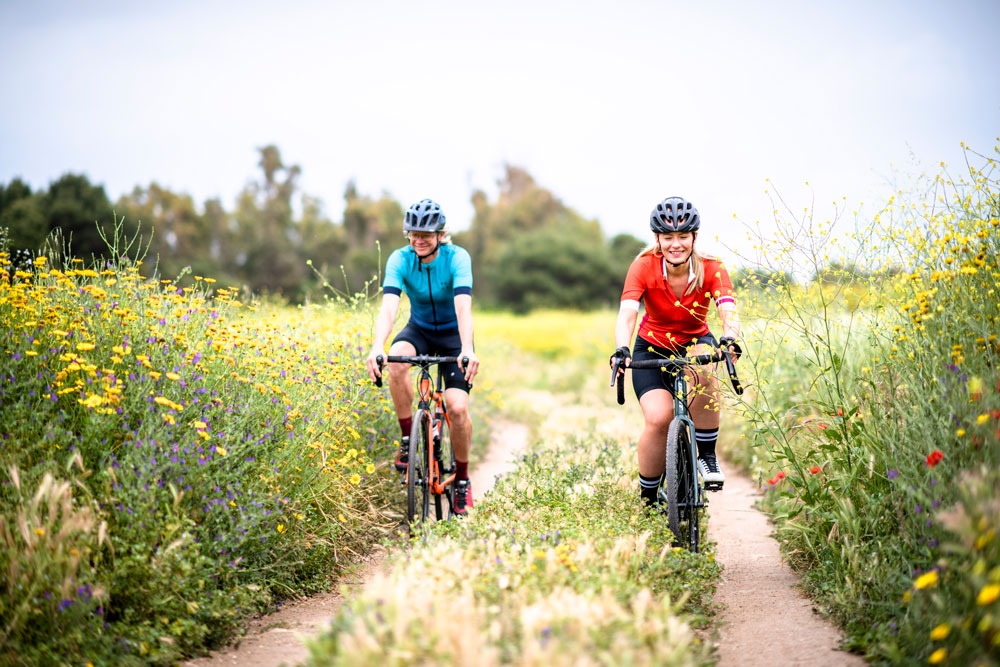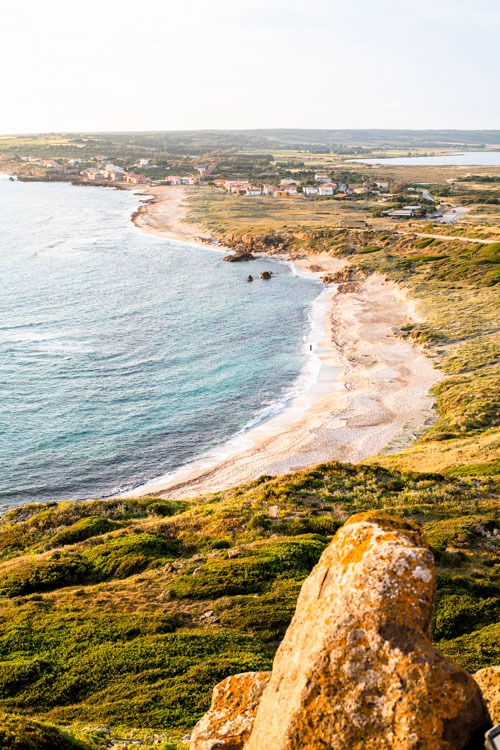 ---
Are there any other special points of interest or places to visit along the way?
"If you want to learn more about the history of Sardinia, the Archaeological Museum and Tophet in Sant'Antioco is one of the island's most important museums with exhibits from the Phoenician and Punic civilisations, as well as artefacts from the Neolithic Age! The Cabras Archaeological Museum traces the history of the Sinis peninsula, where our ride finishes, and contains the impressive 'Giants of Monte Prama' statues. It's not far from an ancient Phoenician City called Tharros, where you can still admire the tophet."
"If you're interested in arts and culture then I highly recommend pausing to take a look around my home village in San Sperate. Often referred to as the 'open air village museum', promoted by local artist Pinuccio Sciola from the end of the 60's, the village has around 400 murals. Another great spot on our route is the rural church complex of San Salvatore di Sinis, where several Spaghetti Westerns were shot."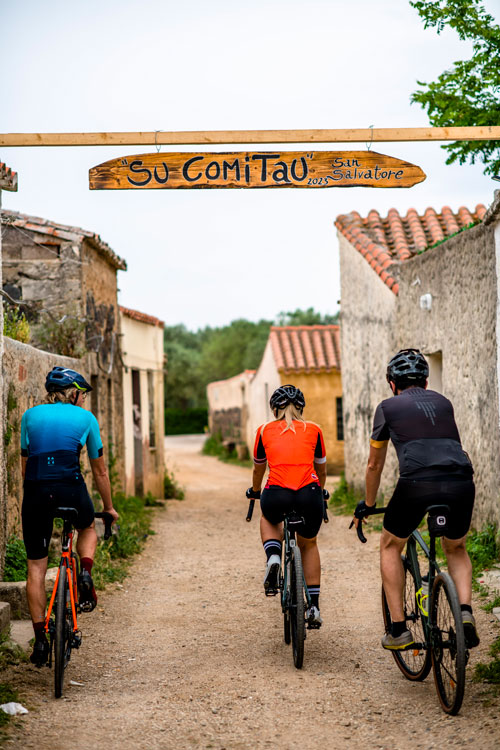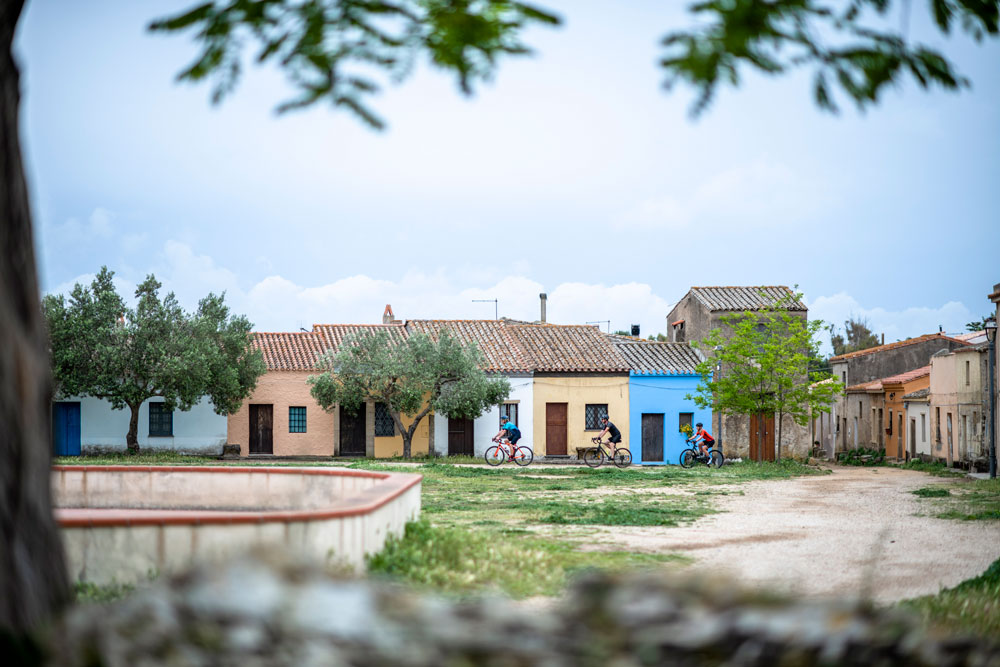 ---
Have you any tips and words of wisdom before visiting?
"Before coming to the island, learn a few words in the Sardinian language – Sardo, which is closely linked to Latin and more similar to Spanish than Italian. Whilst Italian is widely spoken, locals will be delighted if you address them in their language, even if it is as little as saying good morning bona di, thank you gratzias and goodbye arrividerci."
"The Fordongianus Thermal Hotel will not let you in the pool without a swimming cap and flip flops! So put them in your suitcase or miss out."
---
A journey through Sardinian cuisine
Sardinia has a unique Mediterranean cuisine that has changed little over hundreds of years. Each region has its own distinctive flavours and traditional recipes, which we'll enjoy as we ride from cape to cape. Starting from the Island of Sant' Antioco – you can taste Sardinian cous cous dishes which are of north African influence. Not to be confused with fregola which is a common type of Sardinian pasta that is reminiscent of cous cous. Heading inland, you will enjoy the maloreddus alla campidanese "Sardinian gnocchi". Another must-try pasta dish is culurgiones, which is pasta stuffed with fillings that vary from village to village.
Inland you can try the su porceddu, roast suckling pig, a real countryside tradition. Cooked on a spit for up to five hours, this delicious and crispy meat is often served at special occasions. While on the coast of Oristano, you may indulge in a variety of fish dishes, including Spaghetti with mullet roe and clams. A popular food across Sardinia is the pane carasau, which is a very thin and crispy bread based on an ancient recipe and generally eaten with meats and cheese on an antipasto spread.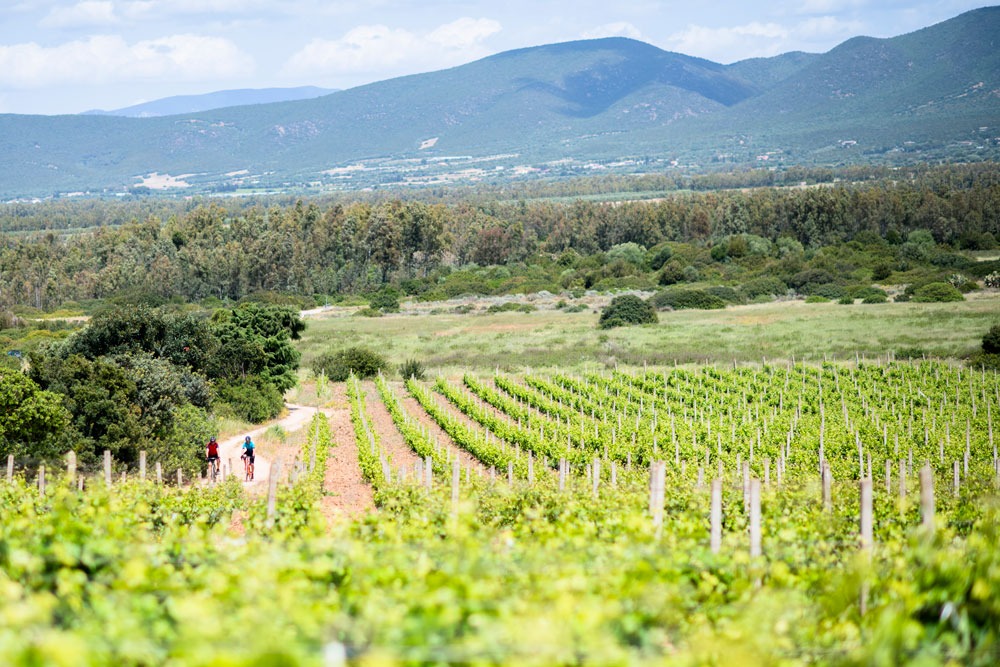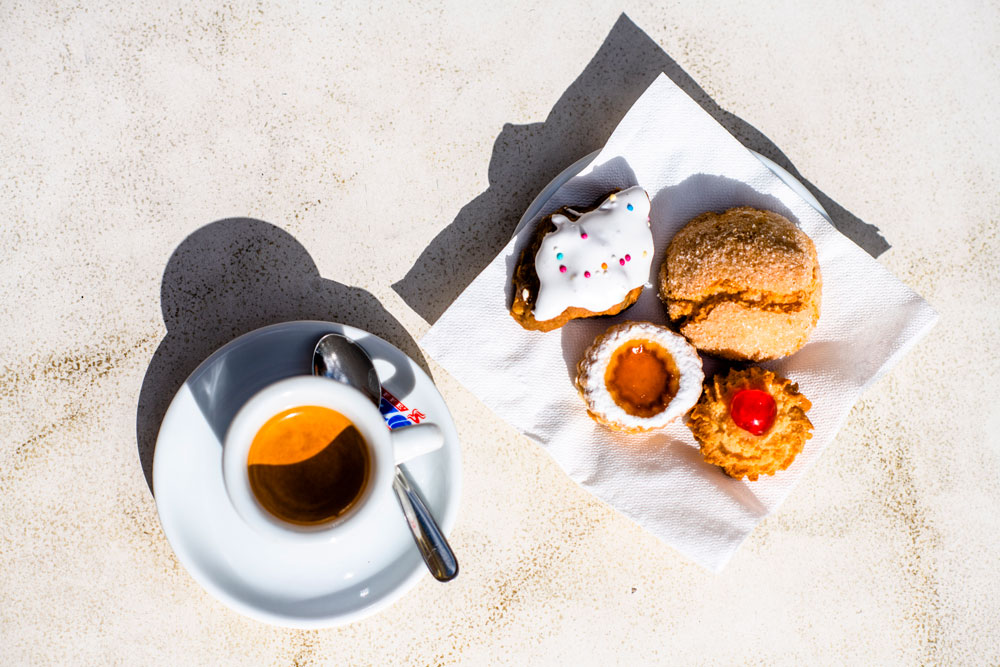 Sardinia produces some amazing wine, and the island is home to a variety of native grapes. The beauty of gravel riding is that it takes you off-road and we'll be riding past gorgeous vineyards along the way. Starting in the south of Sardinia we'll enjoy carignano, a red or rosé that is grown in the province of Sulcis. As we head inland, the Marmilla region is home to nuragus white and monica red. Our final days of riding take us out to the coast and the Sinis region, where the vineyards produce a wonderful dry vernaccia white that goes well with fish.
Sas seadas are the most famous Sardinian deserts. These are fried ravioli filled with a soured fresh cheese, hinted with lemon, and served with honey. They're a real delicacy and delicious enjoyed alongside mirto liqueur made from myrtle berries.
---
Feeling inspired?
If you're feeling inspired to join one of our adventures on two wheels, you can find out more about the Sardinia Cape to Cape, make a booking or register your interest online. You might also like to explore our full gravel riding range or check out some of our other superb cycling holidays in Sardinia!