Looking to get into road cycling but don't know where to start?  Don't worry, we've got it covered! Our range of intro weekends in the UK have been specifically designed with beginners in mind and are an excellent way to gain road cycling experience! Need a little bit of inspiration? The Sunday Times Travel section featured a fantastic article written by Martin Hemming, who went on a road cycling trip for beginners in the Cotswolds alongside Skedaddle guide Chris Yeo…..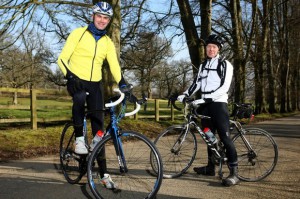 Cycling is now officially cool. So what if you want to take it up, but are only just past the stabilisers phase? Marting Hemming tests a road-biking holiday for beginners.
Remember when cyclists were to be pitied and mocked, like ramblers, or estate agents, or Sally Bercow? We'd sneer at them in the passenger side mirror as they trundled through puddle water in their funny shorts, as if they were too good for the combustion engine. Then came Sir Chris and his thighs, and Sir Bradley with his facial hair, and Laura Trott and Jason Kenny with their canoodling in the Olympic stands. Even the sight of Boris Johnson on one of his £2-a-go Barclays bikes has failed to cool the fervour. The confessions of the yellow-jerseyed cheat Lance Armstrong only served to reveal how very seriously everyone's taking the whole cycling thing these days.
Resistance had become futile. I wanted in. I wanted to go on a bike ride. Thing is, I've never really known how. Not properly. Not on a road, on an actual racing bike, with skinny wheels, drop handlebars and gears that you're meant to know when to change, and in which direction. And that's now become a bit embarrassing for an adult male, on a par with never having put up a shelf, kissed a girl or voted.
I did score 94% in a cycling proficiency test once, but I was 11, and we never left the playground. My biking experiences since have involved near misses, fear for my life and, in one episode in Lanzarote, a permanent scar on my knee.
A Newcastle-based cycling holiday company called Saddle Skedaddle seemed to have a solution. Among its trips are introductory road-cycling weekends, which take place in the British countryside. You'll need to be past the stabilisers phase, but no other experience is necessary. You don't even need your own bike. The idea is to ride in a group, with a guide, for two consecutive days, staying in a pub or B&B and stopping for picnic lunches. Nothing too taxing, in theory, save the odd 'cheeky climb' (their words). It sounded all right, so I joined one of its guides, a 66-year-old former pilot called Chris Yeo, for a one-day taster ride in the Cotswolds, starting in the market town of Moreton-in-Marsh.
First, the kit. Chris, predicting my ill-equippedness, had brought spares. Thermal layers, waterproof socks, waterproof gloves, windproof jacket, glasses, woolly hat, helmet and a slimy pair of dungarees with hefty padding in the private-parts area. With it all on, I looked dangerously like I knew what I was doing. I felt invincible, and hot.
Then Chris wheeled out my bike for the day, a gleaming construction of metal and rubber. In case this sort of thing gives you nice feelings in your Lycra shorts, here's the spec: Giant TCR, aluminium frame, Shimano 105 gear shifters, double chainrings, 10-speed cassette, Giant P-R2 wheels and Michelin Dynamic 700 x 23mm tyres. All I knew was this £1,200 worth of bicycle, it was so light I could lift it with a finger, and it looked flipping cool. Chris had also kindly fitted it with flat pedals, as opposed to clippy-in ones. What I lost on the uphills – cleats mean you pull up on the pedals as well as push down – I gained in the ability to come to a stop at road junctions without falling over sideways.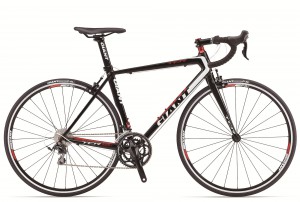 My seat adjusted – Chris would gradually raise it throughout the day, as I got more confident – we were off along Moreton's Georgian high street, then almost immediately onto a hedge-lined country lane, Chris in front, me following in a straightish line. Early impressions were positive: the bike was easy to steer and effortless to pedal on the flat. The saddle wasn't too invasive. Plus, the sun was out and the traffic wasn't.
Chris employed his own Highway Code hand signals to warn me of imminent potholes, then moved behind me to shout out gear changes. A gentle sideways tap on the brake sent the chain jumping to the next cog. You can even pedal and change gears at the same time these days (who knew?).
We experimented with different hand positions on the handlebars – I stuck with on top, as near to the brakes as possible. We were on an anticlockwise route, good for beginners because it minimises the number of right turns across traffic, and soon we we rolling to a tea stop in Chipping Campden.
The best thing about Saddle Skedaddle weekends is that they come with a Penny. Penny is Chris's wife, and she was driving the support van, which wasn't full of bags of replacement blood or syringes loaded with performance-boosting EPO, but inner tubes and Jaffa Cakes. Like a cross between Sir Dave Brailsford and Mrs Doyle off Father Ted, she was straight on the scene when Chris picked up a noisy puncture in Taddington, and foisted flapjacks and huge beakers of coffee upon us at our frequent rest stops. She shops at Waitrose, which meant our picnic spread, eaten in sunshine, on a rug, outside Temple Guiting village hall, featured hoisin duck wraps and gourmet scotch eggs. (We'd have gone to the pub if the weather had been ropey.) Penny's no stranger to two wheels: turns out I was borrowing her Gore jacket, and last year she and Chris spent seven weeks cycling from Los Angeles to Boston.
If I've one criticism of Saddle Skedaddle, it's that description of hills as 'cheeky'. They hurt. A lot. After our first climb, from Chipping Campden to Willersey – a relative tiddler, I'm sure – I thought I was going to puke, which I really didn't want to infront of Penny. My quads buzzed as I wobbled upwards. That £1,200 bike helped a lot, letting me ride at an impossibly low speed, but it's an upsetting moment when you tap the lever and find the gears have nothing more to give you.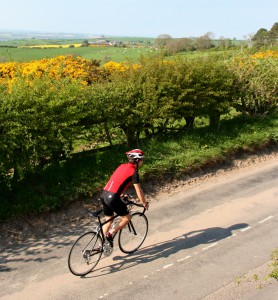 Still, the next hill did seem slightly easier, and even the near-vertical (I'm sure it was) post-lunch ride up to Wyck Beacon was a challenge, rather than purgatory. Maybe I was getting better at this cycling lark? The reward at the summit was more coffee and some downhill, where Chris would zip away into the distance and wait for me, dabbing cautiously on the brakes, to catch up. Just as these bikes are designed to go uphill slowly, they go doenhill very, very fast. Too fast, if you ask me.
As we looped back into Moreton, we'd covered 40 miles and it was only the afternoon. I was tired, yes, and ruddy-cheeked from the wind, but my lungs felt huge. It had been a gorgeous British day out in the country, between fields and through dry-stone villages. Nobody had died, and it was infinitely more fun than staring at yourself in the mirror in a Spin class in the gym. I peeled out of my Lycra and joined Chris and Penny for a pint.