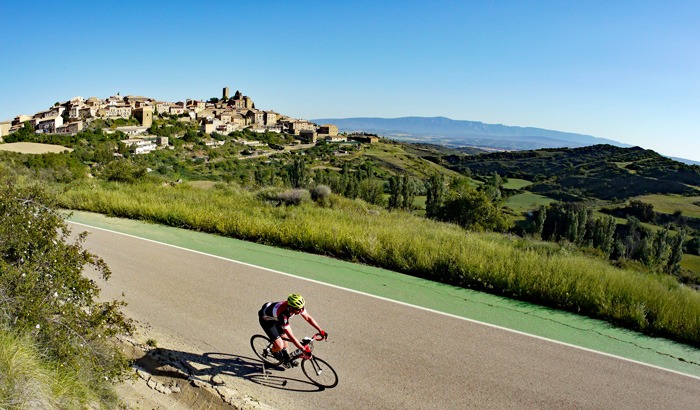 Our road cycling holiday Bilbao to Barcelona explores the fascinating contrasts of Northern Spain and boasts an incredible sense of achievement – perfect for those seeking a rewarding place-to-place journey! The shortest Iconic Journey in our range packs in everything you love about our long-distance coast-to-coast tours in just 10 days of pure road cycling bliss and cultural richness to boot. Eager to find out more about this popular route from the crashing Atlantic to the calm waters of the Mediterranean, we asked our Spanish head honcho Dan Hirst about how this tour came about and what makes it such a remarkable journey.
Find everything you need to know about our Bilbao to Barcelona tour here!
---
A tale of two cities, and the journey in between…
Born from an idea that came to us in 2012 when we assisted a group with a bespoke request to cycle from Biarritz to Barcelona, our Bilbao to Barcelona tour has come a long way since then…
'I just thought, why not Bilbao instead – it's a massive hub in the north, easy to get to and holds a special place in my heart that I love to share with our guests. The group really liked the idea and so I went off to research it as we didn't have an existing route there at the time.'
As with the creation of any new trip, there were challenges and decisions Dan needed to make to put together the best experience this part of Spain has to offer…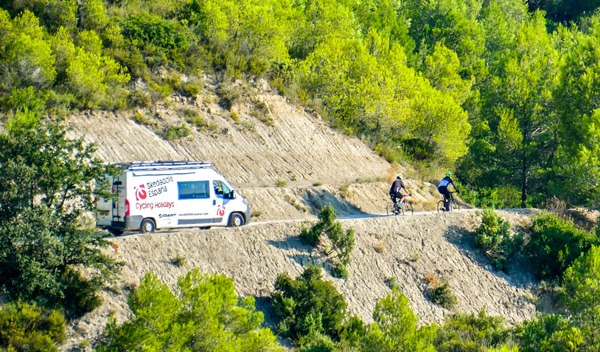 'When I go out to create and research the routes, I just go with a van the first time – it gives me great freedom to do whatever I want and see what works best. I look for interesting stops as well as unique hotels – and just try my best to capture what each province has to offer and mix it all in. But firstly, I had to choose between going through the Sierras or going down through the valleys. Choosing between more climbing or going for more urban riding a little bit away from the mountains was the first challenge we had when creating this route. Looking back, it was an easy decision – the mountains here are spectacular! So, we went up and added a few more days to split the distance.'
The first thing that stands out to everyone about this route is the two iconic cities you will be travelling to and from. Barcelona and Bilbao need little introduction, as both are fantastic cultural centres. From the iconic monuments of Gehry's Guggenheim to Gaudi's bold Sagrada Familia, both cities are bursting with life and world-class sights to savour.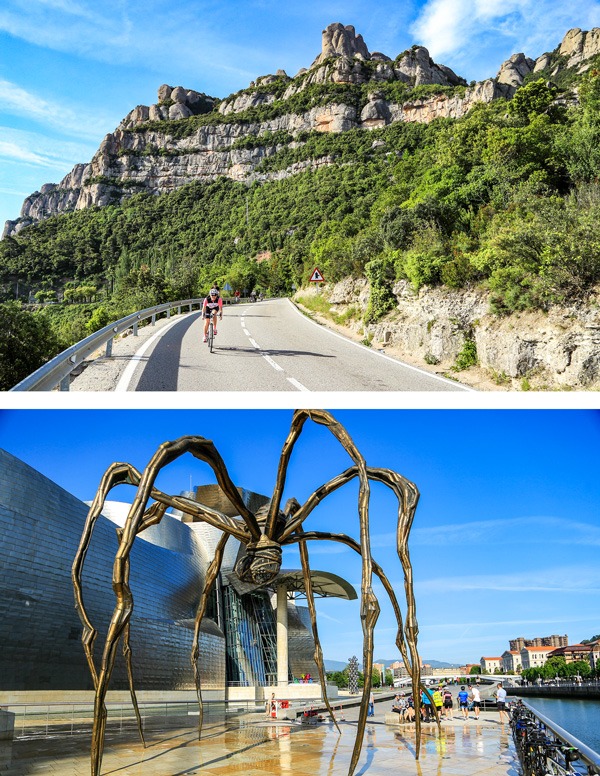 'Bilbao is an incredibly special city; I've spent a lot of time here. It is one of the friendliest and most fun cities in Spain and the food scene is fantastic. Barcelona is the least Spanish city you will find in Spain, but it is a world-famous place for a reason and is a perfect place to relax and reflect on the journey! I recommend extending the start and end of your trip in both if you can.'
What makes this journey special is that it's an adventure of contrasts, and in between the vibrant cities you will discover a side to Spain you've never known before. The hidden gems will unravel in front of you daily and are guaranteed to make you fall in love with this country.
'It's a beautiful and rich journey! We start at the Atlantic and finish on the Med, and we're in the shadow of the majestic Pyrenees through the whole journey. It's not a famous cycling area, we go through many passes that are not famous with cyclists – it's more about the journey, changing landscapes and cultures. I love the variety of provinces! Each of them has strong identities – Basque Country, Navarre, Aragon and then Catalonia. Basque Country and Navarre are northern provinces that are quite different from the south; and then we enter Aragon and you're in 'real Spain', the heartland with castles and medieval villages everywhere; Catalonia doesn't feel like Spain at all with its own language and culture – and on this journey, you get to know them all which is fantastic.'
Brought to you by our established Skedaddle España base, this is a destination we're proud to call our casa! You benefit from years of our experience running cycling tours here and have our fantastic team with you every step of the way…
'We have an incredible team of guides who are amazing at building relationships with locals, hosts and shops – it always makes our trips special and insightful for guests, this one is no exception!'
---
The Holiday Highlights
Once you've met your guides and fellow cycling enthusiasts in lively Bilbao, you will be all ready and excited to start our journey from the Atlantic to the Mediterranean.
'Look up and around you, the tour passes through some amazing countryside, far more interesting than your front wheel.'
The first riding day takes you from the still sleepy morning rhythm of Bilbao, into the green and refreshing landscapes of the Basque Country. It's a day full of fantastic climbing and exhilarating descents as we work our way through rugged mountains, steep limestone cliffs and picturesque reservoirs. Sadly, we say goodbye to the Basque Country today, however what we lose we also gain, as we enter a fierce region of diverse beauty, Navarre.
'The journey starts at the Atlantic with very green and lush hills of the Basque Country. The first barrier from here is Cordillera Cantábrica (Cantabrian Mountains) and its national parks. Once we cross over, for the first time you will notice the landscapes become visibly more sunbaked, as we start heading towards wine regions.'
We are welcomed here by some easy cycling through beautiful villages and rolling hills of the Navarre region before we take on the final climb and descent of the day to reach our base for the night, the traditional village of Galdeano with breathtaking views of majestic sierras right behind it.
'As we finish the day in Galdeano, we love to pay a special visit – to a traditional cider cellar with massive barrels! You will get to experience a traditional way of pouring cider which is a very northern thing to do. People get extremely excited about this; everyone is also quite tired after a long day so a refreshing cider is very welcomed.'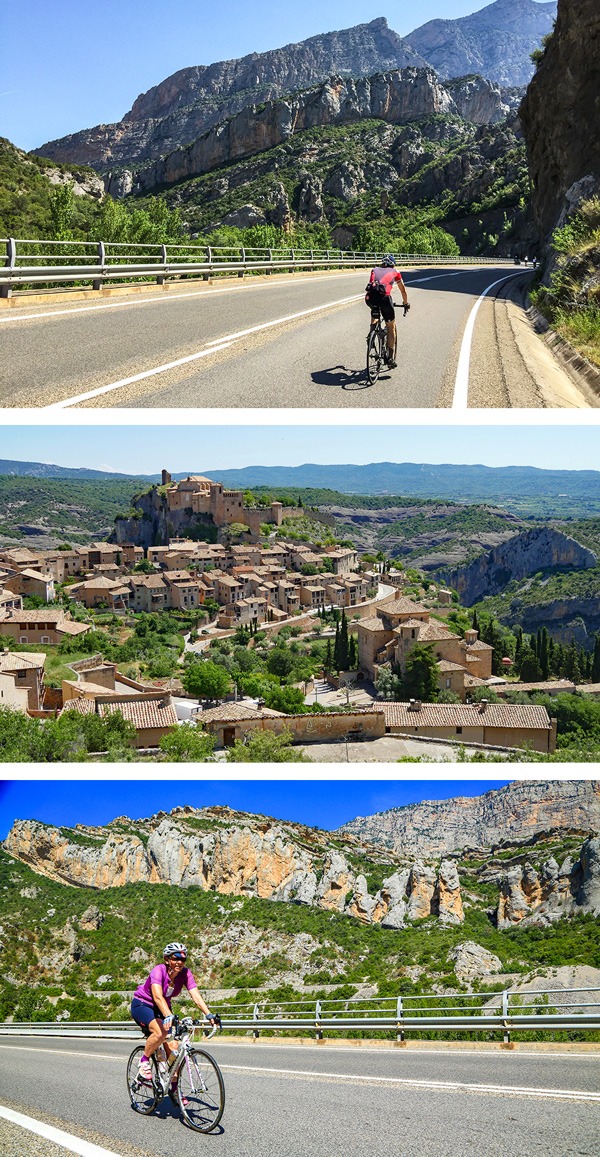 We start our second day in the saddle riding to the beautiful medieval village of Olite, one of the cultural highlights of the tour and pride of the Navarran wine region. We can't stay here for too long though as another amazing day on two wheels awaits us as we travel through open countryside, semidesert landscapes, dramatic canyons, and river valleys. Our home for the evening is an exceptionally well-preserved medieval village of Sos del Rey Catolico.
'In Sos del Rey Catolico, there's a fabulous restaurant La Cocina del Principal and we always do a taster menu here – the host is delightful and food is all local and the best quality, always with a little twist from the chefs.'
Our next day is nothing short of spectacular taking us through some beautiful scenery as we ride into the province of Aragon…
'One of the other things I love about this route is the huge rivers that are coming out of the Pyrenees and its massive valleys. The day we go from Sos del Rey Catolico to Loarre, we come from a huge descent into the river valley and we see Los Mallos de Riglos, these huge conglomerate rock monoliths that are gigantic – it's such a spectacle. We finish the day in Loarre, which has an incredibly preserved medieval castle on the top of the hill – it's one of the most amazing castles in Spain that we have a chance to visit and get a fabulous view of the Pyrenees in the distance.'
From here, the route continues to the regional capital of Huesca leading us into the pre-Pyrenean Sierra de Guara mountain range, a thinly inhabited region of huge canyons, enchanting villages, and mile upon mile of quiet mountain roads. We end the day in Alquezar with a glass of the local finest of the Somontano wine region.
Our peloton then continues the journey to make our way through more Sierras and hilltop villages, all in the shadow of the mighty Pyrenees, to finally cross into our last region on this journey – extraordinary Catalonia. Tonight, we want to make sure we're all well-rested and ready for the most challenging day of the trip. But don't let it put you off, as every challenge will come with overwhelming rewards…
'A day from Os de Balaguer to Oliana is a stand out day, it's the toughest day but is very often everyone's favourite in terms of quality of the riding. We work our way through wooded hills and go up to the Ager Pass which has fabulous views. And from here we descend to the Terradets Gorge and that is an incredible out of this world place with massive limestone faces. This area is famous among rock climbers, some of the toughest climbs are here – it is simply incredible with massive rocks and cliffs and we just whiz through them on two wheels on our way to the next pass.'
That's a lot of climbing! But now ahead of us is only a never-ending descent that takes us to a lovely small town of Oliana for the night where we rest our legs with a glass of Catalan wine in our hands to celebrate our achievements.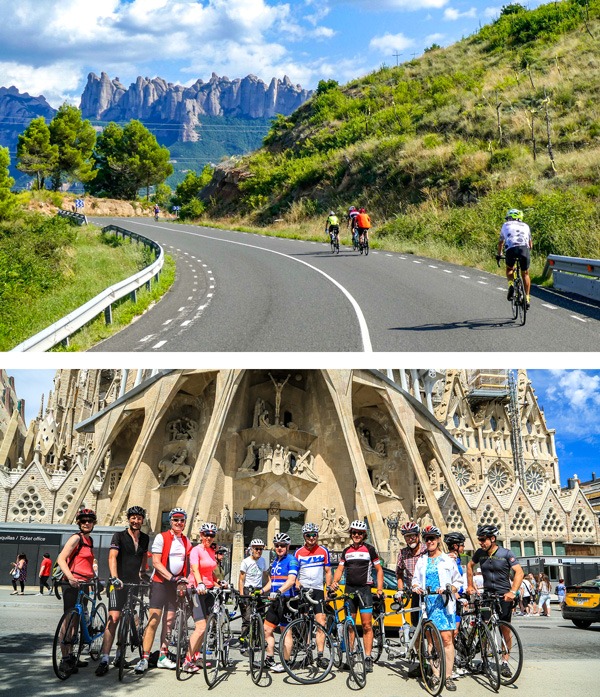 We're almost at the end of our journey but we have many highlights ahead of us. With still a lot of climbing to do on our penultimate day in the saddle, we head through the Serra de Castelltallat range and reach the historical town of Manresa. From here, we start to catch glimpses of our ultimate destination and its dramatic series of pink saw-toothed mountaintops, the Parc Natural de Montserrat where we spend the night.
Our fantastic last ride takes us through the Sierras and countryside of Catalonia, all the way to our destination, the Mediterranean Sea. It's a short distance but not without a few cheeky climbs!
'On our last day, we go through the stunning Sierras of the Catalan countryside and hilltop towns. Parc Natural de la Serra de Collserola, the hills just behind Barcelona, are something we will cross just before starting to drop down to the sea level. We stop for lunch at a beautiful spot just off the top with an amazing view overlooking Barcelona and the sea – it's a pretty special moment for everyone to see your destination for the first time.'
All excited and inspired, we are ready for the big finish…
'It takes a little while to get through Barcelona but it's all downhill and on cycle paths. We always go to Sagrada Familia for a photo and then continue to the Arc de Triomf and all the way to Barceloneta beach past the Columbus monument. Everyone is welcome to go for a swim or just dip the wheel in the sea to celebrate. We will always have an obligatory glass of cava (appropriate as it comes from Catalonia) to mark the achievement!'
---
Enchanting Accommodation
We've handpicked a variety of places to stay all with unique touches, to highlight the best of the warm hospitality of each Spanish region we pass through. During your 10 days, you'll enjoy a wide range of unique, charming, and comfortable places to call home for the night. All this plus you'll be met by welcoming hosts who know a thing or two about looking after tired cyclists needing some R&R!
Significantly, Spain has a long history of monasticism and over years many of the ancient monasteries have become places where visitors can stay for the night – some of them are hotels today, but some are still functioning monastic communities. We have included two special stays in monasteries on this trip for you, so you can experience this characterful Spanish accommodation and enjoy a peaceful place for you to rest your legs in the evening…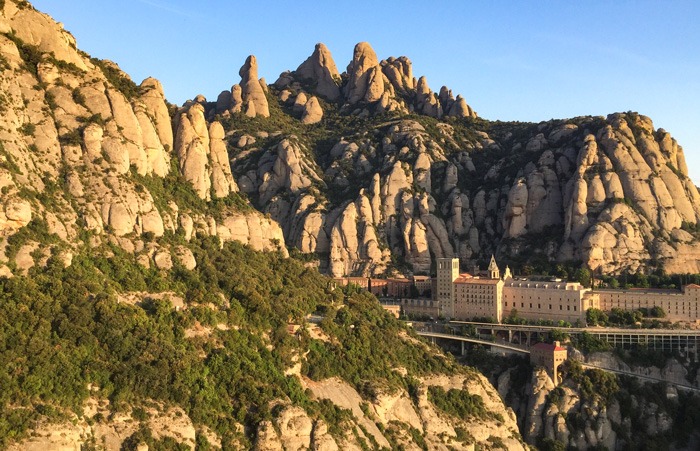 'We stay in the Monastery Avellanes – it's a working monastery and quite simple accommodation. But the building is fabulous and is full of history. A special and peaceful place to stay for a night and reflect on the journey so far.'
Another incredible highlight of this journey awaits us near the end when we reach Montserrat, a spiritual home for many Catalans…
'It's a big climb up to the Parc Natural de Montserrat, and we get to the famous monastery where we will be staying for the night closer to the evening when most tourists start to go home and it becomes silent and we have it all to ourselves. And the most beautiful thing is waking up at the hotel there in the morning, it is a spiritual experience – just as the sun rises up and the mountains cast a shadow across the valley – it's a breathtaking sight and a fantastic way to start our last riding day.'
---
Taste the difference…
When it comes to food, things vary widely from one region to the next in Spain so you will be treated to an extraordinary tour of traditional Spanish cuisine as we travel through the provinces. Starting with the famous pinchos (or pintxos, meaning toothpick) in Bilbao, delicious meats and rustic Spanish mountain cuisine of Navarre and Aragon, all the way to the wine-inspired culture of Catalonia. All exceptionally fresh and delicious, our guides will be sure to point you to the local dishes you won't want to miss!
'I always say to everyone, eat what you can see! If you can see the sea, then eat fish and seafood; if you can see the mountains and fields, then it's all about local meats.
The Navarran bread of cattle is exquisite beef. We often buy entrecote for picnics, grill it in hot griddle pan (I like mine rare) set to rest on a wooden board, sliced into thin strips and sprinkled with sea salt and served with a simple green salad and fresh bread.
Cuisine in Aragon is simple and amazing quality. Slow roast and cured meats from the mountain villages or river trout served with simmering tomatoes, peppers, and onions. Served with every meal in Catalonia is pam am tomaquet. Fresh bread rubbed with tomato and drizzled with olive oil and salt.
For a Catalonian picnic, we add a bit more cheese. And always loads of grilled vegetables and olive oil. On arriving in Catalonia often we'd prepare escalivada (grilled Mediterranean veg warm salad) for a picnic, with esqueixada, a salad made with peppers, tomatoes, onions, red wine vinegar and shredded 'bacalao'. For the last evening meal, I would seek out the traditional dishes of fideuas (paella with pasta), like seafood paella, but served with short noodles, rather than rice or suquet de peix, a seafood Stew with potatoes, garlic and tomato.'
---
Feeling inspired? Discover Northern Spain's incredible network of quiet roads on this cross-country journey with us!
Discover our full range of Iconic Journeys, our long distance tours!