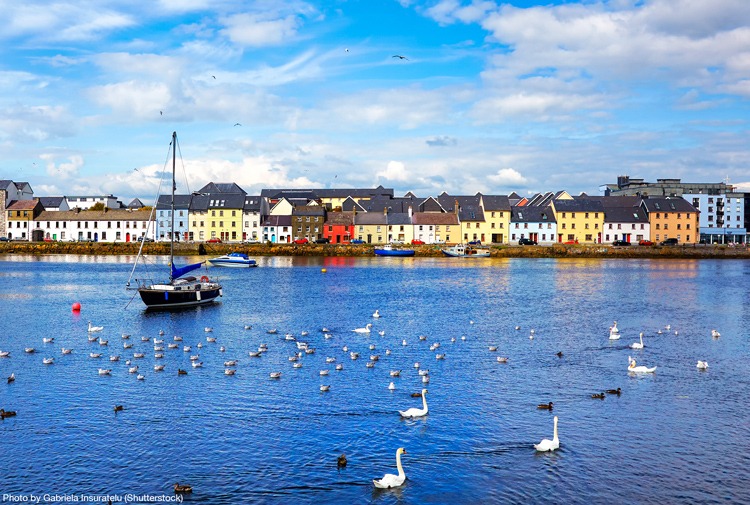 Top o' the mornin' to ya and welcome to Galway! Located in the west of Ireland, the city's jam packed with history, home to friendly locals and colourful houses in the Old Town and right on the doorstep of some of Ireland's most stunning landscapes. Recognised by the EU as a European Capital of Culture and Lonely Planet's top cities to visit in 2020, we take a closer look at why Galway is gaining such a strong interest…
In a nutshell…
Galway, also known as the City of the Tribes, was founded way back in the 13th century and ever since, the city has grown in popularity due to its fascinating and captivating atmosphere. Through arts, food, festivals and much more, there's a real mixture of history and modernism in every corner of the city and it's easy to see why Galway is the second most popular destination in Ireland for visitors. Keep reading to find out more about this astonishing city and its cultural phenomenon…
Capital of Culture!
Galway is named as 2020's European Capital of Culture, with a packed programme designed around the old Celtic calendar, embracing the brilliance of its past alongside the city's wonderful present. Themes include language, landscape and migration, all spread across more than 1,900 events from stunning theatre and concerts to spectacular exhibitions and light shows. Over the course of the year, Galway is aiming to proudly show off its culture and diversity to people around the globe, promising to be one of the most exciting times in its history.
Other sites to see
The region is known for its beautiful landscapes and vast expanse of mountains, bogs and lakes, but to add some architectural beauty we recommend taking a look round the historic St Nicholas Church, built in the 14th century. The largest medieval parish church in Ireland is beautiful, and so we definitely think you should follow in Christopher Columbus' footsteps way back in 1477 by paying it a visit!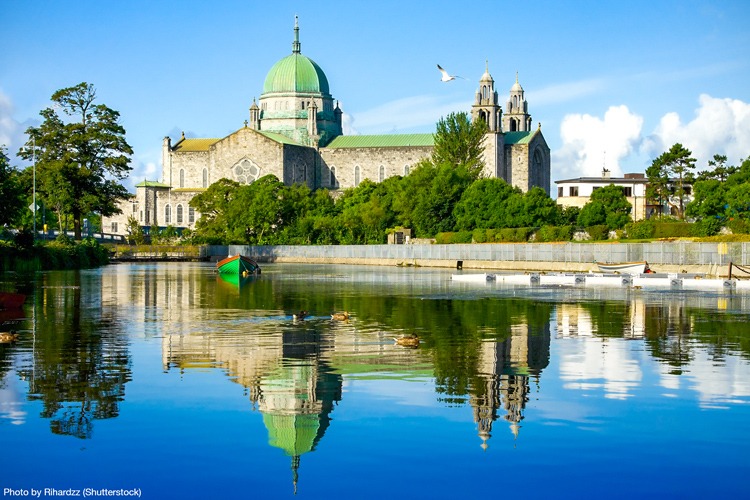 Just a very short walk away is Galway Cathedral which overlooks the River Corrib. In contrast to St Nicholas Church, the monument is the youngest of Europe's grand stone cathedrals and is a particularly gorgeous site at night where it leads the city's skyline.
Galway City Museum is one of the most popular cultural hotspots in the city, and it invites you to discover more about prehistoric and medieval Galway as well as modern sea science. With free admission to three floors of galleries, it really is a no brainer!
It's worthwhile taking a stroll down to The Long Walk (we promise it isn't actually a long walk!) to cast your eyes on some of the famous colourful buildings overlooking Galway Bay. It's particularly a great spot in the summer, and there's a few restaurants nearby, as well as the Galway City Museum and the Galway Arts Centre.
Flavours of Galway
Galway is known for being a flag-bearer of Ireland's organic food movement, and being on the doorstep of the Atlantic Ocean, there's never a shortage of superb restaurants offering some of the finest and freshest seafood available in all of Ireland.
It's fair to say you won't be short of finding a spot for lunch (or a liquid lunch if you fancy a drink or two!) when in Galway, with cobbled streets such as Quay Street filled with a range of pubs and restaurants. As of 2018, Galway had 475 pubs alone and we recommend The Quays for a taste of famous Galway Bay oysters.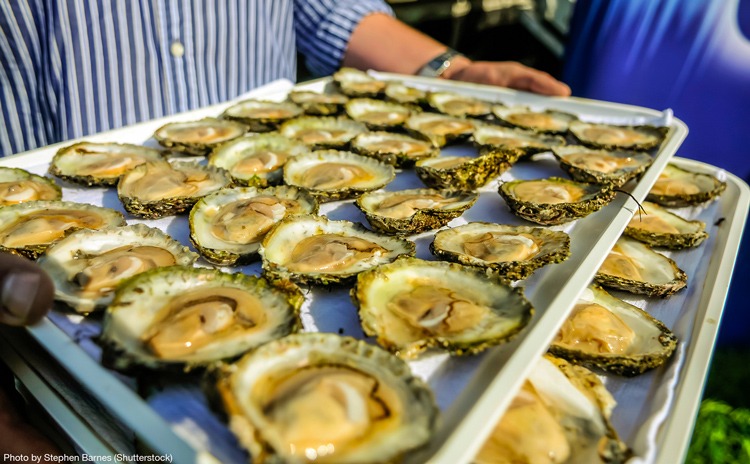 Another one of our favourites is O'Connells bar, which hosts great live music, has one of Galway's largest beer gardens and it's very own craft beer, O'Connell's 1862 APA. And of course, it's always filled with friendly and likeable locals with great craic!
Sounds of the City
Live music and busking are very much part of the arts and culture experience of Galway, with the city being an inspiration for numerous well-known songs. Galway is widely renown to be one of the best music scenes in all of Ireland, with traditional Irish music playing an essential part of so many pubs within the city. From all the cobbled streets to cosy local taverns, Irish ballads and folk music can be heard all over the city. Even famous artists such as Ed Sheeran have been found busking on Shop Street in the past!
Our team says…
"It's a city bursting with culture, music, crafts and friendly Irish hospitality – the perfect starting point to experiencing the west coast of Ireland" – Lizzie, Skedaddle
Feeling inspired? Our Connemara and the Aran Isles trip includes transfers from Galway, and we're always happy to help you plan your trip so that you can fit in all of the above and much more before the start of your Skedaddle holiday! With so many wonderful sites to see and experience, and scenery to explore, Galway is a must-do! You can also explore the County of Kerry on our holiday in Ireland, Highlights of Kerry.