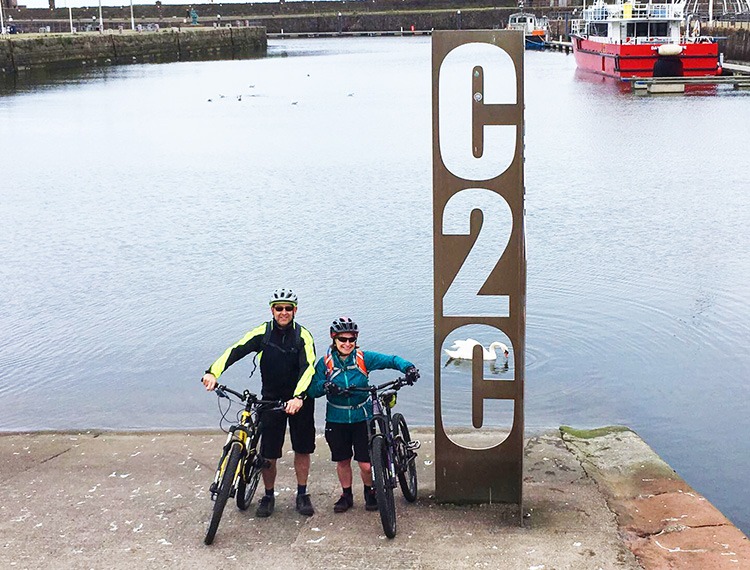 Juliet England joined us on the 130+ mile bike ride from Whitehaven to Tynemouth – the classic coast-to-coast route. She hasn't been on a bike in years. What could possibly go wrong?
Day 1 – Whitehaven to Threlkeld – 36 miles
Riders setting off on coast-to-coast rides traditionally dunk their front wheels in the sea at the start and finish points, a symbolic baptism.
At Whitehaven at the start of the odyssey to Tynemouth, the sea slops at the bottom of a greasy concrete slope, and we're warned that the 'wheel-dipping' isn't really necessary, but I insist on going down to the edge, where I slither in up to my ankles. I have to be hauled to safety, a not inconsiderable operation, and it makes for a soggy pedal-off. Still, in the words of the local newspaper cliché, this unscheduled christening doesn't dampen my spirits.
This is the big one. The C2C, the sea to sea. We'll tack our way from west to east, and ever northwards, the sun and wind at our backs, from the Irish Sea to the North one, across the nation's backbone, mainly following National Cycle Routes 71 and 72.
Then there's the bike fitting and induction from the Saddle Skedaddle guiding team of Les, Jayne, Francis and Dave. They're passionate, borderline-obsessive bikeheads to a man (and woman) – the essential deal being that they'll do everything bar actually turning the pedals for you. Even then, if you asked nicely enough…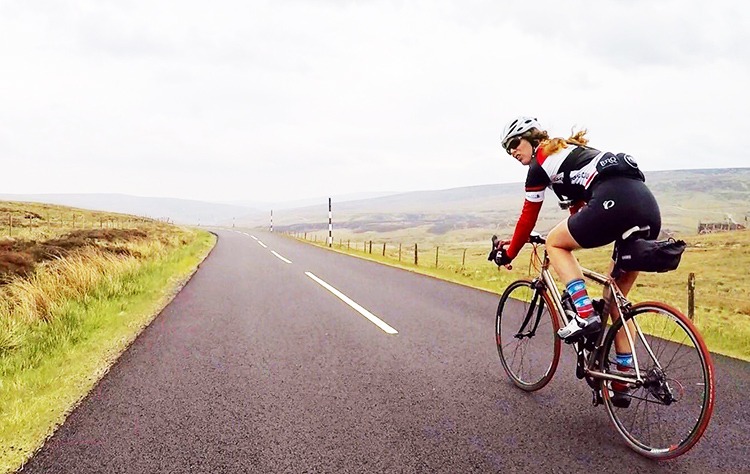 Day 2 – Threlkeld to Alston – 38 miles
I'm pedalling (I use the term loosely) with Jayne the guide, and the climb is rewarded with a stupendous view over Penrith. Jayne does an excellent job of ensuring I'm safe, even if I do have to stop her from giving me a backie.
By lunchtime on the green at the splendidly named village of Langwathby, we've done some 19 miles. Chillingly, the guidebook warns that this is the last place to "kick back before the serious stuff kicks in." Right. So what we've done before hasn't been serious?
Unfortunately, it's no word of a lie. How to convey the full horror of the Hartside ascent? It's a monster of a mountain, an insult of an incline, a hellish hill. Such stuff as recurring nightmares are made of. For the last 24 hours, it has been whispered of in our group with fear and awe.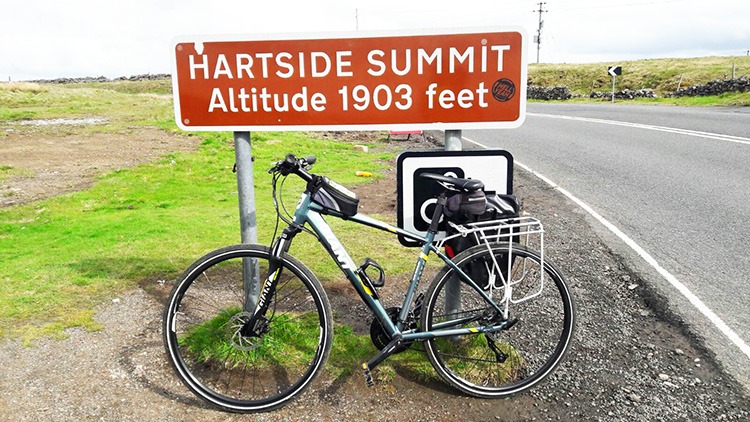 At the bottom, Les, the head guide, says this climb has made grown cyclists weep. Some have had to push their bikes up all the way; others have had to be conveyed to the summit in the van.
"Sloooooow and steady," offers Les in his Tyneside tones.
Suddenly, somehow, I've done it, and I'm propping the bike up outside England's highest café (1903m) before stumbling in, beetroot-faced. My legs buckle beneath me as I fall into a chair, hyperventilating. Someone pushes a mug of tea in front of me. I am so disorientated with exhaustion that I don't even ask about the cakes. That's how serious it is.
Day 3 – Alston to Stanhope – 24 miles
Today's shorter mileage doesn't mean much, since, in terms of hills, this is one of the hardest days, reaching the ride's highest points. Alston is still pretty high above sea level – some 1,000 feet or so, high up in the North Pennines.
Luckily, this day includes my favourite accommodation of the trip. A former stationmaster's house, it was bought derelict by Lorraine and Terry Turnbull, who have turned it into a haven for cyclists. Stunning views, a hot bath, even a gluten-free steak pie, for goodness sake. What more could a weary biker demand?
"Smashed it!" I say punching the air as Les arrives, grinning at my words, while I sit in the front room enjoying a restorative brew.
Day 4 – Stanhope to Tynemouth  – 37 Miles
On our last day, before we know it, we're in the urban centre of Gateshead and pedalling over the Millennium Bridge in the shadow of the Baltic Arts Centre to The Cycle Hub, Saddle Skedaddle's HQ and temple to all things bike-related.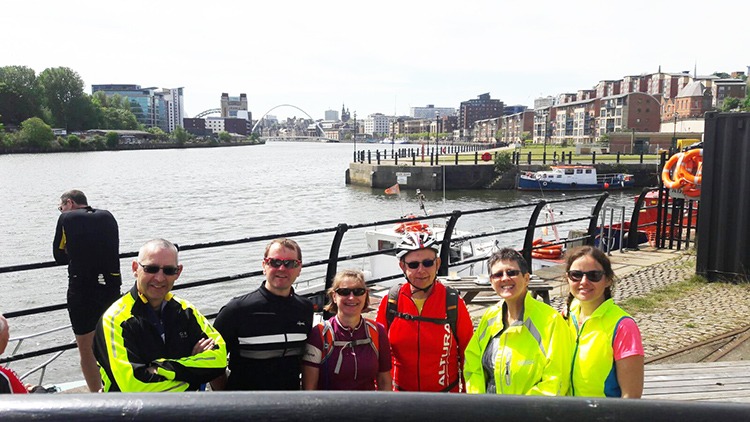 We practically float the last few miles through what was once a thriving ship building area, past Wallsend until, finally, we're shooting along the sea front at Tynemouth.
On the train home, there's time to reflect the last few cobweb-blasting days. All the hard work has been worth it. The coast to coast thing offers a real focus, a reason to keep going until you next see sea. I would have benefited from more training (er, I would have benefited from any proper training…). But, truly, it's been totally brilliant, and, if I can do it, anyone can. You might just have to get off and push.
Feeling like taking on a C2C challenge? We have a fantastic selection of supported and self-guided coast to coast cycling holidays in the UK. There's nothing like the sense of achievement when you finish a coast to coast ride!