Starting in Ostuni, in the heart of the Trulli region, before heading to Lecce, the 'Florence of the South', our cycling holiday explores the best parts of Puglia. Our very own road cycling expert, Jacky, was only too happy to head here for herself and share her thoughts about this new road tour. We guarantee that you will also fall head over heel (pun intended) for this lesser known, but just as spectacular, part of Italy…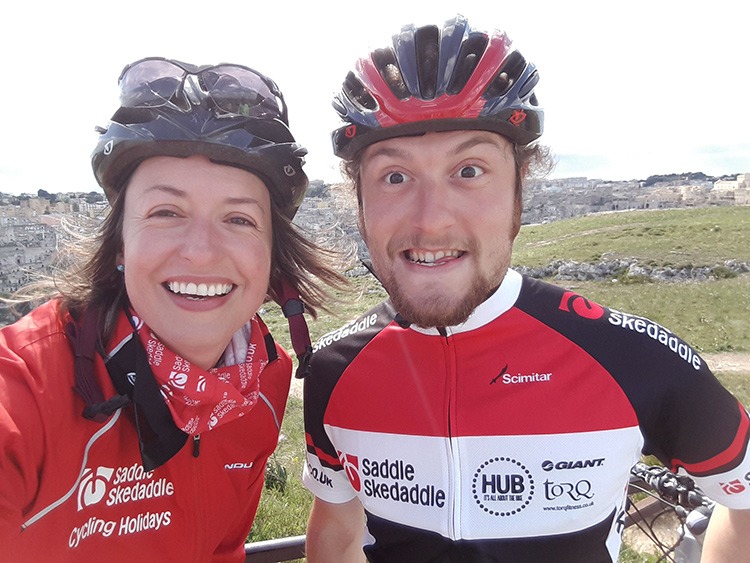 'It was my first European trip with Skedaddle, I'd previously enjoyed a long bank holiday in North Wales which I can highly recommend if you enjoy a challenging climb and are looking for a short weekend getaway. This one was also my first 'place to place' cycling holiday – yikes – what was this going to be like?
I knew I had a passion for cycling, and I enjoy fresh faces and new company, so my plan was to go with the flow and absorb each aspect of the experience from start to finish. I kept my mind open, my face friendly and made sure my legs were well oiled…
It would be easy to write a daily detailed tale of all the wonders and challenges that I experienced throughout those 8 days, but I don't want to give too much away, so I've narrowed down my holiday highlights. There were many, but I think the many images below captivate the moments that made it special to me.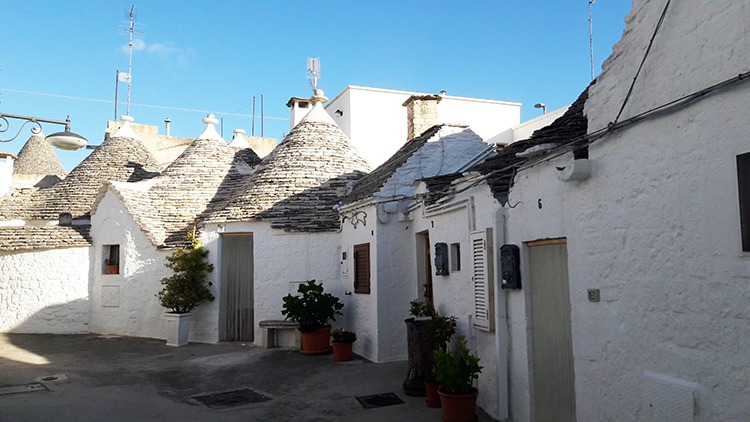 I had set off for Puglia filled with a joyful excitement and intending to have a good cycling trip. Throughout the 8 days I was opened up to fresh new experiences that ticked many of the boxes my senses enjoyed… from the smells of the wild flowers and strong espressos;  to the tastes of the rare grape wine; cakes with my morning cappuccinos and the fresh seafood from our coastal restaurant in Gallipoli; the wonderful sights (including the suave Italian men and captivating women) and the sounds that were all around…  as we rode together as a group, sharing the joy with a sense of fondness amongst us that developed throughout the week… it was, as I had hoped, a memorable experience.
HOLIDAY HIGHLIGHTS
The Guides and the Skedaddlers
An interesting group of individual cyclists all coming together and sharing a unique holiday experience, each adding their own speciality. I was lucky many of them were well experienced Skedaddlers, and I was able to enjoy their thoughts on previous trips, fuelling me with plenty of inspiration for my next trip choice…
The Accommodation
They say variety is the spice of life! No hitting the snooze button here…  and when you have coffee and cake waiting for breakfast and a day in the saddle ahead, well, why would you. An interesting selection of accommodation, each one with it's own unique style. I enjoyed the delights of exploring a new abode each evening…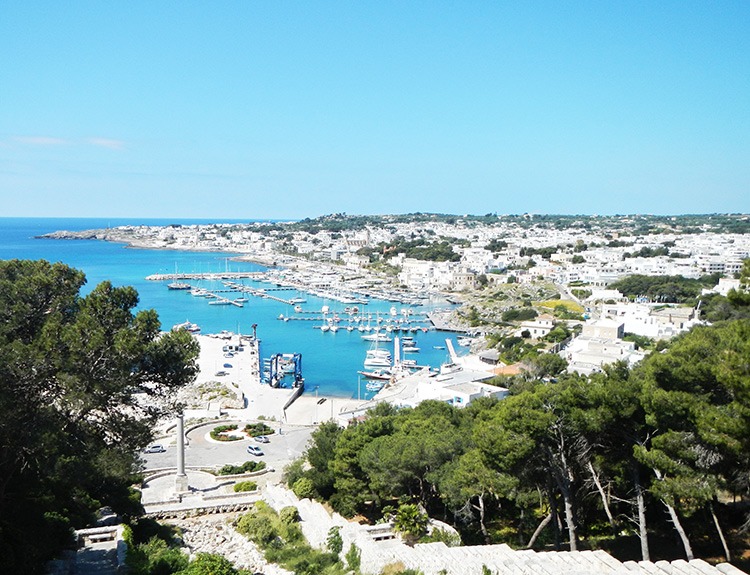 Grub! Fuel! The Naughty & Nice Tasty Bits!
The legendary Skedaddle picnics, the espressos, the cake… and the wine! Not forgetting the 'Strawberry & Coffee' ice cream choices! Fresh seafood, pasta and of course pizza… mouthwatering delights were savoured each day.
The Cultural Wonders
We took this trip during Easter and were able to witness some great religious services. The three UNESCO areas were amazing. Lecce with the Baroque architecture carved from soft stone. Alberobello with the dainty Trulli houses and agricultural landscape. Matera was my sweet spot!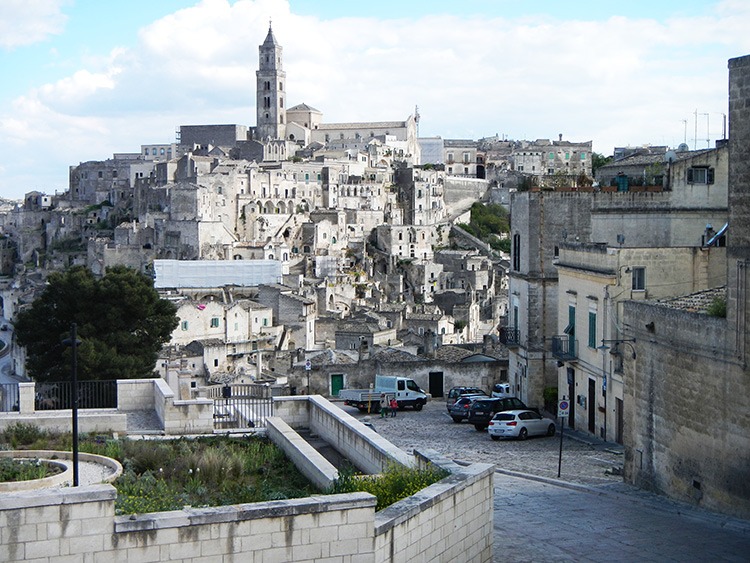 My Crescendo in Southern Italy
We reached the final destination, Matera…. And it was breathtaking. The cave town, with a visible history. Here we were perfectly located, overlooking trails running up the cliff sides. There is no time for trail running though, too much exploring in the town is to be enjoyed, every corner you turn brought new 'pleasure for the eyes'… it certainly leaves you wanting more and I am keen to return and venture up that trail with my running shoes on.
My Final Thoughts…
Travelling by bike… Exploring on two wheels… Being able to soak in the surroundings, from place to place… For me it was great, when I got home I took some time to reflect… I'd just spent 8 days with some lovely people; doing what I loved.'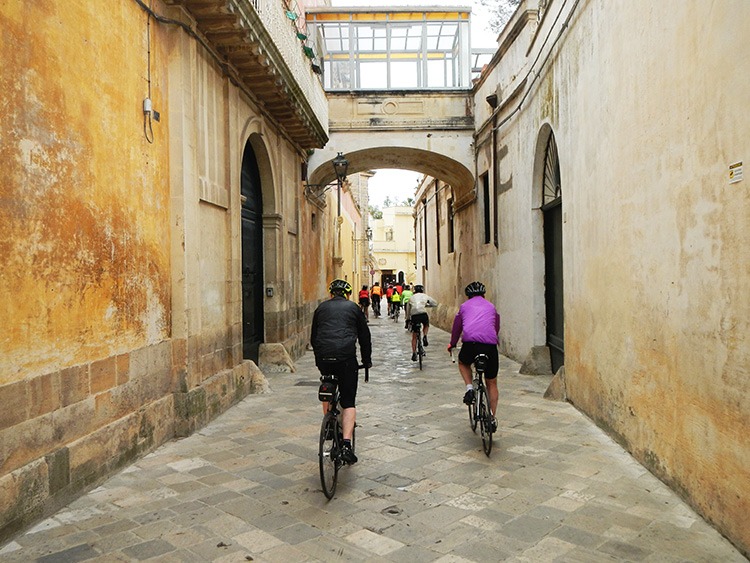 Feeling inspired? Jacky cycled The Heel of Italy guided road cycling holiday in Italy, be sure to take a look at our holiday page here for full details and to experience for yourself!