Having recently returned from yet another Skeddadle guided cycling holiday, Nick shares a few thoughts as to why he keeps on coming back for more and what makes our holidays uniquely enjoyable…
'Easy to organise.  I'm sure we've all thought about organising a cycling holiday somewhere warm and sunny but then when it comes to the logistics it starts to get complicated. So where do you want to go? France, Italy, Spain, on or off road? There's plenty on offer. Personally that's the great thing about Skedaddle, they only 'do' cycling holidays, nothing else and run their own trips with their own dedicated guides. Rest assured they know their stuff and go out of their way to ensure everything is perfect, leaving you to concentrate on what really matters, enjoying your cycling and having a relaxed time.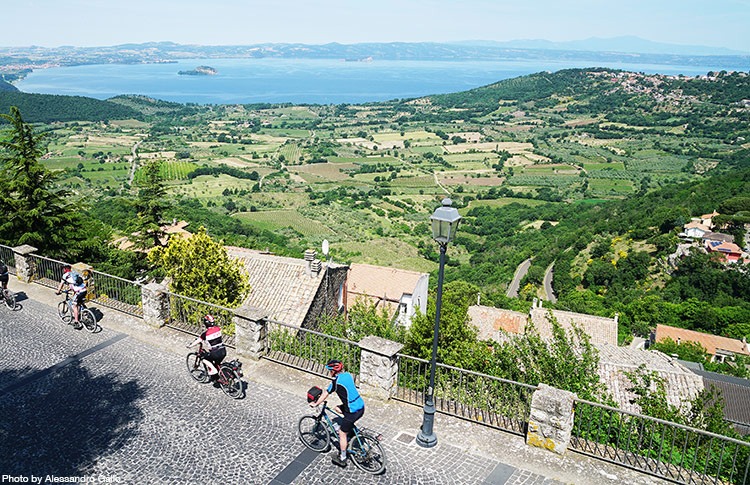 Just Ride – The great thing about a Skedaddle leisure guided trip is that you can ride at your own pace, with your partner or friends. It's not a race and with guides at the head and tail of the group you'll not get left behind, so you can soak up the scenery and enjoy the ride. There are always opportunities to stop for have a coffee, grab a cheeky gelato or chat with the locals. Just as if you'd organised your own trip but without the hassle.
Whether you're taking your own bike or hiring one locally (including e-bikes) it's good to know there is full back up en-route.  On my recent trip in Italy I had a problem with my gears which meant if I had been on my own it would have been impossible to continue the day's ride. However a spare bike was promptly pulled from the support vehicle and I was back on the road within 10 minutes, my original bike being fixed and back in full working order before I'd had my second beer on arriving at our destination! That's service.
Great Accommodation – No, make that amazing accommodation! You'll not be billeted in faceless large and impersonal hotels. You'll be staying at a small local boutique hotels where you're treated like a valued guest not just a room number. Perhaps you'll enjoy an agritourismo where you'll be hosted like you are extended family. Breakfast on the terrace, a cheeky beer after a day in the saddle, a splash in the pool or supper under the stars, you won't be disappointed wherever you stay.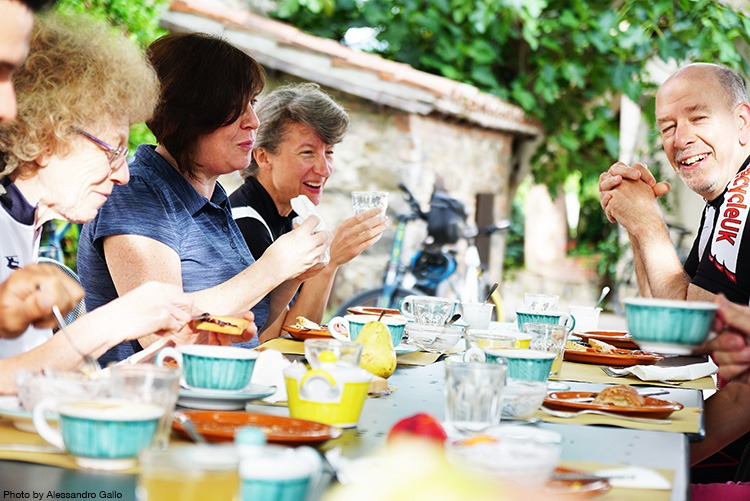 Delicious Local Food. Don't get me wrong, I really enjoy my cycling but I also enjoy my food. It's an integral part of my holiday to savour flavoursome local dishes made with fresh ingredients, not to mentionappreciating a selection of the regional wines. And there is nothing more enjoyable than sharing such delights with your fellow cyclists and guides. A perfect opportunity to relive the day's highlights and wonder what tomorrow's route has in store. Almost forget – Skedaddle lunches are legendary. They are prepared daily, usually served in the cool shade under the trees along your route and you certainly won't go hungry.
Making New Friends. I don't consider myself a person that needs to be in a group, in fact if you'd have suggest to me to go on a group holiday I'd probably say 'no thanks'. But having overcome my initial reticence I'd say in general your fellow Skedaddlers are usually like-minded, engaging individuals who share a passion for cycling and will enjoy sharing their week. In fact I made several new friends on my initial trip to Sardinia over 11 years ago and I have stayed in touch ever since, not to mention those I've acquainted more recently.
So if you are thinking about booking your first Skedaddle trip or perhaps never enjoyed a guided or perhaps a leisure type trip then I'd urge you to do so. Hopefully you will enjoy it for all the same reasons I do and you'll be left with wonderful memories and a huge smile.' Nick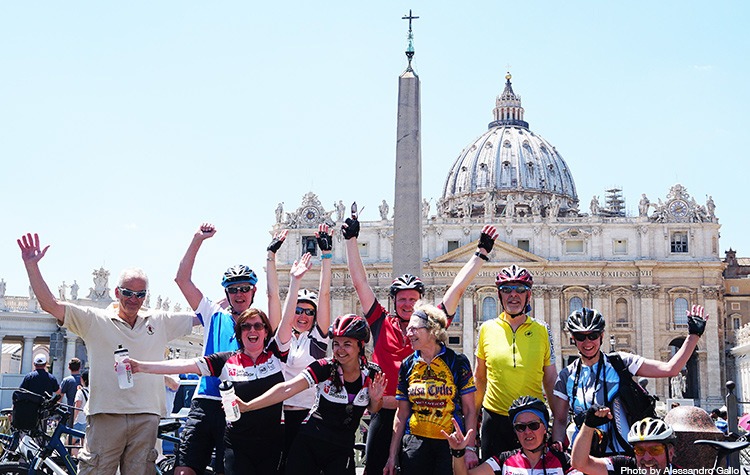 Nick is one of our winners of the Customer Competition. His journey from Tuscany to Rome inspired him to send us this entry and we absolutely love it. Thanks Nick!