2017 kicked off with very exciting news about our partnership with Deuter! More about it later… but meanwhile, read what our Mountain Biking guru Matt Cain thinks about the Deuter Attack 20 biking backpack! He has been sporting the backpack for quite a few months now and has definitely been put through some vigorous testing. Here's his review of this amazing piece of kit, and who knows, maybe this backpack will become your next trusted travel companion in the not too distant future…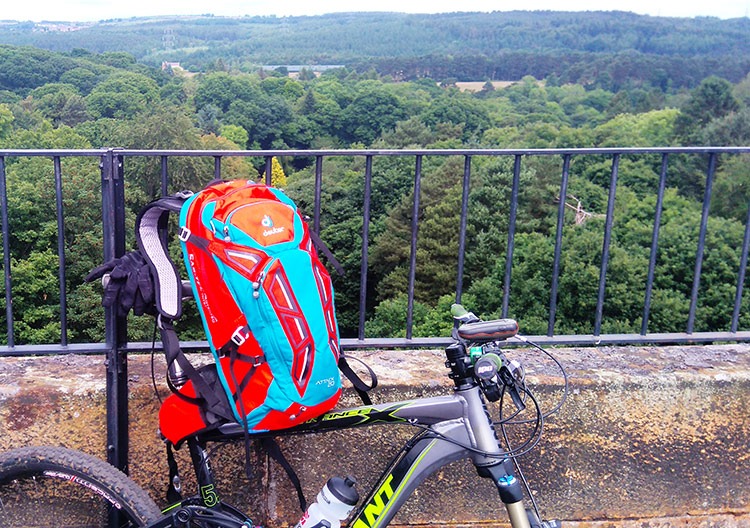 A reinvented classic…
'The Attack 20 is Deuter's take on the new trend in MTB-specific rucksacks equipped with integrated spine protectors. In this case a viscose-elastic foam panel by SAS-Tec, a company with a lot of experience in motorcycle protection. The marketing states that this remains soft and flexible in normal use but on heavy impact the foam resistance grows with increasing speed, absorbing the force of the impact.'
Made for heavy duty…
'One of the first things you notice is the weight. At 1.5kg empty its 600-700g heavier than my normal 20L pack. Around 350g of this comes from the back protector (which can be removed), the rest is from the highly padded harness and relatively robust Cordura style fabrics used. This pack should last the distance even with regular use and the daily abuse that guiding dishes out! Compared to other packs with similar features (such as the EVOC FR Trail or Camelbak Kudu 18) it's not too far away from the average weight.'
A backpack packed with features…
'The pack is nothing if not fully featured. There are soft pockets for glasses and electronics, a phone pocket accessible while still wearing the pack, hip belt pockets, hydration bladder sleeve and a tool pocket with all sorts of useful dividers. There is also an elastic helmet holder and eye-seeringly bright waterproof cover. There are also plenty of external straps which can be useful for carrying knee pads or full-face helmets.'
What about comfort and fit?
'At 5'11'' and a bit and the Attack 20 fits me well (the smaller Attack 18SL offers a shorter back length option). The harness is comfortable and vents well given how padded it is. When lightly loaded the pack is somewhat cumbersome due to the semi-rigid spine pad, however once loaded up it comes into its own, comfortable for long rides and very stable when riding fast or on steep technical terrain. The wide padded hip belt spreads the load and keeps the pack from swaying or riding up.
This is a great pack for carrying big loads in the mountain on demanding trails, allowing you to carry lots of gear in well-organised comfort. It is not however the pack I would reach for when heading out for a quick local spin due to its weight and bulk.'
You can check out Deuter's full range of biking backpacks right here.