For when a weekend getaway or a city break just doesn't cut it, long-haul holidays are made for getting out of your comfort zone and exploring our beautiful and diverse world. Read this inspiring write-up by our guide and cycling journalist Hannah Reynolds about how nothing quite compares to cycling in far-flung destinations and get some of her top tips for your next adventure…
Long-haul travel, however you do it, is always an adventure. It's frequently said that 'travel broadens your horizons' and it does, in every possible sense, but travelling by bike, pedalling towards that exciting, changing horizon brings you more in touch with the country you are travelling through. Here are a few reasons I prefer to travel by bike…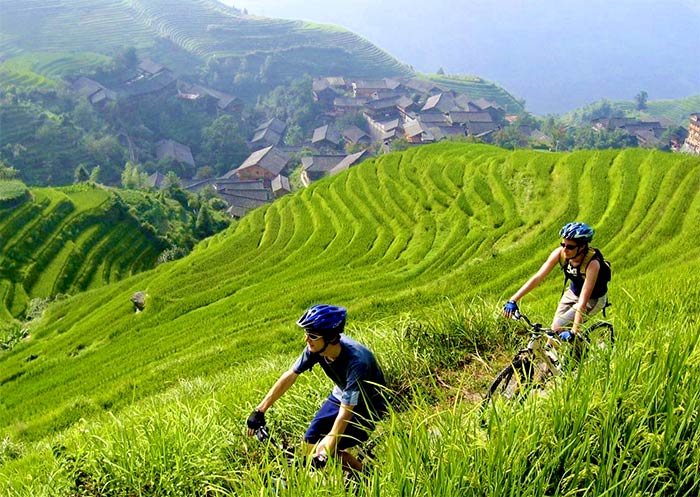 Travel like a local…
On the surface travel is about exploring and experiencing differences, but often the things that bring most warmth and humour are the connections created by similarities. One of the great things about travelling by bike is that you become part of the throng of cyclists. Many countries use bikes as a primary mode of transport, instead of being shut behind the glass of an air conditioned tour bus you are out there with everyone else, getting covered in the same dust, struggling with the same heat and sharing in an ordinary day-to-day experience.
In Myanmar we ended up in a race with two young boys. They were cycling home from school on old steel bikes, at least two sizes too big, with their tiffin tins banging against the handle bars. As we sedately rolled alongside them on the dry dirt road I caught a sidelong glance from the two lads and their pace increased. After a few metres they were out of the saddle and hunched over the handle bars, school bags flapping behind them. I caught what was happening and exaggeratedly pedalled faster myself. We kept glancing across at each other to see if either had pulled ahead and all of us were laughing. When they stopped at the end of the village we waved to each other. A few minutes of warm, funny interaction thanks to our bikes.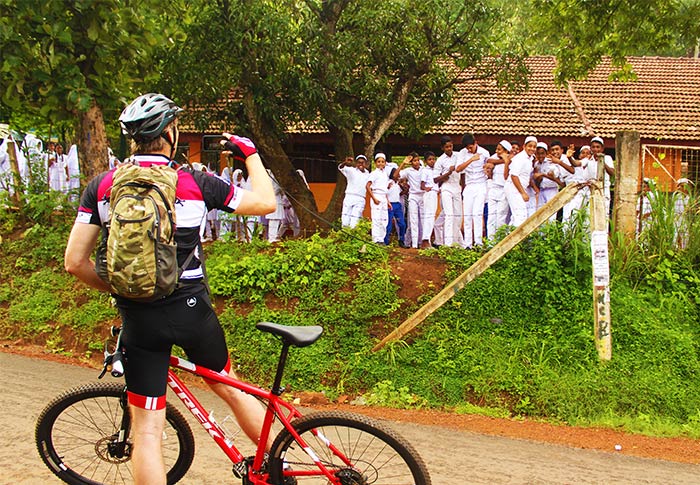 Sensational cycling…
Cycling makes the inrush of the new sensations of travel unavoidable. If you are riding you need to take deep breaths, to keep the oxygen flowing to your working muscles. In those deep breaths you might get the smells and tastes of fresh, spicy cooking, the scent of an unusual flower, a waft of perfume as someone walks down the road. Or it might be something much less pleasant, more basely human or agricultural but you have to suck it in. There is no sanitizing air-conditioning on a bike ride.
Food, glorious food…
Food and sharing meals is one of the greatest pleasures of travel, after a long day of riding your appetite is significantly sharpened making your meal not just more enjoyable but making you more inclined to try new and unusual flavours. Hunger is the best sauce and like an army, cyclists travel on their stomach. Whilst sitting in a restaurant is always pleasant the most memorable meals are often the spontaneous ones, when you pull up to a café, or grab a snack from a street vendor, and eat your meal with strangers taking a break in their own day.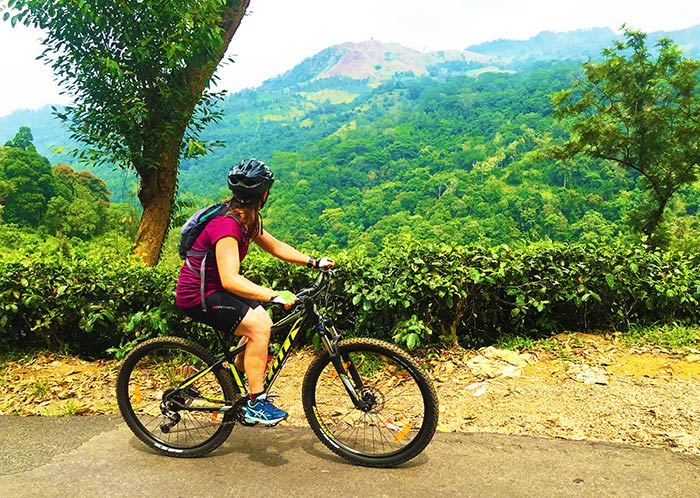 Depending on the country and the season you might be able to refresh yourself with fruit picked fresh from the tree. Nothing beats eating a juicy sun-warmed pineapple that was cut free just moments before. On my most recent Skedaddle trip in Myanmar it was melon season, we passed row after row of ponderous melons, their stalks tied to canes with bailer twine to stop their heavy flesh contacting the ground. We could smell the ripeness as we cycled past, perfectly sweet to the point of almost bursting open.  When we came across some pickers by the roadside we were offered one to sample; cut into wide slices and handed around the group we ate it in big clumsy bites with the juice running down our chins. It beats a dry cereal bar as a riding snack any day!
Get out there!
Long-haul adventures take us further away from our comfortable and familiar environments. Whilst sometimes challenging and disorientating it is always exciting, if we are open to what is going on around us. The best way to experience a new place is full immersion, jump in with both feet, or as we prefer, with two wheels.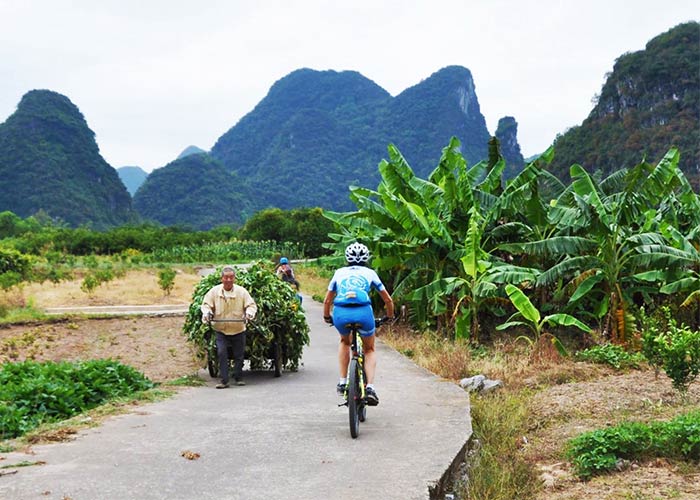 Top Tips for your next cycling adventure…
Some people approach travel with a lot of preparation, research and planning; others go for the feet first full immersion without any preconceived ideas. Whichever approach you prefer here are some practical things to do before your trip to help you get the most from your experience:
1. Visas – it's a small bit of admin vital to your trip, do it ASAP within the time frames for the country you are visiting. Some don't allow you to do it more than a few months in advance.
2. Injections and health. Some courses of injections need to be started several weeks before you travel so visit your doctor for advice as soon as your trip is booked.
3. Buy some cycle clothing appropriate to where you are travelling. You may need lighter weight clothing, or even SPD sandals instead of your usual mountain bike shoes. Long loose clothing on the bike is often cooler than tight skimpy Lycra and will give you more sun protection.
4. You don't need to read every guide book going before you travel but do learn a little bit about local customs and traditions, particularly anything that might cause offence, even accidentally.
5. If your trip includes many visits to temples or shrines make sure you have something that you can slip over your cycling kit to cover your legs and shoulders that will fit in your rucksack.
6. Download the xe.com app to make quick and accurate currency conversions so you don't get stung when haggling in the markets.
7. Have a little bit of cash ready to use when you land. Most international airports have an ATM so make sure your cards will work in the country you are visiting.
8. Buy World Adapter socket plug so you can charge all your devices and have the right socket wherever you go.
9. Trying new foods is part of the fun of travel but some people find it comforting to have a few familiar snacks, especially if riding all day, so throw in a couple of treats.
Feeling inspired? Discover our full range of long-haul holidays for an unrivalled opportunity to explore the heart and soul of a destination on two wheels!