Two of the most iconic climbs in Tour de France history! This dramatic journey takes you from Mont Ventoux to Alpe d'Huez via some truly stunning, and challenging, Alpine riding. Our guide and cycling journalist, Hannah Reynolds, tells us all about it…
I first guided this trip in 2017 and despite knowing all the individual climbs very well I had never ridden that particular route before. Looking at the maps and planning each day's logistics revealed the full glory of the route. It is a string of epic climb after epic climb, building to a grand finale on the slopes of Alpe d'Huez. For fans of the Tour de France, col baggers or those who simply love being in the mountains, riding from Mont Ventoux to Alpe d'Huez ticks all of the boxes.
Rising early on the first morning of the trip my fellow guide Sally and myself were relieved to find the wind had dropped. Mont Ventoux is notorious for high winds that can make it perilous. From the hotel decking we could just see the summit and the tell-tale, thankfully still, clouds around it. Day one was on.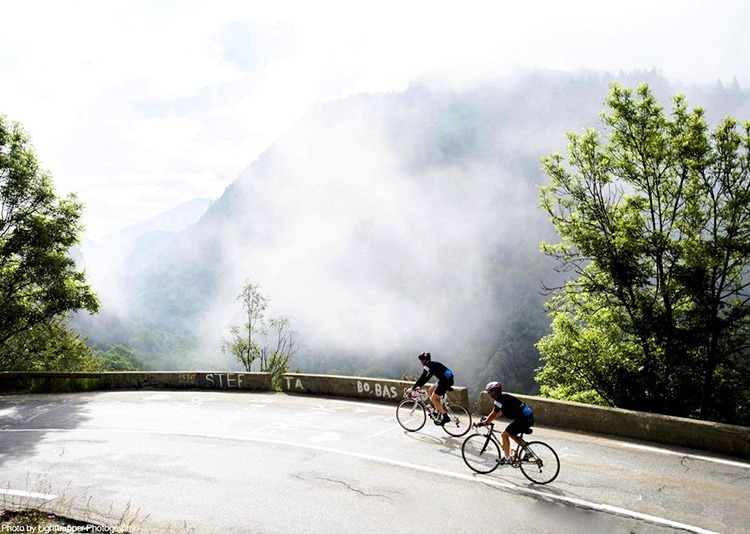 The slopes of Mont Ventoux are invariably busy with cyclists, giving a permanent feeling of being at the heart of a cycling event. As well as riders, there are other support crews frantically waving bananas, gels and shouting words of encouragement. The whole thing has the energy and chaos of a cycling circus. Our schedule for the day was to head to the summit then return to Chalet Reynard, 6km into the descent, for coffee before descending to Sault for our picnic.
Hitting the correct turning to Sault is one of the most important parts of the day one briefing, it's a very long way round if you take the wrong descent! Whilst climbing Mont Ventoux is a huge achievement, descending it is a completely different thrill. It begins with long fast straight sections with far-reaching views before you plunge into the pine forests. As the air starts to warm, wafts of lavender begin to reach your nose until finally the forest gives way to fields of purple and you arrive into the centre of Sault.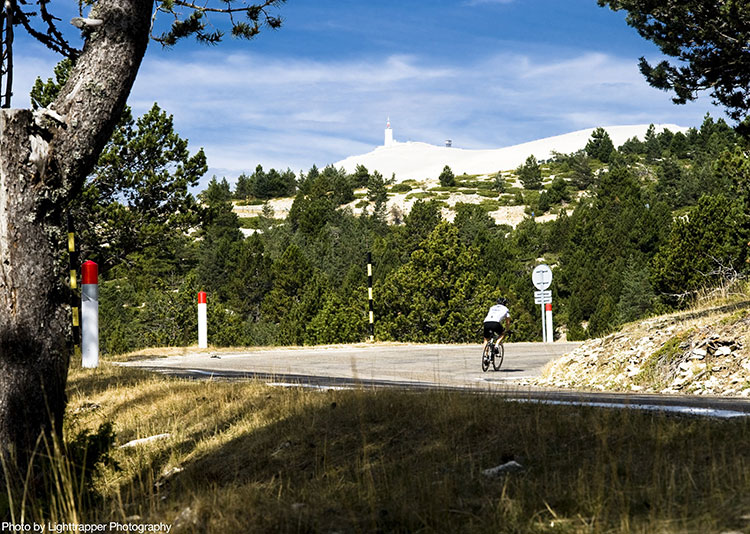 After this magnificent roller coaster of a morning, the afternoon is virtually flat by comparison, so you might think tired legs and a long week ahead would mean a sedate and relaxed spin through the lavender fields, but no. Our group took the advantage of good winds and flat terrain to instigate a team time trial all the way to the hotel door!
Each day has one, if not two, signature climb to tackle so it is hard to pick a favourite day. Personally, while the excitement of being part of a throng of cyclists on the slopes Alpe d'Huez is always special, my favourite climbs are the quieter, more remote, ones. Away from the crowds and the distractions of numbered hair-pins, cheering supporters and endless streams of riders, you get a greater sense of the might and the majesty of the mountains. The only sounds you can hear are your own breathing and the ringing of cow bells, your only roadside supporters.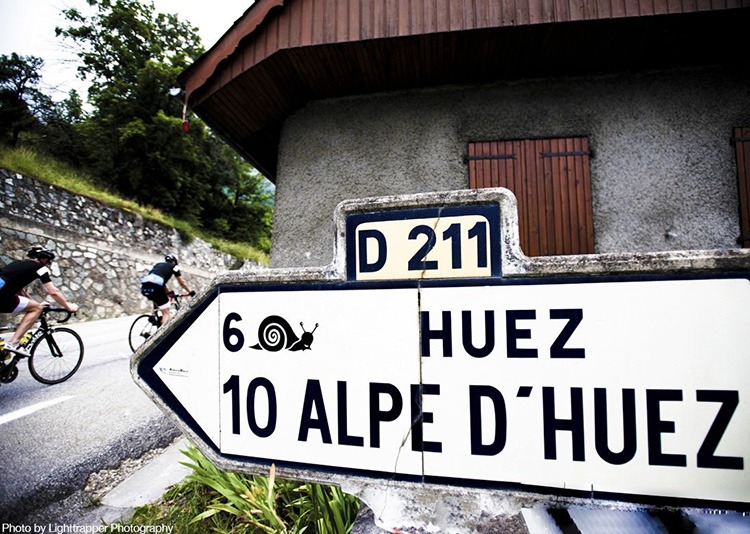 The two most famous and popular climbs bookend the trip, but the middle climbs are notable for their dramatic scenery and stunning views. Few roads compare to the ascent of Col du Izoard or the final kilometres of Col d'Allos. Each day and each climb is markedly different. My all-time favourite climb is Col du Galibier, the highest point of the trip, with a summit that allows you to look down on the jagged and sometimes snow-covered peaks around you.
Our final day on Alpe d'Huez is something of a celebration ride, a grand finale, and perfect conclusion to the week. Whilst not the highest, or the hardest, climb of the trip, Alpe d'Huez holds a huge place in the hearts and minds of cycle fans. Setting an official time for the climb is for many people one of their big cycling goals. As always, the slopes were covered in all kinds of riders, we saw chatty ladies on shopping bikes, (which thankfully revealed themselves to be e-bikes when they came past us!), a rider in a pink tutu raising money for charity, and many serious amateurs trying to set their own PB.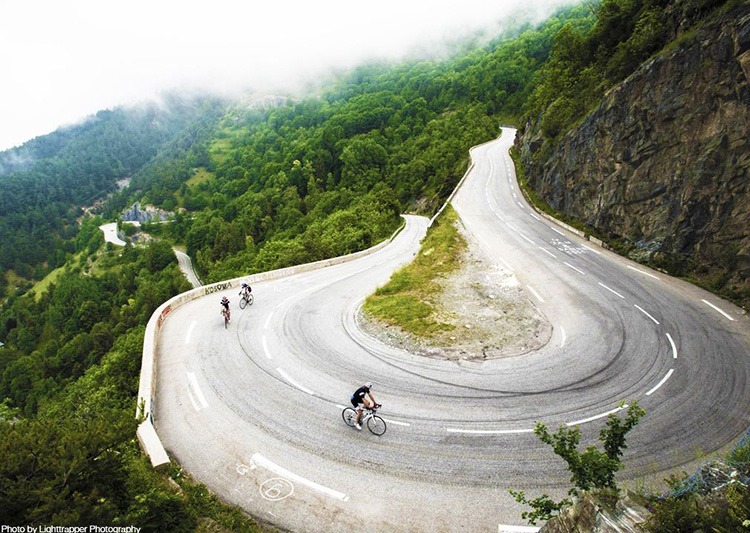 For our final coffee stop of the trip we picked a spot near the top so we could watch other riders suffering in the final kilometres. One of the group discovered that the souvenir shop sold mini col summit signs so we endeavoured to collect the entire route. Everyone agreed that it would be hard to pick a favourite climb and it was fascinating to listen to how each person's perception of a climb could be so different, depending on how their legs had felt that day. Some people loved climbs that others still grimaced at.
But that is the joy of mountains, they are totally unchanging and unimpressed by us as we hurl ourselves up their slopes, checking our time and heart rate. Each person can have their own unique experience on a climb, and go back and climb it again and again, as I have done, and have a different experience each time. Whatever you are looking for, a week of riding in the mountains never disappoints.
Feeling inspired? Take a look at our Mountain Challenges range, showcasing some of the pro riders' best-loved climbs, including the Mont Ventoux to Alpe d'Huez!