Here at Saddle Skedaddle we are all about pedallin' and the café stop  was always a big part of the cycling culture. And with the nation's love for cycling growing every day, today there's plenty of brilliant cycling cafés around! But we wanted to highlight some of the stops we think go above and beyond and offer something extra for cyclists and cycling community. It can be a handy workshop, or a great location with loads of cycling routes around or regular events that bring the local cycling community together. In no particular order, here's our top picks you should check out and why…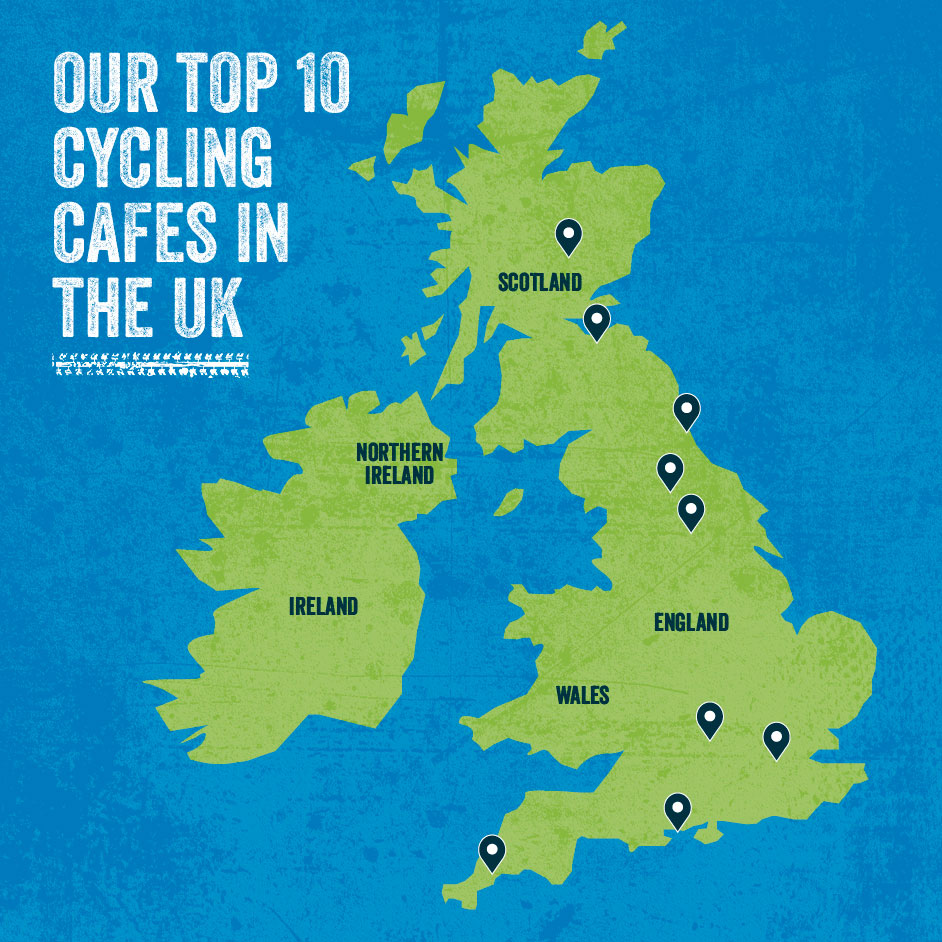 ---
Dales Bike Centre

Best known for: Dales Bike Centre in Swaledale (Yorkshire Dales) with its 'Café and Cakery' has to be up there on your cycling café radar…  En route of the 2014 Tour de France Yorkshire Grand Depart, it certainly takes its coffee and cake seriously!  Nestled in the tiny village of Fremington, a ride in the stunning Yorkshire Dales isn't complete without a coffee stop at Dales Bike Centre. Decked out in Tour de Yorkshire colours, the cafe is warm and relaxing and when the sun's shining there's plenty of outside seating in stunning landscape.
Dales Bike Centre, Fremington, Richmond, North Yorkshire, DL11 6AW
Phone: 01748 884 908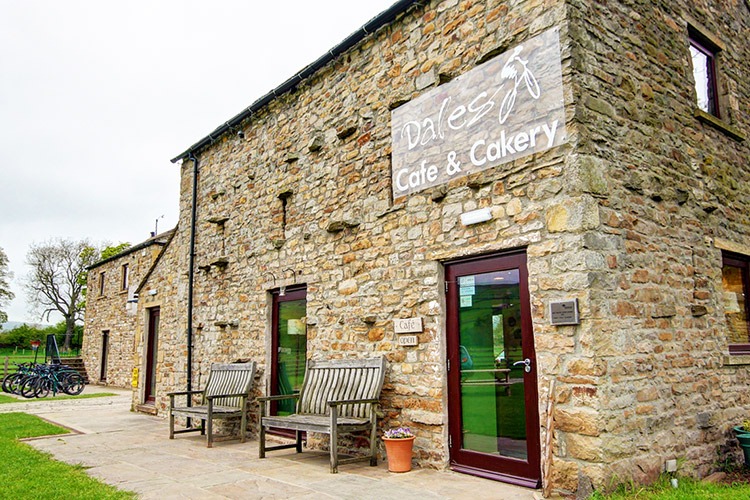 ---
Auguste
Best known for: Great service, charm and custom made vintage bikes! Here the moto is "not only cycle, recycle". Auguste offer a personalised service to all customers, from general services, to a complete custom built, or bespoke bicycles, letting you choose the parts from the ground up. They have vintage frames, parts and tools, but it doesn't mean you cannot have the latest technologies on your bike. Mixing the best of both worlds (old and new) is the way they go here. Word on the street is they do the best coffee in the area too!
Auguste Handmade, 187 Hoxton Street, London, N1 6RA
Phone: 02034 895 490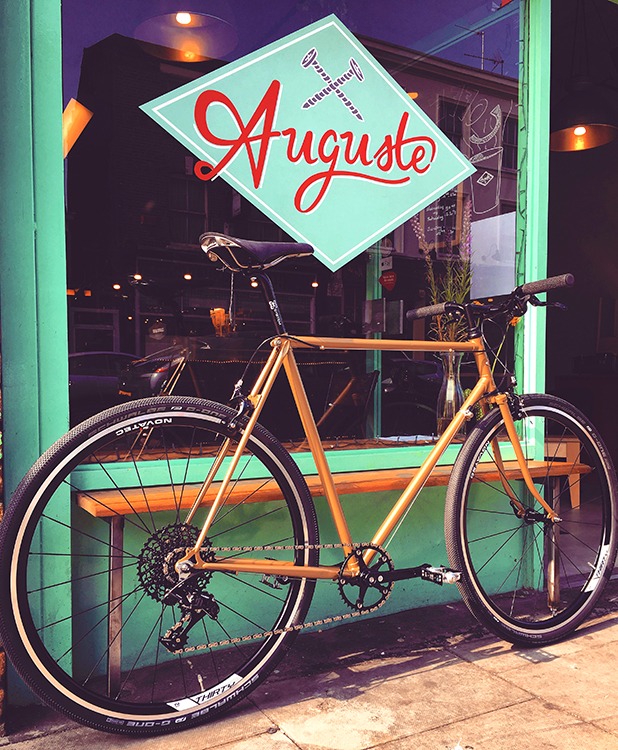 ---
The Hub Portreath
Best known for: Electric bike hire, great coffee, locally made cake and amazing trails in the area! The menu boasts 'healthy eating' that also includes gluten free and vegan options, all made from locally sourced fresh ingredients. It is located right at the beginning of the fabulous Coast to Coast Trail, which runs 12 miles one way to Devoran on the far side of the coast. And this is only one of the trails you can take, as the entire Mineral Tramway Network is designated for cyclists and walkers, and all trails can be accessed from The Hub's location here in Portreath.
The Hub Portreath, The Seafront, Portreath, Cornwall, TR16 4NN
Phone: 01209 844 666
---
Escape Route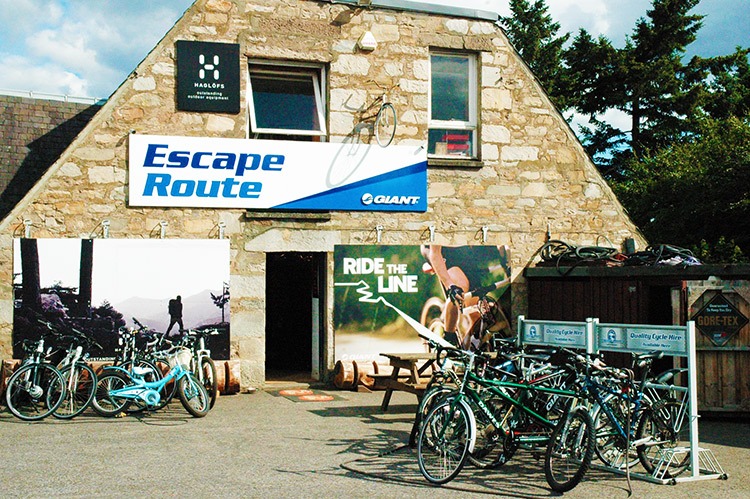 Photo by Escape Route
Bets known for: Established 17 years ago, Escape Route's workshop offers a professional and friendly bike repair services. And just like in any great bike shop, it is essential to not only have a professional workshop, but also good coffee! And this place excels in both. It is also located very close to the start of a range of trails that will take you along the rivers and amongst the hills and forests of Highland Perthshire.
Escape Route, 3 Atholl Road, Pitlochry, Perthshire, PH16 5BX
Phone: 0179 647 3859
---
Ronde Bicycle Outfitters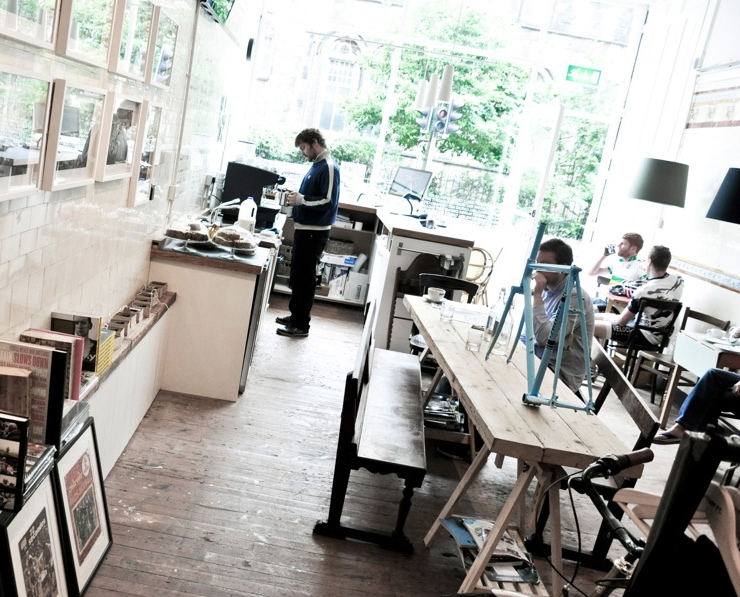 Photo by Ronde Bicycle Outfitters
Best known for:  Ronde is not just a workshop, shop and a cafe. Ronde is also a community of enthusiastic riders who share their love for the sport! The unique Ronde philosophy was inspired by the desire to combine the camaraderie of a cycling club with a first class workshop and outfitters – and this is really what the place is all about.
Ronde Bicycle Outfitters, 66-68 Hamilton Place, Stockbridge, Edinburgh, EH3 5AZ
Phone: 0131 260 9888
---
Machine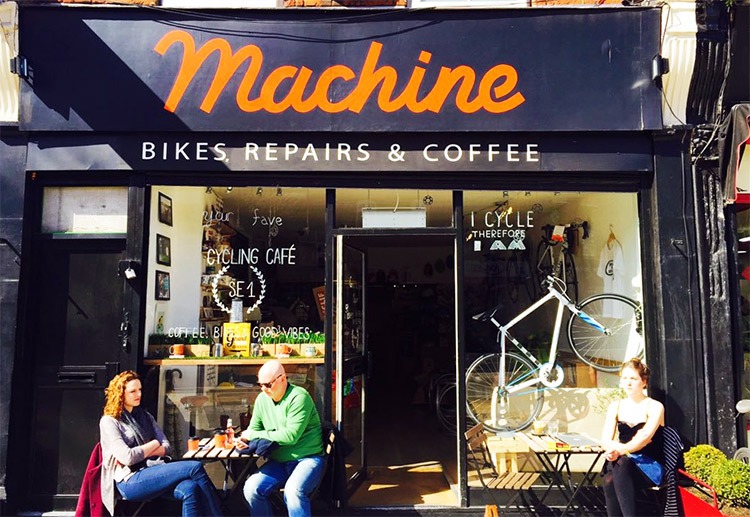 Photo by Machine
Best known for: Machine is an independent family business established in 2011 and the first of its kind in the SE1 area in London. They describe themselves as 'a place for cyclists to catch up, talk about their small and big achievements in sportives, worldwide trips, weekend plans while drinking their favourite Monmouth coffee and nibbling that lovely piece of cake'. All bread and coffee is locally sourced and is even delivered to the kitchen by bike. Also, if you need advice on which bike to get or in need of a fully equipped workshop, this  is your one stop shop in London!
Machine, 97 Tower Bridge Road, London, SE1 4TW
Phone: 020 7407 4287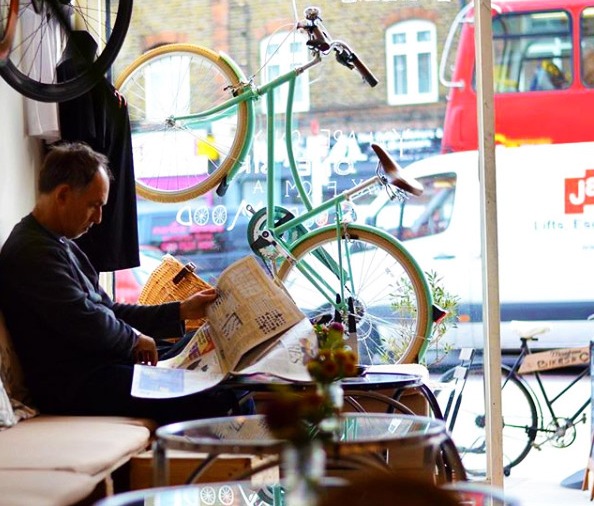 Photo by Machine
---
Prologue Cycling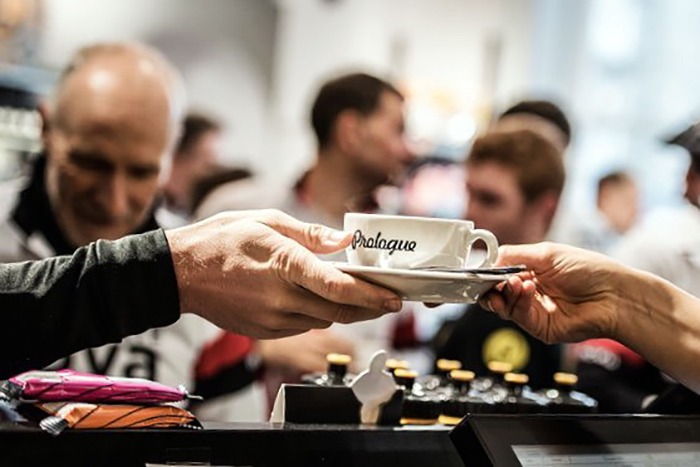 Photo by Prologue Cycling
Best known for: High-performance road bike shop, workshop, café, treatment room and bike-fit centre! There's literally nothing these guys can't help you with to meet all your road cycling needs. In-store, Prologue regularly hosts workshops, talks and social evenings for cyclists.  They also organise rides that bring together riders for weekly tours of the stunning cycling routes around North Yorkshire. And they don't stop there. There's also a treatment room for cycle-specific therapies, as well as bespoke coaching and scientific fitness testing from professionals currently working with Olympic gold medallists!
Prologue Cycling, 3/4 Wellington House, Cold Bath Road, Harrogate, HG2 0NA
Phone: 01423 503 000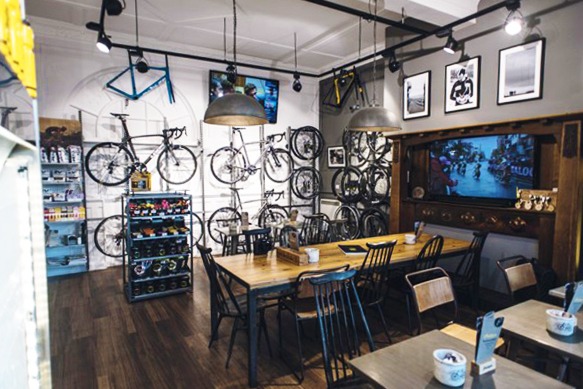 Photo by Prologue Cycling
---
Velo Domestique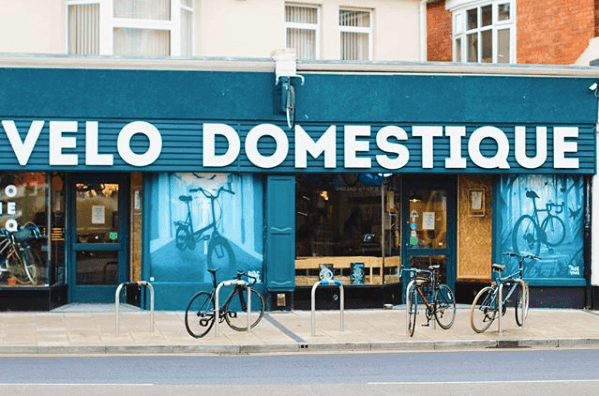 Photo by Velo Domestique
Best known for: Great coffee, regular cycling events and Breakfast Burritos! Think of Velo Domestique as a huge family, made up of everyone who has ever come and joined them for a coffee, had them take care of their bike or enjoyed one of their legendary specials. Their mission here is to 'engage more members of their local community into cycling so they too can see the many benefits of a bike filled lifestyle'.
Velo Domestique, 176-180 Seabourne Road, Southbourne, Bournemouth, BH5 2JB
Phone: 01202 432 265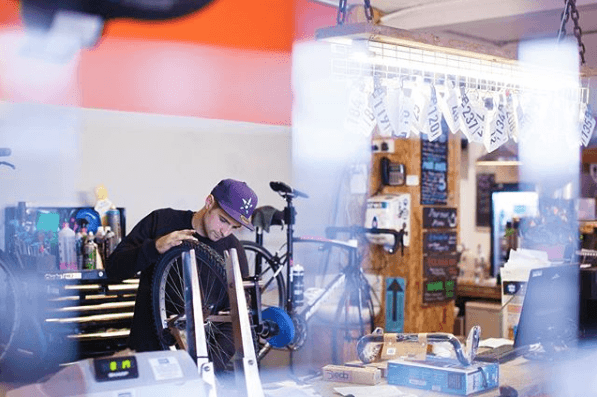 Photo by Velo Domestique
---
The Handle Bar
Best known for: Exceptional coffee and a delicious all-day menu! Located right above a bike shop, this hidden gem is a lovely place for a meal  at any time of the day, with friendly staff and great atmosphere. Here you can have a range of dishes and smaller plates to choose from, which are varied from menu to menu and specials, all plated as only the wonderful cooks at The Handle Bar can do – it is as good to eat as it looks!
The Handle Bar, 28-32 St Michael Street, Oxford, OX1 2EB
Phone: 01865 251 315
---
The Cycle Hub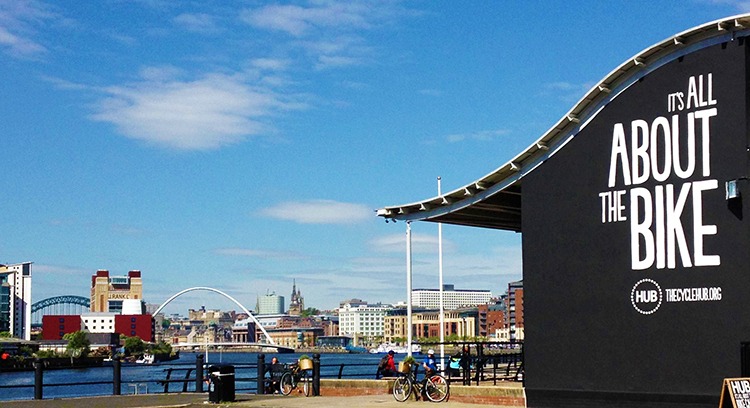 Best known for: With arguably the best view in Toon and located slap bang on the Sustrans Coast to Coast (C2C) and Hadrian's Cycleway route, this is the perfect pit stop for those in need of re-fuelling before the last few miles. The Cycle Hub is a bike friendly café offering bike hire with a fully equipped workshop for bike services and repairs. It also is the home of Saddle Skedaddle, so pop in for a lovingly crafted cuppa and some delicious homemade food when you are around and don't forget to say hi!
The Cycle Hub, Quayside, Newcastle Upon Tyne, NE6 1BU
Phone: 01912 767 250