"Three kilometres to go" says Stu, from the open window of the support vehicle as he eases past. "Great", I say, giving him a thumbs up.
Actually, inside my head there's a little voice screaming "3kms? 3kms? Your legs are shot – there's no way you can ride three more kms".
I take a deep breath (even bigger than I was already taking), close my eyes for a fraction of a second and then mentally think of the infamous catch phrase used by Jens Voigt (a former pro-cyclist, renowned for being super tough) "Shut Up Legs".
I've been riding uphill for what seems like a days, but in actual fact is only about 90 minutes. Based on Stu's route update, the ever-thinner air and the stunning glimpses of scenery just visible through the gaps in the forest, I'm getting nearer to my goal for the morning – the top of Tenerife's El Teide (pronounced either Tidy or Tee-aid, depending on who you ask…)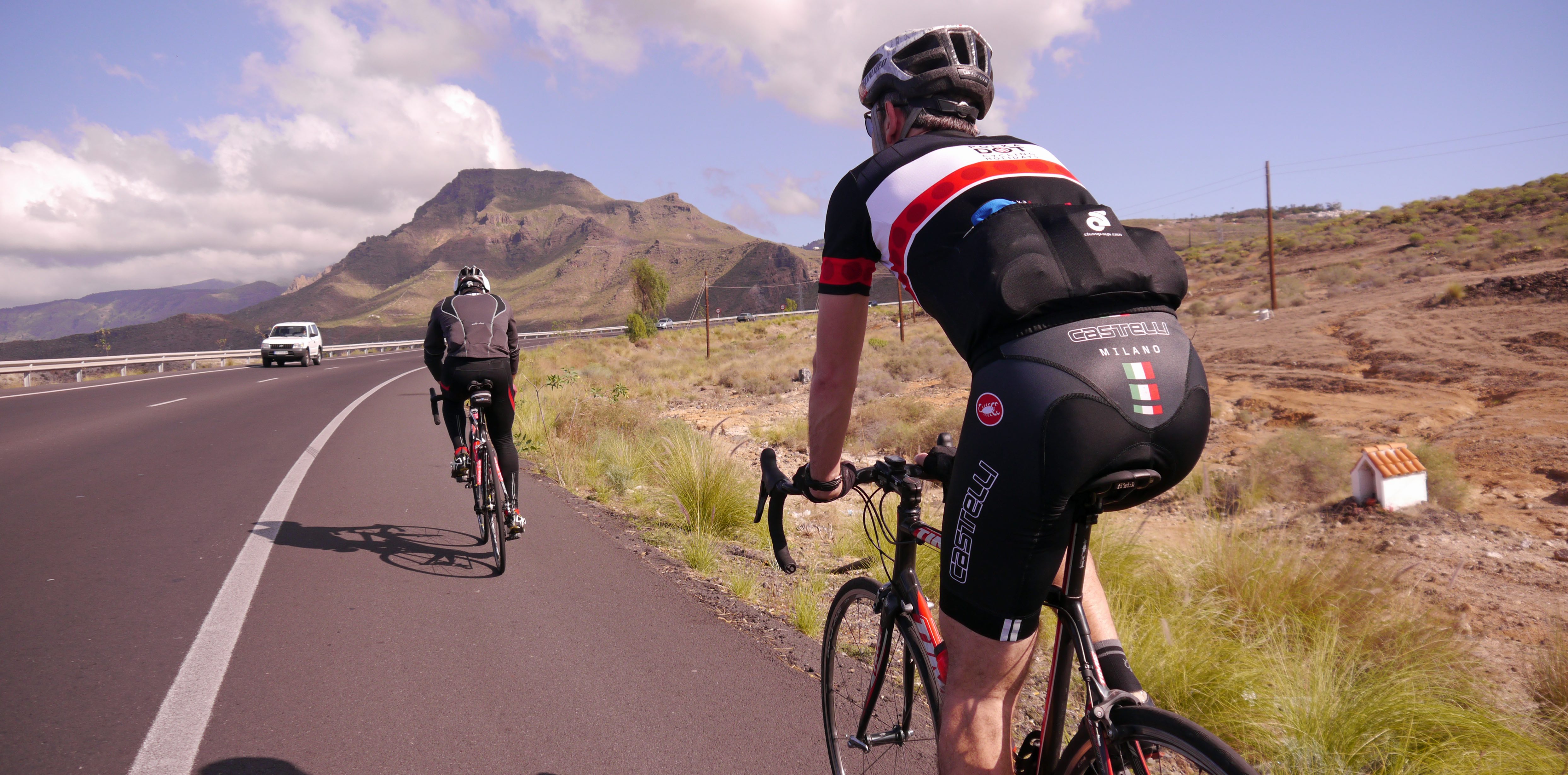 Obviously the internal thermostat on the Italian contingent was broken
El Teide is an ancient volcano, which forms the heart of Tenerife. It's famous (or perhaps infamous) in the cycling world for hosting Europe's longest continual road climb. If you start with your back wheel in the Atlantic Ocean and ride to the crater rim (the highest point the road gets too), it's nearly 40 kms (24 miles) of continual climbing. Over that distance, you gain around 2100m (or 7000 feet) and although the gradient never gets much above 7%, just climbing for somewhere around 2 hours is quite a challenge, even for the best climbers.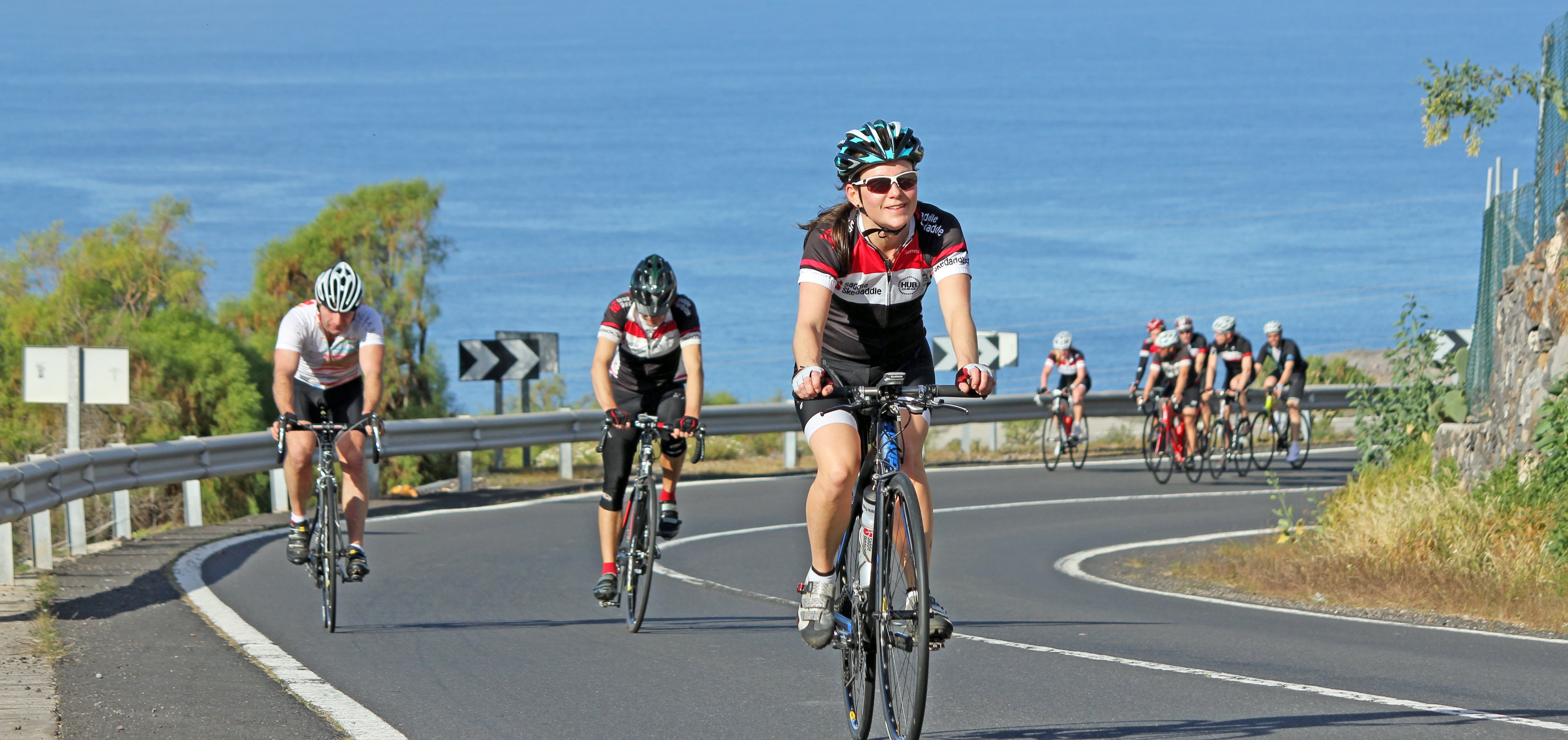 The boys based their style on Chris Froome's infamous stem-gazing period
I glance briefly down, first at my bike computer, then at the cassette on my rear wheel. The computer shows I'm riding at somewhere around 900 VAM (Velocità Ascensionale Media) and the glance at the rear wheel shows that I've still got one sprocket left to go before I'm in my easiest gear.
The 900 VAM I'm actually pretty pleased with. If you'd have asked me 48 hours earlier I would have thought you were going to ask about a Transit or a Sprinter, but it turns out that its VAM (not VAN) and it's a fantastic way of measuring fairly easily what level of intensity you're climbing at. I was aiming to try and stay above 800 VAM, which was the level that Jen and Stu thought I could sustain, based on their assessment of my fitness, but earlier I'd been pushing 1200-1300 VAM whilst trying foolishly to reduce the gap to the three Skedaddle-Polka Dot cycling guides who were in front of me at the head of our group.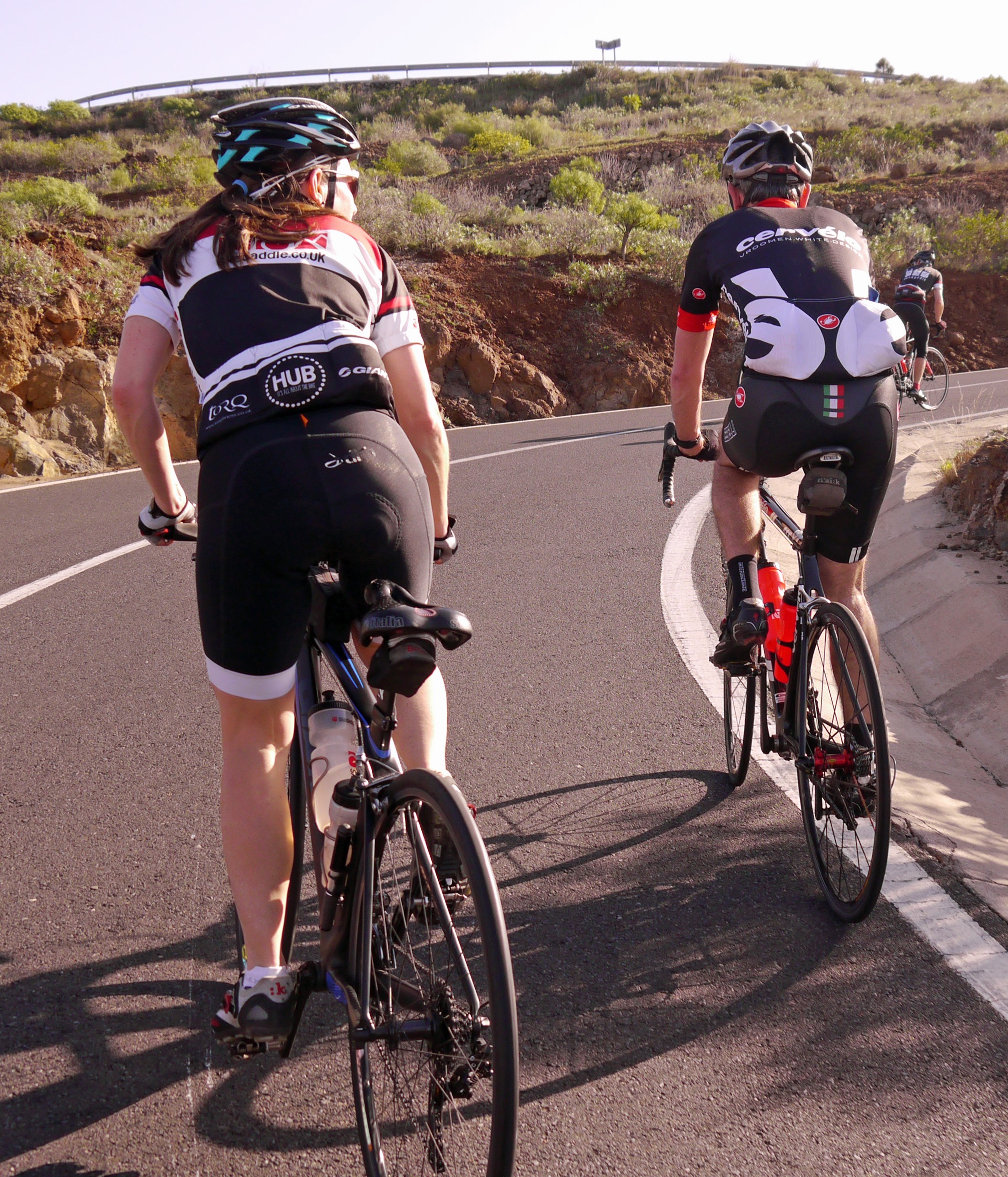 Are we nearly there yet Dad?
The one sprocket still available on my cassette was slightly more disappointing. At a stop about 45 minutes earlier, I'd discovered that when I'd put my bike together after the flight, I'd set the gears up perfectly so that they purred from one gear to another, but I'd brilliantly managed to stop it from shifting into the easiest gear at the back. All I needed was about 30 seconds, a workstand and a crosshead screwdriver to fix it, but the rear pockets of my jersey were already full and sadly contained none of the above items. So I was stuck without being able to use my easiest gear 🙁
So, Shut Up Legs it was then. Shut up legs, pedal, breath, try and ignore the pain. Shut up legs, shift two gears harder, stand up for as many seconds as I can cope with, breath. Shut up legs, sit down, click to two gears easier, breath. And repeat.
Luckily, as I neared the top, the gradient eased and for the last 500m or so, it was gentle enough to let me shift into the large chainring at the front and go "full gas", even if was only for about 30 seconds (and the full gas was more like a very small camping gas burner putt-putting out a small slightly feeble flame, compared to my normal significantly more athletic version). As I reached the edge of the crater rim (which was our goal for the morning), Stu and the support vehicle came into view, parked up at the side of the road. I braked, pulled off the road and climbed off the bike.

The mountain looked quite easy when viewed from a distance
I'd managed less than an hour from the café stop, had just about stayed above 900 VAM and hadn't blown my legs up. The fact that I'd "only" managed fourth place was a little disappointing, but then I figured that actually I'm an office-wallah now, not a pro cycling guide any more and so taking fourth place to three supremely fit and experienced riders in front, wasn't so shabby.
The list of excuses for not making the mental podium on the climb could be ever expanding – bike "laden down" with camera gear (used for capturing some of the stunning scenery during the ride), legs still in winter hibernation mode (it was only the second week in January after all), race weight still quite a long way away etc etc, but actually, what did it matter? The most important thing was that I'd made it safely to the top and hadn't bonked/hit the wall/blown up or met the man with the hammer (all idioms for running out of blood sugar – a disastrous situation caused by not eating/drinking enough during the ride, pushing it too hard without the base fitness being in place and an element of bad luck).
From where I sat, on the edge of the crater, it was a further 3kms down to the bottom of the crater, where there was a view of El Teide itself. For a few seconds I doubted I had the energy to do it (as it meant re-climbing those 3 Kms back to the crater rim before heading off the mountain), but I couldn't come all this way without actually getting a decent view of the mountain itself could I?
The descent down to the base was superb – fast and flowy with incredible views of ancient rock formations. I had to ignore my past-life as a geologist and concentrate on putting Jen and Stu's descending tips into practice instead – all the weight on the outside leg on a corner; look where you want to bike to go; rely on your peripheral vision to enable you to scan the road in front and think carefully about your braking as you catch up with cars in-front and negotiate a couple of sharper bends.
All the time I expected Wiggo, Froomedog or one of other Team Sky pro riders to come rocketing past – they regularly use El Teide (and the hotel located in the crater) for some pre-season high-altitude training, but sadly they weren't about this week (although the Cannondale 'B' team were, and we later saw them climbing up, as we headed down off the mountain). In some ways I was quite glad that I hadn't been overtaken by one of the pros – I suspect my descending technique would have proved somewhat shonky in comparison to their mastery of the road!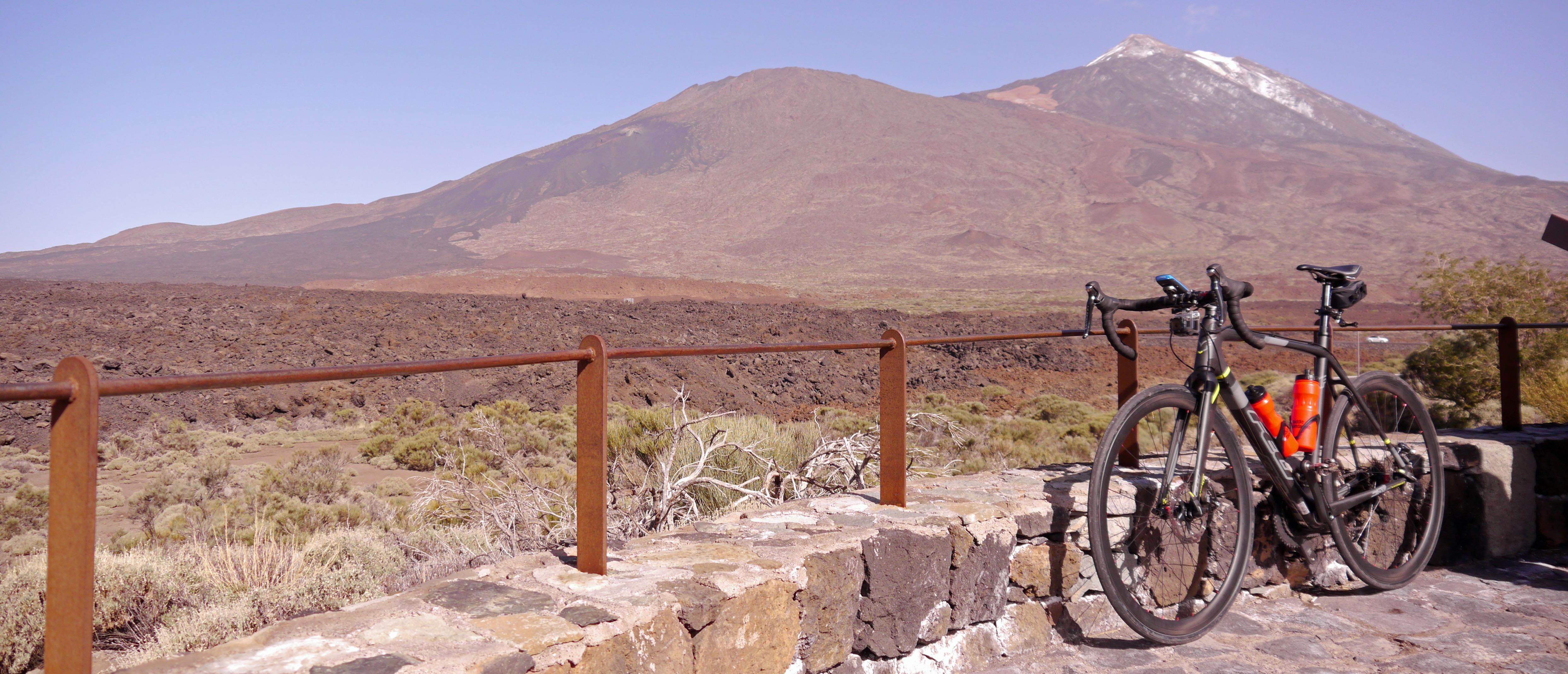 The owner was having a brief siesta, just out of shot
At the base of the crater I took a few snaps of the volcano itself before turning tail and heading (slightly more gently) back up the crater rim. Here, with extra layers of clothing fitted and a tiny video camera strapped to my chest, I set off following one of Skedaddle-Polka Dot's longest serving guides down the mountain.
The descent was incredible – kilometre after kilometre of smooth, swoopy tarmac with stunning views (when I could drag my eyes briefly away from the road anyway). It was the perfect gradient too – just steep enough to be fun, but not so steep that you were always on the brakes.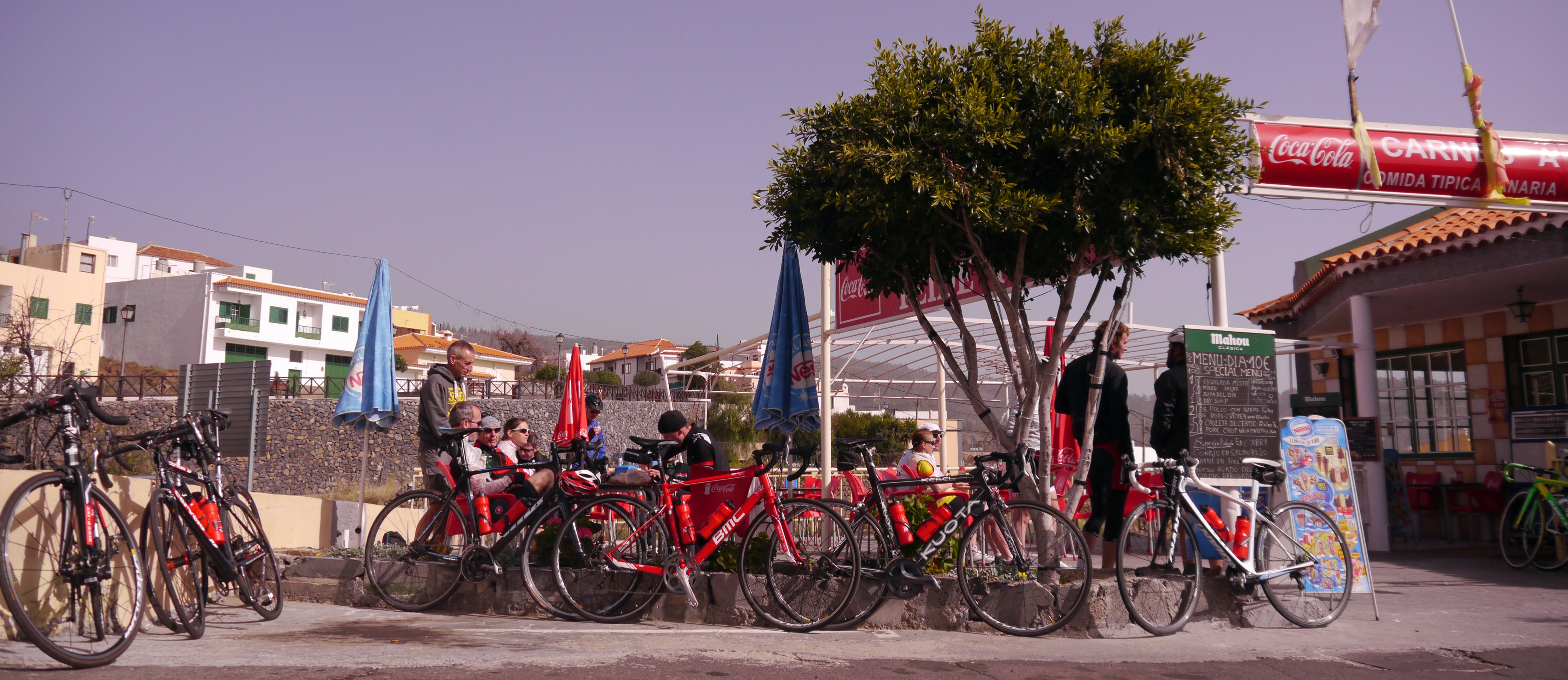 The bikes were desperate for a break after having been ridden all morning
After nearly 20 minutes, we reached the civilisation of Vilaflor and stopped off in a roadside café. After nearly three hours of riding, my stomach was growling and in need of calories. Luckily the café was perfectly set up for cyclists and there was soon a freshly toasted bacon, egg, mushroom and salad sandwich sitting in front of me!
Once everyone had made it safely up to the crater rim and back down the café, we set off for home, but this time via a new route, which Stu described as "technical". This translated to major fun. The road was tighter and twistier in places than we'd ridden before. There were quite a few corners where we had to really concentrate on what we were doing and the gradient was slightly steeper so there was plenty of speed on offer if you let the brakes off. The skills tuition that we'd been offered early in the week was all geared towards riding safely and I was very grateful for the tips, hints and pointers on the way back to sea level.
Sadly, the El Teide climb was the last ride that we had scheduled for the week, but it was the perfect culmination of an amazing time in Tenerife. In the course of one day, we'd seen the absolute best of Tenerife riding – perfect weather, amazing scenery, beautiful roads with very little traffic and enough of a challenge (both up and down) to cater for a variety of fitness and skill levels.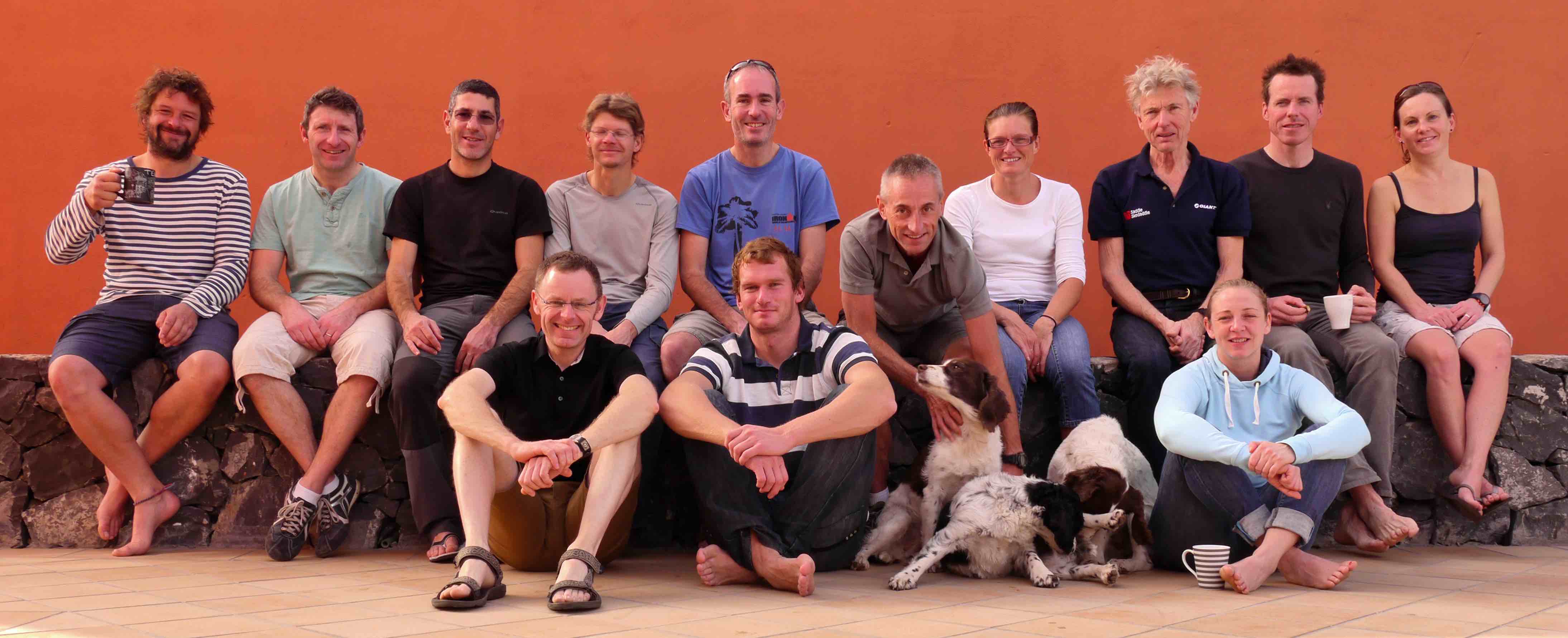 Make it look as though we haven't climbed 40 kms today please
That evening, as we sat around discussing the day's events, we decided that as work went, this wasn't too bad, all things considered! In fact the hardest thing about spending time cycling in Tenerife is that eventually we were going to have to pack up our stuff and head back to the cold and grey wintery conditions that are common in the UK in January, rather than the 20 degrees C and wall-to-wall sunshine that is more normal out there!
By Olly Townsend, Skedaddle's head of "wishing he was still riding in the sunshine". Olly travelled out to Tenerife as part of the 2015 Skedaddle-Polka Dot guide training course, a pre-season session that we put on to make sure our guides are some of the most highly skilled and expert guides in the business.
If you would like to try out the stunning riding that Tenerife has to offer, we run Fitness Training Weeks in January, February and March each year. More details can be found here and there's a video of the highlights of the riding available here