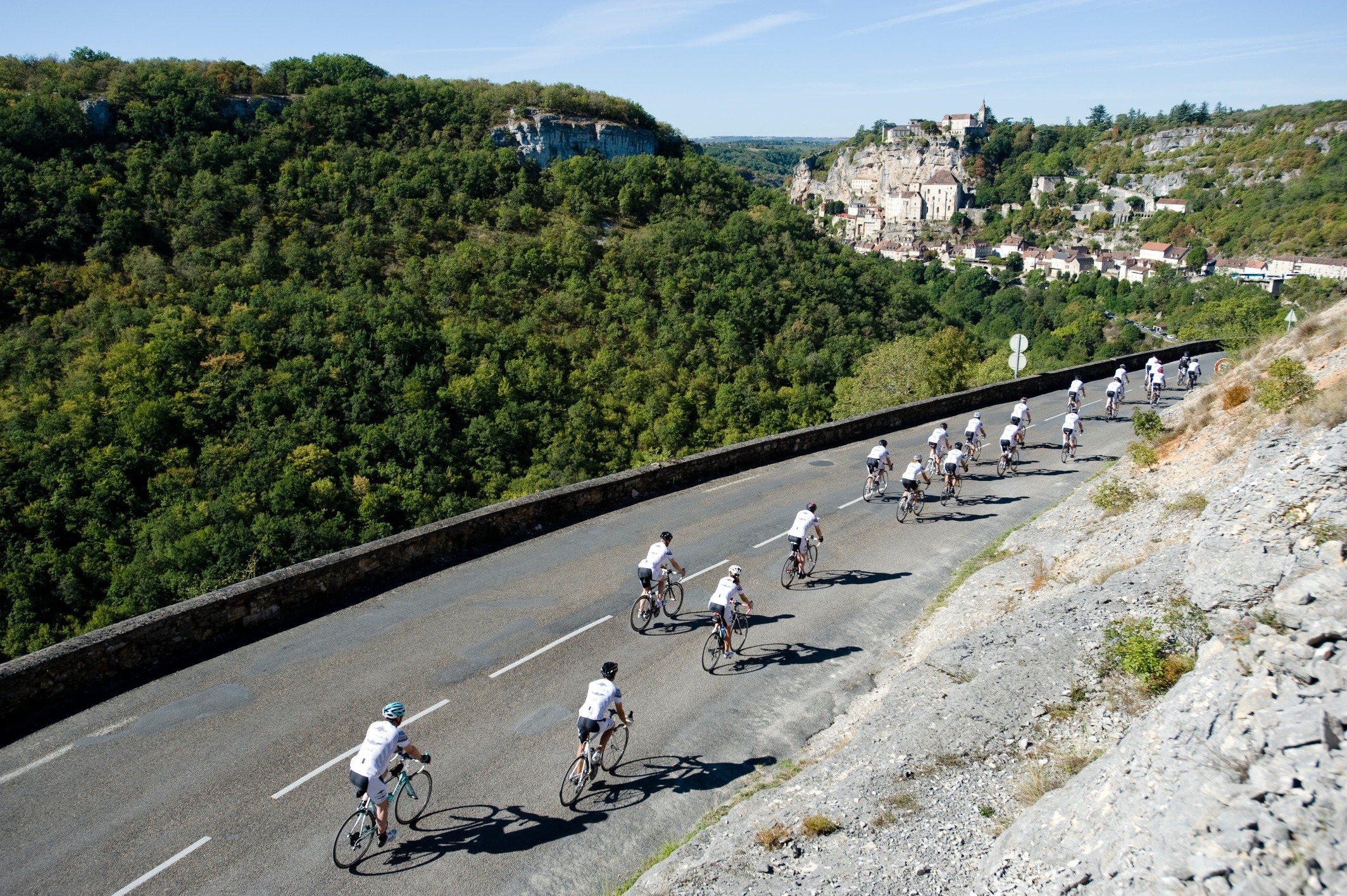 If you've booked on to one of our long trips you may be wondering about how to build up your fitness in preparation. Don't worry, its simple. We caught up with St Malo to Nice guide Hannah Reynolds, who certainly knows a thing or two about preparing for a few days in the saddle. Here's her tips for getting prepared:
Few of us are lucky enough to ride our bikes every day so being able to spend a holiday on two wheels is a fantastic experience, and a little bit of fitness preparation beforehand can help you get more from the trip and make it more enjoyable. This doesn't mean you need to undertake an arduous and strict training regime, although of course you can, it just means a little bit more riding time to make sure you are in great shape for your adventure.
Building up slowly is the key, so start by looking at how much riding you are currently doing. Look at ways you can increase the number of hours you spend on your bike per week, but don't exceed a 10% increase in volume week on week. An easy way to increase your mileage is to use your bike to commute to work, this also helps you get into the routine of riding every day, something that you will be doing whilst on your trip.
Whilst total mileage is important if you are pushed for time short, sharp sessions can boost your speed and your endurance. If you only have 30 minutes to spare try doing some short but hard efforts. Warm-up for ten minutes and then go as hard as you can for thirty seconds, recover for one minute, then as hard as you can for another thirty seconds.  Do this six times. You will have only done three minutes of really intense effort but the effect on your fitness will be far greater than that of an easy thirty-minute ride.
Another great way to get yourself covering more ground is to set some achievable goals, which will help put you in the right frame of mind for tackling a 7 day, or more, tour. According to a study by Wolverhampton University, 20% of sports performance comes down to psychology. With this in mind, it's time to start believing you can, in order to achieve the previously unattainable. Easier said than done? Try planning out your rides for the season ahead and notch up the mileage a little each week. With a bit of pre-thought and smaller stepping stones to conquer, your end goal will become much more achievable.
More miles means more need to keep yourself re-fuelled. Alongside lots of cafe pit-stops to indulge in cake and coffee (a great goal setter we always find!) we also advise loading up on plenty of energy bars and bananas to keep you going when you're out on the roads. Don't forget to keep drinking too, why not pop a couple of teaspoons of honey in your drink and you'll have yourself a home-made energy drink to boot…
Finally, a nice, easy, quick win that could have dramatic results for your riding! Research by Spanish sports scientists reveal that tweaking your saddle height can make a huge difference to your cycling output. A simple adjustment of just 0.5cm has been proven to optimise your pedalling and can help see you make more miles when out on the bikes.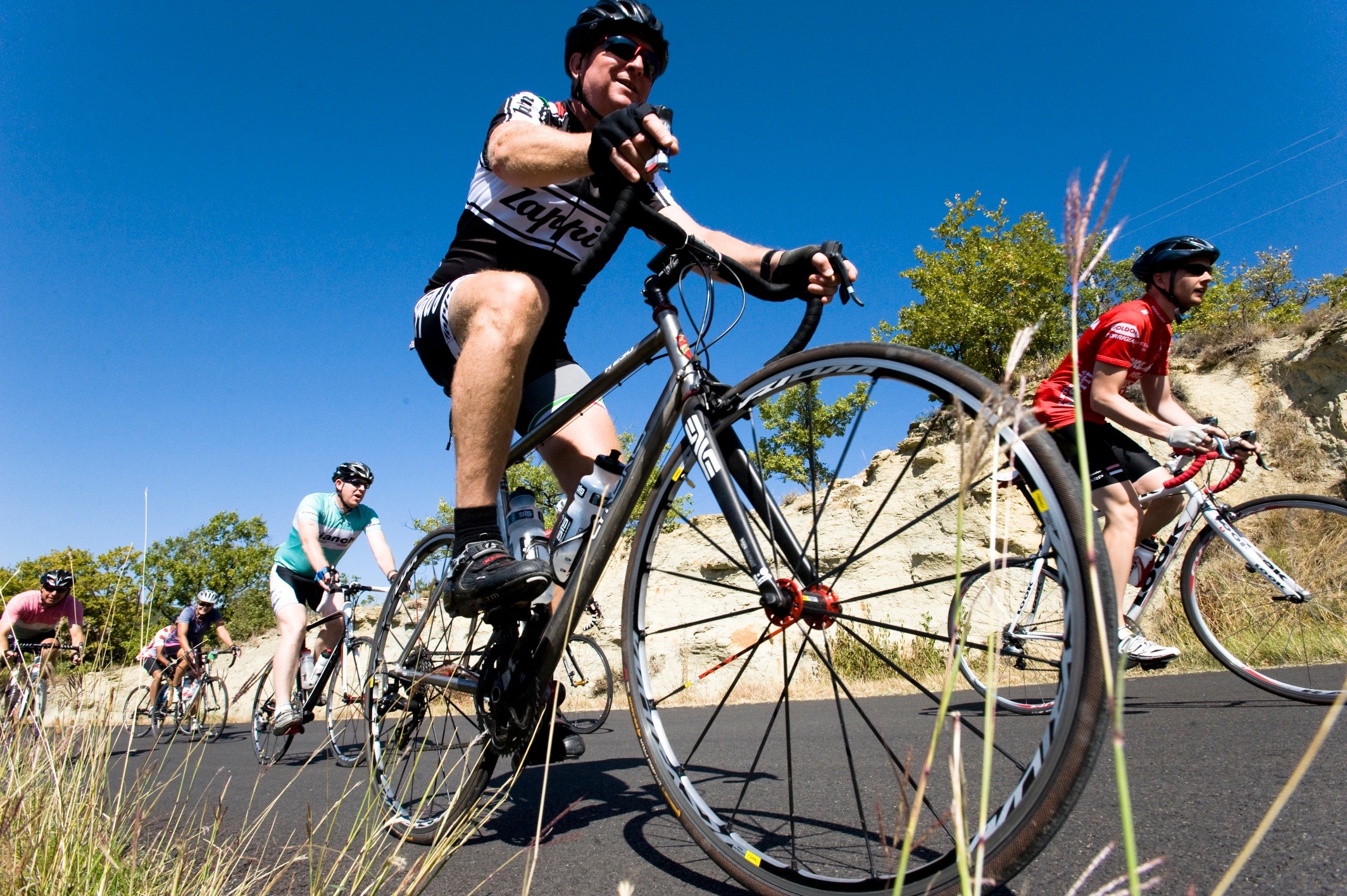 Top tips…
–       Get your body used to sitting on the saddle several days in a row.
–       Use your bike more. Ride to work, ride to the shops. It all adds up.
–       Build up slowly.
–       Riding more equals eating more to fuel your extra miles.
How long should my rides be?
On a trip you have all day to complete the distance and the support of your Skedaddle guides so don't worry if you haven't ridden that far before. However it is wise to do a ride of at least 80% of the longest day. If the longest day of your trip is 80 miles try and ride 65 miles several times before you go.
We caught up with Kerry…
In between helping book your holidays, road expert Kerry Ashberry has been taking to the tarmac for several years herself, including testing out a few of our road holidays along the way. We caught up with her to ask her top advice for building up the miles before a trip.
'Cross train – the best way to improve at cycling is to cycle. But core strength is critical for climbs and this is where your additional sports will help. You can also use your training time to try out different energy and recovery drinks, to see what works best for you, a great opportunity to get well prepared for your impending trip. Finally, make sure you take time to recover – too much effort and not enough recovery will make you ill and a week off the bike is worth 3 on. This recovery doesn't mean sitting on the sofa eating cake watching soaps either, it means recovery rides at a slower pace.'
Enough from us, time to get out on the bikes and get those miles in! Click here for a full list of cycling holidays that you can put your new found fitness skills to the test.
Photography: Lighttrapper Photography