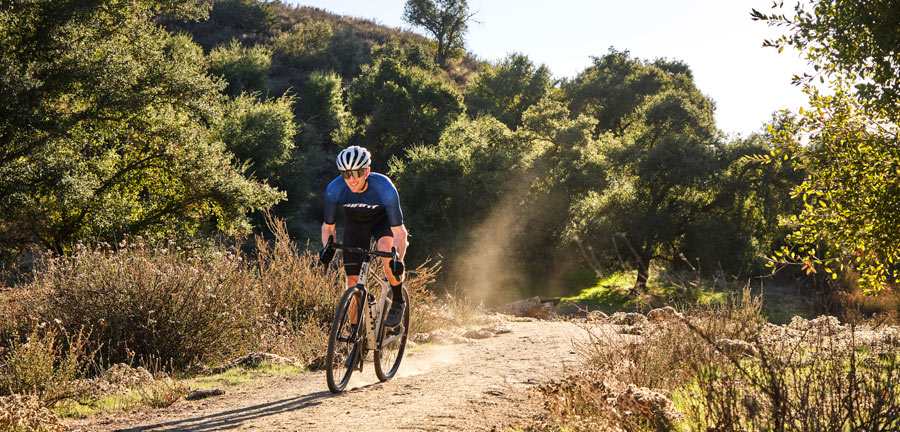 Are you new to Gravel Riding or just want to find out a bit more about what it involves? Then our Gravel Riding FAQs are a great place to start. Hopefully, this page provides answers to most of the questions you might have, but don't forget that you can always contact our friendly sales team if there's anything else you would like to know.
Discover Our Full Range Of Gravel Riding Holidays!
---
– What is gravel riding?
Gravel riding is all about exploring somewhere new. Getting away from traffic. It's not about speed, or power output, or distance, but it is about who can have the biggest grin at the end of the ride. Gravel rides generally include a variety of surfaces and trail types. There's no such thing as a typical gravel ride – you can be riding farm tracks one minute, then some flowy woodland singletrack, then a section of the bike path, or some cobbles or a minor road covered in potholes. And there's always a café stop. Coffee and cake help make the world go round after all! If you would like to find out more about the different surfaces that you will encounter on a Skedaddle Gravel Riding holiday, then check out the Terrain section in the holiday description or head over to our page on Gravel Terrain which can be found here.
---
– How is it different from other types of cycling in the Skedaddle range?
Skedaddle gravel is all about taking the path less travelled and heading off the beaten track in search of adventure. Whereas our road cycling holidays feature the finest tarmac, our MTB holidays showcase amazing off-road riding and our leisure holidays focus on gentle riding with an emphasis on relaxing as much as on the riding, our Gravel holidays are all about mixing it up. The gravel trails won't be as technically demanding as you would typically find on a mountain bike trip and our itineraries are designed to avoid paved roads and traffic as much as possible.
Gravel riding is as much about the grin factor as it is about the trail surface and the buzz of switching from one surface to another without having to worry about whether you have the "right" bike soon becomes addictive. Our Gravel Riding trips will let you see a destination from a different perspective, arriving with a big smile and a new appreciation for this 'best of all worlds' type of riding.
---

– Who is the typical gravel rider?
There probably isn't such a thing! Gravel riding could be seen as a hybrid/amalgamation of the best bits of all the cycling disciplines and this variety means no two riders are likely to have the same background. There will be lots of common features though – a desire for adventure, fun and wanting to get off the beaten track and away from traffic are probably the biggest.
---
– What different types of gravel trails might I encounter on my trip?
One of the real joys of gravel riding is how much variation of trails you'll find in a typical day. You might ride everything from a vehicle-width moorland drover's road to some smooth woodland singletrack to a bridleway running across some farmland. The trails will differ depending on where you're riding – in Scotland it might be wilder, more remote and slightly more challenging. In Tuscany, you might be on perfectly graded 'strada bianche' white roads. In Spain, you could be on an ancient mule track previously used as a trading route between villages. Wherever you ride, we guarantee it will be varied, interesting and fun.
---

– What's a gravel bike and do I need one?
While there is a gravel bike stereotype – drop handlebar, wide volume tyres, disc brakes, more relaxed geometry than road or cyclocross bikes, mounts for carrying luggage etc, everyone's view of what makes a 'perfect' gravel bike will vary. You don't "need" a gravel bike to take part in our range of gravel trips, but they are super fun to ride! In the trip information, we explain exactly what the terrain and trail surfaces will be like on your chosen route , plus we give advice on the type of bike and crucially, the minimum width of tyre that we recommend if you're going to be bringing your own bike.
---
– What bike handling skills or experience do I need to join a gravel trip?
We make sure that every Skedaddle cycling holiday has a really comprehensive description of what it involves and the level of experience and fitness that we think you will need to get the best out of it. Initially, we recommend that you check out the sections on Terrain, Gravel Cycling Grade and "Is this suitable for you?" which can all be found on the specific holiday pages on our website. We've also put together a page on Gravel Skills and a page on Gravel Terrain that you can check out. Or you can call us to chat it through!
More Advice From Our Experts On The Skills Needed For Gravel Riding Here
---
– What type of clothing and equipment do I need?
Most cycling clothing can work on a gravel bike – you don't need a specific helmet/shoes/glasses/shorts etc. What gravel riders choose to wear/use is generally determined by what other cycling disciplines they participate in. If you normally ride on the road and are happy wearing lycra, then wear that on your gravel bike too. If you think of yourself as a mountain biker and prefer baggy shorts, then that's fine too! Our only word of advice would be to use MTB-style SPD pedals and shoes with treaded soles if you ride clipless, rather than using smooth-soled road shoes and road SPD pedals.
---

– Can we bring our own frame bags or on-bike luggage to use on our Skedaddle rental bike?
Given the variety of shapes and sizes of on-bike luggage and the fact the mechanisms for fitting them varies so much, we aren't able to safely accommodate customers' own frame bags and on-bike luggage on our hire bikes. Our gravel cycling holidays do have vehicle support and the riding group will meet the support vehicle at regular intervals, so you should be able to get away with using jersey pockets to carry any ride essentials. You are welcome to use a small backpack on sections where you think it's necessary.
For those bringing your own bikes, you are welcome to carry any bike luggage you wish including bar bags, frame bags and/or seatpost bags to carry layers, a waterproof and any other items for the day. However, it's a fully guided trip so there is at least one riding guide with the group at all times, and there should be multiple meeting points with the support van each day, including tea and lunch stops, and either side of more off-road, remote sections. It's therefore not necessary to carry everything for the day on your bike or in a backpack, though you may choose to carry a few extra items on longer stretches away from the van. Our guided gravel riding offers more comfort in this regard than a bikepacking experience.
---
– Should I upgrade my wheel set-up to run tubeless?
In a word, yes! The initial faff of setting them up shouldn't be overlooked, but the benefit is smoother ride quality, less risk of punctures and the ability to run lower pressures which will mean you have more grip and better comfort. If you don't want to do this yourself, most local bike shops will offer advice and do the work for you for a modest fee. If you would prefer to stick with inner tubes, that's fine too, of course, just remember to add in some extra air pressure and bring a couple of appropriately sized spares with you.
---

– Can I wear a backpack while riding a gravel bike?
Yes absolutely. You shouldn't need to carry any more than you would on a typical road, leisure or mountain bike holiday, but if you'd prefer to use a backpack rather than jersey pockets, then that's cool. There are no hard-and-fast rules when it comes to gravel riding.
---
– What tyre widths do you recommend?
As big as you can possibly fit into your frame/forks is the simple answer! Ideally, we recommend you run them set up tubeless. Bigger volume tyres set up tubeless can be run with lower pressures (between 25 and 40 psi is typical), which means more comfort and more grip. For each different trip in the Skedaddle Gravel range, we offer minimum tyre width guidance in the trip notes for anyone bringing their own bikes.
---
– Is a 1x or 2x chainset the most suitable on my gravel bike?
This comes down to personal preference. Our advice is to have as wide a range of gears on your gravel bike as you can. This can be done with a 1x chainset combined with a wide-range cassette or a 2x chainset and a more traditional road-style cassette. A 1x set-up is simpler and lighter but will result in bigger gaps between gears. A 2x set-up won't work on all bikes, but will generally give you a wider range of gears and with smaller gaps between each one, so you'll be able to maintain a more constant pedalling rate.
---

– Is a gravel bike good for long rides?
Gravel bikes tend to have more relaxed geometry than road bikes and with a slightly more upright position. This, combined with wider volume tyres and more shock absorption built into the frame and fork design, means you'll feel less fatigued on longer rides.
---
– What is the big deal about gravel bikes?
Why choose to ride a gravel bike? Because they are really fun to ride! The lack of suspension and pared-down componentry reduces weight and makes them more lively and easier to use on climbs than traditional off-road bikes but with more durability/reliability than using a road bike. The stripped-back approach to the kit is part of the fun. A gravel bike turns trails that you previously thought of as a little dull on a mountain bike into something more challenging and the sense of achievement is often bigger.
---

– Is a gravel bike faster or slower than a MTB or a road bike?
A gravel bike is a chameleon – you can use it on the road and it's nearly as fast as a road bike. You can ride it off-road and it's almost as competent as a mountain bike. A gravel bike will be arguably more fun everywhere. That flexibility to turn off the road onto a trail just because you want to know where it goes or to include a section of smooth cycle path because you need to get to the café before it closes for the day – that's the joy of a gravel bike.
---
We hope this has answered all your gravelly questions, but if you need further information, then please get in touch with our friendly team of experts.
Sounds Good? Check Out Our Full Range Of Gravel Riding Holidays!