Welcome to Newcastle! Home of Skedaddle HQ, the city is famed for its seven iconic bridges across the River Tyne, and is a lively hub of the North East which guarantees to surprise you by how much it has to offer. There's many reasons why we chose to call it home, and here are just a few:
In a nutshell…
Once a vital Roman fort and a part of the Hadrian's Wall, Newcastle has a long and proud history to tell and a lot to show off today! Here you will find everything from historical architecture to a rich contemporary art scene, from vibrant nightlife to award-wining dinning.
And, of course, your trip to Newcastle is not complete without scratching your head a bit when listening to people speak around here. Geordie dialect might catch you off guard, but fear not, it will only add fun to your experience rather than be an issue. So howay and have a canny time when in Toon.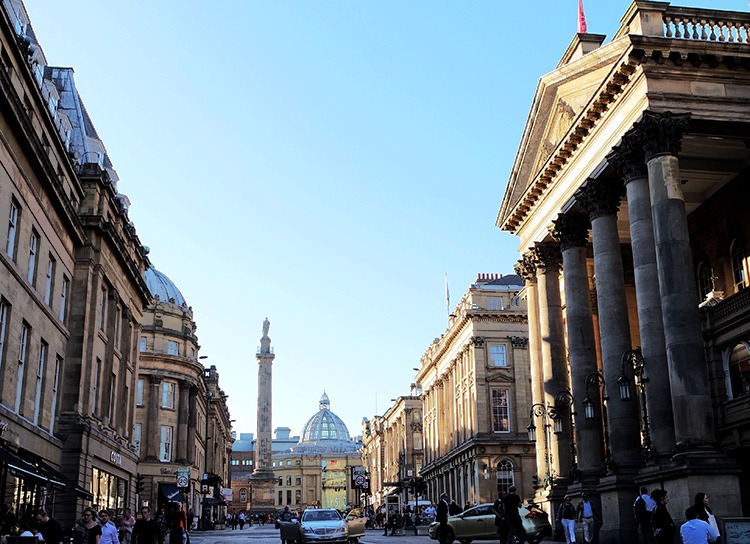 Sights not to miss…
Once a busy dockside, today the Quayside is fast becoming one of the most celebrated parts of the North East! Situated on the banks of the River Tyne at the point where Newcastle and Gateshead meet (linked by many bridges that altogether create quite a view), the place is bursting with cultural attractions and an outstanding choice of restaurants and bars. See if you can spot Newcastle Castle overlooking the riverside!
The Quayside is also an exciting scene for contemporary art, as well as music and culture with venues including Sage Gateshead, Millennium Bridge (the worlds first rotating bridge in the shape of an eye) and BALTIC Centre for Contemporary Art. With a free entrance, BALTIC is well worth a visit, if not for the art, than definitely for a great panoramic view on the iconic bridges from the viewing box on level 5 of this iconic building.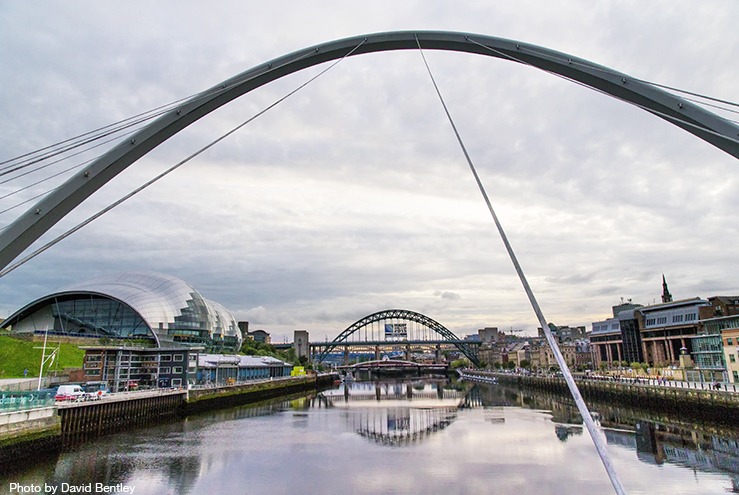 Grainger Town is the historic heart of Newcastle and is another area that is well worth exploring! This is a wonderful district and is arguably one of the most beautiful city centre's in UK.
The area includes the celebrated Grey Street that is also home to the beautiful Theatre Royal and a wide range of eclectic restaurants, shops, bars and cafes. Take a stroll along this wonderfully historic street which boasts beautiful Georgian architecture that will conveniently take you from the Quayside at one end to the Greys Monument on the other, making your way past the St Nicholas Cathedral.
Take a quick trip to Gateshead and visit the Angel of the North! Built on top of the site of a former coalmine and symbolising the transition from an industrial to an information age, this impressive piece of contemporary art won't leave you indifferent.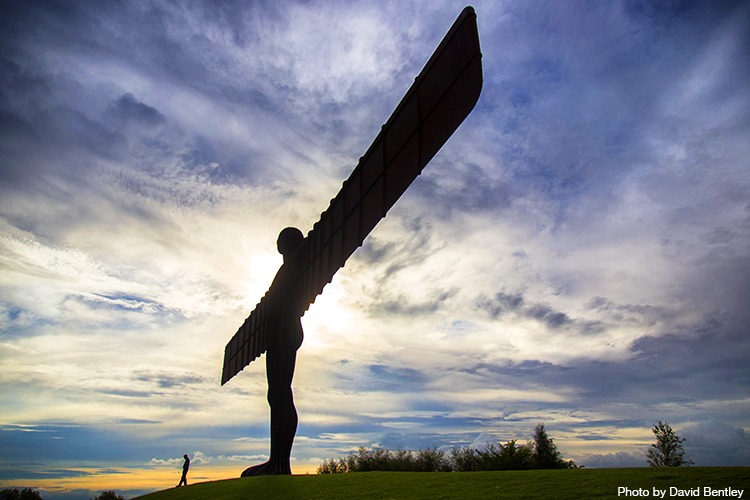 If you want to take a break from the city, head to the Tynemouth. This charming village, dominated by Tynemouth Priory and Castle, has a lot to offer! Take a relaxing walk along the Longsands and be accompanied by the views of golden sand and Northern Sea. Or walk down the steps of King Edward's Bay, but not for the view this time (which is beautiful, by the way). Here you will find Riley's Fish Shack, a restaurant known for it's fresh, local and sustainable seafood. In 2017, The Guardian named it 'the eating experience of the year'!
Honourable Mention…
Based in The Cycle Hub, overlooking the Quayside and the Millennium blinking bridge (arguably the best view in Toon) and situated on the popular C2C route, is the home of yours truly – Saddle Skedaddle. The Cycle Hub is a bike friendly café offering bike hire with a fully equipped workshop for bike services and repairs. Pop in for a lovingly crafted cuppa and some delicious homemade food as part of your day exploring the Quayside!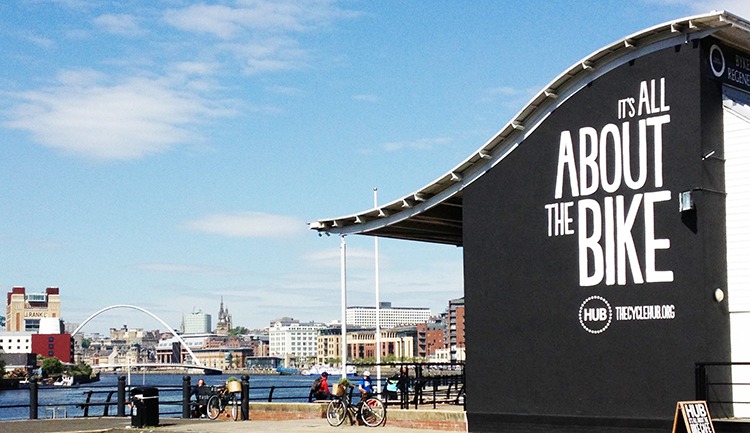 Flavours of Newcastle…
Right in the heart of Grainger Town you will find Grainger Market! It's a great stop for everything food and is well loved among locals. It has managed to keep some of its original features and historical charm, together creating a great experience for the visitors. Alongside craft stalls, mini bazaars, jewellers and florists, you can find high quality butchers, French bakeries, fruit and vegetable stands as well as street food traders and cafés – a fantastic way to experience the vibrant and varied local culture.
Hidden gems…
If you are a football fan, check out St James' Park, home of Newcastle United and one of the biggest stadiums in English football.
A very short walk from the Stadium is the heart of the Chinese community in Newcastle – Chinatown. It is one of only 5 in England! You won't be able to miss the beautiful arch that will lead you straight to the quirky street full of delicious places to eat and shop.
For the best pubs and music venues in town, head to Ouseburn Valley! This quarter has a very special energy to it; it is where the industrial past meets today's culture and creativity. Here, the thriving social and cultural venues exist harmoniously alongside reminders of the area's industrial heritage. Why not visit the quirky Cook House, a true hidden gem that food lovers will certainly appreciate!
Our team says…
'For kids… Seven Stories and the Ouseburn Farm are a must-visit! Lots to keep the little ones smiling and entertained off the bikes.' – Fran, Marketing Executive
'Check out Cullercoats Bike and Kayak for an ultimate outdoors adventure! You can even do a kayaking tour up the River Tyne under the famous bridges, which is very cool!' – Jess, Leisure Cycling Expert
'Head to the Mog on the Tyne Cat Café for a fluffy cat cuddles and a great cup of tea.' – Jacky, Road Cycling Expert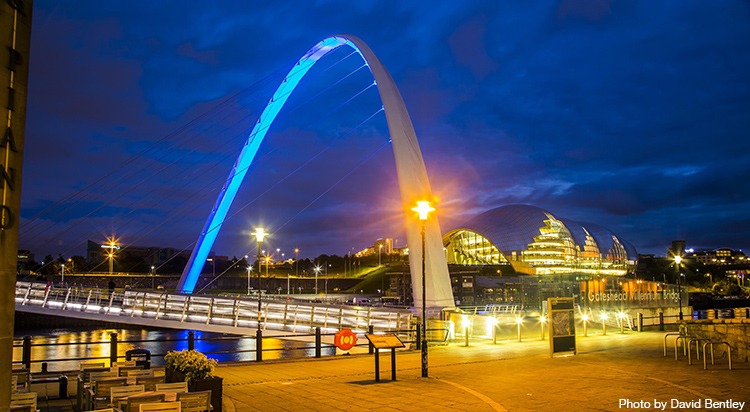 Feeling inspired? Experience Newcastle yourself…
Some of our classic UK cycling holidays start or end in Newcastle. From here you can start your journey through history when cycling the Hadrian's Cycleway, or why not take on the UK's most popular place-to-place route riding  Coast to Coast? Alternately, our Coast and Castles route offers an another exciting cycling journey taking you from the heart of Newcastle all the way up to beautiful Edinburgh. Or, for a shorter break, we recommend our centre-based experiences at Alnmouth.
For roadies, we have an exciting option to spend a weekend cycling the North East's finest roads in beautiful Northumberland!
Finally, for those who prefer to go off-road, our Sandstone Way trip offers a rewarding mountain biking journey across one of the most remote parts of the UK, the Northumberland countryside, a great local landscape best explore don two wheels.