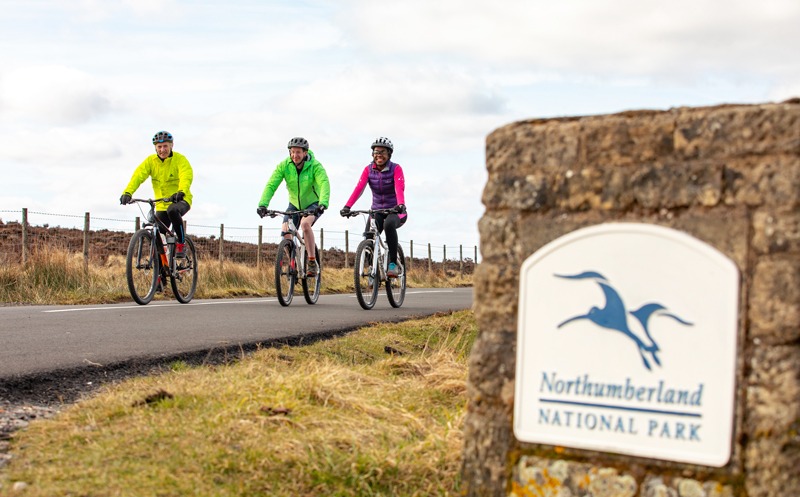 Positioned in the far North of England, bordered with Scotland, the vast county of Northumberland boasts incredible natural and cultural wonders. Rugged and unspoilt are often words we use to describe this still wonderfully wild place. With the smallest population in England, it's also ideal for those eager to escape the crowds and get off the beaten track!
Skedaddle is proud to have this adventure playground on our doorstep. Our HQ in Newcastle Upon Tyne is just a stone's throw away from the National Park, giving us unrivalled access to its boundless treasures. In fact, some of our best-loved UK cycling holidays explore this incredible place, including Hadrian's Cycleway and Coast and Castles (to name just a few!)
With more of you considering a UK cycling holiday here in future, we wanted to share some of the reasons we think this often-underrated destination is perfect for those seeking a holiday at the speed of the bike…
Discover our range of cycling holidays in Northumberland!
---
Peaceful pedallin'
Eager to escape the hustle and bustle of modern life? Yearning for wide open, green spaces? Look no further! Northumberland is England's least populated county and its National Park is 10 times less dense than any other in England. This fact is oh-so-apparent when you join us for a holiday here. Cyclists can expect to enjoy miles upon miles of peaceful pedallin', often without seeing another soul in sight! Just you, your bike and all the sights and sounds nature can conjure up along the way. Whether weaving through the wild coastal plains south of Berwick, exploring the rural South Tyne Valley, soaking up sweeping moorland in the North Pennines, or – there's so much to savour for outdoor enthusiasts.
---
Life's a beach
Call us bias, but Northumberland's rugged, sandy stretches really are some of the best in the UK. For those who need more assurance, the region's coastline is a designated Area of Outstanding Natural Beauty – need we say more? Aside from the soft, golden sand the region is blessed with, what makes these beaches so special, to us, is the fact they never seem to get that busy, so you'll usually always be able to find a good space all to yourself. Failing that, the health benefits of being near the sea are also worth noting, and with so much wonderful coastline to explore, it's little wonder our tours are such a hit with Skedaddlers. Our favourites include the gorgeous Embleton Bay, with its dramatic castle backdrop – also voted by BBC Countryfile as the best UK beach in 2017. The 7-mile long Druridge Bay and Alnmouth are also well worth a pit stop to see. But that's barely scratching the surface of what you can find here. For those looking for a post-ride dip, be warned the Noth Sea is famously nippy, even for us hardy Northerners it takes a brave soul to fully immerse! Your best bet is joining us in September, when the seas at their warmest and you can often enjoy a balmy day with even less folk to disrupt the view than normal.
---
Refuel on British classics
Stopping off at a café for an obligatory cup of tea is one of those simple pleasures many of us love on a cycling holiday! And for those partial to a quintessential cup of British tea, you're in for a treat, because the flavoured Earl Grey heralds from here. Blended by a former rather famous resident, Charles, Earl Grey the 2nd (voted in as Prime Minister in 1830) it's gone on to become a global hit and makes a great pedallin' pick-me-up!
If you have a sweet tooth, Northumberland also boasts a bounty of natural sugary goodness – its local honey is a must-try. For those joining us on our Coast and Castles tour, you'll enjoy stopping off at the Chainbridge honey farm, near Berwick Upon Tweed. Here you'll discover the extraordinary tale of bees and honey, alongside getting the chance to buy some of their delightful local wares. Lindisfarne's legendary mead also offers a unique taste of the region and we believe this tipple makes a great holiday souvenir too!
With so much coastline, we couldn't resist mentioning one of the nation's favourite summer dishes… it's fish and chips, of course! You're really spoilt for choice here and most pubs will offer it as a main dish. For those after a really authentic experience, the bustling town of Seahouses, which you'll stop at on our Northumberland family tour, is probably one of the best places in the region to indulge and has tons of great fish and chip shops to choose from. If you ask us, there's no better treat after a day in the saddle, than savouring this iconic British dish by the Harbour, overlooking the sea. Just watch out for those crafty seagulls…
---
Coastal castles galore
Here's a fun pub quiz fact for you: Northumberland has more castles than any other county in England, there's over 70 in total. But that's not all, what really sets Northumberland's castles apart are their unique coastal locations. On our Coast and Castles tour, you'll encounter 4 on Day 3 alone – a star-studded collection guaranteed to impress. This includes the well-known Bamburgh, arguably Britain's best coastal castle. Its fortified walls are surrounded by dunes, which sit dramatically overlooking the North East coast. Then there's Lindisfarne further up the coast, perched on its very own island. Our personal favourite though, are the mighty ruins of Dunstanburgh, overlooking the gorgeous golden sands of Embleton Bay. It's one of our top sights to savour on the Coast and Castles route, with panoramic views out across this spectacular stretch of coastline. For those joining our family tour of the Northumberland Coast, you'll enjoy a night staying at Newton-by-the-Sea, the perfect place to hop off your bikes and take a memorable stroll along Embleton beach, which takes you up close to this medieval gem.
---
Purple hills, purple hills…
Northumberland comprises a vast array of wide-open moorland, covering approximately 70% of the National Park! This unique habitat is home to the hardy shrub heather, which carpets the moors. The common variety found here is ling and is a sight to behold when you join us in August, flowering a vibrant shade of purple. This results in a spectacular display of colour, transforming the surrounding landscapes. One of the best places to see this heather in bloom is Simonside Hills, which our mountain biking adventure, the Sandstone Way takes in on Day 3.
---
Picture-postcard villages
Whilst it's the big showstopping wonders of the region that tend to get most of the credit, Northumberland's also got some pretty lovely villages which are rightly earning their very own reputation. Take Alnmouth for example, a colourful, coastal village wrapped around by an estuary, now dubbed one of the 'prettiest places in the UK& Ireland in 2021' by Conde Naste. For another coastal gem, the charming fishing village of Craster further north is also sure to please. It's most famous for its kippers and has a lovely little harbour to boot. Both Alnmouth and Craster can be enjoyed on our tours of the Northumberland Coast. Further inland, for those taking on the Hadrian's Cycleway challenge, the historic, picturesque town of Corbridge will be a welcome pedallin' pit stop. Based on the river Tyne, it not only has a great little bakery/ patisserie that you can grab some picnic items from, it's also home to some fantastic independent shops that are worth a look, our favourite's include RE and Forum Books.
---
The home of Harry Potter
If you're a family looking for ways to keep the kids entertained, the impressive castle at Alnwick promises a day out to remember! Our Northumberland Coast tour begins in this historic town and has time pencilled in so you can make the most of the impressive castle and its gorgeous gardens. With iconic quidditch scenes filmed from the popular fantasy series Harry Potter here, the kids can even sign up for a broomstick training class! We can't think of a better way to kick off your family adventure! If you have time, we also recommend a visit to Barter Books which is also based in Alnwick. Aside from being one of the largest second-hand bookshops in Britain, its charming interior, complete with a model railway that runs atop the bookshelves, is sure to raise a smile from the whole family, no matter what your age.
---
The edge of the Roman Empire
Last but by no means least, the jewel in Northumberland's crown is undeniably Hadrian's Wall, its most famous historical wonder! Weaving across some of the region's most staggeringly stunning landscapes, this UNESCO world heritage site attracts thousands of hikers each year; all eager to gaze upon one of Britain's most impressive ancient artefacts. Today, after hundreds of years of decay, what it lacks in former engineering glory, it more than makes up for by its unique, remote position. Cycling offers a unique way to access the wall and helps take you on a less beaten track, exploring the speed of the bike also means you can take in more of this incredible part of the UK. Aside from its beautiful natural surroundings, along the way, you'll encounter many forts and sites of interest. Housesteads, Vindolanda and the recently developed Sill visitor centre are all fascinating and make it an ideal option for anyone looking to learn more about Britain's Roman history.
---