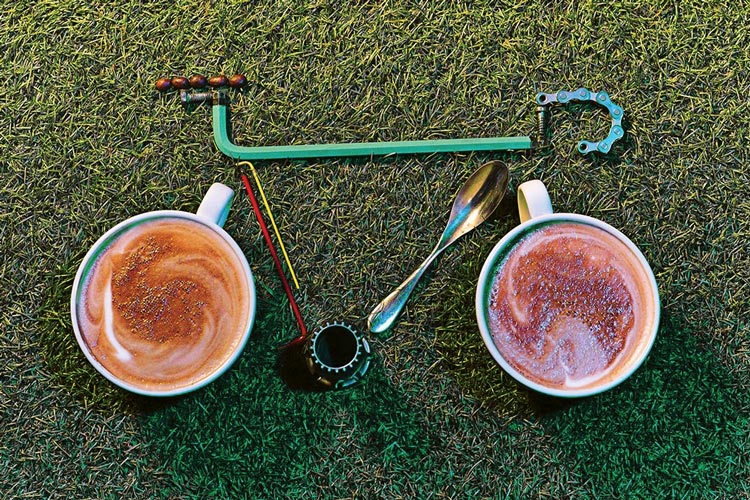 After what has been a weird time for everyone, we've loved seeing so many of you out and about on your bikes as a way of keeping fit and healthy during lockdowns. However, here at Skedaddle we think everyone deserves a treat or two after a difficult couple of months! After all, there's nothing better than a tasty slice of cake and an energising coffee after (or during!) a ride – and so we want to share some of the best places for the perfect café stop. Adding to some of our old favourites, we've discovered even more great cafés, ranging from brilliant bike workshops to coffee shops on amazing cycling routes.
It's worth bearing in mind that due to the COVID-19 outbreak, all of the cafés are operating under new guidelines and some are still adapting to the new normal, but we can't wait until they're all back up and running again soon! In no particular order, here are our top 10 cafés in the UK you should check out and why…
---
Popup Bikes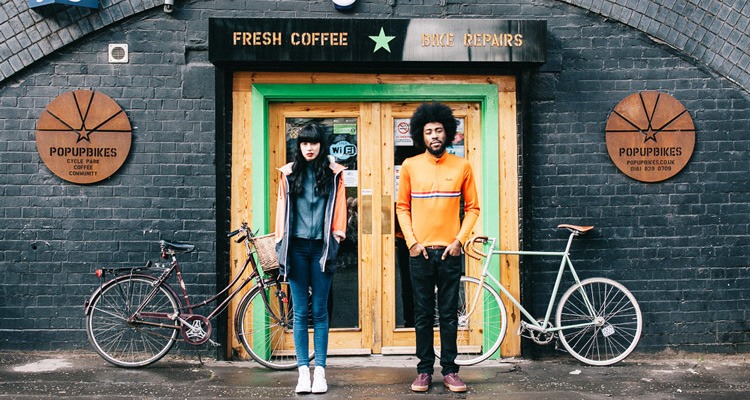 Photo: Popup Bikes
Best known for: Being Manchester's first and original cycle café serving amazing coffee and completing same day bike repairs and servicing since 2012.
Extra info: Popup Bikes put community before profits and provide a place where cyclists can meet, interact with each other and exchange tips and stories. By giving cyclists the space to help each other, they aim to nurture Manchester's cycling community. Their workshop incorporates bike repair, servicing and maintenance, the sale of high quality pre-owned bikes and allows cyclists access to quality service at reasonable prices. You don't need a bike to come in and say Hi though – anyone that appreciates good company and great coffee is welcome!
Popup Bikes, Arch 5, Corporation Street, Manchester, M4 4DG
Phone: 0161 839 0709
http://popupbikes.co.uk/
---
Look Mum No Hands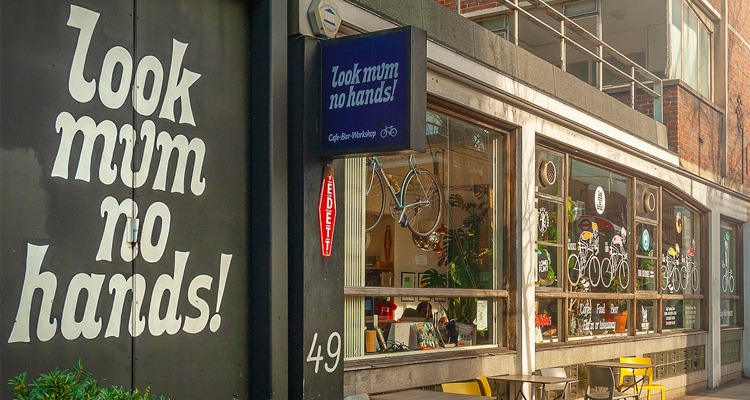 Photo: Look Mum No Hands!
Best known for: Combining a café, a bicycle workshop, a bar and an events and exhibition space to become one of the longest standing cycle cafés.
Extra info: LMNH! is all about bringing bikes and the love of all types of cycling to the heart of their business. They have a combination of coffees, beers, wholesome food and an excellent workshop, as well as an active programme of events varying from showings of the Tour de France and book launches to art and photography exhibitions. Look Mum No Hands strongly believe that combining coffee and cycling works, and we totally agree! Whether you're looking for an espresso or a puncture repair (or both!), it's a wonderful café for all kinds of folk!
Look Mum No Hands, 49 Old Street, London, EC1V 9HX
Phone: 020 7253 1025
https://www.lookmumnohands.com/

---
Route 2 Café & Apartments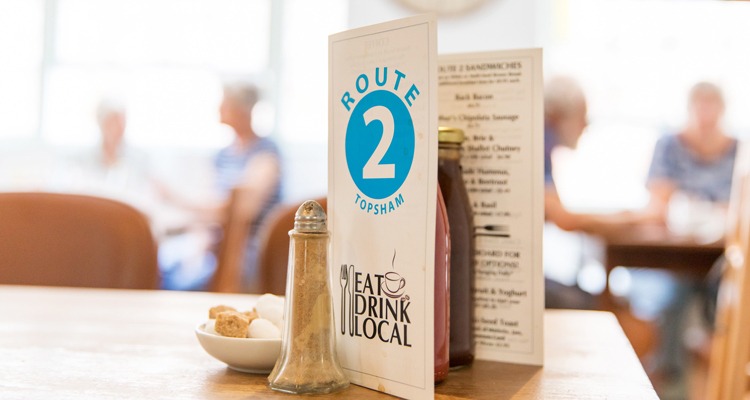 Photo: Route 2 Café & Apartments
Best known for: Virtually everything served is homemade on the premises, with ingredients sourced from local suppliers in the town.
Extra info: Topsham's Route 2 Café are delighted to announce that they are now taking bookings for Breakfast Bubbles, private brunch bookings for up to two family bubbles, inside the café for the first time since lockdown restrictions halted service at the quay-side eatery. Guests of Breakfast Bubbles are invited to order from Route 2's popular general menu and will have the restaurant to themselves as well as a dedicated staff member looking after them. They also have takeaway service open daily and the Ice Cream Bike if you're there from Thursday to Sunday too!
Route 2 Café & Apartments, 1 Monmouth Hill, Topsham, Exeter, EX3 0JQ
Phone: 01392 875085
https://route2topsham.co.uk/

---
The Handle Bar Café and Kitchen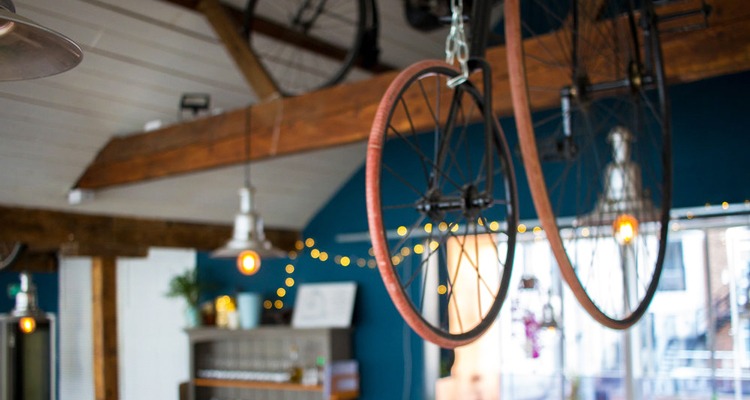 Photo: The Handle Bar Café and Kitchen
Best known for: A delicious all-day menu with food that tastes just as good as it looks!
Extra info: Perhaps slightly hidden above a bicycle shop in Oxford's city centre, The Handle Bar is a definite must-try! With ever-changing menus through the seasons, you can enjoy anything from breakfasts and brunches to lunches and dinners, that have been made with carefully sourced ingredients. The café overlooks St Michael's Street and even has the cocktail heaven of Le Bar just downstairs, for those looking for a slightly stronger celebratory tipple, post-ride!
The Handle Bar Café and Kitchen, 28-32 St Michael Street, Oxford, OX1 2EB
Phone: 01865 251 315
https://www.handlebaroxford.co.uk/

---
Dales Bike Centre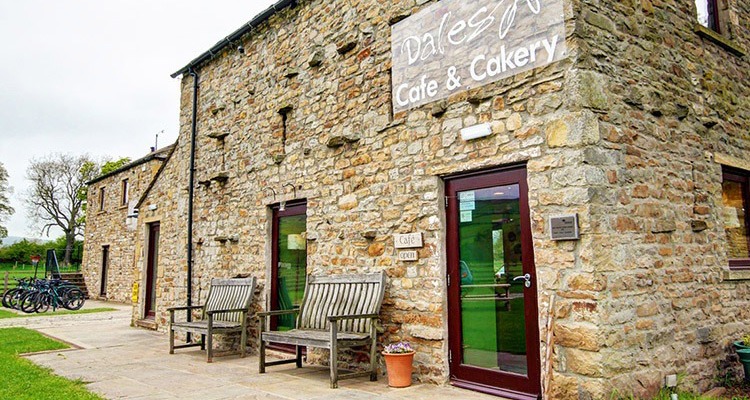 Photo: Dales Bike Centre
Best known for: Its location with access to extensive networks of mountain biking trails and en route of great road and gravel riding.
Extra info: Voted number 2 in Cycling Weekly's Best Places to Ride in the UK, The Yorkshire Dales is one of those places that every cyclist must experience! And whilst you're at it, why not take a coffee stop at Dales Bike Centre in Swaledale? Expect great food and great service at the Yorkshire Dales' famous cycling pitstop. Plus, if you time it right, every Friday an extra special showstopper cake is baked, but you'll have to be quick to get your hands on a slice…
Dales Bike Centre, Fremington, Richmond, North Yorkshire, DL11 6AW
Phone: 01748 884 908
https://www.dalesbikecentre.co.uk/
---
The Cycle Hub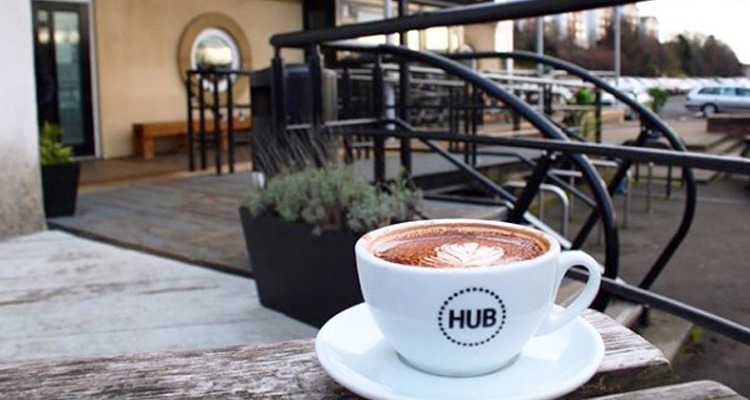 Photo: The Cycle Hub
Best known for: Having one of the best views in all of Newcastle (and for being our neighbours of course!)
Extra info: A perfect meeting place for both cyclists and non-cyclists, The Cycle Hub is located right on the Sustrans Coast to Coast and Hadrian's Cycleway route, making it the ideal café stop off for those in need of a little boost before the last few miles of a ride. Alternatively, it's perfectly located to pop down after a stroll around the Toon on a nice sunny day and sit outside looking at the Quayside views! It also offers bike hire if you fancy a little ride along the beautiful Quayside and has a fully equipped workshop for bike services and repairs. And like we mentioned, it's also right next door to us at Saddle Skedaddle, so don't forget to say Hi after a choccie mashup and cuppa (that's our favourite, anyway!)
The Cycle Hub, Quayside, Newcastle Upon Tyne, NE6 1BU
Phone: 0191 276 7250
https://www.thecyclehub.org/

---
Velocity Café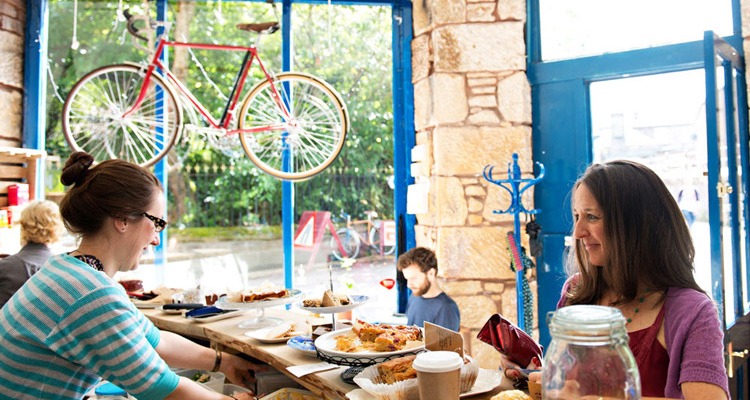 Photo: Velocity Café
Best known for: Working to promote healthy, happy lifestyles through cycling, healthy eating and socialising.
Extra info: Back in 2012, social enterprise Velocity decided to open its doors as a café and cycling workshop, and we're so glad they did! Located in Inverness, Velocity café is a friendly, feel-good place. You can choose to sit in or takeaway, and due to their zero-waste policy and their promise to keep plastic use to a minimum, if you bring your own cups and containers for takeaway, you can receive special discounts and incentives – go Velocity! You can also develop new skills and work on your bike with the help of their mechanics and specialist tools in the workshop. Sounds great, huh?!
Velocity Café & Bicycle Workshop, 1 Crown Avenue, Inverness, IV2 3NF
Phone: 01463 419956
http://velocitylove.co.uk/

---
Prologue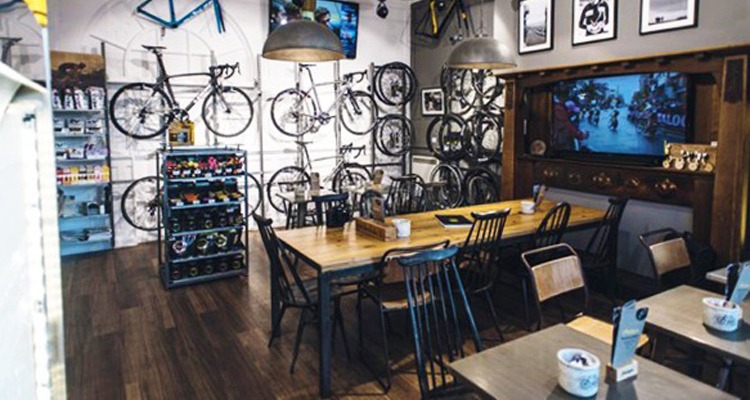 Photo: Prologue
Best known for: Meeting all of your road cycling needs!
Extra info: Prologue is every road cyclists dream! A bike shop, cycling café, workshop, bike fitting services, physiotherapy and sport massages, coaching and testing. The list is endless of what you can discover at Prologue! Their café in the heart of Harrogate is a meeting space for roadies but also a hub for anyone to come and enjoy great, bespoke coffee and tasty, nutritious food. With golden, iconic race footage and live races to accompany whatever you choose to indulge in – Prologue has a great atmosphere that we're sure Skedaddlers will love!
Prologue Cycling, 3/4 Wellington House, Cold Bath Road, Harrogate, HG2 0NA
Phone: 01423 503 000
https://www.prologuecycling.co.uk/

---
And here's some we can't wait to see back open…
The Frothy Bike Co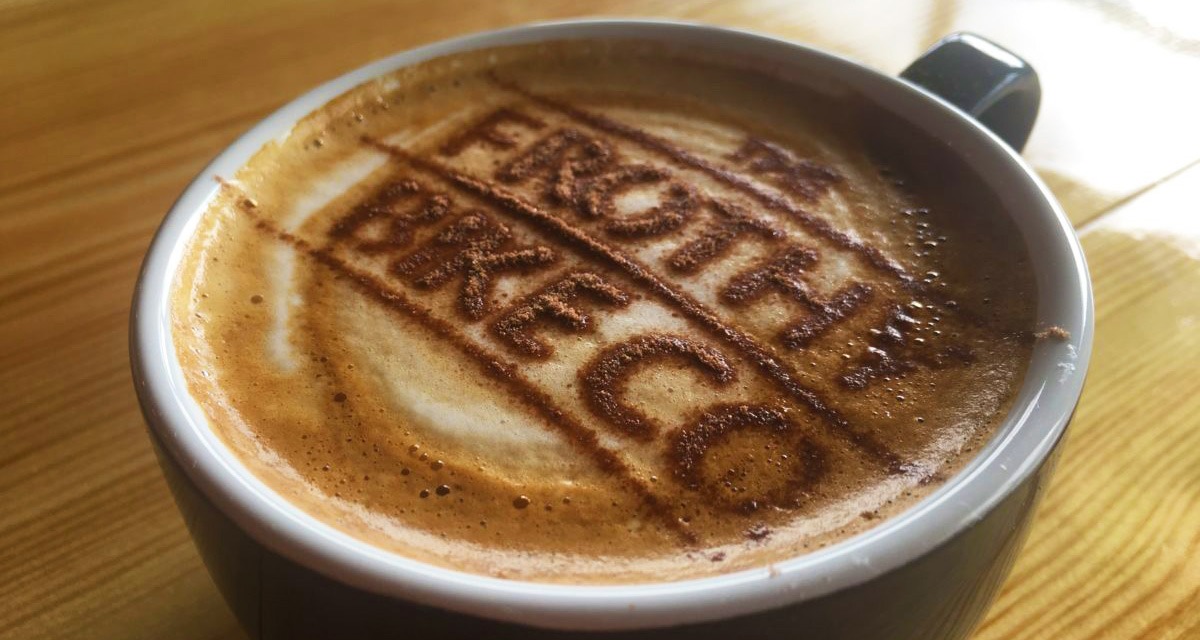 Photo: The Frothy Bike Co
Best known for: A carefully designed café menu that caters for everyone and a secure indoor bike park!
Extra info: Looking over the River Nith in the heart of Dumfries and on NCR7, The Frothy Bike Co could not be in a better location for exploring the peaceful roads, gravel trails and even world-class mountain biking of the Forest of Ae or Mabie – each within a 15-minute drive. Plus they're open 7 days a week! Their infamous fresh scones are made in house daily or maybe you'd prefer a healthy buddha bowl alongside your barista coffee? Even better, they work with local suppliers meaning you can enjoy every bite with the comfort and knowledge that your food has been produced and prepared with the greatest care. With their experienced mechanics and fully equipped workshop, a carefully selected range of bikes and merchandise for sale you'll struggle to leave uninspired for your next adventure.
The Frothy Bike Co, 77-79 Whitesands, Dumfries, Scotland, DG1 2RX
Phone: 01387 248770
https://www.thefrothybikeco.com/
---
Veloton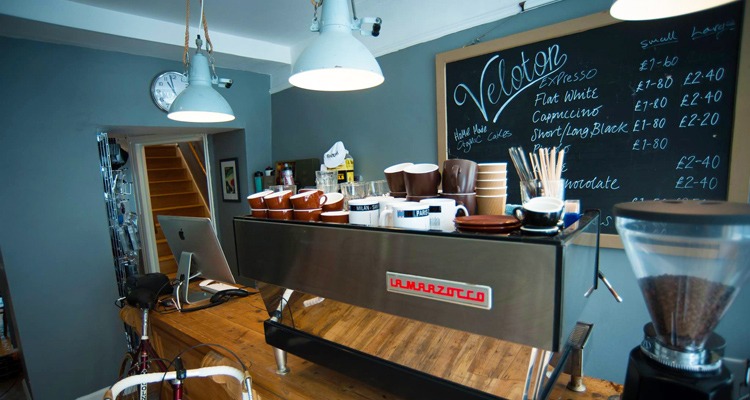 Photo: Veloton
Best known for: Being a bike shop with a difference that provides expert advice, excellent service and goes the extra mile for the customer.
Extra info: After spending time across the globe in Australia, Veloton knew it was time to bring the coffee/cycling culture to the stunning Cotswolds – and so a small and stylish coffee bar and bike shop was born! High quality coffee and refreshing juices are available, as are their homemade and organic cakes which we highly recommend giving a try. Stocking bikes, clothing, food and accessories, their store has something for everyone! There's also a fully equipped workshop with a Cytech trained mechanic available five days a week to answer any questions that you might have.
Veloton, 22 Market Place, Tetbury, Gloucestershire, GL8 8DD
Phone: 01666 504343
http://veloton.co.uk/

---
There really is no better way to explore the UK than by bike! Whether you're a keen road cyclist, mountain biker or maybe prefer to ride more leisurely at your own pace, we have something for everyone! From epic natural beauty of the Scottish Highlands and islands, the warmest of hospitality in Yorkshire, to the ultimate two-wheeled challenges like Land's End to John o' Groats, there are countless opportunities to see the UK as you never have before with us.