There are a few handy things you should always have with you every time you ride your bike. Here's our guide to biking essentials to get you sorted out for any ride!
---
10 bike ride must-haves
Regardless of the bike you are riding or how far you are going these are the basics we suggest having with you every time you leave the house:
Inner tube and tyre levers. Make sure you have the right size tube for the type of bike you are riding. Nothing is more frustrating than pulling out your tube to discover it's 26" for your 29" mountain bike tyre. If your hands are cold or wet or the tyre is tight, then levers can help you to get the tyre off more easily.
Pump. Give your pump a check every now and again if you haven't used it for a while.
Chain tool and spare link. Snapping a chain on a ride can mean game over if you can't fix it. A chain tool and spare link mean a five-minute repair job instead of a long walk home.
Tyre-boot. If you slit your tyre then you will need to cover it up otherwise the inner tube will push through and puncture again. A slice of toothpaste tube, a section of an old tyre or even an empty gel wrapper can be placed inside the tyre to keep the inner tube in place.
Multi-tool. A multi-tool is a lightweight easy way to make sure you have everything you need. With a decent multi-tool, you can pretty much strip and re-build your entire bike!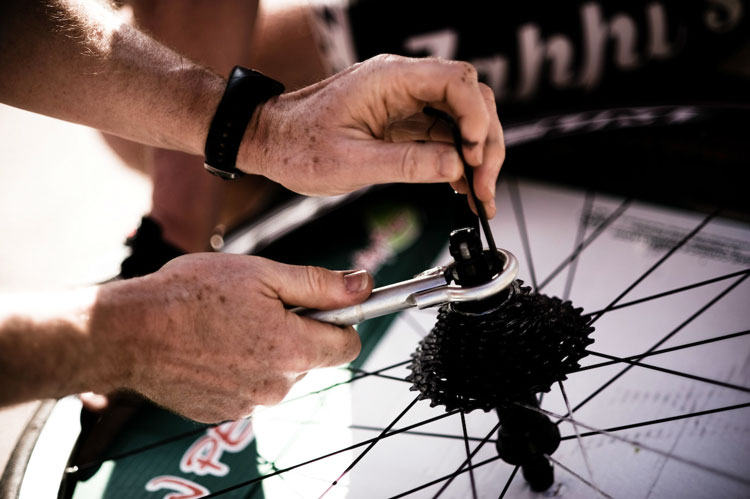 Water bottle. No matter how long you are out for, take a water bottle! You should be sipping regularly from the start of your ride.
Food. Running out of energy on your bike feels awful, even if you don't think you will be out for long take some food with you. If you are out longer than expected, you will be glad of it!
Spare jacket. Conditions can change so keeping a gilet or jacket tucked in your pocket is a good habit to be in, just in case it gets chilly, starts to rain or for long descents.
Local currency. Always carry enough money for a coffee, a bit of food and a phone call.
Phone. Unlikely that anyone would be going on their bike without a phone but aside from getting pics for Instagram your phone could be really helpful in case of an incident.
---
10 extra Mountain Bike essentials
On top of everything in the list above, if you are going out on your mountain bike, particularly to remote areas, you need to be extra careful that you have everything you need to get home safely:
Brake Pads. Carry a set of spare pads, in poor conditions you could easily go through a set in a day ride.
Gear cable. It's relatively light and easy to carry so you might as well pop one in your bag as a snapped cable can be easily fixed with a spare.
Shelter/weather protection. If you are heading out into remote areas, where it could take time to be rescued, it's good to have a way of keeping warm and dry if someone should be injured.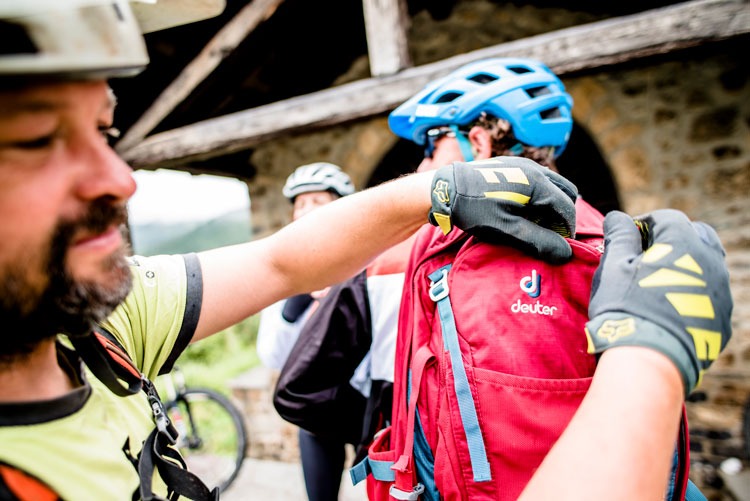 Shock pump. You may want to adjust pressures to the conditions.
Lube. Wet and mucky or even dry and dusty can leave your chain creaking or grinding so a rag and a little bit of lube can help sort it out mid-ride.
Spare Hanger. A snapped hanger can ruin your day and leave you having to single-speed your bike to get home. Carrying a spare mech hanger that fits your bike will mean a quick job to replace it so your ride can go on.
First Aid Kit. The further you are from getting help quickly the more advanced the First Aid you need to carry. A minimum is gloves (for the first aider), a way of cleaning the wound and something to cover it up with.
Bolts. An assortment of old bolts can get you out of sticky situations. A chainring bolt, cleat bolt and a couple of M4 and M5 bolts will put your bike back together.
Zip ties and duct tape. What can't be fixed with zip ties and duct tape?
Spoke with the nipple. A single spoke with a nipple attached can help sort out a snapped spoke. Again they are light so you might as well carry one as it could get you out of a fix.
---
5 optional Road extras
Valve extender. If you have deep section wheels then a valve extender can adapt any length inner tube valve to fit your wheel. Useful if you run out of your own tubes!
Patch repair kit. If you run out of inner tubes a patch kit can be invaluable to get yourself back on the road.
Spare bolts. A cleat bolt for your shoes and some spare M4/M5 bolts are handy if something drops from your bike. You can 'borrow' the bottle cage bolts to use as stem bolts if needed (though something has gone very wrong if you need to do this mid-ride!)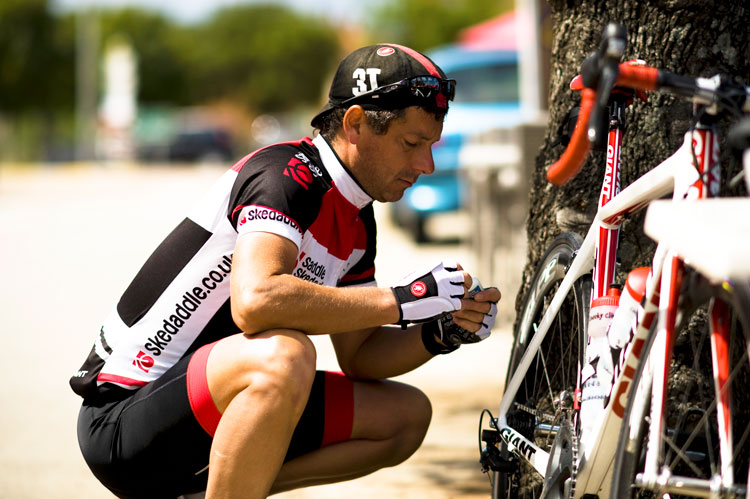 Brake pads. On a wet or mountainous day, a spare set of pads are useful for backup, or if you are riding for multiple days.
Spoke with the nipple. If you snap a spoke your wheel can quickly go out of true, a spare spoke with a nipple will mean you can replace it and keep your wheel running smooth. One trick is to tape the spoke up inside your seat post – you won't even know it is there!
---
And a bag to keep it all in…
We're proud to have teamed up with our friends and rucksack experts Deuter, who have over a century of experience designing quality rucksacks for lovers of the great outdoors! Perfect for cyclists, Deuter backpacks are often donned by our amazing guides on our tours across the globe, and we think they would look fantastic and be of great use for Skedaddlers too. The backpacks have a range of features, from valuable pockets to rain cover and helmet holders. Explore Deuter's full range of backpacks here.
---