There's no doubt that e-bikes are growing in popularity and here at Skedaddle we've seen a huge uptake of e-bikes on our holidays over the past year. We caught up with Skedaddle guide and e-bike fanatic, Steve, to find out more and answer some of your burning questions around e-bikes and how to have the best cycling experience with the boost of a battery.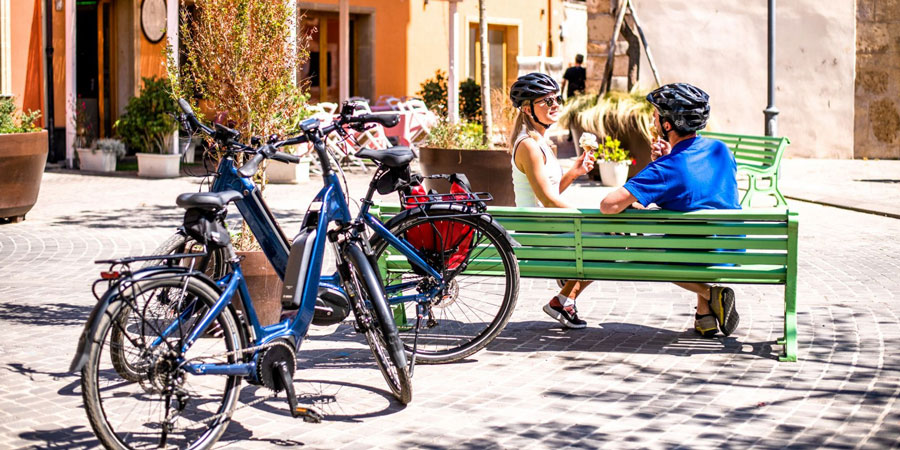 What has been the impact of e-bikes on Skedaddle holidays?
"Almost all of our e-bikes in our UK fleet were rented out this summer, and as a result, to keep up with demand, we'll be expanding our fleet even further next year as more and more of you want to try out battery power." 
"You'll find many of our tours now have an e-bike only departure available to book. Many of our existing holidays have proved popular for e-bikers and as a result, we wanted to offer people the chance to ride solely with other e-bikers." 
How do you manage a group holiday where there is a mix of people on e-bikes and regular bikes?
"Sometimes people are understandably concerned about going on a mixed e-bike and non-e-bike holiday. Our guides are already accustomed to handling a range of paces and fitness levels within a group and we don't treat e-bikes any differently in that respect. We'll always set a pace that gives priority to those who don't have the boost from an e-bike. For example, at a hill climb we might give those on a regular bike a head start and stagger the group, or ask those on an e-bike to wait when they reach the top. Even on an e-bike only holiday, you could still have a mix of fitness levels in a group. E-bikes don't change that."  
"If a group holiday reaches more than a 50/50 split of e-bike riders then we'll always let you know, as we understand that some people may wish to re-consider whether or not they'd like to hire an e-bike." 
How do e-bikes affect the grading and difficulty of Skedaddle holidays?
"You'll notice that when you select an e-bike departure on one of our holidays, there's no change to the grading. That's because there are still elements to consider like how the bike handles on bumpy or hilly terrain. For example, on a hilly route, you'll find the climbs less onerous, but you'll still need to feel confident about how to handle the bike safely on an ascent or descent. Even with an e-bike, some of our tours still require a decent level of fitness. If you're unsure about grading on any of our holidays, then just have a chat with one of the team. They're always happy to help."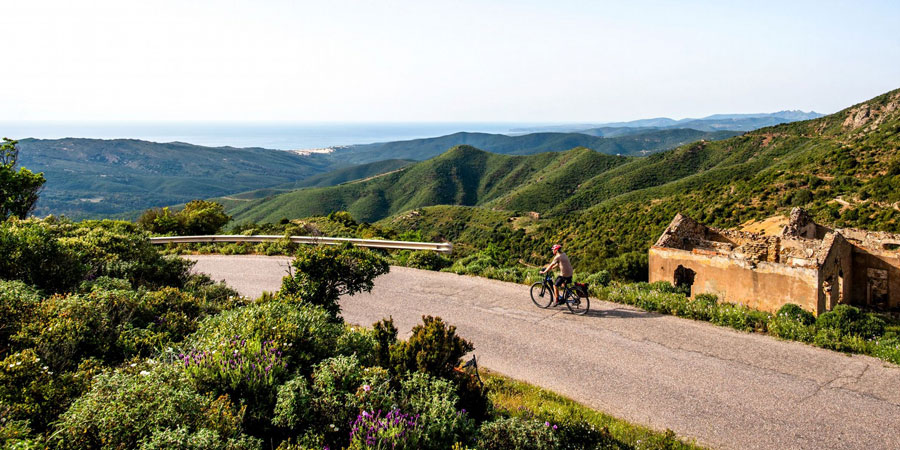 Have you got any advice for anyone thinking about trying an e-bike for the first time or hiring an e-bike to go on their first cycling holiday?
"My advice would be to give yourself a couple of hours to adjust and learn how to use the bike. If you can have a go on an e-bike before your holiday, then even better! If you're going on your first cycling holiday, then an e-bike can certainly help make the distances easier to manage. However, it's probably best to stick to a lower grade for your first holiday unless you're already a confident cyclist, as you'll need to be comfortable with how the bike handles on varying terrain. Riding an e-bike is a lot of fun but it's still a workout and you might experience achy muscles from manoeuvring the bike around as they are heavier than non-e-bikes." 
What are your top e-bike riding tips?
"Go carefully at first and start with the pedal assist at the lowest setting. Take your time. At low speeds the bike can feel like it pulls away quickly and this can take you by surprise, especially if you have the assist level set to high."   
"Remember that more power isn't always best. If you're going uphill then start in a lower gear and adjust your power as you need it. Using your gears properly and applying less power is actually more effective on hills than if you simply whack up the assist level as soon as you hit steeper terrain." 
"Having the appropriate clothing is also important. You may not be exerting yourself as much on an e-bike as you would on a regular pedal bike so it's a good idea to pack some warmer layers."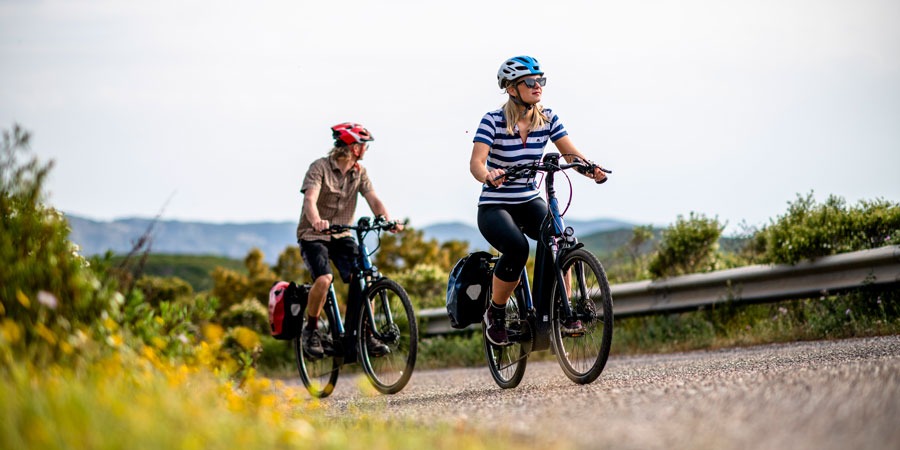 What about e-bike safety and provisions at each accommodation?
"All of our hire bikes are rigorously tested  and supplied by a reputable manufacturer. These advanced models have Intelligent Battery Management Systems that ensure efficient charging. You can remove the battery and charge it separately in your room at your accommodation each night. As with all of our holidays, there will be somewhere safe to store your bike at night." 
Can children ride e-bikes?
"The minimum age for riding an e-bike is 14 but for older children it can make family holidays a lot of fun. If you're towing a small child, then undoubtedly there's a benefit to having the assist from a battery."  
Lastly, what do you love most about e-bikes?
"Whenever someone hires an e-bike for the first time, I always warn them to be prepared to buy one! They're seriously addictive. You don't have to feel worried about the daily mileage and ascent, and at the end of the day, you'll have more energy for off-the-bike activities".   
"E-bikes make cycling holidays more inclusive for those who may not otherwise manage the distances. For regular cyclists, you can ride so much further. I still feel just as tired at the end of a day riding my e-bike because I've simply ridden more!" 
Ready to start pedallin'?
Check out our growing range of e-bike holidays!