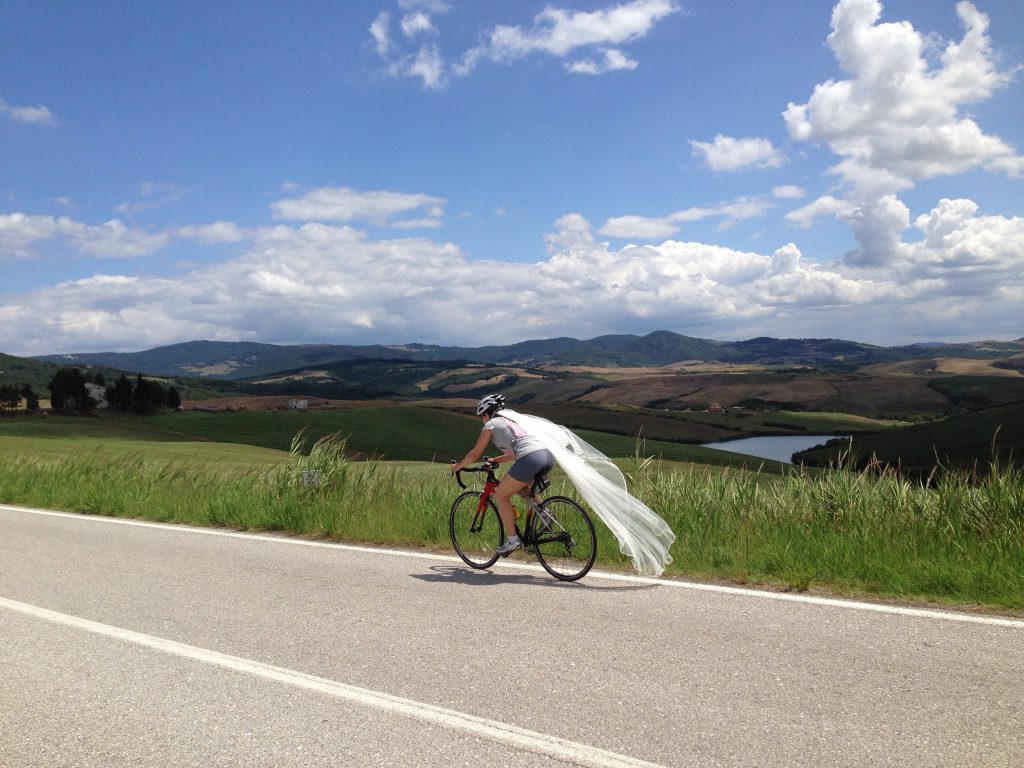 Our July monthly competition winner goes to newlywed Emma Temple for her great honeymoon entry! Its not everyday we see a cyclist with veil trailing in the wind and the snap above certainly raised a few smiles round the office. Emma will receive £250 worth of Skedaddle vouchers and will also be entered into our end of year competition to compete for an additional £1000 worth of Skedaddle vouchers. Want to find out more about Emma's honeymoon? Here's her story in full: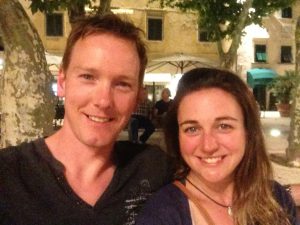 For most, a Honeymoon conjures up visions of relaxing on white, sun drenched beaches sipping a cool margarita or piña colada.
Not us.
Jason and I met 4 years ago and since then have covered over 7000 miles together; swimming, cycling or running. We continually seek new challenges and adventures to keep us fit and enjoying our relationship. So what better way to start married life than by exploring the beautiful, romantic, rural hills of Tuscany by road bike?
Saddle Skedaddle's 8 day, self guided 'Tuscany Tourer' trip was perfect; lovely pre-planned route, stress free organisation, excellent quality bike hire and reliable luggage transfers.
Each morning we were treated to a breakfast fit for hungry cyclists before embarking on the day's adventure. Routes were expertly planned and took us through beautiful spa towns, old medieval hill top cities drenched in history, pretty unspoilt villages and the famous clay hills of Sienna. Every kilometre of cycling was met with stunning views of the Tuscan Valleys with their patchwork display of vineyards, lavender and sunflower fields and olive groves. The challenging hill climbs were rewarded with sampling award winning gelatos (San Giminano), lunchtime wanders through exquisite medieval walkways or tucking into the offerings of local pizzerias or trattorias.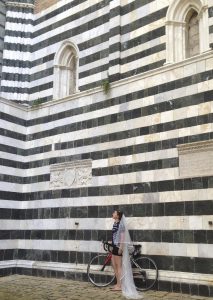 After a day in the saddle, the local agriturisimos and hotels, especially Spedalone and Castelvecchi, were warm and welcoming and full of Tuscan charm. Following a soothing swim in the pool we were treated to tasty local food and wine beneath a warm, starry sky before retiring to our bed, ready for the next day's travels.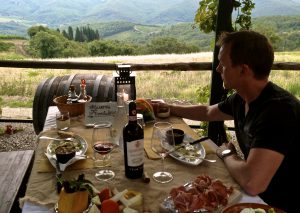 It was the most amazing, memorable and romantic honeymoon we could have dreamed of, the perfect start to our married adventure.
Congratulations to Emma and Jason – may you enjoy many happy years together, both on and off the bike! Feeling inspired by Emma's story? Why organise your own unique honeymoon on a Skedaddle cycling holiday…
For more information about our self guided Tuscany Tourer road cycling holiday click here