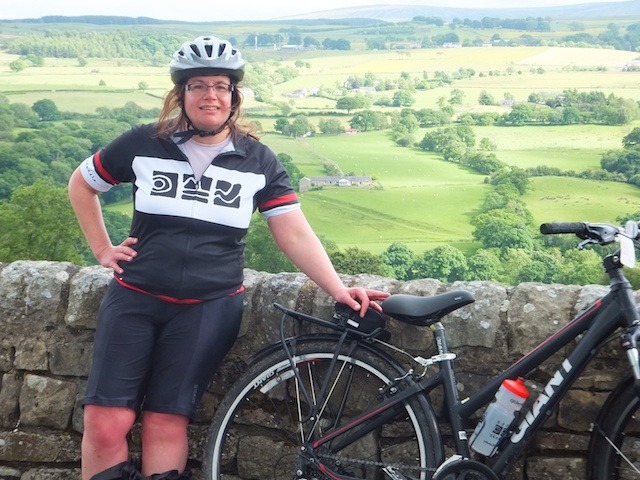 Skedaddler Juliet England did it the Roman Way and rekindled a love of cycling with a three-day ride from Bowness to Tynemouth. Here's what happened when she took on Hadrian's Cycleway, one of our leisure cycling holidays, earlier this year:
A chilly, persistently drizzly Saturday morning in Bowness, Cumbria, and it's been an early start from Newcastle, where we all met last night, a mixed bunch of nine women and one intrepid male – accountants, a project manager, retired physiotherapist and a pair of anaesthetists among them.
We're here to cycle the 100-odd miles to Tynemouth on Route 72 of the National Cycle Network on Saddle Skedaddle's supported trip, with two overnight stays in Gilsland and Corbridge. We're following the Roman way, and Bowness is Hadrian's Wall's start or end, depending on how you look at it.
I haven't been on a bike for months, and what with the weather and the early start, I have no business feeling as chirpy as I do.
We drink in the views of Scotland across the Solway Firth and are given route notes and a map. Mostly, though, navigation is done by sticking together and following the Sustrans route 72 signs. Peter is our tour leader and John his colleague – both seem to have bike grease in their veins. No mechanical problem was too small to be seized upon and put right. But they do have a number of phrases to be treated with suspicion, including "no more hills" "only a couple of miles to go now" and "about another 10 minutes."
And we're off, scudding along the flat coastal road towards Carlisle. It gets a bit fiddly when we get there, not least because two of us go haring off down the wrong road and have to be rounded up.
Several miles later, I get properly lost, in Brampton village. Thankfully, a phone call sorts it out and John comes to fetch me. Finally it's lunchtime, which with Skedaddle it's al fresco, sociable and fun.
The mid-day meal like ballast in the belly, we set off again for the day's final 10 miles. The hills kick in, and I realise I have completely forgotten the basics of climbing – stay in the saddle, have your gear sorted in good time and don't get off and push. I break every rule before the weekend is over, but by the end I get better.
Scaling the incline up to Banks is particularly tough. It's a sleeping monster of a climb. One or two of our party have gone for the riding in the van option by now, which is always available. (I'm actually quite jealous.)
At the top is our first sight of Hadrian's Wall, offering the perfect photo op, and we pass Birdoswald Roman Fort.
Once up at Banks, the land becomes more undulating than ridiculously steep as we leave Cumbria behind for Northumberland.
Our group is divided between two upmarket B & Bs in Gilsland, where views of rolling, deep green countryside are in stark contrast to the urban cityscapes we had from the Gateshead Hilton.
After the second full English heart attack breakfast in as many mornings, I am chomping at the bit for day two.
We've been warned by the kindly woman at one of the B & Bs about the "monster" of a hill lying just outside the village.
"I see very few cyclists make it to the top," she mutters darkly. It's difficult to know which hill she means – there are a fair few today. Heading out of Gilsland, there's a climb up a rough cycle track alongside a B road, before a long, steep descent into Haltwhistle. This stretch includes a section over loose, rough stuff which leaves me rather rattled, but fellow riders offer tips and encouragement. Haltwhistle itself is packed with houses made from local stone.
From here, it's only four miles to Bardon Mill, where John has set up morning coffee. We huddle under a tree to shelter from the rain, thankfully a short-lived shower.
There are only a few miles to go to the Roman site of Vindalonda and lunch. But they're steep ones, demanding concentration. They are not to be trifled with.
After lunch, we press on, down another bit of off road, a steep, narrow descent, and then it's pretty much uphill all the way to Crinkledykes, just over 260m above sea level, and the summit of Route 72.
The rewards are beautiful scenery, then the fast, undulating downward swoop through villages where there's clearly a scarecrow competition in full swing.
By mid-afternoon, the rain has come on again, and we stick together along the busy main road into the Roman history-steeped settlement of Corbridge.
Again, there are two billets – and a fine dinner to be had at The Black Bull.
On the final day, a gradual descent takes us along the Tyne Valley, back into Newcastle and out again, before journey's end at Tynemouth.
The route into the city is safe and straightforward thanks to the off-road paths and clear signs.
It's here that the route changes to a city landscape as we scud along the riverside pathway, with some famous landmarks in view – the Sage, the Tyne and Millennium Bridges and the Baltic Flour Mill.
We practically float the last nine or so flat miles to the coastal town of Tynemouth and its pubs, prom, cafes and harbour. There's time to breathe the sea air and take photos, and to do a victory lap of the car park before saying goodbyes.
I give up my machine only with huge reluctance. I wouldn't recommend this trip, necessarily, to someone who had never put foot to pedal before. But, as a reintroduction to cycling, it couldn't have been better. It challenged, yes, but not ridiculously, and great accommodation, food, company and organisation were all part of the package. This was a trip that didn't blow away the cobwebs so much as blast them into outer space.
From a deaf point of view, chatting when riding two abreast isn't always the easiest feat, and I didn't always catch everything the guides said. There was also a meal at very noisy city centre restaurant on the Friday night. But Saddle Skedaddle (and my fellow cyclists) looked after me very well with as many repeats of instructions as needed, so I'd definitely give it the thumbs up as a deaf-friendly experience.
Sounds like a pretty great trip had by Juliet! If you are feeling up to the challenge, check out our holiday in full by clicking here