After ticking a few cycling holidays in France off their to do list, our Customer Competition winners and repeat offenders Sheila and Samuel McIntyre decided to try something new and pedal through Slovenia on our Capital to Coast journey. Read on to find out more about their trip, beginning in the Slovenian capital of Ljubljana and finishing in the amazing town of Piran – a true coastal gem…
'Our previous Skedaddle adventures have all been in France, but for this year my wife came up with a surprise, a new Skedaddle route in Slovenia! After checking it out on the map (I opted for history rather than geography!), flights, bikes and accommodation were booked for April, and we looked forward to exploring this new country in the best way possible, by bike!
As the plane descended towards Ljubljana, we caught a glimpse through cloud of the brilliant white tops of the Alps, a hint of the cold wind and rain which greeted us when we landed. Going early in the tourist season is what we prefer, and we take all season cycling gear, but I didn't take many photos in the first few days! On the other hand, our Slovenian hosts upgraded us for free in two hotels, and even apologised for the weather! In the second half of our trip, as we left the high ground and approached the coast, the sun came out and we needed our Factor 50!
Our rep met us and handed over bikes and information with the friendly professionalism we have come to expect from Skedaddle and their partner organisations. In fact, every encounter with Slovenians throughout the visit was friendly and welcoming, and gave us a very positive impression of a young country (independent in 1991), working hard to make strangers feel at home. Those we met on the country roads always responded with a smile and a "Dober Dan", and a high percentage of people speak English, not just in hotels and restaurants.
Ljubljana is a compact city, so it didn't take long for us to leave the bustle behind and get into the real countryside of the Ljubljana Marsh. Leaving Vrhnika the next morning, we followed roads and tracks up into the forested hills of the Karst area, with small villages and isolated farms, slightly more challenging riding but with the reward of the views. Our destination was the town of Postojna, location of the wonderful Cave Park. A small electric train takes you deep into the system, then you have a guided tour on foot of the stunning formations deep underground. We have visited caves before, but nothing as impressive as this.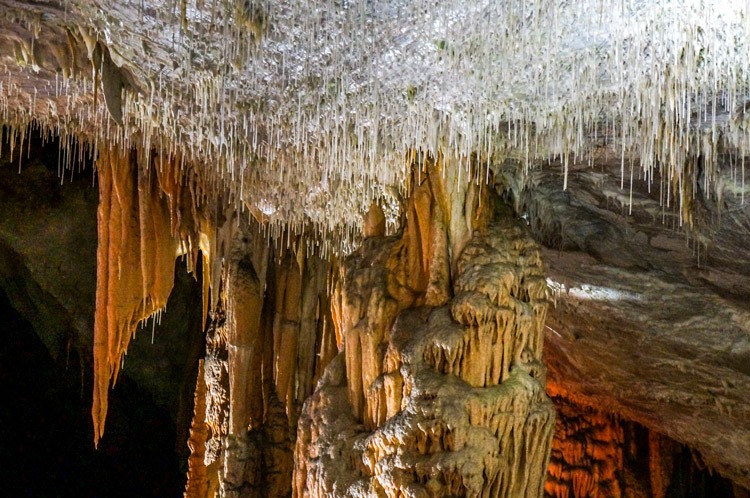 The following morning saw us take another detour to look at the fabulous Predjama Castle, an impregnable fortress built into a cave in a limestone cliff face, and home to legendary owners since the 12th century. Our accommodation that evening was in the tiny hamlet of Kodreti, devoid of hotels, but with a whole modern holiday apartment to ourselves. After a delicious meal in the restaurant, we indulged in a personal wine tasting, guided by the owners' nephew, who not only explained Slovenian wine in general, but also the artisanal produce of the local area. Our luggage was heavier the next day! Later we encountered more recent Slovenian history in Lokev, home to a disturbingly impressive collection of First and Second World War memorabilia, explained in detail by the enthusiast owner.
Next day we left the hills behind and were rewarded for all the uphill work in a glorious descent towards the blue Adriatic coast and over the border into the Italian port of Muggia, and an obligatory "gelato". We followed the coastline on the next morning, at one point rolling easily in the sunshine along the track bed and tunnels of the former Parenzana railway, then dropping down along the shore to the picturesque harbour town of Piran, our final destination. There were huge yachts in the marina, traditional fishing boats in the inner port, with steep and narrow alleys surrounding a beautiful square, just perfect for people-watching over a cool drink in the sunshine and reflecting on the beauty and variety of the country we had just cycled through.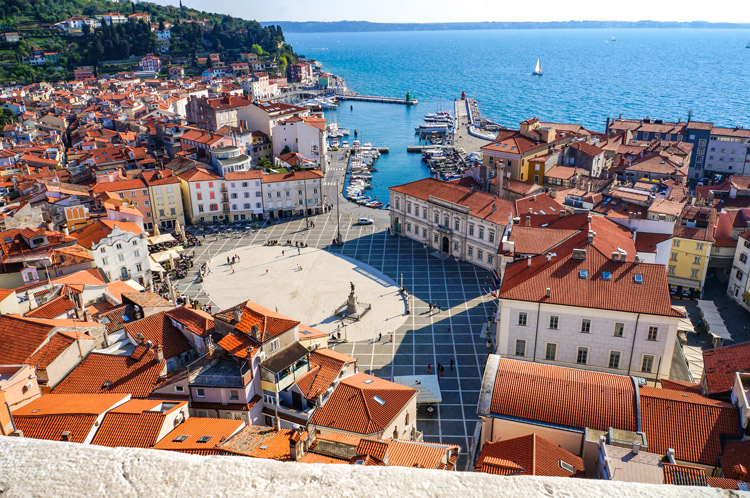 Different people will have different expectations of a cycling holiday, but if you like welcoming and friendly people, varied and beautiful scenery, excellent food and drink, a rich history and culture and all at reasonable prices, then we recommend Skedaddling in Slovenia!'
Feeling inspired? Learn more about our incredible self-guided journey through Slovenia here.
Find out more about our Slovenia Capital to Coast tour here!
After the trip, we caught up with Sheila and Samuel to find out a little bit more about our Competition winners…
1. What do you love about cycling?
I love cycling because it is a great way to explore new territory, either in terms of different terrain on a mountain bike, or a different country on a road bike. You get to know a country so much better at the relaxed pace of a bike, stopping when you see something interesting, and people seem to respond willingly to cyclists. Plus, it keeps you fit and is environmentally friendly!
2. What's your favourite cycling memory?
I don't have a favourite cycling memory, there are just so many great days on-road and off-road in the UK and abroad that I find it impossible to pick one that is best.
3. What do you like most about Skedaddle?
I like Skedaddle because of the comprehensive choice of cycling experiences, and your staff and the partner organisations abroad make everything so easy that we can just enjoy the cycling, knowing that everything else is sorted.
4. Where to next?
We haven't decided on next year yet, maybe exploring more of Scotland's fabulous scenery, or heading abroad. Whatever happens, we'll be looking at the Skedaddle website!