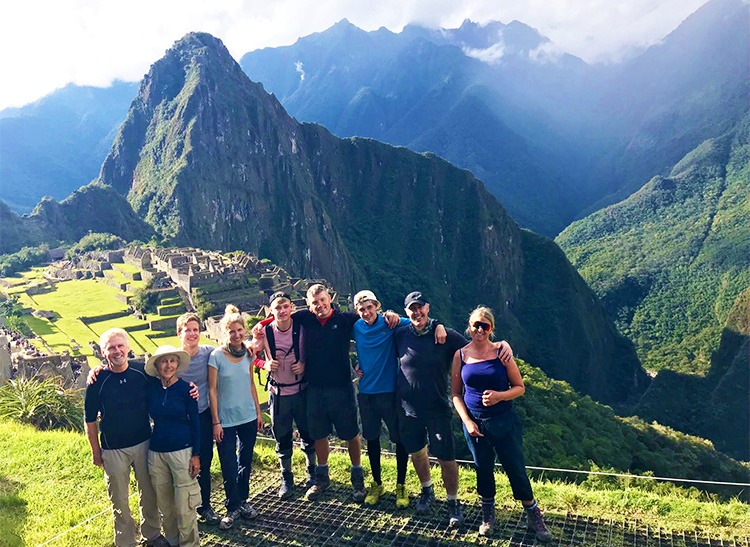 Pedallin' your way through sacred Inca ruins and getting a glimpse of the exotic wildlife of the Amazon rainforest may sound like an impossible dream for some adventure seekers. But for Graham Roberts and his son Tomos, our recent Customer Competition winners, those dreams became reality this July when they embarked on our Peruvian Cycling Adventure for a once in a lifetime sensory overload. Read his full story, as he recounts this picturesque tale that is sure to inspire you for your next adventure…
'Having looked at the 'Cycling Adventures' holiday to Peru for a number of years, really whetting my appetite, the prospect of my son finishing his school days next year and so going off with his mates from then on rather than coming on family holidays was enough to see me bite the bullet and book for both of us.
Having never been to South America, landing in Cusco instantly served up a taste of the different cultural encounters which makes travel so interesting and energizing; being immediately immersed with the local people, architecture and climate meant that the jet-lag was easily suppressed.
Our guide, took us on an aclimatisation walk through the town imparting interesting facts and stories along the way. As we climbed the stepped side streets the effects of the altitude became all too clear, with heavy breathing and a slight lightheadedness, but this was soon forgotten about with frequent stops and so much to see. The next day we were taken up above Cusco to see the little known (compared with the bigger brother of Machu Picchu) impressive Incan complex of Sacsayhuamán and then kitted out with our bikes for a taste of what was to come.
After our first short day's ride to sort out any adjustments and gauge rider confidence we were transported out of town to begin our ride properly. This meant cycling down quiet roads in glorious sunshine with stunning mountain scenery under fabulous blue skies with white clouds sailing across as far as the eye could see. We again saw some Incan ruins and gradually more and more Llamas and Alpacas roaming the countryside. Making our way towards Písac and our next night's accommodation, the mountain scenery became ever more dramatic and what better way to take it in than with a sumptuous picnic lunch which awaited us along the way. This really set the tone for the trip and didn't disappoint in the least.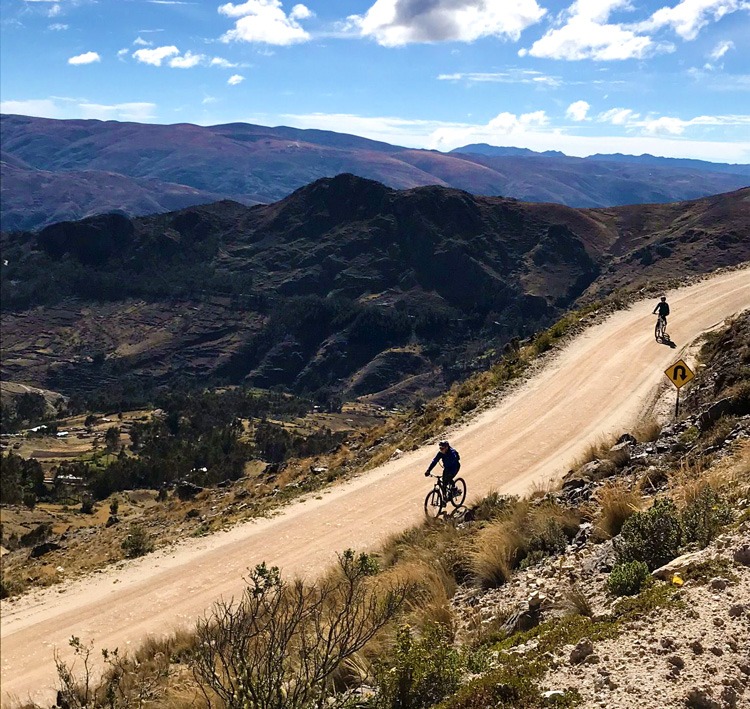 The following morning, we were again transported out and up high from Písac to begin our day's cycling. Getting onto the bike at the top of the pass looking down at the winding track through this spectacular landscape was truly invigorating. Whilst the blue sky remained with the sun still strong in the sky there was a chill in the air to remind us that we were up at altitude.
This day proved to be stunning in terms of the scenery and it kept a smile on my face the whole time. Our destination for the night was to be Tres Cruces and the drive in to this national park provided something of a surreal experience. Narrow winding tracks through some tropical vegetation gave way to a drop off down to the cloud forest which was completely hidden by a thick blanket of cloud. Looking out in every direction provided extensive vistas of lush green rolling hills and distant mountains with a huge expanse of low-lying cloud, like a foamy sea where there should be tree canopy.
Our guide then suggested an early morning rise to witness the sun coming up. Getting out of the tent in the 4.30am morning chill was made a bit easier with a hot cup of tea at the ready, and the sight of the light reflecting off the clouds, enveloping the forest below as well as those in the sky above was just awe inspiring; a truly beautiful sight.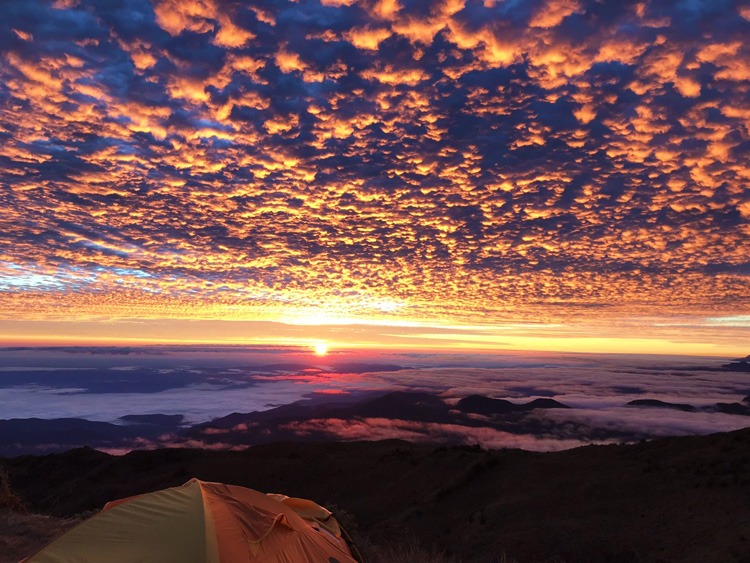 After a good breakfast our descent towards the jungle began. Retracing our drive into the park on the bike was a good way to warm up and head on back out, and we were rewarded with a long downhill ride into increasingly lush surroundings. Views to the valley below were frequently opened through the vegetation as we wound our way along and rode past the odd waterfall coming down from higher up. Camping along this stretch meant getting more glimpses of birds and other wildlife as well as an introduction to fireflies for the first time.
Our last leg of the ride towards our stay at the jungle lodge meant riding through more dense canopies of trees and tropical vegetation which brought welcome shade from the sun. Towards the end of the ride there was an encounter with a winding hill which severely tested the definition of a 'cheeky climb'. Each bend was greeted with a pleading hope that it signaled the top but onward the gradient went with the twists and turns, until finally  the crest landed at a viewpoint. It was looking down onto the river winding its way through below which was again, a spectacular sight which made the climb worthwhile.
Arriving at the small riverside village, we had a freshly prepared lunch before getting onto the boat to take us further up the river to our jungle lodge which was secreted away behind the trees. This was a haven for a variety of birdlife and the multitude of hummingbirds were mesmerizing as they fed on the strategically placed feeders in front of the terrace. Again, our guide astounded us with his expert knowledge as he led the way on a couple of walks around the forest, spotting the smallest of creatures which would otherwise have gone unnoticed.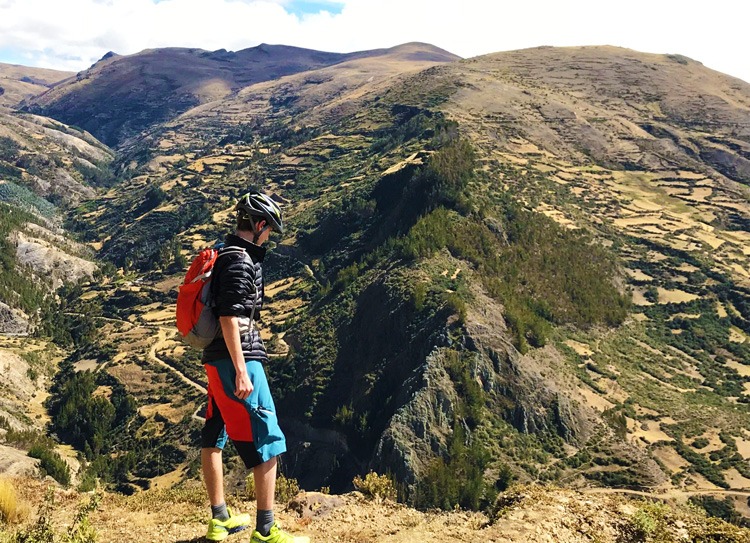 We all opted to take the bikes for a last ride when making our way back to Cusco which started from the same high pass above Písac but this time coming back down into Písac itself. This happened to coincide with a huge festival which filled the towns on our drive back with masked marchers dressed in colourful historical costumes, accompanied by marching bands and religious icons carried aloft; everyone out having a good time.
Our hiking days started off getting to know our new lead guide who led us on the Lares trek which took us up into the mountains and over spectacular passes, encountering local herders and children making their way to and from school. Their traditional dress and rubber sandals contrasting sharply with our western technical fabrics and heavy hiking boots but all calling out a greeting with a smile.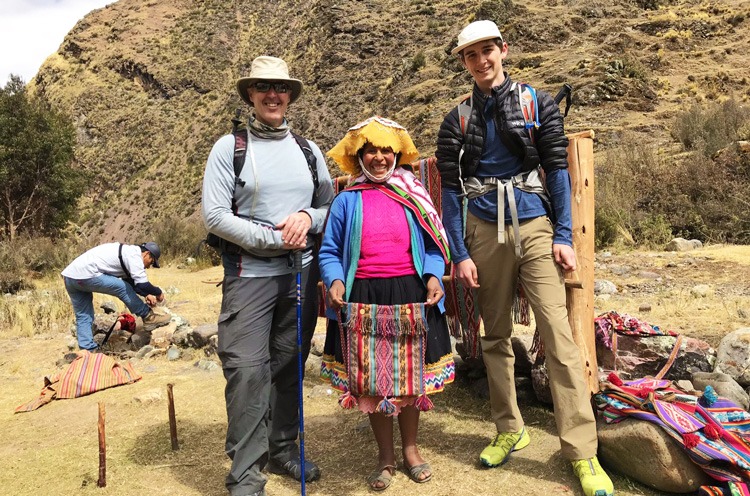 The accompanying cook team always managed to produce excellent hot food for us which would comprise of three courses, all prepared somehow in their own tent, set up sometimes literally in the middle of nowhere; they were amazing!
The last day's trek saw us board a train in Ollantaytambo which meandered towards Machu Picchu only for us to disembark part way to join the Inca Trail. With sunny skies this time, the trail was a visual feast as we made our way up. Another Incan ruin along the way, Wiñay Wayna, provided a stunning view and encounter, before arriving at the famous 'Sun Gate' and the view of Machu Picchu below it.
This was a truly memorable day. Our exploration of Machu Picchu the following morning took place in the rain with clouds swirling but our guide was able to bring the place to life with his knowledge and stories.
The train ride back was unlike any that I have experienced before, with a performance based on a mythical tale and a fashion show on top of the wonderful scenery visible through the panoramic windows. A long drive back to Cusco from Ollantaytambo was comfortable in our luxury minibus where excellent restaurants and last-minute shopping had to be re-visited.
This was indeed a 'trip of a lifetime' for me, whilst my son has stated his desire to go back sometime again. It is a wonderful place and it was a fantastic trip.'
Feeling inspired? If you feel as moved as we do, then check out our range of long-haul cycling holidays to find your dream adventure and make it into memories bursting with culture and cycling galore!