There's plenty of mountains to climb on two wheels in Europe, but only a few climbs have secured their place in the Grand Tour history books and in every cyclists bucket list. One of the names you will hear a lot is the Stelvio Pass in Italy – one of the most brutal climbs in racing history, but also one of the most beautiful roads in the world! Read our latest story from Francis, our Customer Competition winner, to find out more about what it's like to conquer this giant with us…
'After two 'easy' days of riding and the beast of Mortirolo conquered it was the day I had been waiting for – the Stelvio day.  Okay let's back track – the easy days were anything but easy (180km and 4400 mts of climbing) but they were an ideal way to 'ease' into the middle two star days.
We had spent the previous night in a splendid typical Tyrolean hotel in the small ski resort of Santa Caterina Valfura. This is situated half way up the Passo Gavia (another climb – another story). Everything you want in an overnight Alpine hotel was included; characterful owner, bike room and work tools, powerful shower and enough pine furniture to devastate a forest in one refurbishment. If it wasn't for a starter of Lasagne you wouldn't know you were in Italy.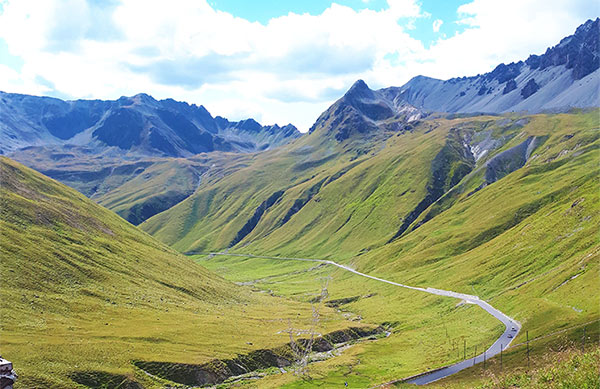 To be honest this wasn't my first ascent of the Stelvio, however all previous rides had been astride my Turbo Trainer with a Taxc video of the climb.  I doubted this time I would be watching Jack Bauer save the world in the box set of 24 as I had in my shed.
The morning briefing of the days ride by tour leader Lieven gave all the details we needed and confirmed what was sent out in the pre tour information – if only I had read it I would have known that we would be climbing from both sides in the same day – I think I squealed a little when this was revealed. The sensible ones who had read the emails appeared less like a 5 year old on Christmas Day.
As we were stationed halfway up the Gavia the first part of the ride was a descent back into Bormio before taking a right hand past yesterday's afternoon's coffee stop café (tempted as I was – this wasn't the time to revisit – but I encouraged others to do so – so as to give me a head start).
The Bormio side of the Stelvio is the unclassic climb and is more varied but still offers fantastic views, sweeping bends and even a flat section. The day of our climb was August 15th, a national Italian holiday so we got to share the road with amongst other things a classic car rally (could the day get any better?).
At the gloriously Sunny summit it was awash with beaming riders frantically studying Strava to see how close they were to Sky's Gianna Moscon's KOM time (don't ask mine). Although I'm pretty sure I'd beat him on stuffing handfuls of peanuts & Haribo into mouths.
The descent down the classic side was exhilarating, as you couldn't help but know before long it would be time to come back up. But nothing gets a rider down a mountain quicker than knowing lunch would be waiting. Our guides had negotiated with the owners of a hotel in Trafoi for us to relax in their grounds and enjoy an espresso whilst our picnic lunch was being created.
Still with cake crumbs on my shorts it was time to ascend again. The only thin between Trafoi and the summit was 46 hairpins – a better writer than me could describe the bends and gradients but all I can say is… awesome!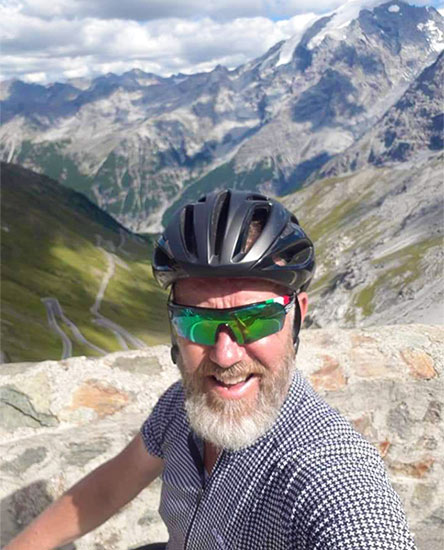 Knowing there was no more serious climbing when we reached the summit for the second time – it was time to explore the shops and tat stands that adorn the top of Stelvio.  With a support van there was no worry about only being able to purchase what you could carry, so Stelvio branded jersey, cap, fridge magnet, ashtray, t-shirt, snowdome and blow up sheep were all fair game. You know it's a grand day when a Yorkshireman loosens his purse strings and pays over the odds for mementoes.
Only one day in an eight day holiday but a cycling mecca that is a scratch that must be itched and a massive bucket list tick.'
Have some iconic climbs to tick off your bucket list? Francis joined us on our Italian Alps road cycling holiday, and so can you! And check out our full range of Mountain Challenges for your chance to conquer the famous climbs in France, Spain and Colombia.