Welcome to beautiful Borneo! We journey into the heart of this fascinating island and discover a treasure trove of natural wonders we guarantee cycling adventurers everywhere will love.
Borneo is the third largest island in the world and home to the world's oldest rainforest (two times as old as the Amazon). It's also one of only two places in the world where you can spot orangutans in the wild. These stats alone are enough to attract the most seasoned of travellers, however, we've got so much more to tell you about our new tour on Borneo's exotic shores…
Why Borneo?
A while back we had an action-packed holiday that explored a region called Sabah. This time around we wanted to explore a quieter, wilder side of Borneo, which is why we set up our new base in Sarawak: a lesser-visited area that's unspoilt and untouched, with lots of National Parks.
It's these Parks and all of their out-of-this-world wildlife that we'll be exploring. As well as the famed orangutans, you'll find proboscis monkeys, an array of vibrant bird life and even dolphins. The only thing missing is David Attenborough and his film crew.
By setting up Skedaddle camp in Sarawak, it means we can provide a long-haul option outside of winter, when most of our long-haul destinations take place. This makes Borneo the perfect tour for travellers looking to escape during April and May.
If you can't make it in spring, don't dismay, we have departures in the autumn. So there will be plenty of chances to join us for this adventure in 2020.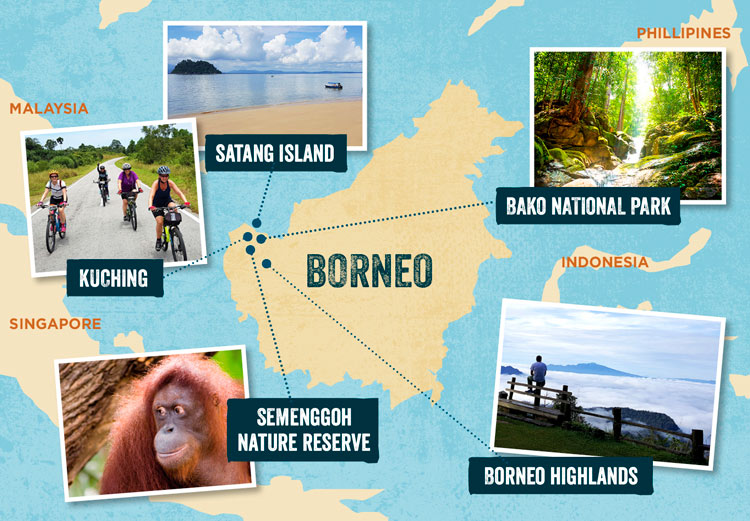 The Itinerary: Secret Sarawak
Our two-week cycling holiday will give our cyclists the chance to see as much of the stunning slice of Borneo as possible. We'll be packing in plenty of sublime scenery, exotic wildlife and there's even a bit of island hopping by boat.
Unlike many South East Asian cultures, temples take a back seat in Borneo, with nature unabashedly taking centre stage.
As well as many encounters with the local wildlife en route, we'll enjoy a trip to Semenggoh Nature Reserve, set within an abundant rainforest. This is where you can spot orangutans in the canopy and enjoy close-ups as they descend to feed. In true Skedaddle style, we'll be staying with local communities in traditional longhouses to find out more about their way of life and to enjoy some of their ancient culture and fascinating celebrations.
The boat rides will give us some true 'off the beaten track' experiences on tour. And you'll even have the chance to power your very own vessel. A morning of river kayaking will see us meander through the rainforest, soaking up its incredible sights and sounds.
Oh, and let's not forget the bikes! Each day's ride is meticulously planned and not too challenging. On top of the rainforest rides, you can expect heaps of of coastal scenery where palm-fringed, deserted beaches can be spied from the saddle and enjoyed at the end of the day.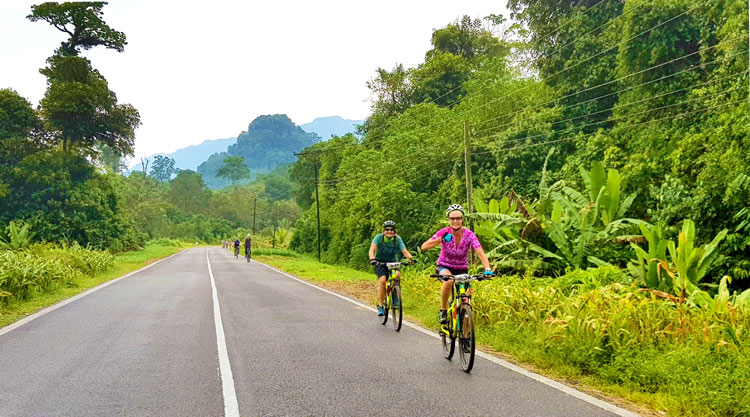 The extra special cycle routes will see you pedal through National Parks, immersing yourself in the wonderland of rainforest fauna. These remote locations are complemented by our choice of rustic accommodation, many of which are based within National Parks and all of which keep you at the heart of the jungle action!
Breakfast of the gods
Having travelled to Borneo on a couple of occasions, the late, great celebrity chef, Anthony Bourdain, was a big fan of the island and its cuisine. In his most recent travels here he boldly claimed…
It's one of the most beautiful places on earth, as remote and as different from where I grew up as any place could be. The people are lovely—and the food, as everywhere in Malaysia, incredible.
The 'Sarawak Laksa' appears to have been high on his list of dishes you must have – a sneak peak of which can be seen below from an Instagram post he published whilst exploring a few years back.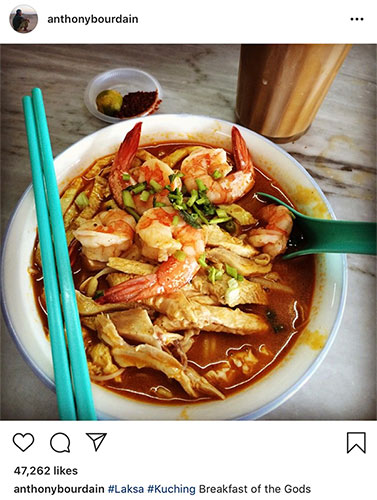 Bourdain aptly named this dish 'breakfast of the gods', and we couldn't agree more.
Feeling inspired? Visit our website and download the trip notes to find out everything you need to know about our extraordinary cycling adventure holiday in Borneo.