Head to the very heart of South East Asia and take a two-wheeled tour of vibrant Vietnam! Our journey takes you from the South to the North on a journey of incredible contrasts, from bustling cities to stunning coastline. En route you'll encounter…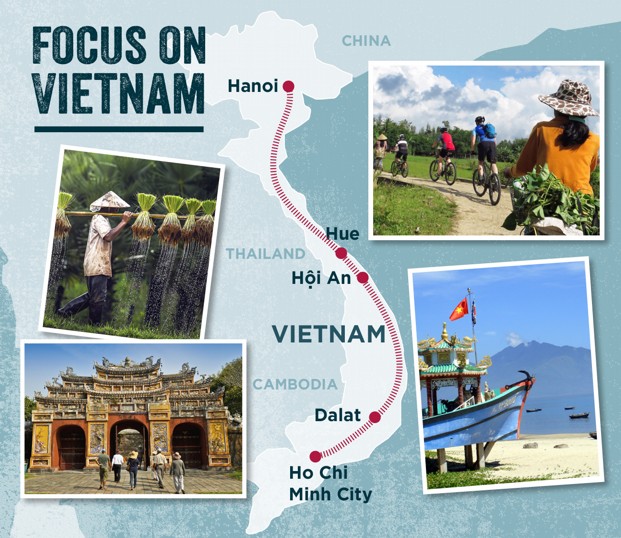 1. Ho Chi Minh City

Still known locally as Saigon, this is the starting point of your adventure and offers a great introduction to the country – perfect for finding your feet and discovering a bit more about Vietnam's complex history.
2. DalatPositioned in the foothills of the central highlands and surrounded by farms and tropical scenery, your rides in and out of the town will give you the chance to head off the tourist trail in search of a more rural pace of life.
3. Hoi An
Listed as a UNESCO site, the old town is famed for its traditional vibes and is a delight to behold! We've arranged a free day here so you can fully immerse yourself in its atmospheric charms.
4. Hue
Straddling the 'perfume river', the former capital of Vietnam is studded with imperial treasures that provide a fascinating insight into its rich, dynastic past. You'll enjoy many of the highlights on a specially designed city tour…by bike!
5. Hanoi
The final stop on your Vietnam itinerary is one of the country's most charming cities! Hanoi's mix of colonial architecture and eclectic energy really has to be seen to be believed. The perfect end to a spellbinding adventure…
Are you ready for an adventure in Vietnam? Click here for further information about our Mountains and Coast adventure.