Meet Rakitha! Head of our cycling team in Sri Lanka, passionate cyclist Rakitha has been guiding his whole life. From spending time as a Safari driver, a scout on a whale watching boat, a white-water rafting guide, as well as a youth adventure leader, Rakitha has a lot of experience leading trips. With Skedaddle since 2017, Rakitha can be found on our Sri Lanka Backroads and Beaches tour, and says it's his favorite trip to go on.
Full Name: Rakitha Jayawickrama
1. Name/ preferred name/ nickname
My actual name is Rakitha. But most of my guests have trouble pronouncing it and end up calling me Rakith, which stuck.
2. What got you passionate about pedallin'?
I've had a passion for cycling since I was a kid. I grew up in Kandy which is quite hilly. Cycling was an exciting way to get around.
3. Can you give us a brief description of your history with Skedaddle…
I started guiding for Skedaddle in 2017. I was used to smaller groups and it was a bit of a challenge handling my first group. But Skedaddle guests are always fun and relaxed and quite easy to handle. It's always fun to stop and get people to try new food on the way and see their faces as they eat it. (Pro Tip: Rakitha is also an excellent cook and is known to whip up delicious wraps in the middle of the jungle!)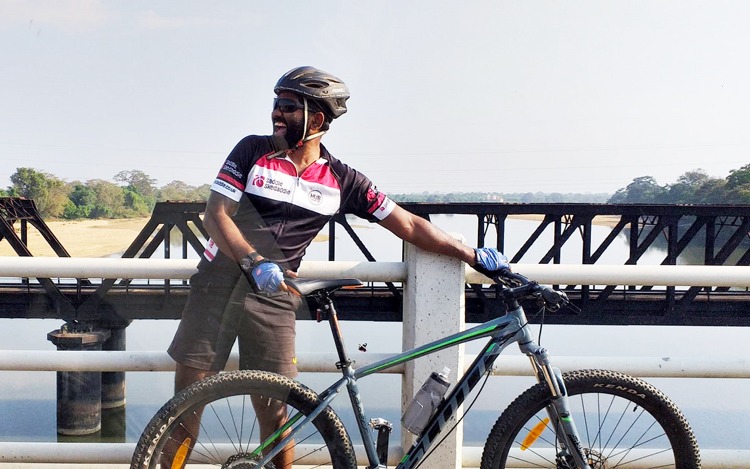 4. Which is your favourite trip and why?
My favorite trip is Sri Lanka of course! My favourite day is from Bandarawela to Katharagama. It's a long day (nearly 100kms) but starts downhill and then enters sugarcane fields which is like a maze. I was almost lost on my first trip but now I know it well. It's also the day with the best chance to see wildlife from the bikes.
5. What's your favourite Skedaddle memory?
My favorite memory of Skedaddle is a tour I did with a relatively older group. The oldest couple were around 75 years of age, but they were great cyclists. They really pushed me especially on the climbing days. They were also so interested and kind – it was lots of fun to guide them!
6. Tell us your top packing essentials for a cycling holiday?
Just bring an open mind. Everything else we can figure out along the way.
7. If you could cycle with anyone (dead or alive!) who would it be?
Vipin, my counterpart who guides for Skedaddle in India. He is a crazy cycling lover. His experiences motivate me and he has done so many more trips than me with lots of funny stories. He's also knows his bikes well and I've learned a lot cycling with him
8. Tell us something we don't know about you?
Off the bike, I also do canoeing, waterfall abseiling, bird watching, hiking and kayaking. As a hobby I do bird watching and I also catch non-venomous snakes.
Find out more about our Guides here!
Want to know more about our Guides? Check our our Guide section on the blog to get to know our team a little bit better and for some expert advice on everything cycling!