Yikes, it's been a tough few weeks hasn't it?! Coronavirus (COVID-19) has well and truly put a big spanner in the works for travel and cycling this spring and driven millions of us indoors to practice the art of social distancing.
How then can we stay motivated during this challenging time? Well, a wise guy once said: "see the positive side, the potential, and make an effort". That was the Dalai Lama, for anyone wondering, and we think he makes a pretty good point. With positive vibes in mind, we wanted to share some ways we, here at Saddle Skedaddle, think you can take advantage of this unexpected 'downtime' and most importantly how you can stay happy and healthy.
First up, some thoughts on keeping active…
Our cycling holidays revolve around pedal revolutions and the effort we put in when on the bikes always helps supercharge us with feel-good feelings! That's why we recommend keeping up exercise, if you can. Whilst getting out in the fresh air is of course always going to be our preference, if you do decide to head out for a ride, please make sure you do this safely and responsibly. Here's a few things to be mindful of, if you're living in the UK (if you're reading this and live outside of the UK, please check your government guidelines on exercise outdoors):
Practice good hygiene, wash your hands thoroughly before heading out and when you get back home
Time to take a break from group rides and learn to love solo riding
Be sure to stock up on water and snacks before you set off so you don't need to stop off anywhere en route
Don't forget to keep a safe 2 metre distance from you and any passers by
Any ride you undertake should be done so from your front door and be low grade, in terms of risk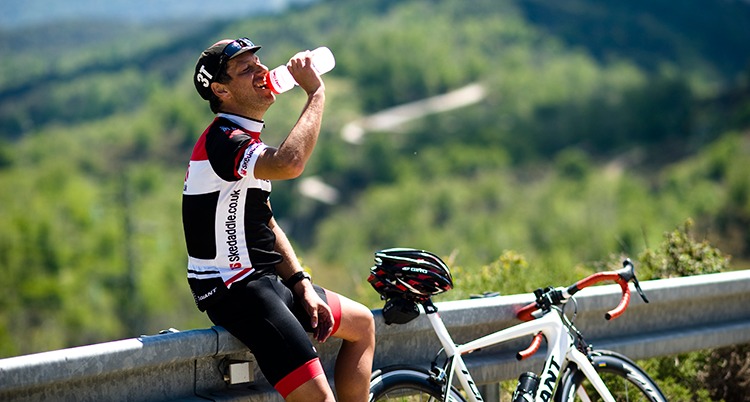 For many folk, tough restrictions mean getting outside has become tricky… so it's time to get creative!
Setting up your own home gym and dedicating some time to moving your body is a great way to mix up your daily routine and get those all important endorphins pumping around your body. Here are some ideas for those looking for ways to get started…
Eager to keep up the miles? If you haven't already got your hands on a turbo trainer, you might want to invest in one now! These handy devices enable you to train your cycling muscles without leaving your house. Check out cycling weekly's handy buying guide to find your perfect trainer today.
Looking for an alternate cardio exercise? Skipping is a fun, high intensity workout which will also burn calories. What's more, apparently just 10 minutes of skipping can have the same benefits of running for a whopping 30 minutes! See more benefits here.
Dancing is another fun way to get your heart rate up and a great way to bring a big smile to your face! This can be done as easily as popping on your favourite music and having a little boogie around your living room. For something a bit more advanced, professional dancer Oti Mabuse (reigning champion of Strictly Come Dancing) is now also delivering free dance classes for both adults and kids via her various social platforms, with routines ranging from salsa to jives and beyond! Discover more here.
For strengthening and toning, weightlifting is a great option. In fact, it became an official national guideline only earlier this year to lift weights twice a week. Dumbbell weights are relatively cheap, don't take up much space and require very easy movements. For those who don't own their own or aren't keen to order any, these can also be easily make shifted out of your household items, things like bags of rice and tins will work just as well! Once you've got your weights sorted, head to Youtube to get inspired, we personally like this workout brought to you by the nation's new favourite PE teacher, Joe Wicks.
Just like you can improvise with your weights, the same applies to other ways to workout! Why not have a good look around your house and outdoor space – you may be surprised by what you could incorporate into your daily routine. Things like stairs and sofas can all come in handy and can be transformed unleashing a whole new lease of life.
How about committing to the plank challenge? The Guinness World Record for holding a plank currently stands at eight hours and one minute, set by Chinese policeman Mao Weidong in May 2016. Now, we don't expect you to be able to hold yours for anywhere near this long, and if you can hold a plank longer than 1 minute, you're already a superhero in our eyes! But the plank challenge offers an accessible exercise for everyone and is a powerful little workout that requires no equipment and is proven to strengthen your core.
After all that exercise, don't forget to stretch! Yoga is a great activity for the house and will not only help you feel calmer, it can actually help your cycling performance too. From improved strength and flexibility in key cycling muscles to helping prevent injury and pain, yoga's a great all-rounder. For those of you who already fancy yourself a yogi, keep the good work up, and for those keen to see what all the fuss is about, why not try giving it a go with these 10 moves especially for cyclists…
In the meantime, wherever you are in the world we hope you are fit, well and keeping positive! We'll be bringing you more motivational tips so keep your eyes peeled for these. For those looking for some much needed travel inspiration, why not start planning your next getaway? We've just launched tons of 2021 dates across our range of cycling holidays, see them all here.