Food, glorious food! Is it just us or has life suddenly started to revolve around what meals you'll make to savour each day? There's something comforting about these daily rituals and, we have to admit, mealtimes are quickly becoming our favourite time of the day.
For us here at Saddle Skedaddle, food has always been a big part of our cycling tours. Sampling the local delicacies of the places we pedal through is one of the highlights of our cycle tours and gives us a great taste for the local culture, as well as keeping us fuelled for the day ahead. In fact, our lunchtime picnics are somewhat legendary amongst our community, with one Skedaddler going so far as to claim they're: "better than anything Jamie Oliver could rustle up… and they manage to prepare them by a roadside too!" Thanks Alison!
So, we thought what better way to keep you all motivated than by sharing some tasty recipes which you could try making at home. They're all relatively simple and quick to make so even if you're not a star baker in the making, you don't have to worry! Most importantly they're inspired by some of our favourite places to enjoy at the speed of the bike and cover everything from healthy salads to sweet treats. We hope they stir up some great food memories for you…
Fennel, orange and walnut salad
Usually found on a picnic in Italy, this dish was suggested by Skedaddle designer Helen Wallis who savoured it as part of a picnic feast she enjoyed not far from Rome during our leisure cycling tour, Tuscany to Rome. It's a lovely, light salad introduced by none other than our Italian chieftain Naomi Lindfield who says it's best enjoyed in the sunshine, served with a generous slab of gorgonzola, though is equally delicious on its own…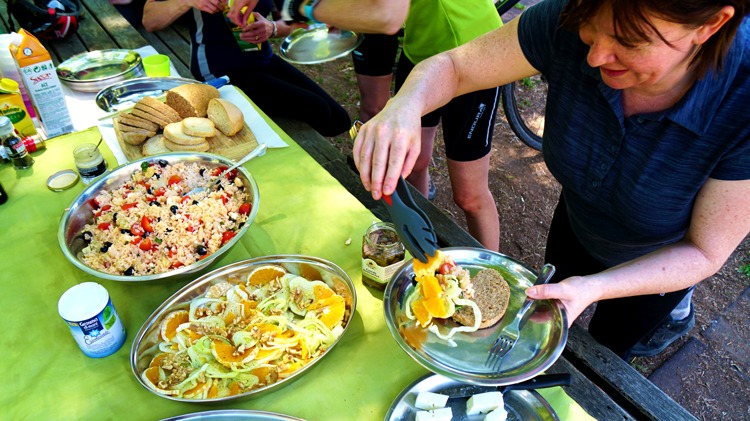 Ingredients:
2 medium fennel bulbs
2 oranges filleted + the excess juice
2 tbsp olive oil
Juice of ½ lemon
100g walnuts, lightly toasted, roughly chopped
Sea salt and black pepper to taste
Instructions:
Wash, trim and halve the fennel bulbs. Finely chop any fennel green (leaves). Shave the fennel on a mandolin or slice as thin as possible with a knife.
Peel the oranges with a knife, not leaving anything from the white pith on the oranges. Use a sharp knife cut out the orange segments. Try to collect juices in a bowl – you will need this for the dressing.
Lightly toast the walnuts in a frying pan over high heat until aromatic (you will smell it). No need to brown them. Chop roughly, set aside.
For the dressing, in a separate bowl or jam jar dissolve 1/4 tsp salt with the juice from 1/2 lemon and the orange juice.
Pour in the olive oil and stir mix thoroughly – use jam jars for salad dressings – put the screw cap on and simply shake it up when you need it.
ssemble fennel, oranges and walnuts in a bowl. Just before serving pour the dressing over the salad and mix. Add pepper and salt to taste.
Salmorejo cold soup
This is one of our Spanish head honcho's favourite dishes – Dan's words, not ours! According to him there is nothing better to enjoy during a hot day's ride. It's cooling, nutritious, not to mention delicious. It's found in the south of Spain and is a Cordoban version of the more widely known Gazpacho soup, though thicker and creamier due to the addition of egg and bread. We make this at times when we have access to hotel kitchens and a blender – it's very quick and easy!
Ingredients:
500g very ripe, very red plum tomatoes
1 clove of garlic
3 eggs
1 dry barra ( loaf of bread)
Fresh bread
Olive oil
Salt
Good splash of vinegar
Strips of Jamon Serrano (cured ham) to pop on top
Instructions:
Take the dry loaf of bread and cut the crust off.
Hard boil the eggs, then let cool and peel off the shells and separate yolk from white.
Chop the tomatoes up and put them in the food blender with the egg yolks, oil, vinegar, garlic, and a little salt. Blend this all together and then start to add the stale bread bit by bit. The mixture will very quickly become thicker. Add the bread to the thickness you prefer.
Just before serving garnish with chopped up egg white and strips of jamon.
Serve chilled with an ice cube and be sure to enjoy it with some slices of fresh bread to dip into your salmorejo!
Laksa Soup
This delicious, spicy noodle soup is a Malaysian breakfast staple and a firm favourite of Skedaddlers when they join us on a cycling adventure in Borneo. Our co-founder Andrew Straw has always been a fan of asian-inspired dishes and insisted we included it in our round-up for you all to try.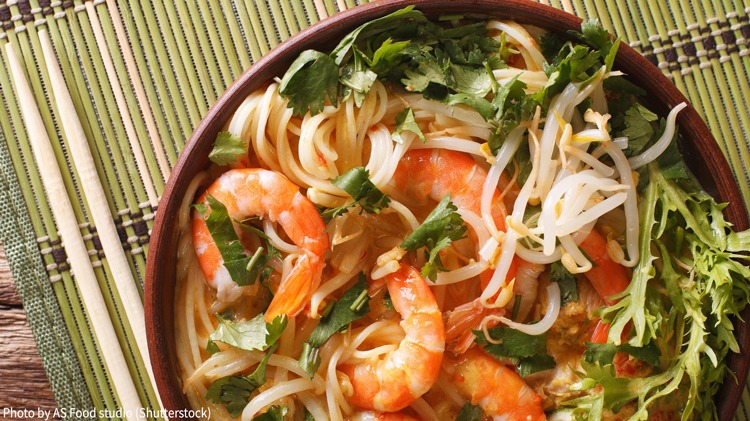 Ingredients:
150g tofu (drained, patted try and cubed)
150g of king prawns, peeled (optional)
1 tbsp of vegetable oil
1 tbsp of sesame oil
1 stick of lemongrass
3 spring onions
2 garlic cloves
Fresh ginger, finely chopped
1 red chilli, finely chopped
500ml of chicken/ or vegetable stock
400ml of coconut milk
Juice of 1/2 lime
1 tbsp of fish sauce
1 tsp tomato purée
1 tsp peanut butter
1 tsp palm sugar, or light brown sugar
1/2 tsp ground turmeric, or a few strands of saffron
200g of rice noodles
Coriander leaves to garnish
Instructions:
Heat both the oils in a large pan and add the chopped lemon grass, spring onions, garlic, ginger and red chilli. Fry over a low-medium heat for 2 minutes.
Add the prepared tofu and prawns (if using) and cook for a further 2–3 minutes, until browned.
Pour in the stock, coconut milk and lime juice and bring to a good simmer. Throw in the remaining lemon grass and the squeezed lime half.
Add a tablespoon of fish sauce, the tomato purée, peanut butter, sugar and turmeric or saffron, if using (the turmeric or saffron will give the soup a vibrant deep colour, but are not essential). Simmer the soup gently for about 10 minutes.
Meanwhile, place the rice noodles in a bowl and cover with boiling water; leave for 5 minutes, then drain and add to the soup. Mix well and taste, adding more fish sauce or a squeeze of lime if you think it needs it.
Serve in bowls and garnish generously with coriander!
Palta salad dip
Another tasty, simple salad sometimes served up on Skedaddle picnics in Chile, the place where it all began for Skedaddle! Loved by our local team here, 'palta' is the local word for avocado. It makes a great dip for nachos, or can be a brilliant spread on sandwiches.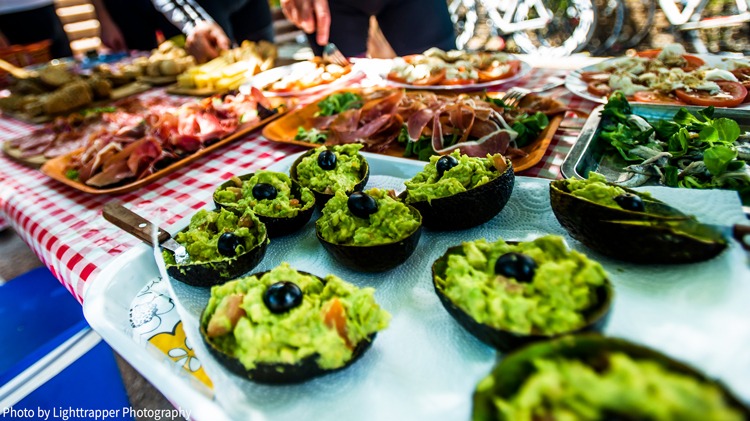 Ingredients:
2 ripe avocados
2 carrots
Handful of peanuts
Juice of 1/2 lemon
Olive oil
Salt and pepper
Instructions:
Take your paltas (avocados) and cut them in half. Scoop out the soft flesh with a spoon and place in bowl. Vigorously mash with a folk and squeeze the juices of two lemons onto the avocado and continue to mash. The lemons (pip and all!) will stop the avocado turning brown.
Grate carrots and grab yourself a handful of peanuts and chop roughly.
Finally, mix all the ingredients into a bowl with with a drop of olive oil, plus salt and pepper to taste.
Spelt wheat with vegetables
Spelt wheat is one of those grains that is part of Italian home cooking and is well loved in Abruzzo. We visit this region on a couple of our road cycling tours, including our epic iconic journey through Italy. With big climbing days on the bike through the region's Apennine Mountains, spelt provides a great way to get those much-needed carbs in. This dish is another favourite of our Italian leader Naomi and is nice and refreshing, not to mention packed full of flavour…
Ingredients:
200g spelt wheat
1 yellow pepper
1 red pepper
2 small courgettes
Fresh basil
Garlic
Small cherry tomatoes chopped up finely
Olive oil
Salt
Instructions:
To prepare the spelt dish, start by carefully rinsing the spelt wheat under running cold water until the water is clear. Bring a pan of hot water boil, add salt and cook the spelt for about 40 minutes, or for the time indicated in the cooking instruction.
In the meantime, prepare the vegetables for the dressing: wash all the vegetables and cut them into cubes or strips. For our picnics, we add the vegetable ingredients raw as we don't have cooking stoves with our kit. For a richer taste, place these in a frying pan, heat a drizzle of oil and heat up the vegetables. Season with salt, cover with the lid and cook for about 10 minutes.
If you see that the vegetables tend to dry, add a little cooking water from the spelt wheat pan, or a drop of white wine. Turn off the heat and add the chopped fresh basil and garlic.
Drain the spelt and pass it under cold running water to stop the cooking. Transfer the spelt to a large bowl, add the vegetables, season with extra virgin olive oil and toss to mix all the ingredients.
Enjoy! Now you're ready for a cheeky afternoon ride.
Taboulé
This French-style couscous salad is bursting with fresh flavours and is a Skedaddle picnic staple on many of our cycle tours in France! Fruit and veg included can be mixed up based on what you have in your garden or fridge on the day, but this one is based on a dish once rustled up by regular road cycling guide David Hall on our tour in the French Pyrenees.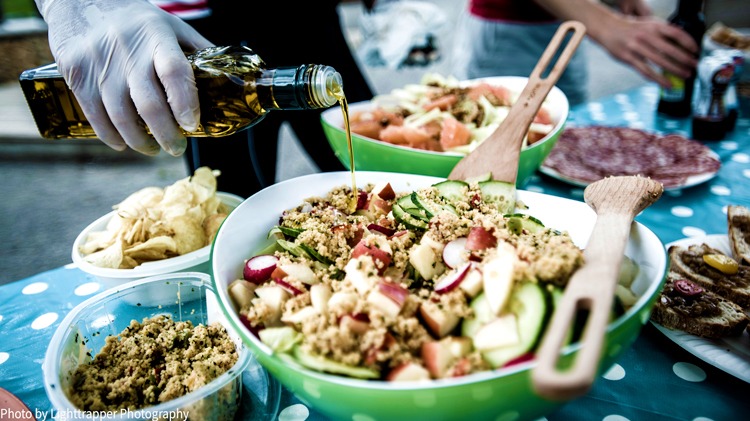 Ingredients:
200g couscous
200ml chicken or vegetable stock
6-7 sprigs of fresh mint
1 apple
2 radishes
1/2 a cucumber
5 tbsp olive oil
Block of feta (optional)
1/2 lemon juiced
Instructions:
Soak in heated stock with couscous and 2 tablespoons of olive oil – this will help make it nice and light and fluffy, just how we like it! Set aside and leave to cool down to room temperature.
Next chop up the cucumber, mint, apple and radish (peppers and tomatoes also make great additions).
Once couscous mixture has cooled, add the prepared vegetables and mint and mix together.
The final step is adding a tasty dressing! Add a further 3 tablespoons of olive oil, lemon juice and salt. We also recommend adding some crumbled feta if you have some handy.
Squid in ink
Known locally as 'arroz con chipirones en su tinta' this dish is usually found in the Basque region in the north of Spain! It has a distinctive dark colour and has been seen on many picnic tables, with fresh squid found in abundance here thanks to the region's fantastic coastline. According to our Spanish teams some folk don't like the thought of it, but they soon get over this when they taste the amazing flavour and texture.
Ingredients:
500g fresh squid
950ml fish stock
1 large white onion, finely chopped
1 large green pepper, finely chopped
1 large tomato, finely chopped
4 garlic cloves, finely chopped
130g arroz bomba (short grain rice)
Large glass of Txakoli (white wine)
2-3 tbsp cuttlefish ink
Good fist of chopped parsley
Lemon wedges
Alioli
Olive oil
Instructions:
Bring the fish to a boil and then simmer.
Heat a frying/paella pan over medium heat. Add glugs of olive oil. Add the squid with a bit of salt and sauté for 30 seconds. Remove the squid and set aside. Add the rest of the oil to the pan. Add the onion and green pepper, and fry until tender. Then add the tomato and garlic.
Add the rice to the pan and cook, stirring frequently for 1 minute. Add the wine and simmer another minute. Add the hot stock and the squid ink, and stir. Add the chopped parsley. Simmer over medium heat (do not stir the rice at this point), for about 15 minutes. It should then be tender.
Add squid and serve the dish with lemon wedges and alioli.
Classic scones
A classic British cake often found on our UK picnics and, if not, it's one you're almost certain to come across in any of the cafes you'll stop at en route! Suggested by legendary UK-based guide Steve Woods who always enjoys stopping off at his local Abbott Lodge Farm for a scone on our family bike skills tour in the Lake District.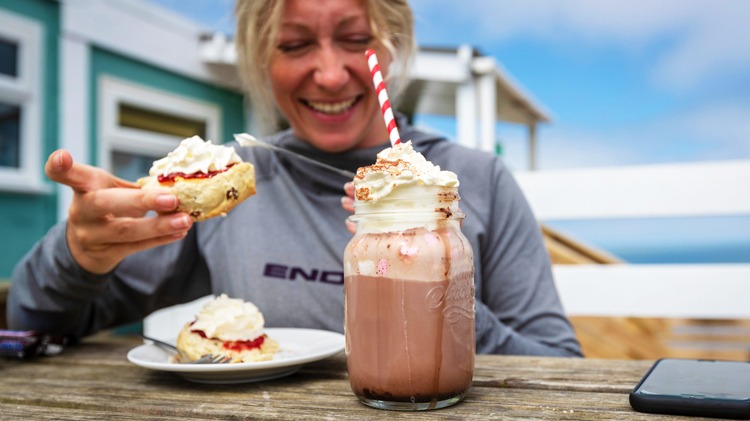 Ingredients:
350g self-raising flour
1/4 tsp salt
1 tsp baking powder
85g butter, cut into cubes
3 tbsp caster sugar
175ml milk
1 tsp vanilla extract
Squeeze of lemon juice
Beaten egg, to glaze
Butter or cream and jam to serve
Instructions:
Heat the oven to 200C/gas 7. Pop flour into a large bowl with salt and baking powder, mix together. Add butter cubes, then rub together until you have fine crumbs, stir in the sugar. Put milk into a jug and heat in a microwave for approx 30 seconds until warm but not hot! Add vanilla extract and lemon juice to this liquid and set aside.
Pop a biking tray in the oven to heat up.
Make a well in the dry mixture, then pour in liquid and combine with a cutlery knife – it should be quite a wet mixture!
Sprinkle some flour onto the work surface and tip the dough out onto it. Sprinkle some of the flour onto the mix and fold 3 times, roll it into round shape that's approximately 4cm deep.
Take a cutter and dip in flour. Cut out your scones from the dough and brush the tops with beaten egg, pop onto a hot baking tray and bake for 10 minutes until golden on the top!
Once cooled on a rack they are ready to serve with lashings of your favourite accompaniment – we personally love them with all the works!