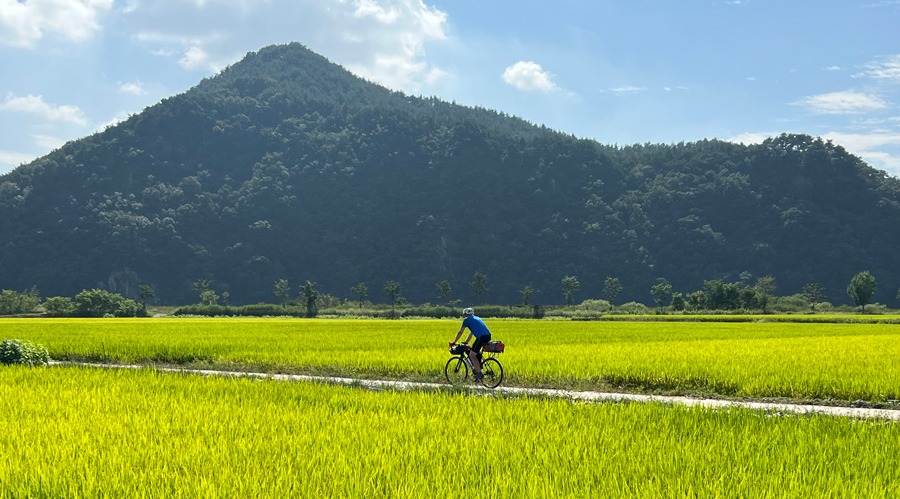 In 2015, South Korea completed an expansive 1,757-kilometer-long network of cycle paths. Following the country's four major rivers – Hangang, Nakdonggang, Geumgang, and Yeonsangun – the network connects the country from east to west and north to south.
One of the most popular cycling routes is Seoul to Busan, starting in the capital city and ending 633 kilometres later on the southeastern coast of the country. Loved by Koreans and tourists alike, the entire route follows dedicated bike paths or bike lanes, passing through some of the most breathtaking scenery and cultural wonders South Korea has to offer.
Our South Korea bike tour roughly follows the Seoul to Busan cycling route, taking 14 days to experience the country and everything it has to offer. This is a place-to-place ride that starts right from our hotel in Seoul and ends in the historic city of Gyeongju before transferring to our endpoint, Busan.
Along the way, you'll visit the natural beauty of Yangpyeong, soak in the healing properties of hot springs in both Angsung and Suanbo, climb the 362-meter-high Sojoryung mountain with its breathtaking valley views, take in the UNESCO cultural village of Andong Hahoe before making your way towards the coast to feast on snow crab in the small port of Yeongdoek.
A couple more days of coastal riding lead to the historical city of Gyeongju. On the final day, we transfer to the bustling city of Busan in the southeast corner of the country where you can choose to spend some extra time or even fly to the tropical island of Jeju for some added adventure.
Find out all the details about our new trip in South Korea here!
---

Why South Korea?
We first visited South Korea back in 2018 to check out the possibility of running a trip there but sadly the pandemic scuppered our plans to fully research and then launch a holiday. As soon as the country opened back up in 2022, we were pretty much on the first plane to fine-tune our original plans. We wanted a trip that mirrored in style our Fuji to Kyoto trip in Japan and highlighted this amazing part of Asia.
With a warm, sunny climate and lush green fields and forests in the spring/summer that turn to beautiful colours in autumn, the country makes for a wonderful place to bike. It has everything to offer in terms of terrain – mountains, coasts, forests, rice paddy and chili fields, and peaceful riverside farming communities. South Korea may be a modern country and an economic powerhouse, but here, ancient traditions, villages, and cultures are passionately kept alive. It's the best of both worlds.
---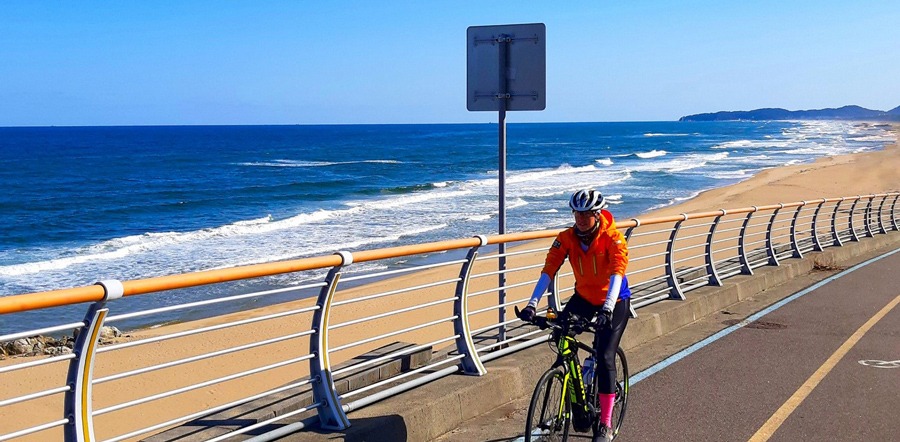 Our Goal And Notes On Recce
The goal was to design a place-to-place trip that literally started from our hotel door in Seoul and ended in Busan with minimal to no transfers. Utilising the Four Rivers Bike Trail was an absolute priority. It's traffic-free and nearly cyclist free too, unlike parts of many popular routes in mainland Europe. The aim was to experience both the interior of the country as well as the coastline, so we break away from the trail/bike path a bit to include a coastal section near Pohang.
---

Why do we love South Korea?
Whilst close to Japan geographically, South Korea is a million miles apart in terms of people and culture. Think of Japan as your more serious friend that you respect deeply, will always be on time when you meet-up, is a little conservative and who likes to plan. South Korea resembles more the louder cheeky friend, who whilst you'll still respect, might not turn up quite on time, is a bit more edgy (even chaotic) and is happier to go with the flow. Combine all this with stunning scenery, amazing food, a virtually traffic free route all the way and you'll have reached your Nirvana!
---

Guide's Favourite Day
On Day 10, the ride to the beautiful coast at Pohang is a classic. The scenery is stunning throughout and we end the day in the ancient city of Gyeongju. At almost 2,000 years old, it contains some magnificent golden artefacts of the Silla Kingdom at its Gyeongju National Museum. During the following rest day, we are able to visit the museum and enjoy a day off the bike to explore the city.
---

Take Extra Time To Experience Seoul
Time in Seoul is limited during the tour so we recommend tagging on a few days at the start or end of the trip to fully experience this vibrant and fun city. If you like art, the Seoul art scene is cutting edge, filled with cool galleries like Leeum and the D-museum in Hannam-Dong, street sculptures and art exhibitions that randomly pop up overnight. Wander around the tiny traditional streets of Bukchon Hanok Village and Gyeongbokgung / Gwanghwamun Square and dine on some of the best Asian street food around.
---

Our Favourite Accommodation
For our time in Gyeongju we stay in a traditional guesthouse called Hwangnamgwan. Originally the building was used as a guesthouse for foreign distinguished guests or central officials during the Goryeo and Joseon eras. It still retains this cultural heritage which is melded together with more modern facilities to make for a wonderful place to stay.
---
South Korean Food Is Having A Moment
There is no doubt you will eat well on this trip. South Korean cuisine is largely based on rice, vegetables, seafood and meats, with dairy mostly absent. Korean meals are known for the crazy number of side dishes (banchan) that accompany a humble bowl of steamed short-grain rice. Kimchi is served at nearly every meal. Korean food can be best described as savoury, spicy, filling and highly nutritious.
A must-try during your visit is bibimbap. The most common bibimbap consists of warm rice topped with mixed vegetables, beef or chicken, and raw egg, as well as soy sauce and a dollop of chilli pepper paste (gojuchang) for seasoning. Samgyeopsal is another staple Korean dish where slices of pork belly are cooked on a grill at your table. Then it's over to you to wrap them in lettuce or sesame leaf and dunk them in a dipping sauce and accompany them with mushroom, peppers, onion, garlic and of course kimchi! This is best paired with several shots of Soju liquor of course…
And don't forget Korean fried chicken. Served with a pint of cold lager and a side of chips, it can't be beat after a long day on the bike.
---
Extend Your Trip…
The Demilitarized Zone (DMZ) is a 4-kilometre-wide and 250-kilometre-long stretch of land that separates North Korea from South Korea on the Korean peninsula. It hasn't been touched in over 60 years, allowing unique species of plants and wild animals to flourish unharmed. It's worth a day trip from Seoul to visit.
---

Words of Wisdom
This trip is manageable for most cyclists, you just need to keep turning the pedals and not be daunted by the occasional steep bit! Don't be afraid of mentioning North Korea to your guide/team – they are happy to chat about it. You'll no doubt have heard on the news about possible threats from North Korea, but the team will assure you there are no concerns about travelling in South Korea.
---