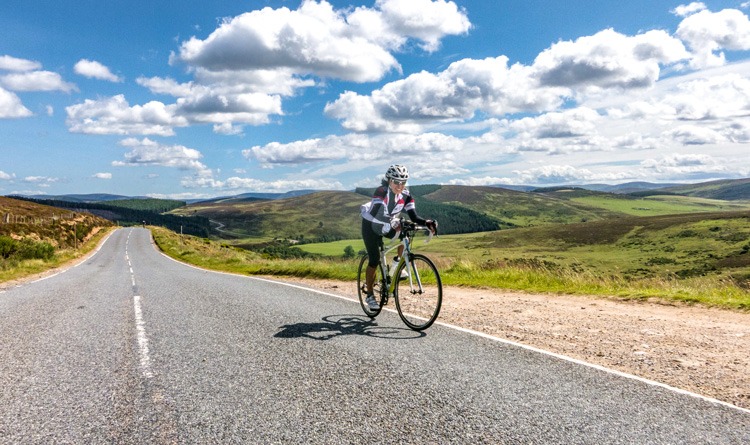 Land's End to John o'Groats, LEJOG, End-to-End… for most, this Iconic Journey needs little introduction, but for those unfamiliar, it's your chance to ride from the bottom of the UK to the very top. It's an epic challenge of over 1,000 miles through 3 countries and countless counties – something we at Saddle Skedaddle like to call a cycling extravaganza – it's Britain at its very best! But what can you expect if you decide to sign up? Read on to discover everything you need to know about this legendary long-distance route.
A classic challenge, the Skedaddle way
Saddle Skedaddle has been offering Land's End to John o'Groats since 2006. Our co-founder, Andrew Straw was even the one to guide it back in the day. It was an established route well before Saddle Skedaddle even existed, so it's not one we can claim we created. However, over the years we have carefully developed our itineraries, to bring you what we believe to be the ultimate way to enjoy it at the speed of the bike.
With many years leading LEJOG tours, you'll enjoy all the benefits of our experience and wisdom. Regular Skedaddle guide Peter Eagan, has ridden the route at least 20 times with us and personally tweaks our itineraries each year, hand-selecting the very best roads for their quality of cycling and scenic sights. He's also been known to add in sections based on feedback from folk who have ridden the route with us over the years, locals from regions we pass through who are aware of even better roads to take.
I see new things all the time, it's the most varied route you can do in the UK. Right down to the walls you'll see en route, which is vastly different from the south to the north. The countryside and villages are just changing all the time. You also get to know the clients over several days and build a close relationship, as a result, you can tailor things to suit what they like and make sure they have the very best experience possible!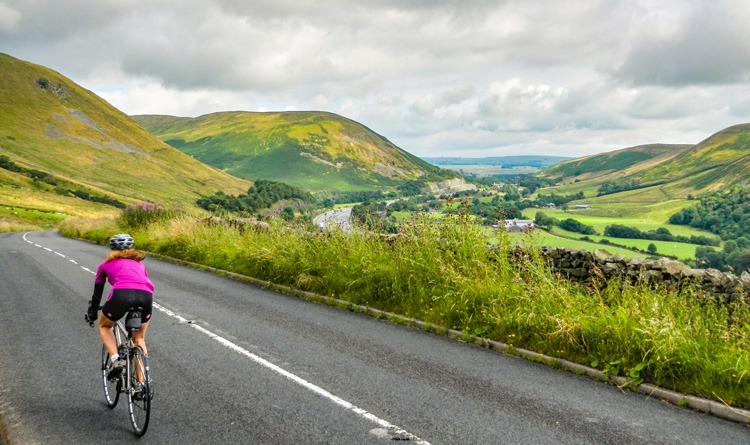 An incredible achievement for everyone
With 2 itineraries to choose from, riders can join us for either 2 or 3 weeks, depending on how many miles you want to ride each day. We are only one of a few tour operators who provide a 3-week option and we have found this to be very popular, opening up the opportunity to many more cyclists and enabling them to savour some of the amazing sights you'll encounter en route. In our time we have seen so many people take up this iconic challenge, with folk coming from around the globe, each with their personal story.
Back in 2009, Scottish surgeon Chris Oliver signed up as part of a health drive to lose over 27 pounds. He smashed his goal (and LEJOG) and has never looked back since. In 2014, we welcomed Keith and Robin on their tandem. Robin and Keith, who is visually impaired, had previously taken on the Way of the Roses with us, a terrific feat of its own. But they were eager to complete their first truly long-distance tandem journey – doing he just that and have since joined us on several overseas challenges. In 2016, we met fit-as-a-fiddle octogenarian Anthony Barley, born in 1936. Partway through the journey his son also joined us for 4 days to give his dad some support.
In 2018 we had recumbent cyclists come all the way from Singapore, one of which represented his country at the Paralympics and went on to conquer the route using only his strong arms. The same year we also catered for our first-ever electric bike on the route. If that wasn't enough, in 2019 we assisted 2 American couples who wanted to ride it in just 10 days by doing 100+ miles every single day! The inspiring stories go on and on and each one has been an absolute pleasure to help make happen.
The Highlights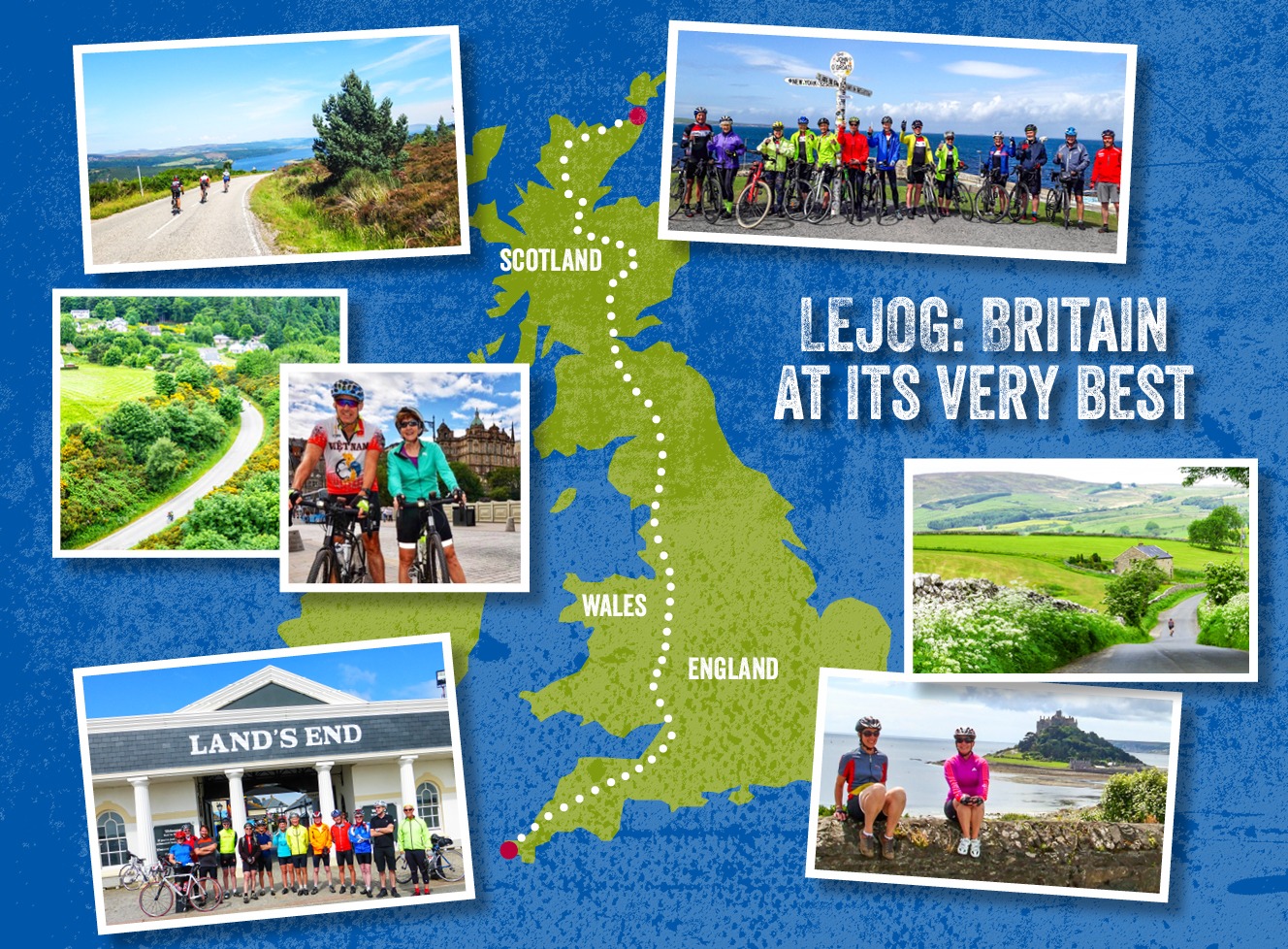 With over 1,000 miles to conquer there is a lot to see on the route! Everyone has their favourite day and memorable moments, for a variety of different reasons – they've maybe seen it on the television and always wanted to visit, have friends and family in the area or just never thought they would make it to the hotel that day. Having led over 20 tours for us, we asked guide Peter for his favourite parts of the journey…
Entering into the Trough of Bowland in Lancashire you see proper remote countryside and you often hear riders asking where all the people went. There's more sheep here than folk and it honestly blows their mind – some riders have never seen such big open spaces and they start to realise there are still some truly wild places left in the UK.

Talkin to Peebles has to be one of my favourite days of the entire journey – it's the day we leave England and cross the border into Scotland. The views are just amazing. It's a long, hard day and very remote, but it is a great day of riding. We also take you up to Hadrian's Wall – the final frontier of the Roman Empire and a UNESCO Heritage Site, which always goes down well with riders.

Tomintoul to Inverness is another cracker of a day. We re-routed so we could ride past the Clava Cairns which date back to the Bronze age. We also cycle under the impressive Culloddon viaduct. From Inverness, you're in the wilderness really and we leave civilization behind, passing by the gorgeous Shin Falls for the chance to spot leaping salmon.

Just before Bettyhill is the first time on the trip you see a John o'Groats sign and folk get really excited. Coincidentally, Bettyhill is the first time you see the sea on the tour and the beaches here are amazing, very rugged and absolutely breathtaking – it's a really lovely place with bright blue seas (when the sun is out.) The brave amongst us even go for a swim. At John o'Groats we have bubbly and head to the signpost. Emotions are high – there are folk who thought they'd never be able to do it, and of course, lots of hugging.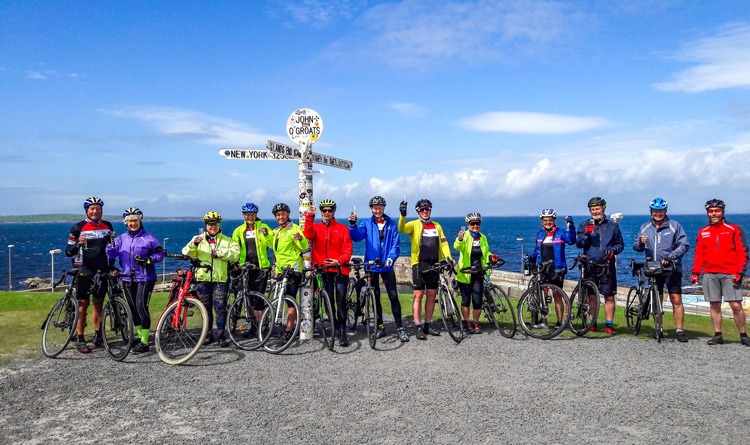 But don't take our word for it, here's what folk who have ridden the route with us have to say…
"The achievement of cycling from one end of the country to the other is one thing, but to do it with such a fabulous bunch of people was something else. The quirky places that we've seen and stayed at meant that I've got enough stories and memories to last a lifetime. The whole trip seemed far less effort and so much more fun because it was done the Skedaddle way – Pete and Rob were amazing, nothing was too much trouble and we all had an amazing time because of it." Julie, UK
"I liked the variety, some remote areas, some villages and some cities. I particularly liked the first day of riding from Lands End because the weather was good and everyone was excited about starting a great adventure. I have been on 30 plus guided bike tours and Peter did something I haven't experienced. Not only would he tell you about the highlights of the day, but he would also wait at the side of the road so you wouldn't miss them. We got to see pagan stone circles, the world's highest hedge, jumping salmon and something great almost every day. He also knew the location of every "cheeky" hill on all twenty days of the tour." Jim, USA
"This was the ride of my life! I have three favourite days: 1) Riding through Cheddar George in the cool early morning sun was a really enjoyable experience; 2) My 50th Birthday! The Skedaddle team really made it special for me with a birthday celebration at every stop, morning coffee, lunch and afternoon tea, plus a special birthday dinner joined by my wife; 3) Arriving at John o'Groats as a team, having completed our 1,000-mile journey together, a brilliant experience and one I am sure I will never forget!" Mark, UK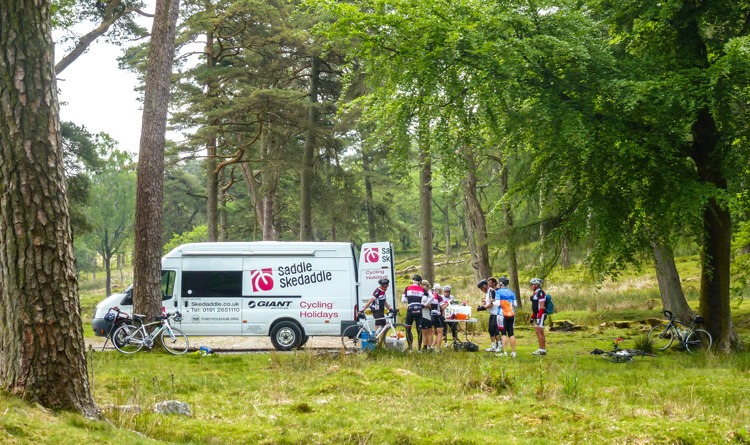 A regional food feast
Our epic cycling holiday in the UK will showcase not only the very best roads this island nation has to offer but also the diverse flavours you can find in each region you travel through. Each region has its specialities and we'll make sure you get to experience these along the way. From Cornish pasties and scones with clotted cream in the south to Bakewell tarts, Cumberland sausage, Haggis Neeps and Tatties, Cullen Skink, and various dunnocks delights in Scotland. There's a rich heritage of cooking traditions here and all the better enjoyed after packing in the miles.
If that wasn't enough our experienced guides always take great care to locate the very best places for our legendary picnic lunches. Country estates, village greens and woodland all feature on our picnic hit-list and provide a quintessentially British backdrop for us to relax and unwind over good food that fuels us for the rest of the day in the saddle. One of our favourite picnic pit stops is an old fashioned bush shelter beside an ancient church in St Tudy, Cornwall, it's an amazing setting and we've stopped here so many times over the years that the locals know us and will often come to say hello!
When it comes to evening meals, there's always one place in particular that our guests can't get enough of and has become somewhat of LEJOG highlight in itself – The Pheasant Inn at Casterton. This eighteenth-century traditional coaching inn is bursting with charm and you'll find plenty of locally brewed cask ales here, as well as a seasonally changing menu, showcasing the best of local produce. According to our guides, the food here will 'blow your mind' and is always very tasty and unique – it's been known to go down so well with our guests that they come back again!
Did you know?
The LEJOG route may be world-renowned, but here are some things that you may not have heard before…
On the 3 week tour, we encourage folk to head into the historic town of Kirby Lonsdale, where you can enjoy 'Ruskin's View' described by the famous poet as one of the 'loveliest views in England, therefore in the world'. It can be spied from the town's churchyard and is best savoured with nice ice cream.

On both itineraries, we stop off at the Crask Inn in Scotland towards the end of our epic journey. This is known as 'one of the most isolated inns in Scotland' and is a place we have a special connection with. We have been visiting the inn for many years as part of this route and another mountain bike tour we offer in the area; back in the day, we used to stop here overnight with our riders. In recent years we donated several bike stands to the Crask, allowing more riders to safely store their bikes and helping the Crask host more cyclists in need of shelter and some much-needed tea. We are always sure to get a lovely warm welcome here!

Dunnet Head is technically the northernmost point of the island of Great Britain! If the weather's good and we have some super fit and eager riders, we sometimes suggest folk to head up to it en route to John o'Groats, though it's a bit of a detour and not always possible. If not, all riders pass by the beautiful Dunnet Bay which is really spectacular to see from the saddle.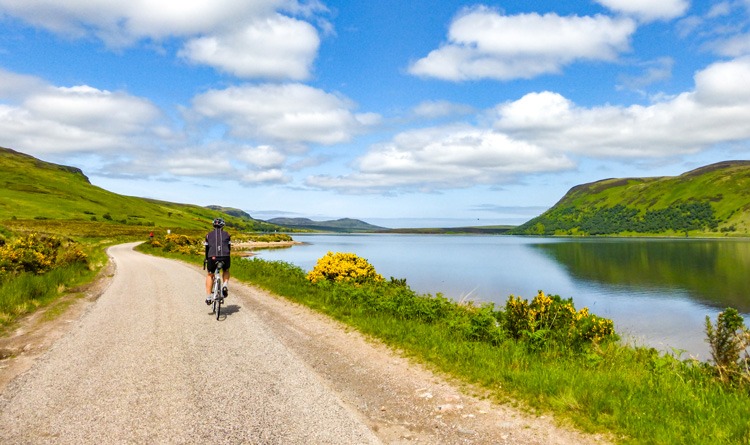 Eager to secure your space on one of our Land's End to John o'Groats departures? Well, here are some parting words of wisdom from our LEJOG guide Peter:
This is a tough trip so get fit before you come, you'll enjoy this tour a lot more and have a better time because of it. Be sure to wear cycling gear that is comfortable and bring your own saddle if you can.
Taking on this Iconic Journey is sure to be one of the greatest achievements of your life and something we'd encourage all fit and confident cyclists to give a go at some point! To find out more about our tours simply head to our website today.
Learn everything about our Land's End to John o'Groats trips here!