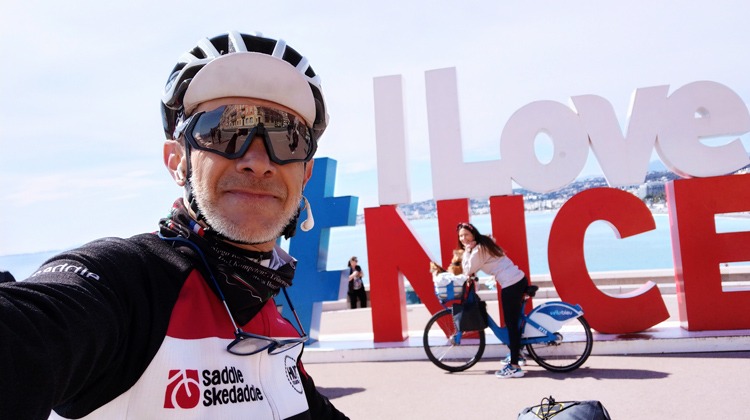 Our Italian team is like no other! Gualtiero, or Wally, joined us in 2016 and has since become an essential part of our team leading a big part of our Italian trips. Striving under pressure and always looking for a challenge, Wally has a soft spot for both road cycling and mountain biking. In our quest to share our incredible guides with the world, check out this Q&A with our inspiring Italian guide…
Full name: Gualtiero (Wally) Rossano
Tell us a little bit more about where you're from…
I'm based in Northwest Italy in Turin, which is a city placed really close to the mountains at the border with France and at the same time very close to the sea. Turin also become quite a touristic place ever since 2006 when we had Winter Olympics Games here – we have a lot of parks and hills to climb on mountain and road bikes now, it's perfect for getting out on bikes for a long ride that's just outside the city centre.
What got you passionate about cycling?
I love being alone in the mountains, breathing and smelling nature. I also love to ride my bike in the dark, ride Audax Randonnées or ultra-cycling races.
Tell us a briefly your history with Skedaddle, when did you start and what trips you can be found on?
I've been in love with Skedaddle's big family since 2016 when I lead my first Italy Gran Traverse North to South. In 2020 I was supposed to lead my 10th Grand Traverse but Covid-19 temporarily stopped my career as so-called King of Traverse for now. I've done Giro della Toscana and Lakes of Lombardia each six times, and a couple of Alps, Dolomites and Puglia trips; and also led mountain biking Via Francigena tour three times!
https://www.instagram.com/p/CAlLws_oOQM/
What do you like most about Saddle Skedaddle?
The thing I like most about Saddle Skedaddle is the feeling of being among friends. The Guides Week in the UK for me was a great experience to get know other guides outside of work. Sharing passion is wonderful!
What's your favourite day in the saddle with us?
No doubt, my favourite day is when we reach the highest point at Campo Imperatore in the Gran Sasso area during the Italian Grand Traverse – there I feel myself, in harmony with nature, that's such a magical place!
Give your best piece pre-trip of advice for customers…
Everyone is very welcome here! The Saddle Skedaddle team is at your disposal; our goal is to make your holiday unforgettable! At the end of the trip, we will all have a new experience and we will have many more friends.
Tell us something about you we might not know…
I've changed my life a couple of times in the past. Until 2008, I was an accountant for 19 years in Italy and nobody can believe it when I tell them!
What item wouldn't you be without on a trip?
I have a lucky amulet that follows me on all my cycling adventures (I'm also an ultra-distance biker), it's an earring, handmade by a friend that in the past was a goldsmith craftsman. All other essentials are embedded in the Skedaddle mechanic kit, but the luck is not included!
Do you have a favourite adventure cycling-themed book or film? Why do you love it?
Recently an Italian singer, Lorenzo Jovanotti cycled 4000kms through South America, in Chile and Argentina from the Appennines to the Andes mountains, the title of the movie is "I don't want to change the planet" – a gorgeous documentary about life on the saddle, caring about nature and human relationships. I love it cause Lorenzo is a celebrity but at the same time, he's a simple man on his bike.
If you could cycle with anyone dead or alive who would it be?
If I could, I would ride with Mike Hall, he inspired me about going long distances. I've met him during my Transcontinental Race in 2016, did some chatting during registration in Belgium, then at the finish party in Turkey.
What's your favourite power snack?
My favourite power snack is peanut butter!
What are you most looking forward to after lockdown?
Can't wait to meet friends from all over the world again and feeling a sense of life.

Want to know more about our guides? Check out our guide section on the blog to get to know our team a little bit better and for expert advice on all things cycling!