Rioja is the new tipple of the moment and everyone who's anyone seems to be enjoying the delicious tones of this yummy Spanish wine! From those after the perfect tapas accompaniment to drinkers in search of a great option for a night on the sofa in front of the tv, Rioja's got all your basic beverage needs covered…
With 2.8% sales growth in the UK in 2016, Rioja's popularity amongst Brits in recent years has certainly sky-rocketed. Never one's to miss a wine tasting opportunity, we set out to design a special trip located in this sun-kissed region, with wine-tasting and sunshine cycling firmly in mind.
Located in Northern Spain, the Rioja area boasts over 500 wineries and our Riojan Rolling holiday is ideally placed to make the most of these world famous vines! A diverse combination of Mediterranean, Atlantic and continental climates has allowed the vineyards here to flourish and produce the crowd pleasing Rioja wine we know and love today. In Spain the cellars and vineyards are known locally as 'bodega's' and during your journey here you'll have lots of opportunity to visit plenty of these historic estates, as well as get to sample a few of their goods (well, it would be rude not too.)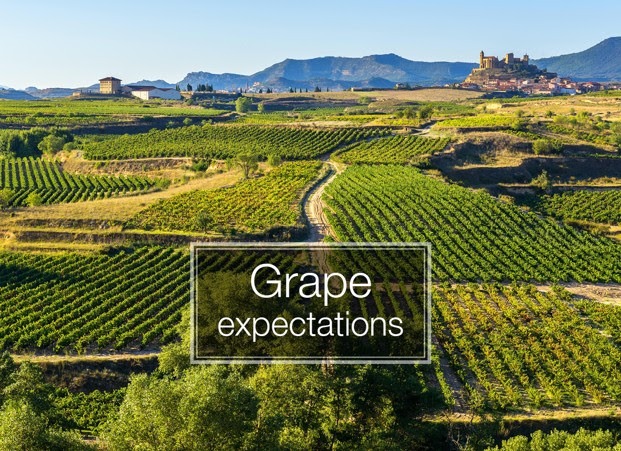 Notes on the vino…
Characterised by it's fruity flavours, connoisseurs of this Rioja will note its similarity to Cabernet Sauvignon, but for those less acquainted all you need to know is that it makes the perfect accompaniment to your post-ride feast.
Beyond the vineyards… 
Don't be fooled by the region's famous ware, there is lots to see and do, away from the heavily laden vines. So, fuelled by your wine, here's our top 3 experiences to enjoy away from the vineyards…
Yuso monastery – 16th century baroque.
This UNESCO World Heritage site is famous in Spain as the birthplace of the first written words in the Spanish language (don't miss the opportunity to check out its impressive historic library!) You'll also enjoy a night's stay at this magnificent building, so plenty of chance to explore at your leisure…
Camino de Santiago trails
The 'treasure hunt' like trails of the historic Camino will come to life during your trip to Rioja. Riders will enjoy highlights of this famous journey in magical Galicia, before dropping down into the endless vineyards of Rioja.
San Vincente de la Sonseirra
This mediaeval village is a beautiful sight to enjoy during your journey. Surrounded by vineyards, this village comes complete with a 16th century gothic church, which perches impressively on a hill above the town.
Our Skedaddle Espana head honcho and guide Dan Hirst is the mastermind behind this new tour and we caught up with him to find out why you should enjoy the Rioja region from two wheels:
La Rioja doesn't need any introduction, or so I thought before visiting the area to create a new trip last year!  My memory held an affectionate place for this tiny region in northwest Spain way before even setting foot in it and  I know you know about the ancient vineyards, first planted by the Romans and industrialised by the French producing some one the worlds most fantastic reds and whites.
As I arrived in La Rioja for the first time , crossing the peaks of la sierra de la demanda, I was shocked to see snow and quickly learnt that you can ski here!!  The landscape is beautiful, the  Ebro snaking the 'lifeblood' through the lush rolling vineyards that are hemmed in by dramatic sierras to the north and south.
The fun loving city of Logrono has perhaps one of Spain's most atmospheric streets to take in a tapas crawl.   Before I headed out through sleepy medieval villages dripping with unpretentious wine folklore .
Only a visit to San Millan monastery that now hosts a 4 star hotel ( used on our trips throughout he region) is in my budget, but I wonder what it must feel like to sleep beneath the same roof where the Spanish language was 1st spoken!?
Haro is home to some of the oldest and most famous Riojan bodegas and a visit and tasting is a must ….for research purposes only ofcourse.   The town hosts the Batalla del Vino ( battle of wine) festival every june , where everyone and everything turns bright crimson!! .In the hillside village of El Ciego architect Frank Gehry of Guggenheim bilbao fame has created a piece of modern art celebrating the wines of the area which sits in stark contrast to the ancient tradition of wine making.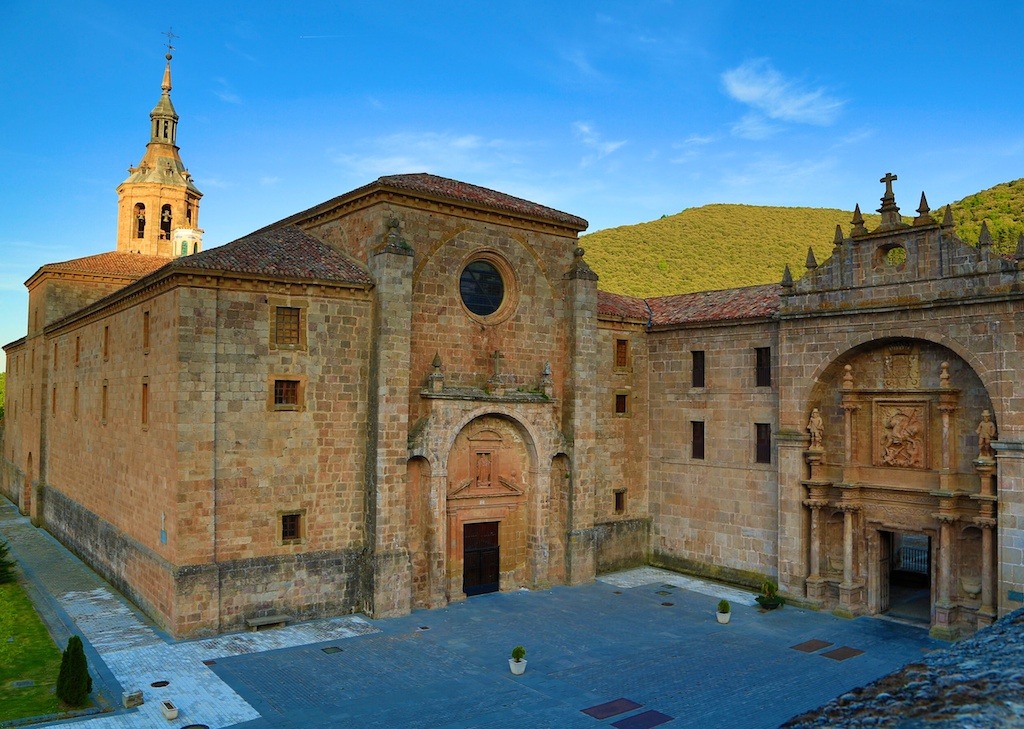 And back to Logrono for more creative tapas and maybe just 1 more glass of wine!!