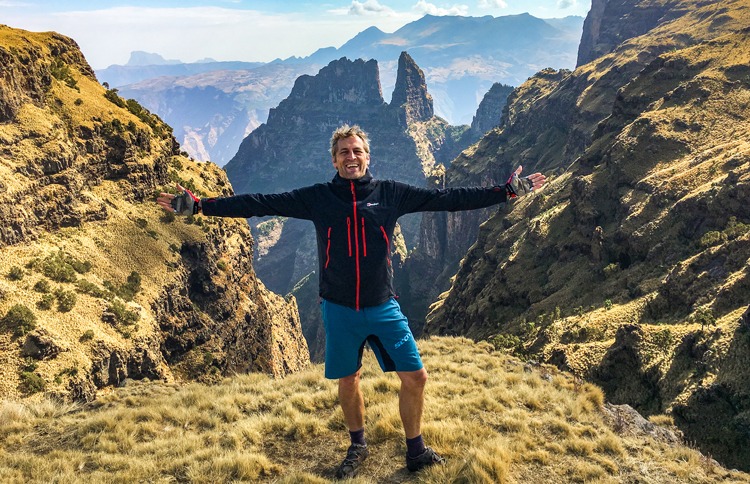 2020 marks an extra special birthday for Skedaddle – 25 years of exploring the world on two wheels! We've been feeling a little nostalgic here and have been reminiscing about the amazing adventure our co-founders Paul Snedker and Andrew Straw, undertook in Chile all those years ago. The rest, as they say, is history. So, to mark the occasion, we caught up with Andrew for a little interview…
Full name: Andrew Straw, or just Straws
Tell us a little bit more about where you're from…
Home is a few miles away from the Skedaddle office in Newcastle in North Shields (where the Tyne meets the sea). It's right on the C2C so my commute is all off the main roads and I can see if the 'surf's-up' from my window and am always on ready to try my best to catch a few waves. I'm from just outside Derby originally (but don't hold that against me!) and enjoy being back down there to see family and friends, watch Derby County (we've all our own cross to bear) and exploring the lovely Peak District.
How did you get into cycling?
I had a paper round from 11 years old, clearly, it was a tough paper-round judging by my craggy looks – those Sunday supplements were a killer! Was always out and about on my bike too and loved blasting around the local cycle-speedway track and bombing through the park on the Tracker I made out of old parts in the garage. Would have loved a Grifter but times were hard in the 70's.
Tell us briefly your history with Skedaddle? What's your role today?
As a co-founder, I spent a year in South America with my best mate Paul, that's how the idea of Saddle Skedaddle was born 25 years ago! People are still trying to figure out my official role today and what I do. Think my last business card (showing my age, eh!) said Creative Director, which I think means I can annoyingly have an opinion about anything and everything all the way to the type of tea bags we buy for the office – some things are important. But really, today I'm the lucky devil who sets up most of our Cycling Adventure trips and does the research for them and then I do the first few to make sure they are all up and running as we want them to be. Last year this was researching in Ethiopia and Jordan and running our new trips in Borneo and Mongolia. It's a tough role, but someone's gotta do it!
After all these years, what keeps you passionate about what you do?
Still enjoy seeing new countries and exploring them to the max Skedaddle style! Our waistlines have got bigger over the years and so have we as a company, but I still love that we've retained our personal approach to the way we do things. It's one big family and although it's spread far and wide throughout the world and has the odd crazy uncle and mad aunt, I'm very proud to be a part of it and all it stands for!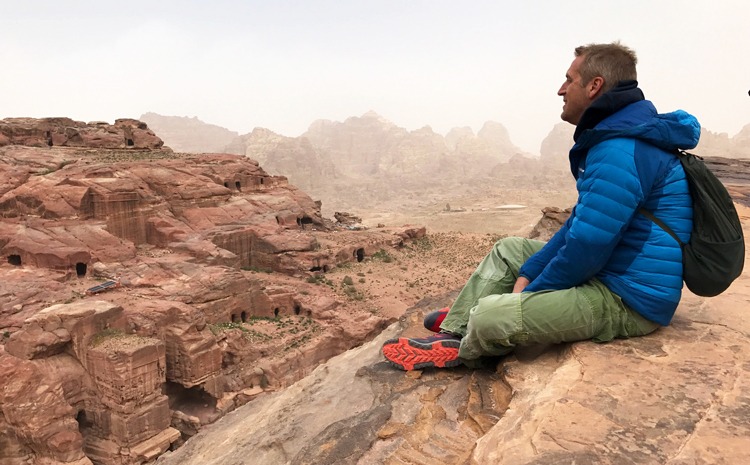 Are there any Skedaddle values that really resonate with you?
I feel lucky to work with staff and suppliers who get the way WE want to do things. Think we have coined this as Skedaddleness. It's about being fair and listening to all those people involved in making sure we provide the best experiences we possibly can. Every day is a school day!
What's your favourite trip and why?
That's a toughie! Each has their own merits, but for me, it really depends on the group you're with at the time and the team you're working with. I have a regular bunch of 'usual suspects' I've ridden with on trips in the past who are more friends than customers and I always give them a sneak preview of new trips. So any trip with this bunch is great fun even though they always sting me for a few rounds of beer in the evenings!
What is your favourite day on a bike and why?
There is a day in Borneo that is packed with different things which I really love, Day 6 to be exact. We get up at first light and leave Bako National Park on a little speedboat and then after some yummy local noodles head to see the orangutans at Semenggoh, from here we change into our cycling kit and head through some stunning scenery and end at a small village where we do a homestay with a local tribe. The day ends with a night of traditional food, dance and local rice wine at a traditional Longhouse – what's not to love!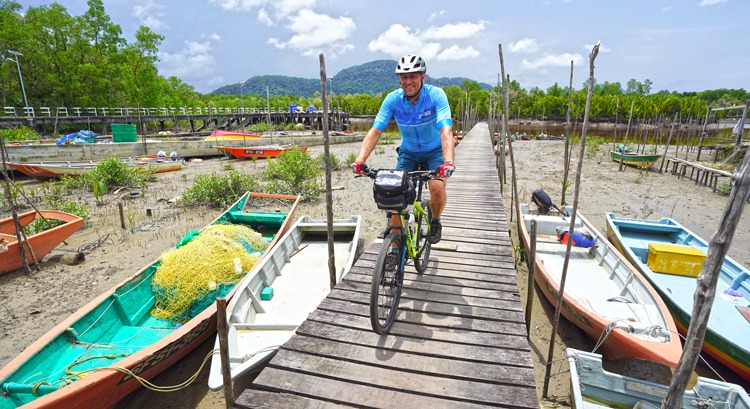 Do you have a favourite adventure or cycling-themed book or film?
You have to read books based on the country when visiting, I almost deem it unlucky if I don't (call me superstitious) – if I don't read about it, I'll not make it there! I've read the 'Love in the Time Of Cholera' swinging in a hammock a few miles away from Gabriel Garcia Marquez's house in Colombia which was cool. 'Midnight's Children' by Salman Rushdie and 'A Suitable Boy' by Vikram Seth joined me on some epic train journeys in India and 'This Divided Island' by Samanth Subramanian was my companion whilst recently exploring the North of Sri Lanka.
I'm at my happiest camping or kipping in the back of my van so 'Nuts in May' is my ultimate camping film (well, apart from 'Carry On Camping'). 'Roman Holiday' makes me want to grab a Vespa and a beautiful partner and throw coins in fountains; 'The Endless Summer' is the coolest surfing film; 'Lawrence of Arabia' – if it's cold and horrible outside and I have a sniffle, tea on the boil and chocolate biscuits around.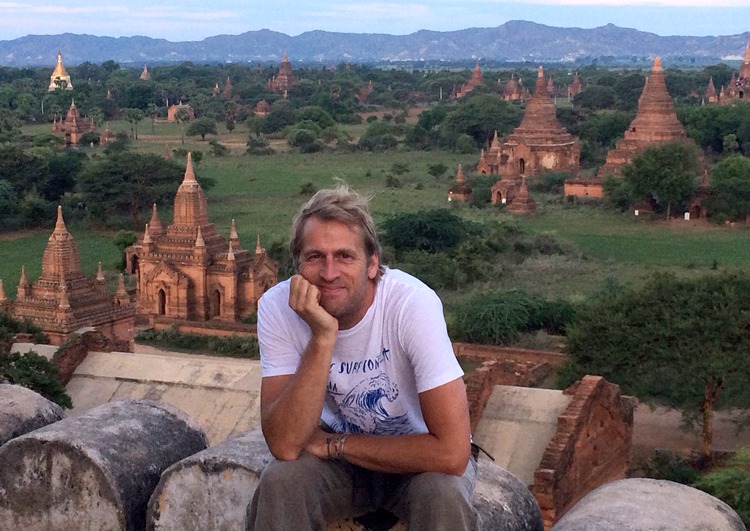 If you could cycle with anyone dead or alive who would it be?
Pete Burns looked like he'd be fun on a night out. Sharing a tandem with Penelope Cruz would be fun.
Tell us something about you we might not know…
I was a Cossack Dancer in my 20's and danced at the Royal Albert Hall in front of the Queen – well, when I say in front, she was in a box and off to the left. Maybe that's why my knees now ache. That or the saddle on my bike is too low!
What are you most looking forward to after lockdown?
To be honest I am quite enjoying no one being around on the local trails on my daily ride at the moment. But having said that, dropping into a country pub for a proper pint and a bag of cheese and onion crisps and sitting in the sun at the end of a ride is going to be amazing!
Find out more about how Saddle Skedaddle began here!
Want to know more about our amazing team? Check out our Team section on the blog to get to know the amazing people who make the wheels turn ar Skedaddle a little bit better and for more expert advice on all things cycling!