It's no secret that we are proud of our guides. And we're always very excited to share their wonderful guiding tales and impressive cycling talents with you all! Let us introduce you to Peter, one of our well seasoned senior guides who you can meet on a variety of our trips. From short UK breaks to Cuban adventures, Peter can do it all! Armed with advanced mechanical skills and loads of experience guiding around the world, you can be sure you're in safe hands when with him…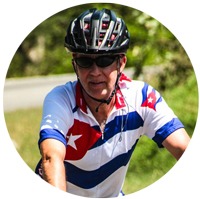 Full name: Peter Eagan
What got you into cycling?
I have always cycled. I competed a lot in Trail Quest Events (orienteering style) along with riding challenge events. After these, it seemed like a natural progression to start guiding.
Can you give us a brief description of your history with Skedaddle…?
I started guiding for Saddle Skedaddle at least 10 years ago mainly on UK C2C routes along with Coast and Castles before starting to guide the longer LEJOG trips. I helped out with a few French and Spanish trips but have not continued with either. In the last few years, I have worked on a lot of Cuban trips and have done one Indian trip in Rajasthan. I spend quite a lot of time checking and keeping the LEJOG trips up to date with route maps along with making changes to it as needed or to improve it.
What do you like most about Saddle Skedaddle?
Working for Saddle Skedaddle gives me the opportunity to travel, meet lots of new people and ride my bike – what's not to like!
What's your favourite trip and why?
My favourite trip is Land's End to John o'Groats because I have become very familiar with it. I like long trips and have built up a relationship with people we encounter along the way like accommodation, hosts, cafes and more!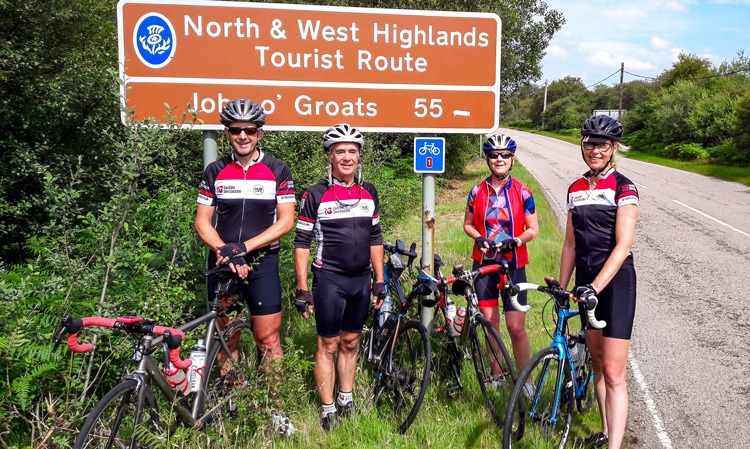 My favourite day in the saddle is probably a Sierramar to Marea del Portillo on our Cuban Revolutions trip. Cycling along the rough coastal track past sandy bays, rocky outcrops and over forested passes before finally arriving at our hotel on the beach. The clients find it tough as it is by far the longest ride on the trip, but love it when they have finished.
What item you wouldn't be without on a trip?
A buff or two. I wear one on my head under my helmet and it either keeps me warm or prevents sunburn (useful for those of us without much hair). It also absorbs the sweat and prevents it from running into your eyes and can be washed out very easily overnight. You can also wear an extra one around the neck for warmth, and they even can be useful first aid accessories.
What's your favourite power snack and why?
Soreen – easy to carry and eat, tastes good and helps energy levels. Usually very easy to get hold of too, at least in the UK. Very popular with guests, so I make sure to keep it topped up!
If you could cycle with anyone dead or alive, who would it be and why?
Steve Peat (MTB) as he never gave up and always kept smiling or David Miller (road) as he put his hand up to using drugs.
Give your best piece pre-trip of advice for customers
Read the trip notes on the website and pick a holiday that is suitable for your cycling ability and fitness. This will ensure you get the most out of your holiday. Consult the office as they can offer lots of good advice and reassurance.
Tell us something about you that we might not know?
I like to write short stories, but as yet unpublished except for one literary journal.
Check out Peter's GoPro skills that have helped to create this video for our adventure in Cuba, which gives you a great taste of this classic destination:
Find out more about our Guides and Team here!
Want to know more about our guides? Check out our guide section on the blog to get to know our team a little bit better and for expert advice on all things cycling!