Welcome to Lisbon! This charming, coastal city is bursting with beauty, culture and vibrance. Recent investment in improving its cycling lanes means there are a number of great routes that are perfect for pedallin', offering a great way to discover this wonderful place. But be warned, Lisbon is quite hilly (so maybe pack a comfy pair of shoes), but definitely don't let this put you off… alongside its cycling lanes, you'll also find an iconic tramway system and metro service that are well within budget, meaning exploring the wonderful city couldn't be much simpler! If all that wasn't enough, a number of our cycling holidays in Portugal either start, finish or travel through this buzzing, cultural hub, but we'll have more on that later on…
In a nutshell…
Here's an interesting fact for you: Portugal's capital is recognised as Western Europe's oldest capital, dating back to around 1200 BCE, that's older than Paris or Rome! Having been around for a while, it's a city steeped in heritage, and it's this history that makes Lisbon a truly fascinating place brimming with culture. For foodies, it's also home to an incredible number of places to eat and drink and with close connections to the coast – you'll find plenty of dishes inspired by the sea here. With so much to see and do, we think it's fair to say that 12 hours in Lisbon might not be enough to fit in everything that this charming city has to offer!
Sights not to miss…
The Jeronimos Monastery (a UNESCO World Heritage Site since 1983), also known as the Hieronymites Monastery, is a beautifully crafted religious building designed by the Portuguese architect Diogo de Boitaca. It's built in a lavish Manueline architectural style, and the monastery is arguably one of the most important attractions in all of Lisbon, holding the tomb of Vasco de Gama – the famous Portuguese explorer who was the first European to reach India by sea.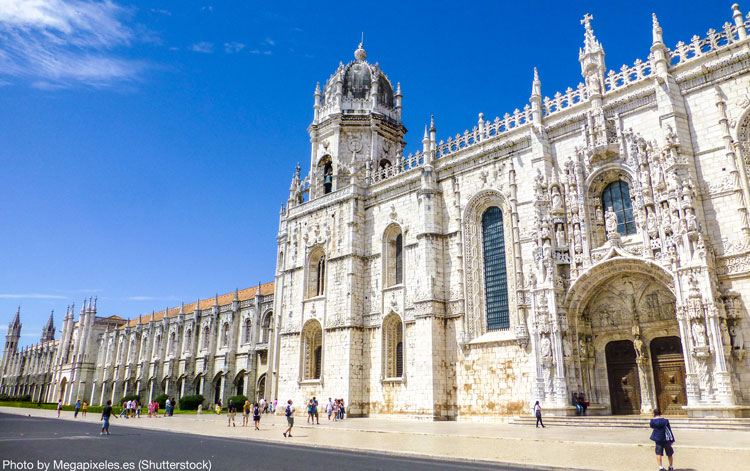 The Lisbon Oceanarium is home to more than 15,00 creatures and 450 different species, meaning it is the second-largest aquarium in all of Europe. We particularly love it due to its passionate dedication to conserving and reproducing, as opposed to capturing, and because of its running of the largest environmental education program in the country.
São Jorge Castle (Castelo de São Jorge) is one of the most distinct tourist attractions in the whole city. Located at the top of Lisbon's highest hill 'São Jorge', the castle boasts incredible views from the Fortress and is well worth a visit to understand its long history. The admission fee for adults will cost you €10, but we still highly recommend visiting one of Lisbon's most symbolic landmarks!
Another UNESCO World Heritage Site is the stunning Belém Tower. Just a short 15 minute walk away from the Jeronimos Monastery, the tower sits along the northern banks of the beautiful Tagus River. The Belém Tower was originally constructed to protect the shipyards at Restelo and is always popular with visitors, which is no surprise considering its history and beauty.
Arguably Lisbon's most lively area packed with both tourists and locals, Rossio Square (Praça do Rossio) is full of a range of restaurants, bars and shops. The centrepiece of the square is a beautiful 27-metre-high monument, the Column of Pedro IV of Portugal, which is surrounded by famous cafes and bars. Located in Baixa, a neighbourhood that was rebuilt after the eighteenth-century earthquake that devastated parts of the city, the square is certainly worth a visit. Another beautiful square not to miss is the Praça do Comércio, which was built on the site where the former Royal Palace was before it got destroyed in the earthquake of 1755.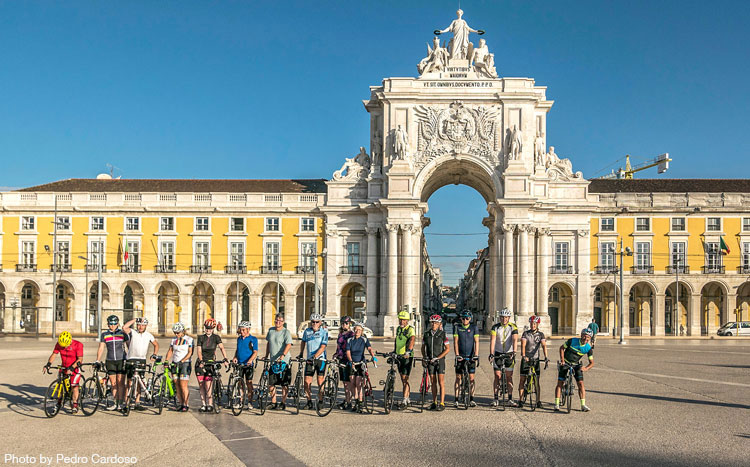 Flavours of Lisbon:
As mentioned earlier, Lisbon's prime position along the coast means it is no surprise that seafood dominates many of the kitchens and restaurants within the city. But the city is packed with so much more – from traditional dishes and sweet treats to cheeses and wines, Lisbon's food scene really is amazing. For great value for money, you can grab cheap, quality food from corner taverns (known locally as tascas) and food markets or spend a few more of your Euros in any of the wonderful Michelin starred restaurants. Here are a few things that we highly recommend that promise to tantalise those tastebuds…
– Pastéis de nata – When in Lisbon, you simply have to sample the Portuguese custard tart. Invented by Monks centuries ago, they are still as popular as ever and there's no better place to find the perfect Pastéis de nata than in Lisbon. The famous Aloma is the perfect place to sample the delicious sweet treats.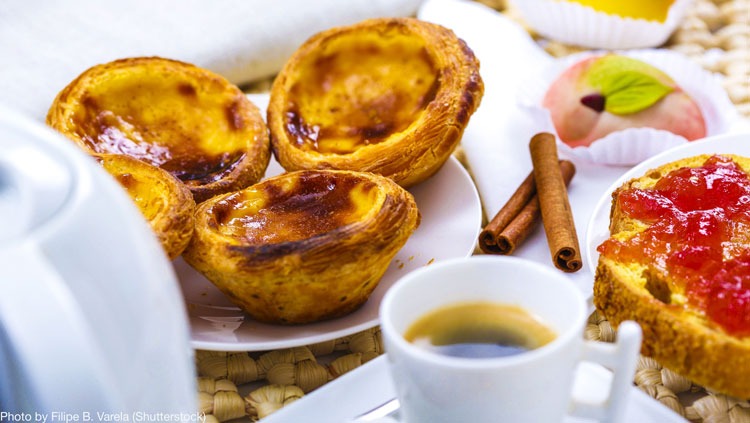 – Bacalhau – You won't struggle to find some tasty bacalhau when in Lisbon, after all the people of Portugal are the largest lovers of cod, consuming 10kg a year per capita on average. Portugal's national dish is rumoured to have 365 different ways to be cooked, from being baked to grilled or fried (Bacalhau every day of the year, anyone?). Bacalhau à Brás is a favourite in Lisbon, where the fish is shredded, baked and mixed with potatoes, all bound with eggs. Yum!
Our team says…
"I'd highly recommend a stroll around the Alfama, Lisbon's charming old town. It's cobbled streets and colourful houses really are lovely – the perfect place to unwind with an alcoholic beverage." – Fran Wilson, Marketing Manager
Feeling inspired?
We're always happy to help you plan your tours in Portugal with us so you can experience Lisbon and enjoy everything mentioned above and much, much more! Check out our range of cycle tours in Portugal here, with trips such as the Alentejo and Algarve Coastal Explorer and Roman Trails starting in Lisbon, and the Azure Ocean Ride finishing in the city. Alternatively, our Atlantic Escape tour for road cyclists has a rest day in Lisbon, allowing you to try and fit in as much as possible in between your days of pedallin'!