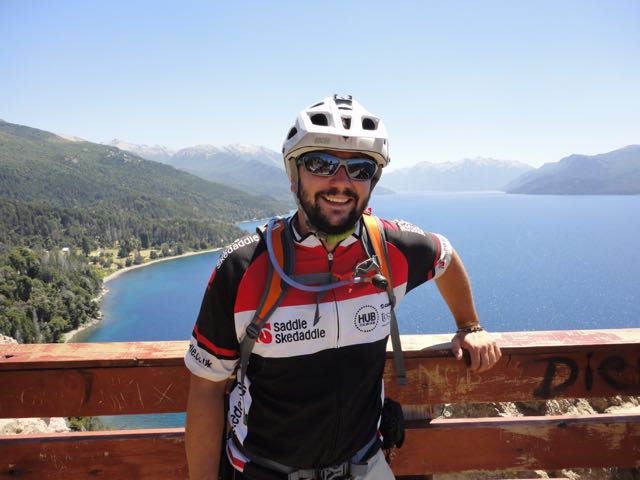 We take a closer look at our team in Chile who look after some of our most popular tours in South America.

Having won our March Guide Competition we wanted to take 5 minutes to catch up with our head honcho, Ernesto, who works tirelessly to ensure you all enjoy the best possible cycling experience across the pond. Read on to find out more about this charismatic character…
Full Name: Ernesto Palm Del Curto.
What do you like most about Saddle Skedaddle?
Saddle Skedaddle keeps me cycling with the most friendly, handsome and truly awesome people in the world: Cyclists.
What's your best piece of pre-departure advice?
For Chile, everything you may need on a cycling holiday. We could have multiple types of weather in 1 day!!
Which trip are you most excited about in our holiday range?
I really love the Chile/Argentina lakes adventure trip, because i've cycled it at least 20 times and I know it like the back of my hand. It also takes you to the high lights of both countries, so a totally awesome all-round experience.
I really enjoy the Lake District explorer road cycling tour in Chile and Argentina too because it has aloud me to get back into road bikes after 20 years, but my favourite tour is the new Wild Patagonia trip, a single track adventure in Argentina/Chile supported by horses. This is  amazing because it crosses the Andes following old gaucho trails, camping in the middle of nowhere, with the best grilled lamb in true Patagonian style… a dream come true.
What's your favourite power snack and why?
I don´t really like power snacks, gels or power bars…….but I do like natural stuff like honey, and here at the Lake District in Chile we have Ulmo honey, that comes from the flowers of this native tree which gives his nectar at the end of every summer! 1 spoon every morning and you will be invincible.
Going for Gold…
Ernesto is the winner of our March Guide Competition after sending us in a fantastic video taken during the Lake District Explorer road cycling holiday earlier this year! See his winning entry below…