We've made the whole New Year, New You thing much more simple by coming up with just the one answer to all of the top ten New Year's resolutions (according to a survey of over 2000 people). Can you guess what it is? Here goes:
1. Exercise more (38%)
Easy, cycling! The number one thing people say they want to do is exercise more. To be motivated to spend more time on one thing often means giving up something else you enjoy, even if that is boxsets on the couch, so it has to be fun. And in our experience of more than 20 years organising holidays, cycling is most definitely fun! Booking a cycling holiday doesn't just get you on your bike during the trip itself but gives you motivation to get riding in preparation. Invariably you will come back from your adventure with even more desire to keep riding. We warn you now, regular cycling (and cycling holidays) can prove addictive!
2. Lose weight (33%)
Yes, cycling again comes out as the answer. If you only have 30 minutes to spare cycling is up there with swimming and running in the top ten calorie burners. 30 minutes of bike riding can be fitted into your day relatively easily if you cycle to work or to the shops instead of taking a car or public transport. Cycling is easier on your joints than running as it is non-load bearing and everyone can do it, regardless of how fit you are to start with. Riding at a high intensity for a short time, in terms of calorie burn at least, can help you lose as much weight as riding at a slow intensity for a longer period. Whichever approach you take riding your bike is a great route to weight loss.
3. Eat more healthily (32%)
Exercising actually helps you to want to eat more healthily so getting out on your bike, although it works up an appetite, also helps you to make better food choices. This is known as the transfer effect and has been studied extensively, making one good change to your lifestyle often prompts others. Ride your bike and eat well is the answer. We love a Skedaddle picnic. Good food makes you feel good and pedal faster!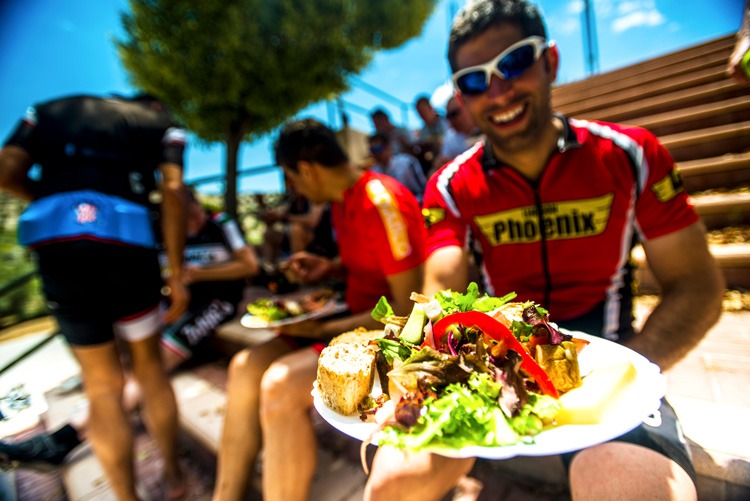 4. Take a more active approach to health (15%)
Health isn't just something that happens to us. Yes, we can be lucky, or unlucky, with illness and disease but we can also do a lot to help ourselves by leading a healthy lifestyle. But you can't buy health, even the most expensive gym membership won't actually make you healthier, and we can't promise you that a Skedaddle trip will either, but it will ensure you have a fun, active and healthy holiday which might just be the inspiration you need for other changes. Following steps 1,2 and 3 above will certainly set you on the right path.
5. Learn new skill or hobby (15%)
Well, this one is easy! Get on your bike. What we love about cycling is that you can do it in so many different ways; track riding, mountain biking, road cycling, gravel bikes even uni-cycling or tricyles! There is a whole world of different one, two, or even three wheeled options out there, each with their own skills and fitness demands. May be this is the year to give mountain biking a go and develop your off-road technical skills? Or make the leap from flat, easy bike rides to tackling your first Alpine col.
6. Spend more time on personal wellbeing (12%)
Spending time cycling isn't just about exercise and weight loss, it has many far less tangible benefits. Cycling provides space for reflection and calm, there is an almost meditative quality to the repetition of pedals spinning and wheels turning. It allows you to put your troubles behind you for a while, and often on returning to work or home you find a fresh outlook and new solutions. Bike riding has been shown to benefit mental health in several ways, mental health charity Mind has many examples.
7. Spend more time with family and friends (12%)
Cycling is a great thing to do as a family or with friends. Exploring somewhere new together, helping each other and even a bit of gentle competition can help families bond. Cycling with Mum or Dad is the basis for many happy childhood memories. Riding bikes with your mates harkens back to adolescent days, and is still just as much fun now, especially now you can ride to the pub together! If your friends aren't into cycling (yet) then a Skedaddle holiday will help introduce you to like-minded people, its not unusual for Skedaddlers who meet on a trip to carry on cycling together once back home.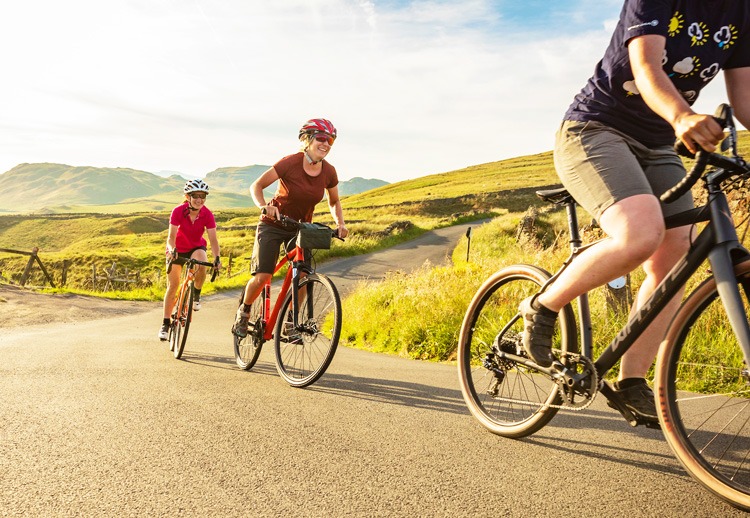 8. Drink less alcohol (12%)
Well, this is a tough one as we do like a post-ride beer! We aren't talking about giving up alcohol here but drinking less and yes, cycling can even help you do that. From experience cycling with a hangover is not much fun so knowing you have a long day on the bike ahead often reigns in the excess the night before. But nothing beats an ice-cold lager after a hot day on the bike.
9. Stop smoking (9%)
Getting healthier and giving up smoking often go hand in hand. Sometimes you only give something up when you want the alternative more, and that something could be as simple as wanting to be able to ride to the top of a hill without coughing and gasping for breath. Riding a bike won't help you give up smoking, but it may make you want to give up smoking.
10. Other (1%)
What else might people wish for in the New Year? Well here are a few other things cycling can do for you, just in case these were on your list:
Cycling is good for your sex life
Cycling can help you find true love
Faster cycling makes you more attractive
Get a better looking backside