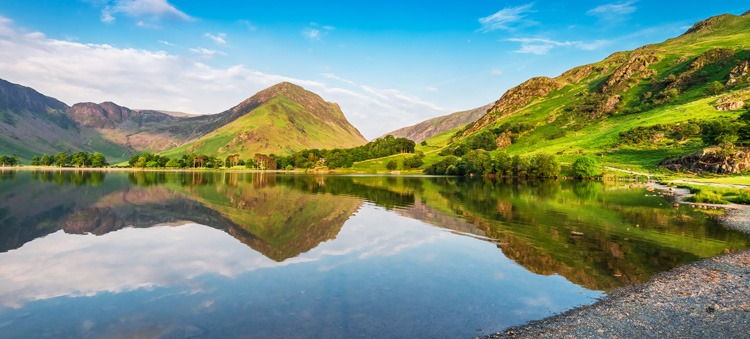 The Lake District National Park is undeniably one of England's finest landscapes, home to countless natural treasures. Based just a stone's throw away from Skedaddles logistic hub, the Lake District is a place we've had a strong connection with for many years and one our local team is proud to call home. As England's biggest National Park it's become one of the UK's best-loved tourist attractions, but the ability to explore it by bike has always enabled us to escape to its lesser-visited wonders. We caught up with Steve Woods who heads up our local team here to find out more…
Meet our
team
:
Steve Woods
Master mechanical-improviser, adventure-enthusiast and an all-round good guy… Steve started working with Skedaddle back in the early 2000s. He impressed founders Paul and Straws from the get-go with his expertise and plethora of professional qualifications and skills, from van driving to first aid.
He has been a familiar face on many of our cycle tours since then! Over the years Steve has guided for Skedaddle in far-flung places all over the world, from Chile to India, Cuba and Morocco. That's not including more than 50 Scottish trips he's conquered in that time too.
Steve now heads our UK logistics base, the hub where everything hands-on at Skedaddle gets looked after, including bikes, vehicles and equipment. He was also integral to helping set up our annual guide training, ensuring our global team get qualifications that are recognised all over the world.
When he's not fixing bikes, he can still be found guiding several of our cycle tours, including our Lake District adventures in the UK…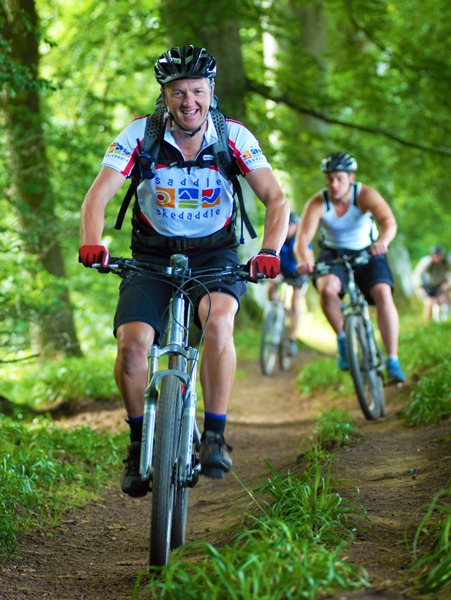 – Have you always been adventurous?
I always wanted a bicycle and when I was 10 my dad bought me one. I then frightened my parents to death by going off on it for 2 days! I haven't looked back since and just love exploring by bike, wild camping overnight. In fact, that's how a lot of Skedaddle tours have been designed over the years.
I think there was always something in me that wanted to be adventurous. To me, adventure is all about the planning, just as the famous saying goes: 'by failing to prepare, you are preparing to fail'.
– Tell us a bit about why you love the Lake District?
I was born in Penrith, a Cumbrian market town on the edge of the Lakes, and have lived here all my life. I feel very privileged to have travelled all over the world, but there is something very special about this corner of the UK. I particularly love how much incredible stuff is packed into a small area – there's just so much diversity here.
I also love the history of the National Park. It may surprise some to hear that the Lake District is actually older than the Himalayas mountain range. It was formed something like 500 million years ago, whilst the Himalayas are only 50 million years old. So really the Himalayas are just a new kid on the block. The Lake District was also volcanic. Things like that fascinate me!
The Cumbrian people definitely also deserve a mention. We look after each other here. It's a rural community, with lots of farms – you get a sense of belonging. Cumbrians also seem to have a story for everything, you can't really ask a question without getting one. In fact, the first time I visited Chile in South America, I was struck by the similarities. The friendly, rural communities based in extraordinary landscapes. It felt a bit like a home away from home.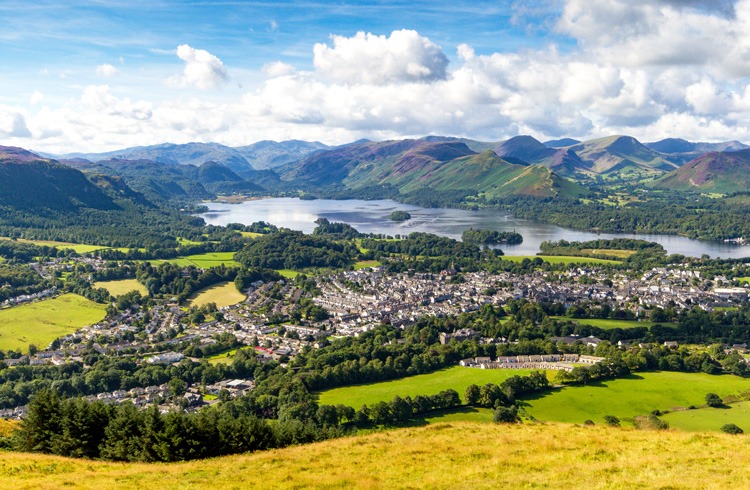 – Why do you think exploring by bike is the best way to explore the Lakes?
There's so much to see and whilst walking can get you to some remote places, you can have even more of an adventure in one day on a bike! No one really cycled here when I was younger but since then, it's become a bit of a cycling central thanks to the increased ease of access! From Penrith there are so many trails now, you can be on the fells in 20 minutes if you want. The beauty of a bike is it helps you escape the honey pots and get out to some of the more remote, lesser-visited areas. You can still have a day out on a Bank Holiday weekend and only meet 10 people – you just need to know the right places…
– What are some of your favourite places?
The northern fells around Caldbeck are fun because they're always quiet, you're also cycling over years of mining history which is always interesting. The area around Ambleside is also quite special, it's one of the places where you can ride on Lakeland rock, instead of mud. You're in the middle of the Lake District here – enjoying massive views with steep rock faces up and down and all around. There's also a history of slate mines here. It's very varied, with some really technical sections. You'll also find what I like to call the 'xylophone track'. This is because the slates make a distinctive clanking tune when you ride over them.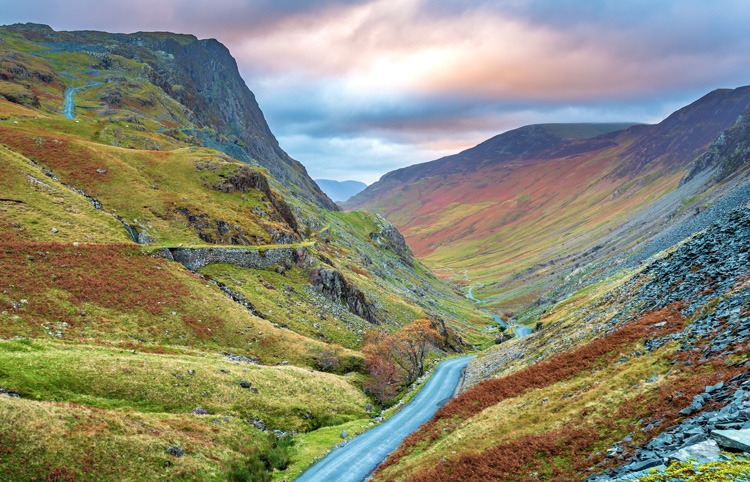 Wast Water and the Honister Pass remind me of prehistoric places, they are a lot more rugged than other picturesque places in the Lake District – they are quite something and very unique. One of my favourite viewpoints is a place called 'the park' which overlooks Coniston Water – it's very special.
– What local food and drink do you recommend?
Cumberland sausage is an absolute must. It's now a protected Cumbrian recipe! There are lots of spices and herbs in it to add flavour, it's also quite a big sausage, typically served in a coil (for those unfamiliar.) In my humble opinion, you can't beat a sausage sandwich and a cup of tea after a long ride out – it's just the best. I personally also love whisky, The Lake Distillery serve a good malt. Alongside some great gins too!
– Are there any local insider facts you could share with us?
Supposedly, there's six times as many sheep in the Lake District as people. The sheep here are also quite special and bred specially for the hills – they're known as Herdwick. Whilst not proven, it is believed they have Scandinavian heritage and were brought over by Viking raiders.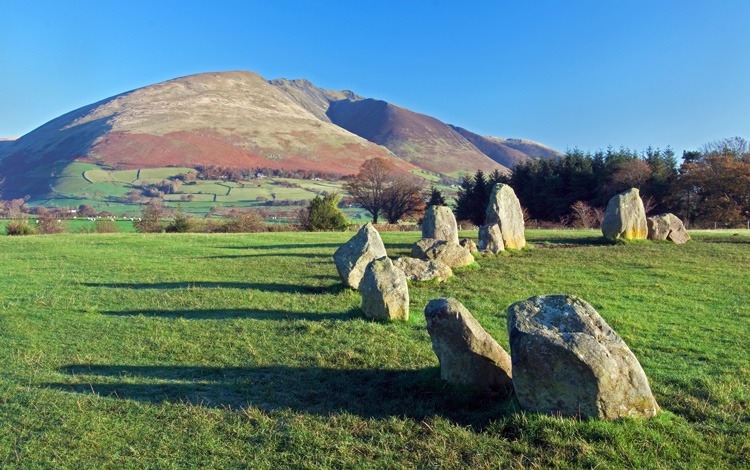 Another good fact for your future pub quiz, is that officially there's actually only one lake in the lake district – Bassenthwaite. I really also love the fact that we have one of the rarest freshwater fish in Britain. It lives in Ullswater 'lake' and is called the schelly fish. Not only does it date all the way back to the ice age, but it can only be found in 4 lakes in the entire world, crazy!
You will also find one of the earliest known stone circles in Britain here (raised around 3,000BC). The Castlerigg Stone Circle may be less famous than Stonehenge, but I'd argue this Neolithic gem is even more impressive, given its epic backdrop which boasts panoramic views over the Lake District.
Our guide to cycling in the Lakes…
Combining his local expertise and passion, Steve has helped us carefully craft several cycling holidays based here in the beautiful Lake District. These itineraries are ideal for a wide range of cyclists, whether you're eager to explore here for the first time, or keen to rediscover this amazing corner of the UK like never before…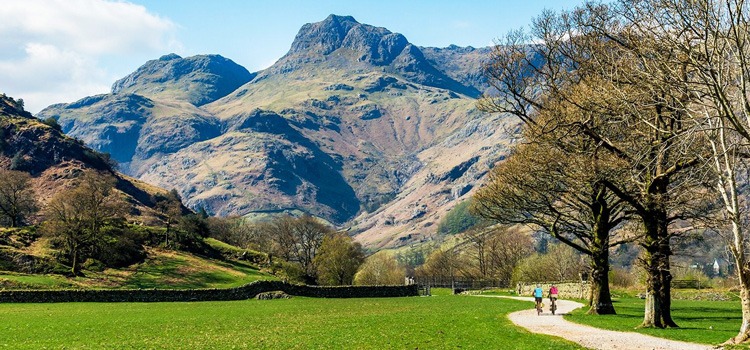 – Who is this tour perfect for?
With cycling popularity increasing, we wanted to bring an easy-going, accessible cycling holiday into our range – offering more of you the opportunity to explore the beautiful Lake District region with those who matter most.
Whilst you can't expect completely pancake-flat pedallin', the daily distances are manageable and our route makes the most of quiet country lanes, as well as a network of local cycle paths. This makes the Lake District Discoverer perfect for those who are generally fit and healthy, but you don't necessarily need to be the most experienced of cyclists to sign up and enjoy it.
Combine this with the fact that there's also plenty of opportunities to explore off the bike and accommodation based in the heart of the Lake District's cultural hubs – we think this is going to be a hit with anyone looking for a fun, active way to explore this amazing National Park.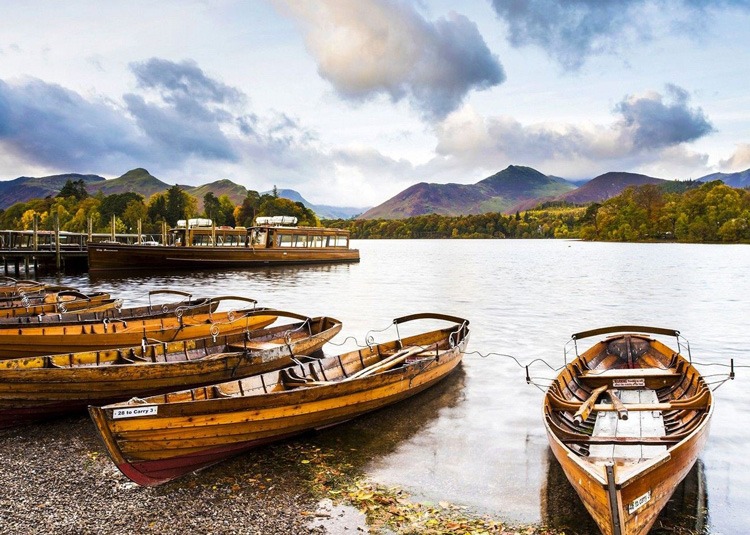 – What can you expect?
In a nutshell, it's your chance to see both the North and the South of the Lake District in one go. The region is so varied which you'll really notice exploring at the speed of the bike. The hills are very different as you head south – becoming noticeably more dramatic.
Along the way, you're going to see some of the lesser-visited gems, alongside the more popular places you will probably have heard of before, including Keswick and Ambleside. Getting you out to the quieter parts of the Lake District has always been important to me and there are still plenty of places like this which you'll enjoy on this route.
– Are there any wow moments you think folk will love?
There are so many but on Day 4 you'll head south towards Ambleside. You'll tackle Dunmail Raise which acts as a natural divide between the north and south lakes. It involves a bit of a climb, but the effort is so worth it. The views here are just spectacular!
– What about some fun things to do off the bikes?
As mentioned before, we have planned in the opportunity for you to experience some of the amazing local attractions this region has to offer. The two centre-based accommodation in Keswick and Ambleside means you'll have plenty to keep you entertained after your days riding, including some of the very best places to enjoy some tasty local grub and of course an obligatory ferry ride around Derwentwater (a must-do activity for anyone new to the Lakes).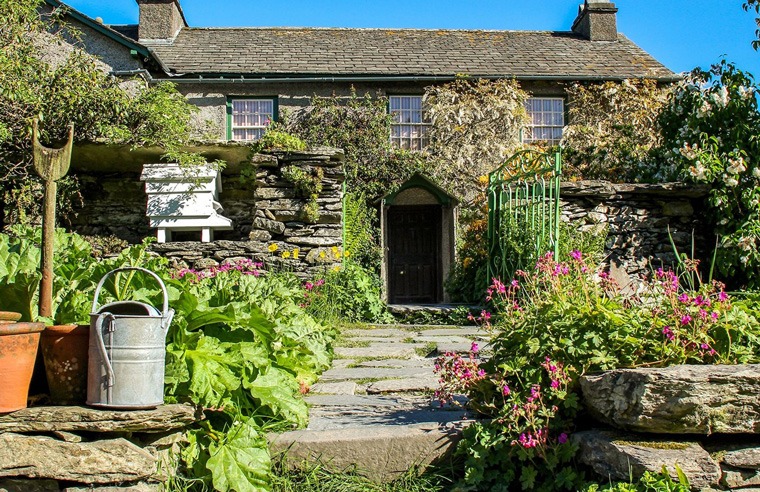 On Day 5 we're also in the Beatrix Potter's country, with the opportunity to hop off your bikes and take a look at the place she called home. This includes a tour of the gorgeous gardens that helped inspire some of her most famous work. After another short cycle ride, you'll reach the village of Hawkshead, where you can also visit the Beatrix Potter Gallery Museum which has many of her illustrations.
For more things to keep you entertained whilst out on the bikes, the Neolithic Castlerigg Stone Circle makes for an extraordinary visit on Day 4 – it's got an absolutely knockout backdrop, perfect for anyone looking to snap a good photo of your adventure. Plus there's often an ice cream van parked up nearby for a refreshing snack to help fuel the rest of your ride.
Like the sound of it? For everything you need to know about this holiday click here!
Spotlight on: The Epic Lakes Mountain Biking Adventure

– Why did we add it to the range?
We wanted to highlight an amazing journey around the Lake District in one go! Previously we did a few different shorter tours in specific places in the National Park, so this is going to be our longest and most interesting MTB tour here to date. It's a combination of all of our team's favourite local trails, many of which I've ridden countless times over the years and never get sick of. Think of it as Skedaddle's hit-list!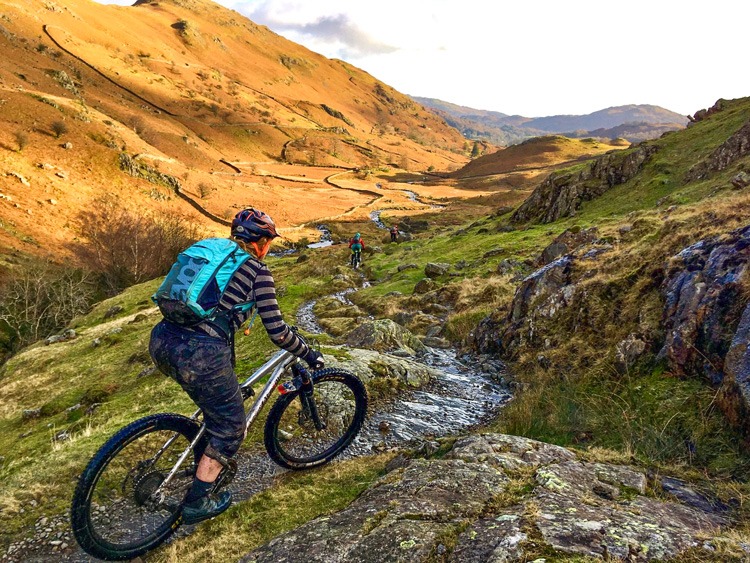 – What can mountain bikers expect on tour?
The tour starts and finishes in Penrith, offering a circular route hitting many high points. We follow an ancient Roman road from Penrith to Ambleside, biking over High Street mountain in doing so. We then pick out the best of the slate tracks, before looping back over some of the most famous passes. This includes Garburn and Gatescarth – they are both very challenging with a lot of solid rock to be tackled. You are going to need to be prepared for all elements – most of the route is unsupported and that's why you need someone guiding you by your side – on the first day you'll be lucky if you see the van during the day because it's that remote!
– Who is it going to appeal to?
Anybody that's had weekends out in the Lake District and enjoyed it – this tour is going to be a week of even better cycling. Designed especially for people with a high level of skill and fitness. If you want to take on some of the biggest routes in the Lake District – this is a tour for you! The ultimate Lake District challenge.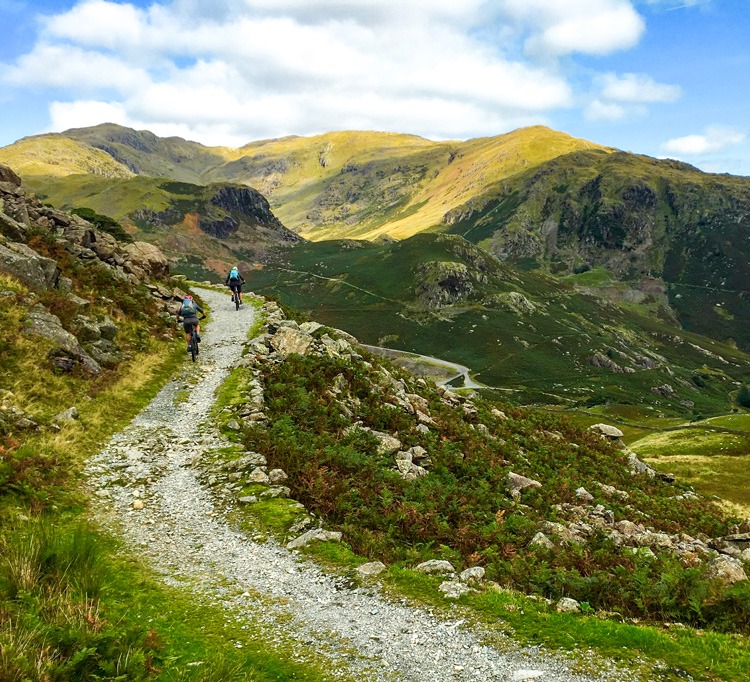 – What's your favourite day on the itinerary?
Day 4 from Ambleside over the two passes – it's something else! A very challenging but rewarding day on the bikes. These are high mountain passes and the scenery is endless. Both are completely different, based on the formation of the rock. You'll experience a massive mixture of everything trail–wise. The descent down Gatesgarth pass into Haweswater is really special – it's about a mile–long, fantastic!