The UK boasts some incredibly wild landscapes that are a treat to explore by bike! None are quite so remote and awe-inspiring as the far-reaching Western Isles, where coastal adventures and seldom-ridden routes await. We take a closer look at our Hebridean Explorer biking adventure with the help of our well-seasoned guide and Scotland enthusiast, Steve Woods…
Why head so far up North?
Home to rugged, untamed landscapes, the Outer Hebrides are one of those destinations that offer the chance to really escape from the UK that you know. The remote beauty of the islands makes this a very special route and one for your must ride list…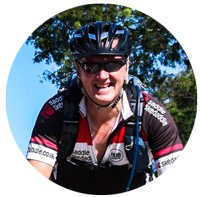 'We created our MTB tour when the Hebridean Way didn't even exist yet. The Hebridean Way is an official route that a lot of travellers follow these days using the network of roads, but we had a different idea in mind, we always like to do something a little bit different anyway. The downside of it was that the logistics of the islands are incredibly complicated because it is so remote and there are no known off-road cycle routes either. But there's so much history and beauty, and I just knew people would want to see it. So I thought to myself – challenge accepted! That's how the trip was born.'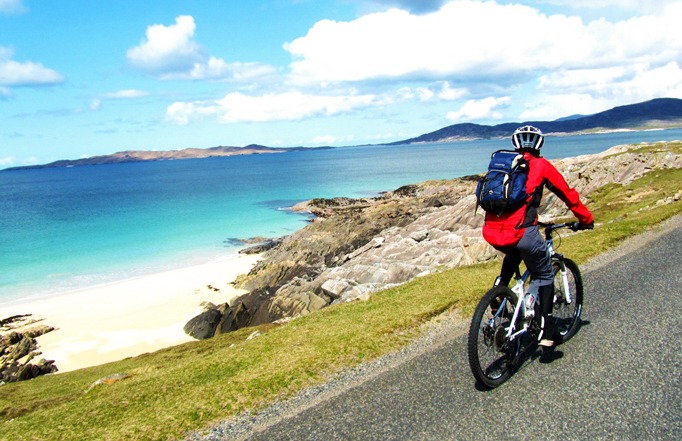 280 km of weaving through seven idyllic islands on ancient paths, historic byways, mountain tracks and quiet rural roads – this guided tour is nicely balanced when it comes to challenges with plenty of time to soak up the wonderful landscapes too. And with the help of boat transfers and years of guiding experience, we have developed the ultimate off-road exploration of the Isles.
Did we mention the pearly white sandy beaches and turquoise waters? On a sunny day, the scenery could rival the Caribbean (granted it doesn't quite boast the same tropical temperatures) and is home to some of the UK's most exotic wildlife too. In short, a day in the saddle here always comes with many unique island rewards and is sure to leave a lasting impression!
If you want to explore some of the most amazing places in the UK which you won't even believe are here – our Hebridean Explorer adventure is for you! You've never seen Scotland like this before. People just can't believe their eyes, no pictures can do it justice. It's so remote, and the wilderness is still here! You can probably get to lots of places in Europe faster than you can get to the Outer Hebrides, but it's so worth it.
This journey is a great option for mountain bikers of all levels to enjoy and offers a unique adventure across wild Scottish islands. So let's break it down day by day to give you a taste of what you can expect here…
Hebridean Explorer: island hopping like never done before…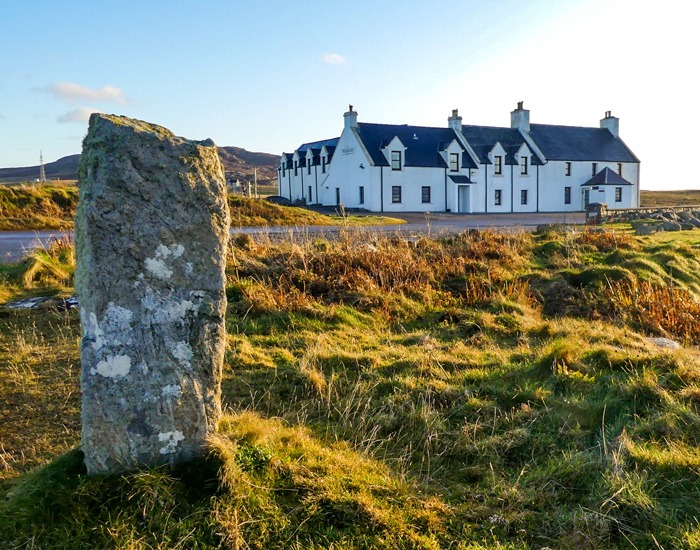 You will meet fellow Skedaddlers and your guides on a ferry that leaves from the bustling fishing hub of Mallaig, to Lochboisdale on South Uist where our Hebridean Explorer adventure will begin. In between, you'll sail through spectacular island scenery on a ferry – a really unique and special way to begin your journey – if you're lucky you might even see dolphins on your travels over! On our first night, we will stay in Polochar Inn, the most Southerly hotel on the island. Here you will find one of the old standing stones that old fishermen used to use as a reference point and which is a monument of the island's heritage today – a great place to start our journey!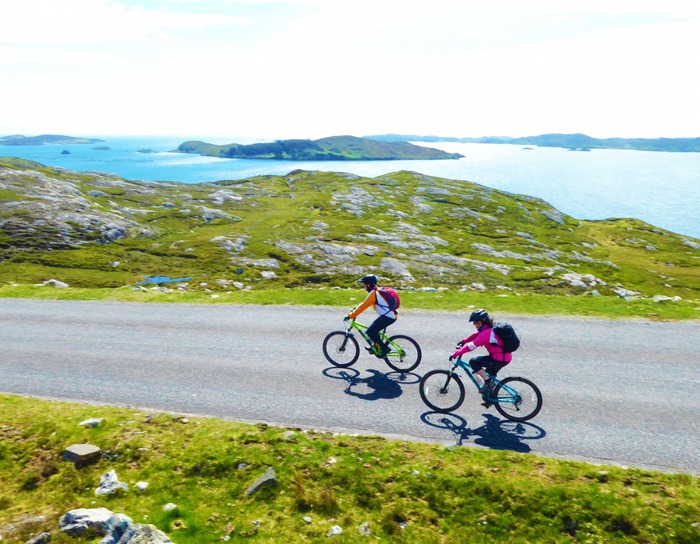 Our biking starts by following the west coast of South Uist on old fisherman tracks through the delightful coastal flower meadows known locally as machair (that's Gaelic, for anyone interested!) The trail runs for approximately 30km right the way up the west coast of the island and you'll be nicely warmed up for what's to come as you ride alongside vast remote sandy stretches and seas boasting shades of mesmerising turquoise blue.
'We turn the corner and we get to one of the beaches – and everyone just stops in awe. I think it's the first time people really realise where they are and what lays ahead of us. It's simply stunning!'
Heading from South Uist we'll cross causeways and have a brief encounter with the tiny island of Benbecula, before heading onto the 3rd island of our tour, North Uist. As we go, we will get some great off-road riding in between, of course! After, we go right back to the coast to stay in Lochmaddy for a night.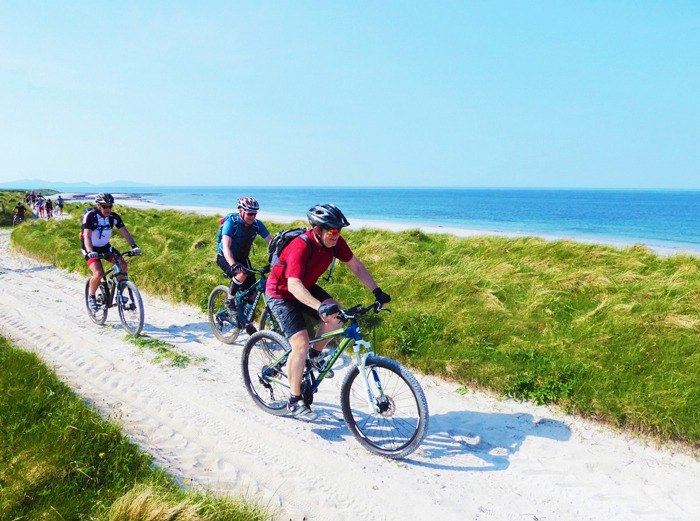 Riding north from Lochmaddy the next day, we follow the coast road to Berneray where we take a short ferry across to Leverburgh. Here we are welcomed to the jewel in the crown of the Outer Hebrides, the Isle of Harris. You will immediately notice the change of scenery as we are treated to its rugged mountains and even more stunning beaches, including the breathtaking Luskentyre (one of our absolute favourite views to savour from the Saddle!) From here, we are heading off-road for a day of fine singletrack through a landscape of a 1000 lochans, taking a series of ancient 'coffin roads' that might have had one practical use back then, but make a fantastic mountain bike track today! We finish the day in the charming port village of Tarbert, where we will stay for the next two nights.
'When we were creating the trip, we decided to stay in Tarbert for two nights because there's a lot of amazing mountain biking loops you can do around it and we wanted to make the most of it. We are staying in a fantastic hotel here too, The Harris Hotel – very traditional, very Scottish! We will be hopping on to the neighbouring Isle of Scalpay and ride some exciting ancient singletrack around the amazing Lochannan Lacasdail.'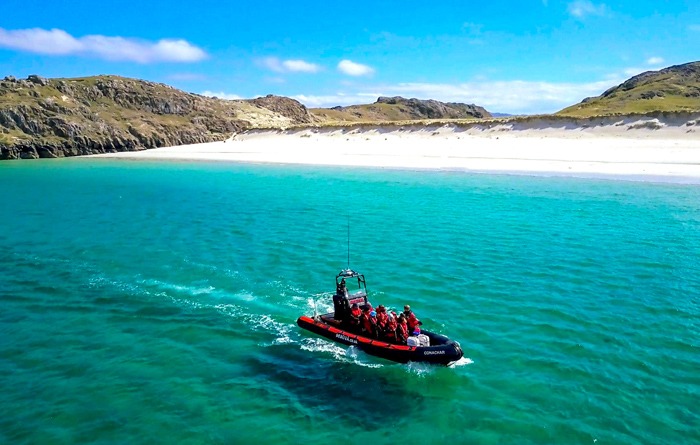 We are then going to leave Tarbert and get ready for an unforgettable day of biking in true islands style! Today we combine mountain bikes, with a couple of short boat rides, to open up the otherwise inaccessible west coast of Harris and the Isle of Lewis, all for our wheels to explore.
Before hopping on the boat, we will reach Hushinish, passing by the last whaling station to stop operating in the UK, an interesting insight into the island's controversial past. This is where the tracks end and where we will dismount from our bikes and hop on the boat that will be waiting just for us!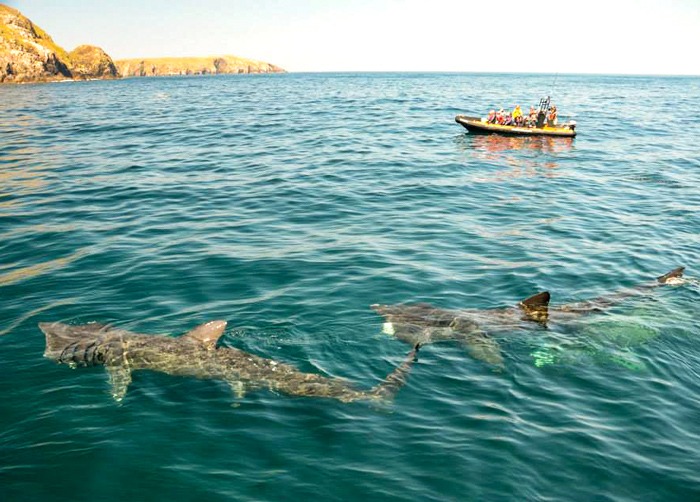 'Our boat team always lets us know if there's anything we could spot on the way and maybe even do a little detour for some wildlife spotting. It depends on the day, but we often see seals, dolphins and even basking sharks around here. We stop the engines and just watch them – it's a crazy experience you won't forget.'
This day is sure to be the highlight of the trip for all mountain biking enthusiasts as we head into a remote and wild country following the trails through dramatic glens, spectacular peaks and then descending back to the coast. We will get a chance to visit a remarkable Abhainn Dearg distillery today too. Cheers!
After another short boat ride, our final ride of the day is to the Standing Stones of Callanish. This mysterious stone circle is over 5000 years old and a remarkable place to visit, especially in the evening when it is usually deserted. You will also get a very unique view of the area as we approach it from the sea, instead of the land, like everyone else.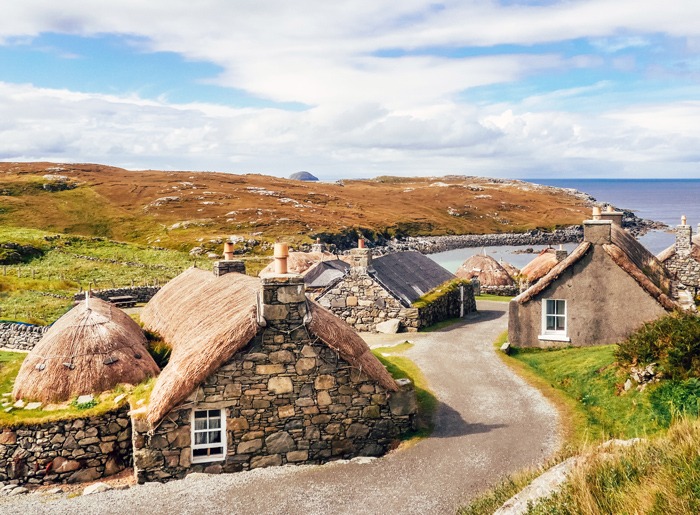 Our final day follows the west coast of Lewis and is full of incredible insights into the history of the islands. We will pass the ancient Dun Carloway Broch, one of the oldest forms of fortification that looks like a beehive made of rock, and then the Blackhouse Village at Gearrannan which offers an insight into what remote island living was like before.
'We always visit Norman when we are here, who is one of the oldest weavers on the island and who sticks to the traditional ways of making tweed – he always jokes that he pedalled more in his lifetime than all of us put together! You can buy something nice here too and for a bargain price compared to tweed you find back home.'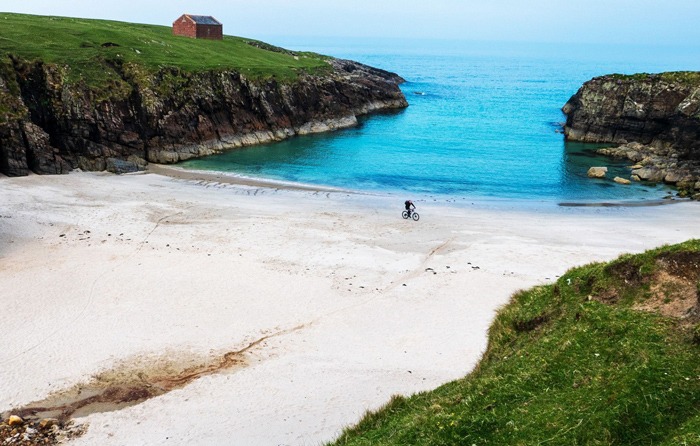 On our last ride, we will switch between the coastal trail and road as we head towards the Butt of Lewis where we end our extraordinary island journey. Perched on the Atlantic at the very edge of Europe, the Butt of Lewis is a spectacular and fitting place to end our adventure, an ideal place to celebrate our achievements. If that wasn't enough, if the weather is kind to us, we might even stop for a swim! There's an absolutely gorgeous little beach as your head up the road towards the Lighthouse and it practically calls to you to take a dip. Now it's certainly a lot chillier than the Med, but an incredible experience for those brave enough.
Want to know more? See full details of this biking adventure here!
Islands full of flavours
The Outer Hebrides are a unique place, historically shaped by how remote the islands are and its sometimes extreme weather conditions. The islanders who call this place home have kept a lot of old traditions alive and local produce is in abundance here!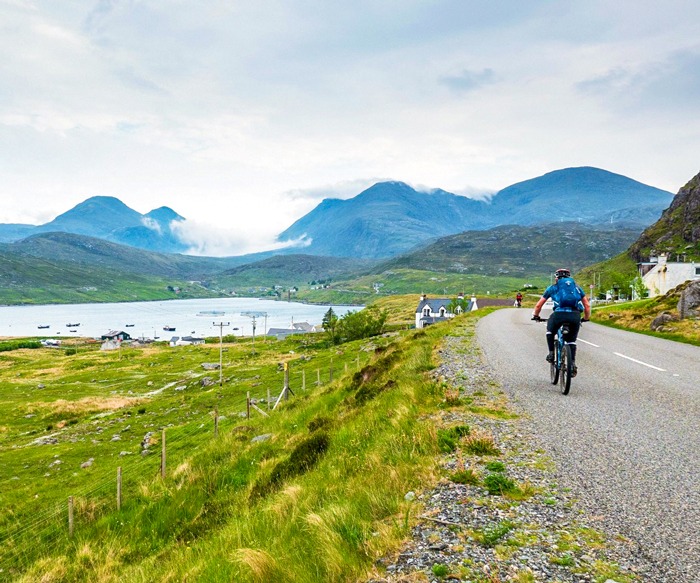 Surrounded by the Atlantic Ocean, the islands are famed for the vast array of fresh seafood available for you to enjoy. On route, you will have the chance to enjoy some of the most amazing dishes on offer and even watch locals dive for clams in front of your own eyes, before seeing them on your plate.
'We will stop for some amazing lunches here. One is in a former community centre, where locals will cook for us. Their homemade soup and roast ham is absolutely delicious! And it's an amazing experience getting to know the locals in their home too. Hosts always go the extra mile for us and their incredible hospitality is just what the islands are all about – the community!'
Feeling inspired? Find out all the details you need to know about how to join us on our adventure in the Outer Hebrides here!