Riding the length of Britain is the ultimate challenge, through county after county, from sea to sea – Land's End to John o'Groats is a road cycling adventure that every cyclist dreams to complete at least once in their lifetime. With over 1,000 miles to conquer this is no easy feat, but we wholeheartedly believe that there's no better way to see the best of the UK with an incredible sense of achievement to boot…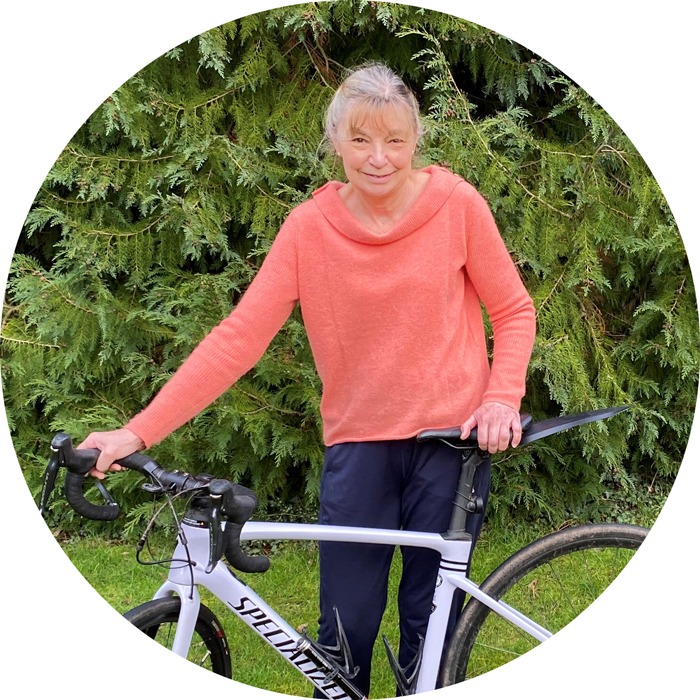 Karen Nicol, 62, from Little Chalfont, Amersham, talks about how she discovered a passion for pedallin' and completed our classic 16-day Land's End to John o'Groats trip in 2020.
I always liked bikes as a child but I never cycled as an adult, except with my own children, until in 2019 I began looking for a holiday. I'm divorced, so wanted to avoid the typical couples' holidays, I wanted to go on a holiday where I was doing something. I saw an advert in The Sunday Times for an e-biking holiday in Tuscany, so thought I'd give it a go. I really enjoyed it, that's when I started to get hooked!
I wanted a bit more of a challenge next and to have a go on a traditional bike rather than an e-bike. I found the Skedaddle Bourton-on-the-Water weekend in the Cotswolds, gave that a go and thoroughly enjoyed it. Next, I signed up for a week-long Skedaddle road cycling holiday in Puglia, in the south of Italy. This time I decided to try, not only a proper road bike but also clip-in cycling cleats. Before the trip, I tried them out by riding around the garden on a mountain bike and was confidently thinking 'this is easy' when suddenly I struggled to get up a steep bank, hesitated and fell off sideways! Luckily my wrist was not broken, but I arrived in Italy with it strapped up. I decided to cycle in my trainers in Italy rather than cleats and no one made me feel awkward about it.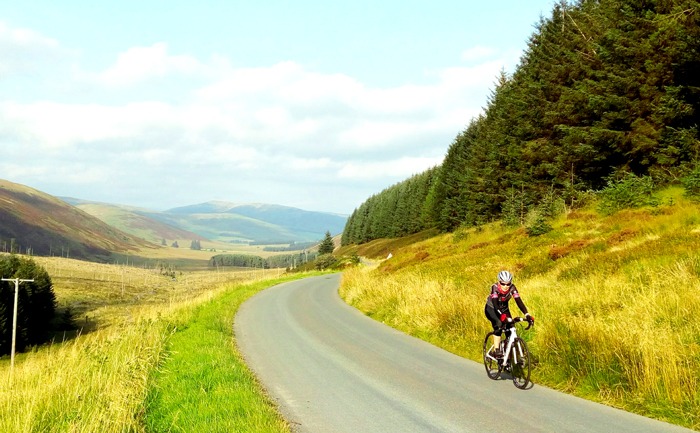 By the end of the Puglia trip in October 2019, I was thinking, 'gosh I really love this'! I started to buy some cycling magazines and I saw an advert for the Ride Across Britain scheduled for September 2020, it captured my imagination, how amazing it would be to cycle the length of Britain! The ride was cancelled because of COVID, but by then I'd got it in my head that I wanted to do it, and so I thought 'why not do LEJOG with Skedaddle'? Thankfully I did, and it was a fantastic experience. I feel lucky that the original ride was cancelled as it meant I did it in a way that, in hindsight, suited me better. LEJOG with Skedaddle fitted my fitness level, I had loads of support from the guides and the group was fun and sociable. It was everything I expected and more!
Hear from our guides more about our very own version of the LEJOG route here!
Cycling through COVID
I bought a Specialized Roubaix in late 2019, it's a beautiful bike. I wasn't worried about speed but I did want to be comfortable. I started riding it outside in the spring of 2020, getting used to cleats and pre-COVID joined regular group cycling classes to improve my fitness.
When COVID lockdown came into place, my friend and I discovered an app called 'My Mission'. You can choose your own virtual place-to-place route and record your accumulated miles to complete the journey. In late April, we challenged ourselves to cycle 2820 miles from New York to Venice Beach in Los Angeles and I arrived there by the end of August. The app was a huge incentive to get on both my indoor bike and the road bike, logging the miles with every ride. It was doing this that got me fit for LEJOG.
Preparing for the LEJOG challange
During 2020 I'd done loads of indoor cycling but I had never ridden more than 60 miles on the road in a single day. I was nervous about doing the two 80 mile days on LEJOG, but I was excited about the challenge. It turned out that, thanks to indoor cycling, I was good on the uphill but I needed to work on being more confident on the downhills. However, this time I managed to do the trip with road cleats. I only fell off three times and it became a joke that each time I bounced! I learnt a lot, one of the other guests gave me a tip about changing to a low gear before junctions, which really helped when moving off again. It seems obvious in retrospect.
Although I was well prepared there were a lot of things I didn't know. I had the basic kit but I didn't know about things like overshoes. I was buying things online to arrive at the next hotel!
Skedaddle team spirit

It can be a little bit daunting when you turn up on your own on a trip but you soon make friends! When I found out I was the only woman in the group, I initially thought 'oh no, it's me and all these men'! In reality, we all got on very well, we were all about the same age. Everyone was very kind to me even though I was very inexperienced and our guides David and Alex always made sure I was ok. On the first day, everyone was pumping up their tyres and fiddling with their bikes, so I thought I should be doing something too. I got a pump and instantly let all the air out of my tyres! I learnt a lot on the trip, not least that not all pumps work the same way!
Days to remember
Every day was special and memorable in its own way, but a few stick in my mind. Day 4, from Wells to Hereford, I remember particularly well, it's an iconic day. You start the morning with Cheddar Gorge, before riding the Clifton Suspension Bridge into Bristol. We stopped in a beautiful park in Bristol where a wife of one of the group came to meet us and brought us bacon rolls! From Bristol we crossed the Severn Bridge into Wales, passing Tintern Abbey and riding along the Wye Valley.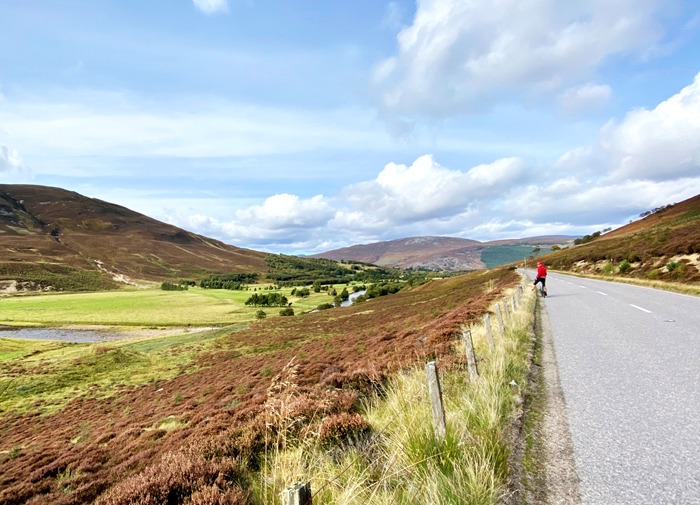 Another memory that sticks in my mind is coming down the really steep hill into Ironbridge. Seeing the bridge and the old mill buildings it looked just like a Lowry painting. When we arrived, David was waiting with 'Eley's' Famous porkpies and Eccles cakes for lunch.
I also remember approaching the stage in Scotland, between Ballater and Inverness, with some trepidation, especially when David and Alex shared the route profile and told us that we were going to ride up to the Lecht Ski Station! Seeing the 20% sign on the approach was a bit scary and knowing you had no choice but to ride up it. But once you get started you just keep pedalling till you reach the top and I felt so amazed and proud of myself afterwards.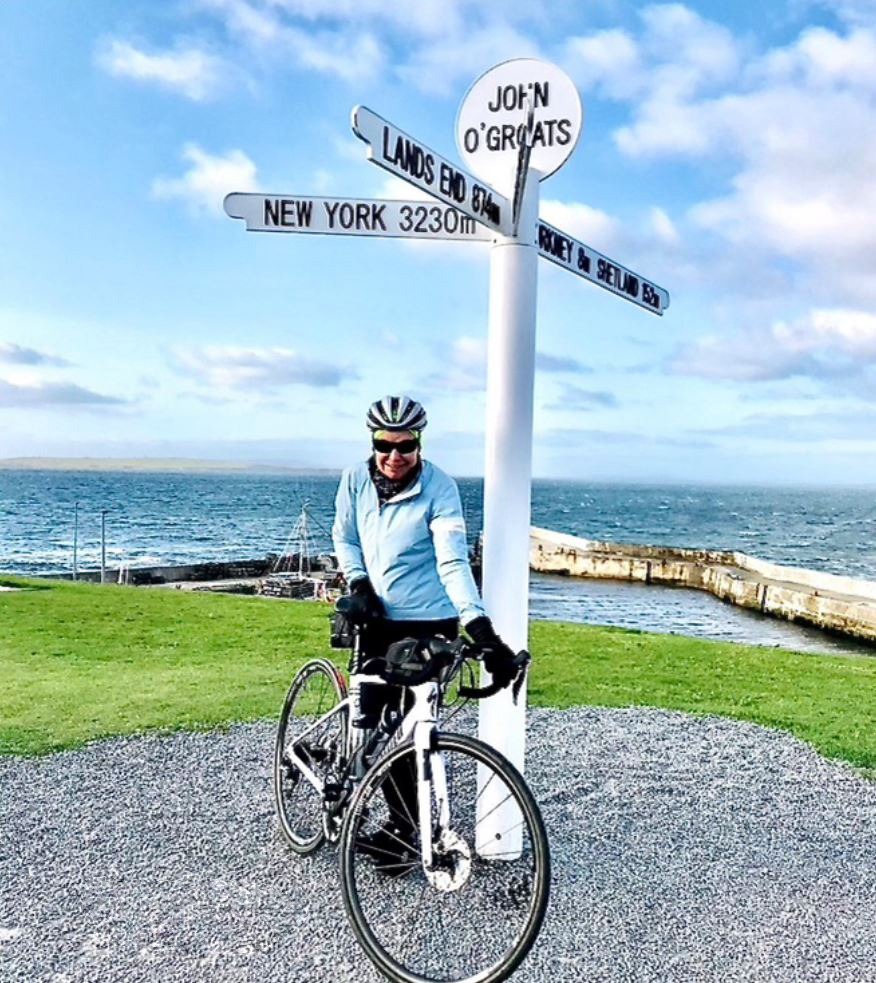 Final sunrise of the trip from the saddle
On our final day, we set off before the sun was fully up. The scenery was absolutely beautiful, the light was stunning. I just wanted to film the whole day. The first glimpse of the sea as we approached the north coast of Scotland was amazing. We'd all agreed to regroup a couple of miles before the end so that we could ride into John o'Groats together. Arriving I felt a bit of disbelief, it was surreal and I kept thinking 'am I really here?' I was tired by the end but I also felt very sad it was all over. LEJOG is an iconic thing to do, even now looking at the map I can't quite believe I cycled all that way!
Support from Skedaddle
I was relaxed and confident before the trip because I knew I was with Skedaddle and if anything went wrong with the bike there would be someone to help me fix it. During the trip, I had one flat (which David and Alex sorted out for me) and also bent my rear derailleur in one of my three tumbles. Luckily, I was carrying a spare (as Skedaddle had told me to) and David was able to fix it there and then. I was back on the road within moments.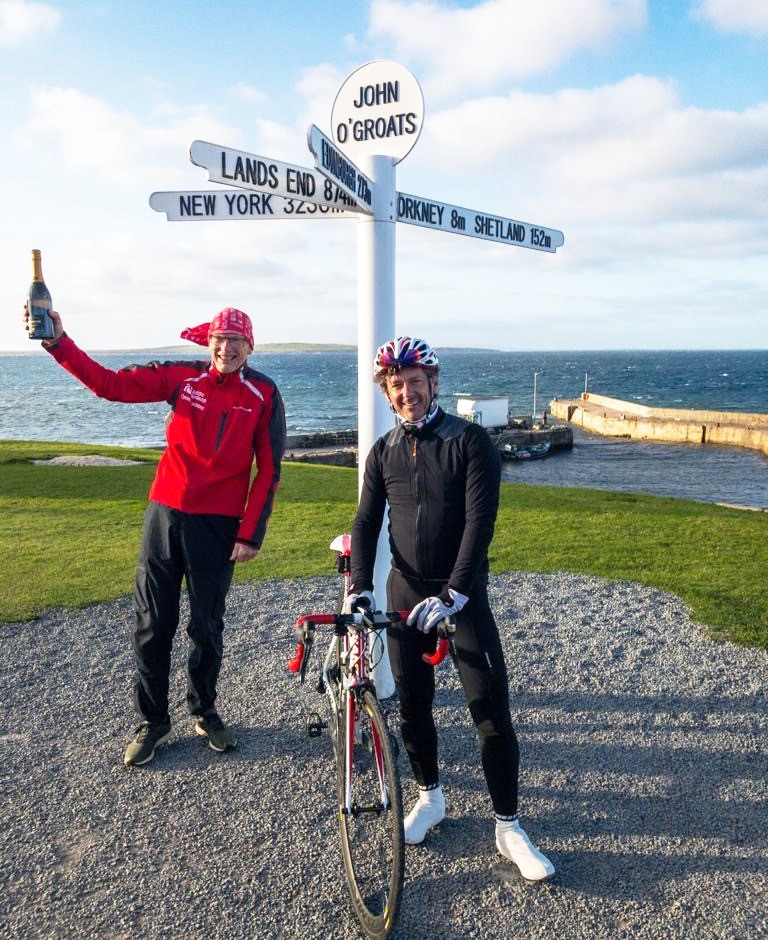 The guides were brilliant at helping with the things I didn't understand, for example, they helped me to set up and use the GPS routes on my Garmin bike computer, as I had never used it to follow a route before. All the riders in the party had Garmins and they were brilliant as you could keep track of how many hills you had done and how many you had left to go. It became a little joke between us all – 'it's only a hill if Garmin tells you it is' – even if your legs feel otherwise! It was good seeing the profiles, so you could mentally pace out your day, and every night David sent us an update on the map so we could see exactly where we were and marvel at how far we had cycled.
Our guides, David and Alex, did a fantastic job of managing the trip with the constantly evolving rules around COVID. They updated us every day on the rules, gave us information on where we were going and what we were doing. I was very impressed with how David and Alex managed to be up to date with and stick to the rules wherever we were. The trip ran incredibly smoothly and COVID didn't detract from our enjoyment.
Pedalling into the future
I have surprised myself at what I achieved just by taking a deep breath and going for it. But I couldn't have done it without the support of the Skedaddle team. From that first e-bike holiday in Tuscany in 2019, cycling has turned into something I really love doing and I've made some really good friends along the way too. There are two couples from my Puglia trip that I am still in touch with and one of the couples I met on that trip came to meet me in Scotland during LEJOG.
I've already signed up for Skedaddle's St Malo to Nice, their Portuguese Atlantic Escape and a Fitness Week in the Pyrenees to get some more techniques for going downhill. Now, I'm planning ahead and seriously considering signing up for the Colombia trip in January 2022.
Join us on your very own LEJOG adventure! Choose from a more relaxed 22-day trip, a classic 16-day challenge or customise the experience with a Tailor Made option for your friends, work colleagues or charity group.