It's no secret that we are proud of our guides. And we're always very excited to share their stories and impressive cycling talents with you all! We wanted to catch up with veteran Skedaddle guide Rob Wood, who you might have already met if you have joined us in the UK before. Read on to learn more about him and his passion for two wheels…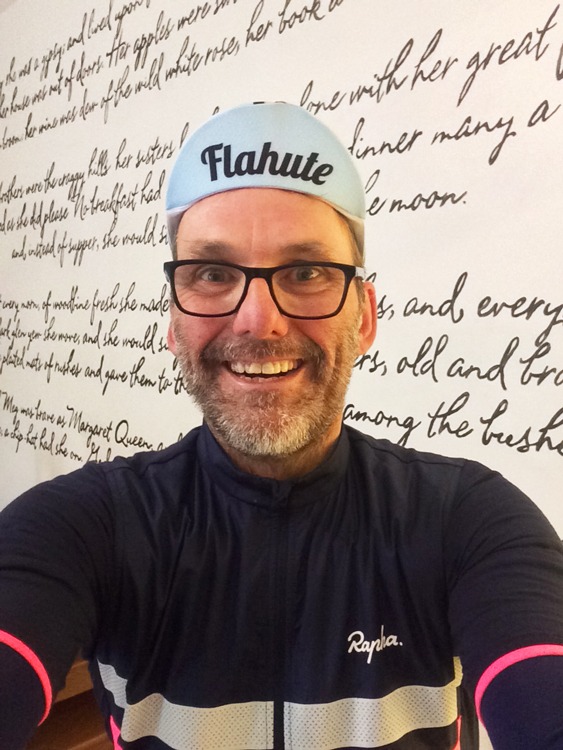 Full name: Rob Wood or Woody
Tell us a little bit more about where you're from…
I'm from Derby and bear the emotional scars of a lifetime supporting the Rams but have lived in Newcastle upon Tyne for more than 30 years now and that's the place I call home. From being a student in Newcastle back in the 1980s, I've always loved the city and the region – it's a warm, friendly, vibrant place with fantastic arts and live music scene with beautiful beaches and countryside right on the doorstep. Northumberland and the Borders provide some of my favourite on and off-road riding places and the only thing I'd change is the seemingly permanent headwind.
What got you passionate about cycling?
I've always ridden bikes and can still remember my first bike, the exhilaration of riding without stabilisers and the best Christmas present I've ever had – an orange Mark 1 Raleigh Chopper. The Chopper weighed a ton and was a scarily dangerous bike downhill with a horrendous front wheel wobble but I loved it and the memory of seeing it propped up in the middle of the front room on Christmas Day morning will stay with me forever – it was my Rosebud!
In my regular job as a Road Safety Officer and Bikeability Instructor with the local Council, I am fortunate in having the opportunity to support some children and adults in learning to ride through the Bikeability Balance and Learn to Ride schemes. It's an aspect of the job I particularly enjoy as the sheer joy on a trainee's face when they realise they can ride is wonderful and I like to think I've played a small part in potentially opening a door to a lifetime of cycling pleasure.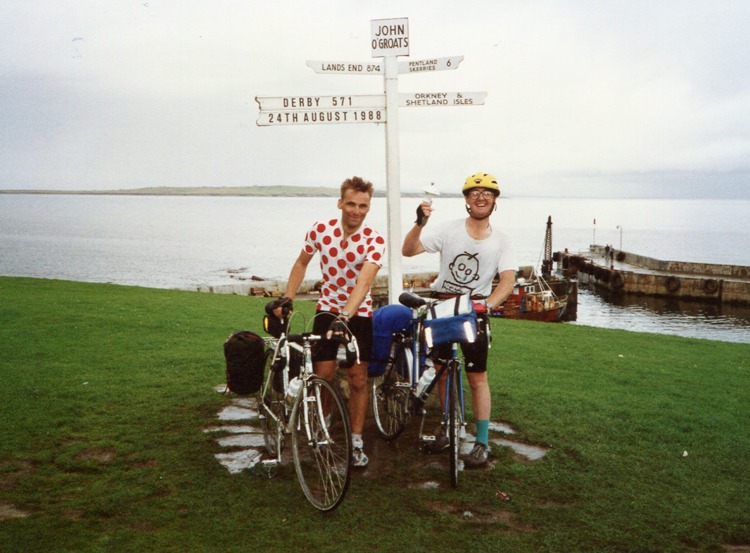 I've always associated cycling with freedom, excitement and discovering new places whether that be venturing a few miles away from home to explore as a kid or riding a weekend or longer tour as an adult. My first ever holiday away from home without an adult present was a cycle-camping trip to Fairbourne in Wales with some school friends when I was 16 and I've loved to tour and holiday with my bike ever since. Cycling is simply the best way to explore a place as you cover a reasonable distance in an open, friendly and disarming manner whilst being totally immersed in the landscape, the environment and the weather.
I particularly enjoy the escapism of riding long distances over several days and getting into a cycle of the ride, eat, drink, repeat and have participated in a number of longer audax events including Paris-Brest-Paris, London-Edinburgh-London, The West Highland 1000, Mille Alba and Mille Failte. Even though all riders are self-reliant, these events foster a wonderful shared experience and camaraderie.
Tell us briefly your history with Skedaddle?
My first trip as a Skedaddle guide was in 2018. Whilst I'd previously guided school groups and adults as a Bikeability Instructor, and been a consumer of cycling holidays, I'd never considered guiding until a friend went on a Hadrian's Cycleway holiday with Skedaddle in 2017. (She thoroughly enjoyed it and has been a Skedaddle regular ever since). She said the guides reminded her of me in that they were obsessed with bikes but good fun and well-organised.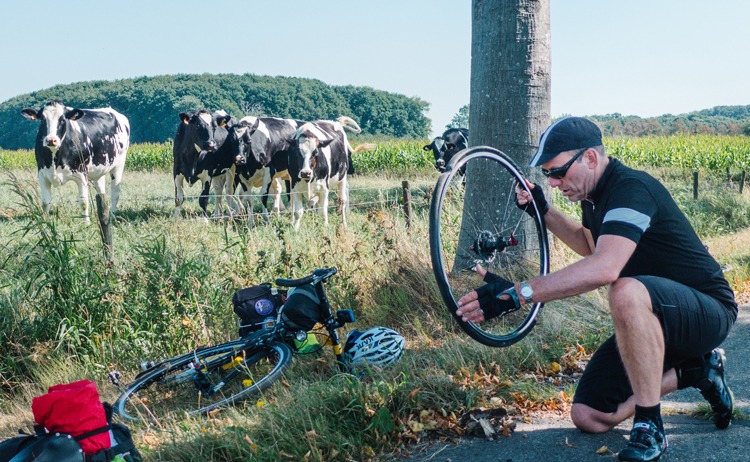 I subsequently looked at the Skedaddle website and saw that they were looking for UK guides. I submitted my CV and was asked to go down for an informal chat and a cup of coffee with Dan. A few months later, I was invited over to the Lakes for a couple of days to ride MTBs and road bikes with some experienced Skedaddle guides and other aspiring guides. On the first day, I punctured after riding my road bike for less than a mile and, being a fan of The Fast Show, immediately thought, "I'll get my coat." However, I subsequently discovered that my ability to replace the inner tube with relatively little fuss had won approval from the gnarly veterans and a few weeks later I was back in the Lakes for very thorough in-house training.
Being based in Newcastle, I have guided leisure trips in the North of England such as C2C, Hadrian's Cycleway and the Way of the Roses as well as centre-based holidays in Derbyshire and the Lakes. It's lovely to be able to share my love of this part of the world with others.
What is your favourite day on a bike with us and why?
I've ridden the Way of the Roses a few times now and it's a great coast to coast route with loads of interest and variety.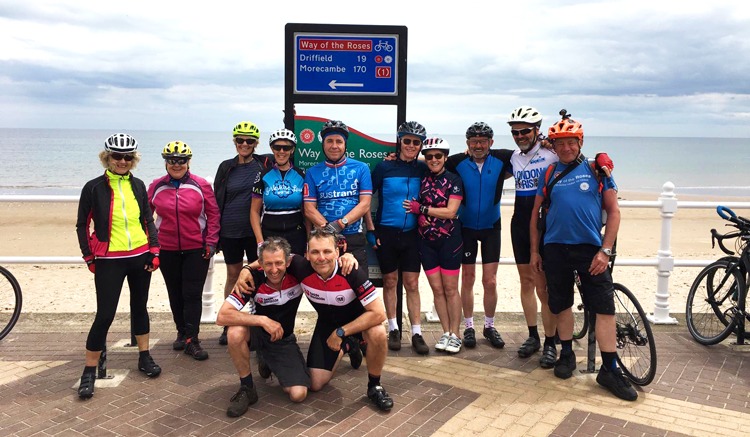 My personal favourite day is the section from Settle to Pateley Bridge on cycling Day 2 as it links two really interesting small towns with some terrific cycling in between. Almost immediately after breakfast, you're onto the cobbles out of Settle Market Place and up High Hill Lane which is the climb of the entire trip. It's a tough, but very scenic, climb and one to savour rather than hammer. From the summit, after a cup of tea and some cake, there's a terrific, flowing descent with great sightlines followed by some wonderful, rolling lanes leading to the glorious village of Burnsall with lunch by the river. After lunch, it's a climb up through Appletreewick to Greenhow Village and the magnificent Coldtones Cut sculpture/earthworks, which is well worth a stop before the exhilarating, but attention-demanding, steep descent into Pateley Bridge.
Do you have a favourite travel-themed book?
I'm very fond of North East author Harry Pearson and love his travelogue about Belgium – "A Tall Man in a Low Land" – and his book about cycling and Flanders – "The Beast, The Emperor and The Milkman."
I once participated in a 1,000km Audax called The Borders of Belgium, which, as the same suggests, was an anti-clockwise bike ride around the border of Belgium. I loved the event, the quirkiness of the country, the beer, the chips, the chocolate, the waffles, the all-pervasive cycling culture and the vending machines including one outside a farm which sold the most delicious strawberries ever. Harry Pearson's books provide an affectionate, informative and really funny guide to a country I love to visit.
If you could cycle with anyone dead or alive who would it be?
I know it sounds really corny and maudlin but it would have to be my Dad. I was quite young when he died but I do remember going down to the end of the street to meet him as he cycled home from work with one of those army surplus gas mask bait bags slung across his chest. I never did get to go on a proper bike ride with him or talk about his life and intriguing wartime service in the Glider Pilot Regiment so that's my fantasy bike ride.
As for the living, I'm a massive fan of Talking Heads' main man, bicycle diarist, cycle rack and espresso cup designer David Byrne so being guided by him on a tour of New York would be pretty cool.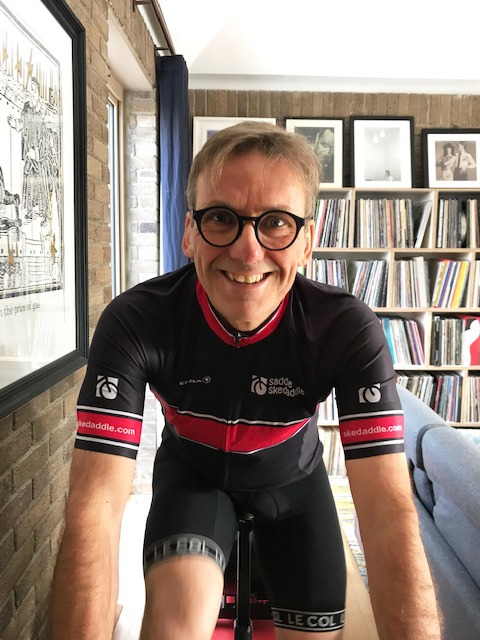 Tell us something about you we might not know…
A copy of the punk/new-wave fanzine I produced with a couple of friends whilst at school as a means of sourcing free records and getting into gigs without paying – "Xpert I" – has been preserved for posterity in the Division of Rare and Manuscript Collections of the Ivy League Cornell University Library.
Find out more about our Guides and Team here!
Want to know more about our amazing guides? Check out our guide section on the blog to get to know our team a little bit better and for more expert advice on all things cycling!