Here's an article from Skyparksecure, a company that specialise in offering hassle-free airport parking whilst you enjoy you're holiday. Many of our guides use the company while they are away on trips, so here's their take on which is the best airline to use when travelling with a bike….
It is perfectly feasible to take your bikes or bike on most airlines, but the rules and regulations vary from airline to airline. There are however, many similarities between the airlines and that's about the packing of the bike, most airlines now require you to bag or box your bike, some may ask you to remove the pedals and others ask for you to deflate the tyres. It's always a good idea to check with the airlines, to see which will suit your needs the best and most importantly, who offers the best deal. Here are a few quick, simple charges, rules and weights to get you going in the right direction, but remember to contact the airlines for more information or help.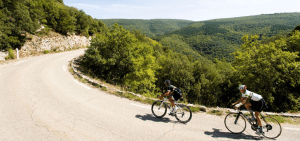 EasyJet
Easyjet offer the most generous weight allowance for bikes, but please be aware of the rules; "No other item can be carried in the bike box/bag, i.e clothes"
Charges before you get to the bike: £9 "admin fee" per each booking, and "2.5% surcharge (min £4.95) on credit card bookings."
Cost for each bike, per one-way flight: £25
Weight allowance: 32kg
Rules: Your bike must be packed in a "box or bag. No other items can be carried, i.e clothing." Their reasoning for this is the fact they are meeting the handling health and safety requirements.
__________________________________________________________________________________________________________
Ryanair
Ryanair are by far the most expensive, in saying this though their website is impressive. Their website is the only one which allows you to view how many spaces are available for bikes on your flight.
Charges before you get to the bike: There is an "admin fee" of £6 per one-way flight, per passenger; however this may change if you pay with a pre-paid Mastercard or Ryanair cash passport.
Cost for each bike, per one-way flight: £50
Weight allowance: 30kg
Rules:The bike must be "contained in a protective box or bag."
__________________________________________________________________________________________________________
British Airways


As part of your normal checked-in allowance, bikes go free. You don't even have to inform the airline in advance, but it's always a good idea to.
Charges before you get to the bike: Per passenger there is a credit card surcharge of £4.50
Cost for each bike, per one-way flight: free
Weight allowance: 23kg
Rules: Must be packed in a "recognisable bicycle bag" and tyres must be deflated.
__________________________________________________________________________________________________________
Monarch
Although the number of UK airports Monarch operates from is limited, it charges the lowest of all "no-frills" airline charge for bikes. The website is quite hard to navigate, so if you can't find the right section on the website, bikes are placed with "carpet bowls and surfboards". The following information applies to the scheduled flights:
Charges before you get to the bike: For credit card bookings there is a surcharge of 4% (minimum of £5)
Cost of each bike, per one-way flight: £19.99
Weight allowance: 20kg
Rules: They are very polite in their rules; "Please make every effort to protect your bicycle – we recommend the use of a bicycle bag." They also ask that tyres are deflated.
__________________________________________________________________________________________________________
You are only able to book your bike on a flight over the phone, and this is a number which costs 10p per minute.
Charges before you get to the bike: On all bookings except Visa Electron there is a booking fee of 3.6% (minimum £4.99) and then there is an additional credit card surcharge of 3.6%
Cost for each bike, per one-way flight: £30 and a "drop off" fee of £6, which is not mentioned on their website.
Weight allowance: 20kg
Rules: Must be "wrapped in stiff cardboard"
Take a look at each rule and price, weigh up the pros and cons, and pick an airline which is best suited to your needs, if weight is your main priority EasyJet may be your best option, where as the cost for each bike, per a one-way flight would be free to travel with British Airways.
If you would like anymore help on your sporting holidays, some quick tips on what to pack, how to survive a travel crisis or any extra information on holiday visas, check out our new, handy travel guides!
Cycling holidays which are worth all the efforts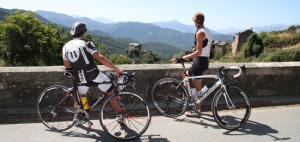 After the success of Team GB in the 2012 Olympics, Britain is suffering from a cycling fever, but don't you worry, our friends at Skedaddle.co.uk, who specialise in cycling holidays have offered us a little advice on the 'hottest' cycling destinations.
So if you're planning a cycling holiday, park your car with Skyparksecure and hop on a plane to one of these recommended destinations.
There are many destinations to cycle in, each one being unique and offering exceptional experiences, the only thing in common is the fact that they are grasping the Wiggins effect with both hands, tightly.
The French love affair with the bike all began as Ernest Michaux and his son invented and manufactured the first pedal and crank in 1861, following this, cycling was spreading around the county, and of course, the rest of the world. Cycling wasn't just a means of transport; it soon became a leisure pastime which then grew into a popular sport. Since the day when 15 men set off on the very first Tour de France, there has never been a more appropriate destination for the touring cyclist to visit; there simply is no better way to appreciate the seat of a bicycle, than in the beautiful countryside of Nice.
Many routes of Nice take on the mountain passes, cruising descents and peaceful valleys. Cycling through beautiful scenery of towering mountain peaks, dense forests, spectacular limestone cliffs and lavender fields, will motivate any cyclist, and will allow them to appreciate the huge achievement they have accomplished, if you're looking for a extravagant, beautiful cycling holiday retreat, Nice would be the perfect option.
Provence is the home to some of the best road cycling in Southern Europe and is one of the most popular cycling holidays in the whole of France. With its diverse landscape, ranging from pancake-flat lavender plains, snow-capped mountains and striking coastlines it's not difficult to see why.
Provence is a classic area for a leisurely tour, or if you like a little more adrenaline rushing through your body there are tougher road trips which include the ascent and descent of Mont Ventoux. For those who enjoy a 'pass bag' tour de France sections Provence is perfect as it is close to the stunning Southern Alps. These wonderful views combined with fantastic foods, the stunning sunshine and an acceptable climate makes Provence an irresistible holiday destination for any bike lover.
Cycling in next is the hottest of them all, Corsica located West of Italy, is cycling to the top of the list as the Tour de France is there for the first time this year! Corsica has a variety of wonderful diverse journeys through ever-changing landscapes, allowing you to discover both the rugged coastlines and the beautifully traditional and unspoilt chestnut forested interior of the Casragniccia. Corsica is an extremely rewarding destination, and is perfect for those who enjoy a challenge.
So there you have it! A helpful guide on airline costs, some expert advice on the top cycling destinations, and first class airport parking with Skyparksecure, each step is ready and set for you to take on the epic cycling journey of your choice.
Skyparksecure currently have an offer where you can save up to 15% on your airport parking which runs out on February 18th, so if you're going away in the very near future, here's your chance to save same pennies!!