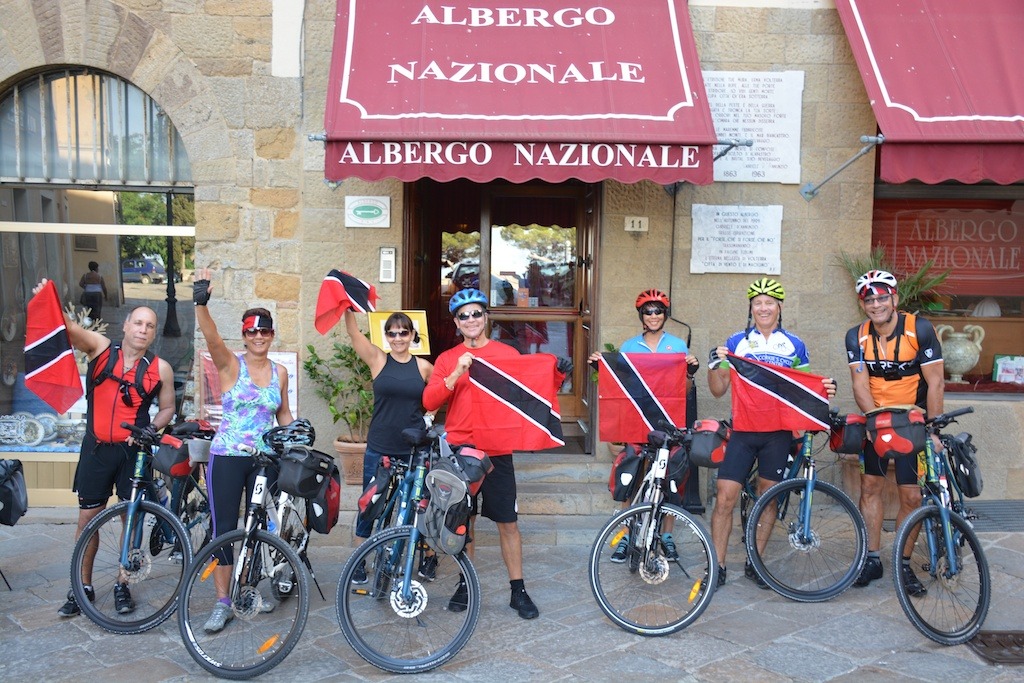 Aided by a zest for life, her bicycle, friends and plenty of glasses of prosecco, Denise d'Abadie headed to Tuscany to enjoy our delicious tour of this idyllic region of Italy. If you're looking for a few minutes of escapism, we suggest you take a look at her fantastic write up below:
We are a group of friends who have shared the past 30 odd years together. We've raised 9 kids between us, celebrated umpteen years of birthdays and anniversaries, helped each other through our trials and tribulations, and now that we are at a new stage of life, otherwise known as empty-nesters, we are intent on continuing this celebration of life together – filled with energy, passion and a genuine love for living.
What better way to explore this new stage than by cycling through Tuscany, visiting the most beautiful part of Italy and its many vineyards, at our own leisure.
Through the capable hands of Saddle Skeddadle, my husband and I had already had the pleasure of cycling the Via Claudia route from Austria to Italy, and, with one other couple in the group, we spent two weeks cycling from Cusco to the Amazonas, before trekking to Machu Picchu.  So excited and amazed we were with this type of travel that we decided, as a group, to visit Tuscany together.
In the weeks and days before the journey, the excitement built to such a pitch that, like kids awaiting their first trip to Disney World, we could not contain ourselves. The WhatsApp group "Biking in Tuscany" was a buzz with – 'do we need water bottles' – 'do we need raincoats' – 'I found the right back pack' – 'what's the temperature forecast' – and so it went back and forth, back and forth until Finally! We arrive in Pisa – and in our true celebratory mindset, we began with what was soon to become our customary Prosecco toast.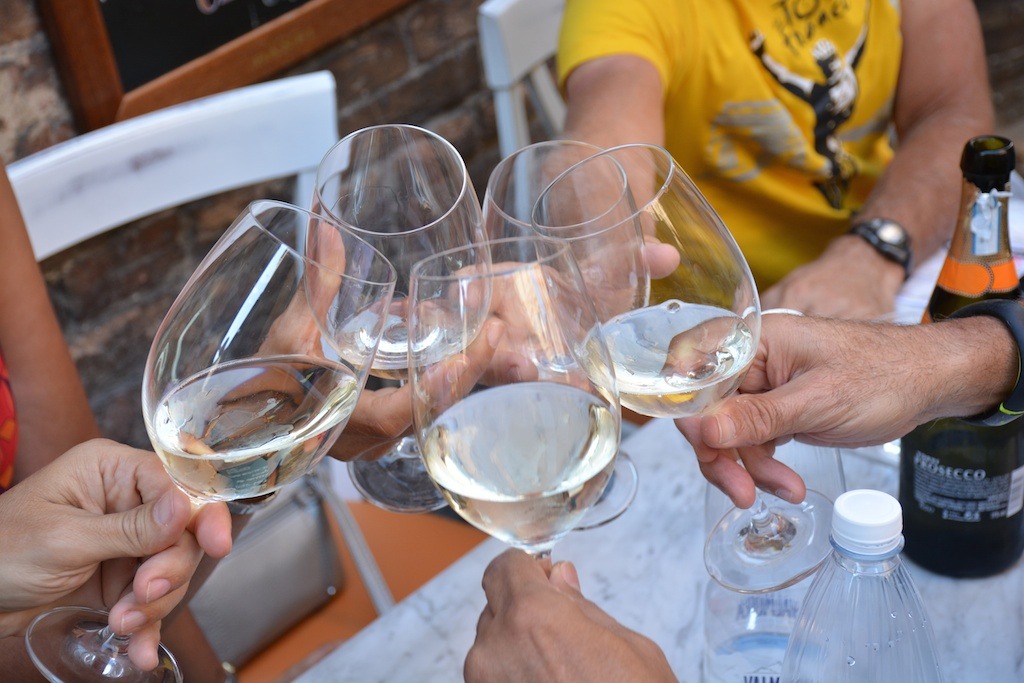 The journey from Pisa to Volterra was harmless.  Lots of talk and excitement, checking our GPS ensuring that the driver was on track.  Volterra offers us our first glimpse of the architecture typical of medieval times and is filled with small alleys, squares, palaces and towers. And much like other towns in Italy, the window boxes filled with flowers and the charming shops lure you into a lifestyle that is simple, inviting and oh so relaxing. As the sun sets, you are drawn to the magnificent views which surround this important city and the cool evening breezes transport you to that peaceful place you've always longed to be.  A perfect start to our Tuscany adventure.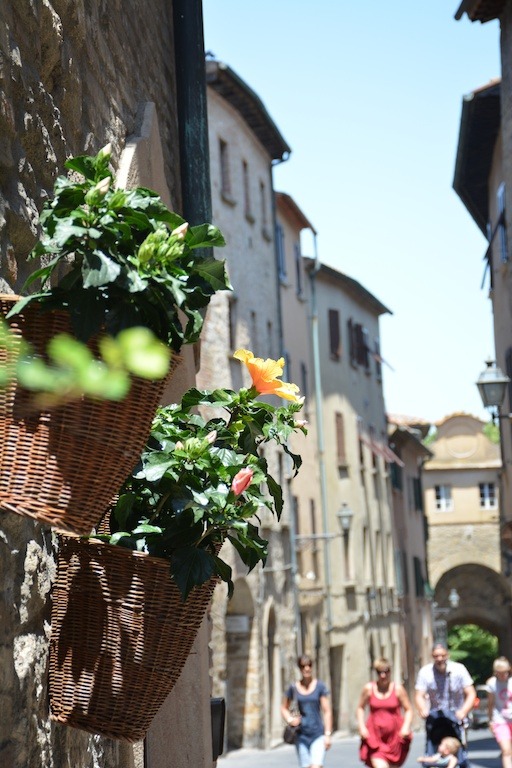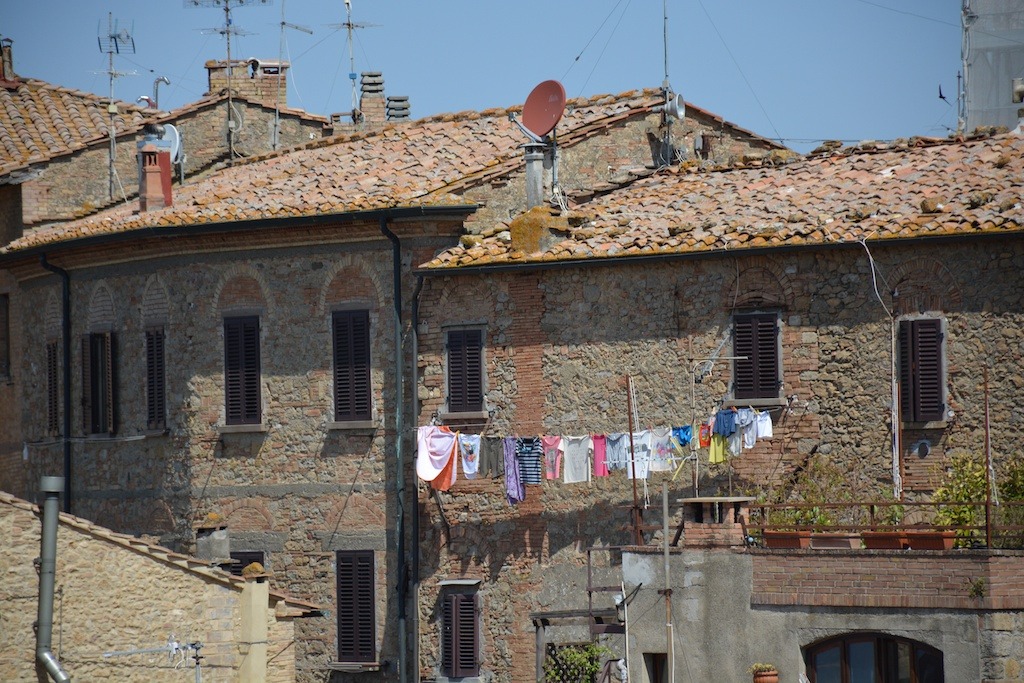 The following day, we are up early and rearing to go and we are soon to realise that, even though we are accustomed to the warmth of the Caribbean islands, the Tuscan sun is not to be dismissed.  We are relieved, however, that just as the cool breezes from the ocean cools you in the Caribbean, so does the cool breeze rolling off the Tuscan hills.  Additionally you are blessed with amazing views of the country side lined with Cyprus trees and the overwhelming effect of a beastly cold beer or glass of Prosecco.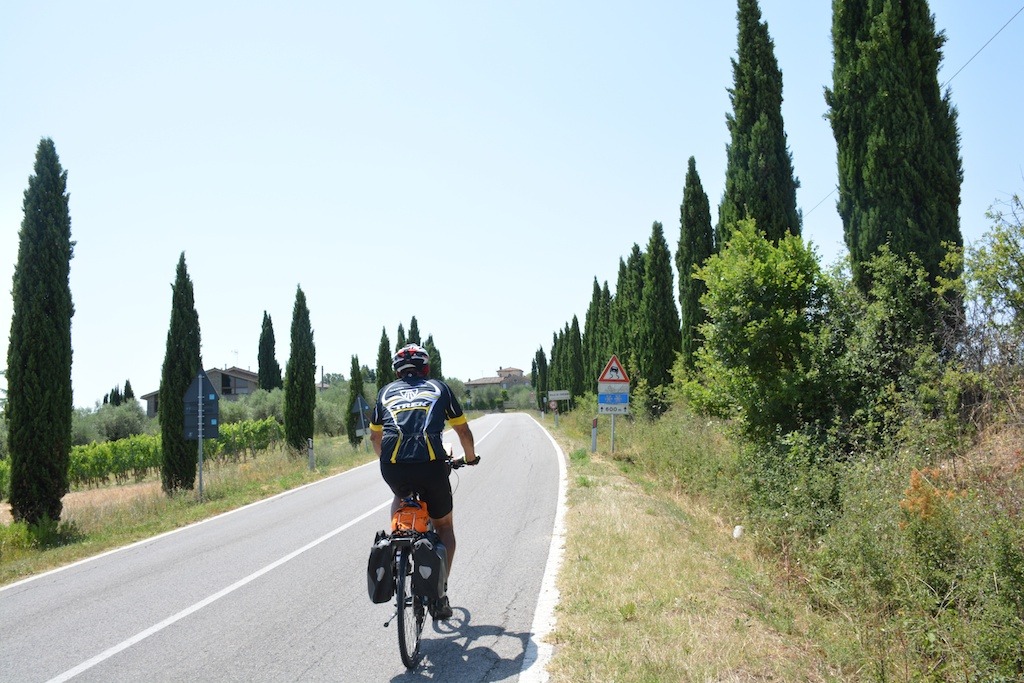 San Giimignano is our destination on Day of cycling, and oh what a joy! After a short 2 1/2 hour ride through the rolling Tuscan hills, all your troubles slip away as you are transported into a world filled with beauty, cafes, bars, wine tasting spots, and, of course, the revitalising effect of the local Italian beer and Prosecco.  A stroll through this charming town offers the most quaint of shops and a panoramic scene which captures the orange glows of the sun, as it sets in the late evening.  Entertainment surprises you in the main Piazza, with the soothing strumming sounds of the guitar, Sita and pan from a local duo.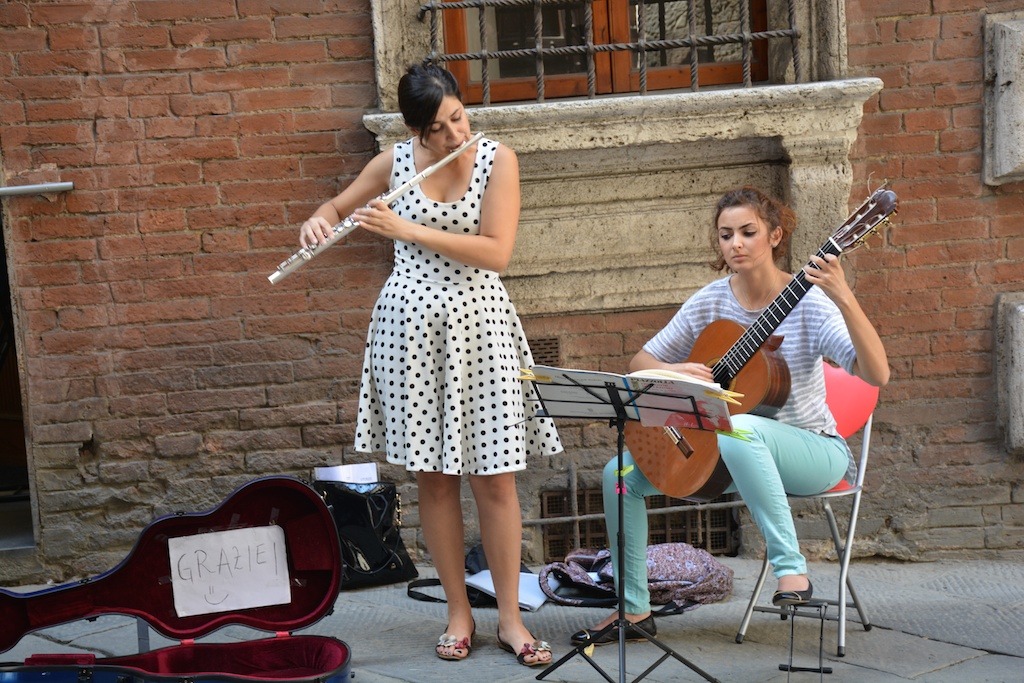 We sleep well.  We are up early and get our gear ready to go.  We leave San Gimignano, reluctantly, but head to Monteriggioni, excited to continue our journey. The scenery changes slightly as we are now exposed to more greenery than the day before.  The traffic is minimal and you feel as if you alone occupy this precious space in time.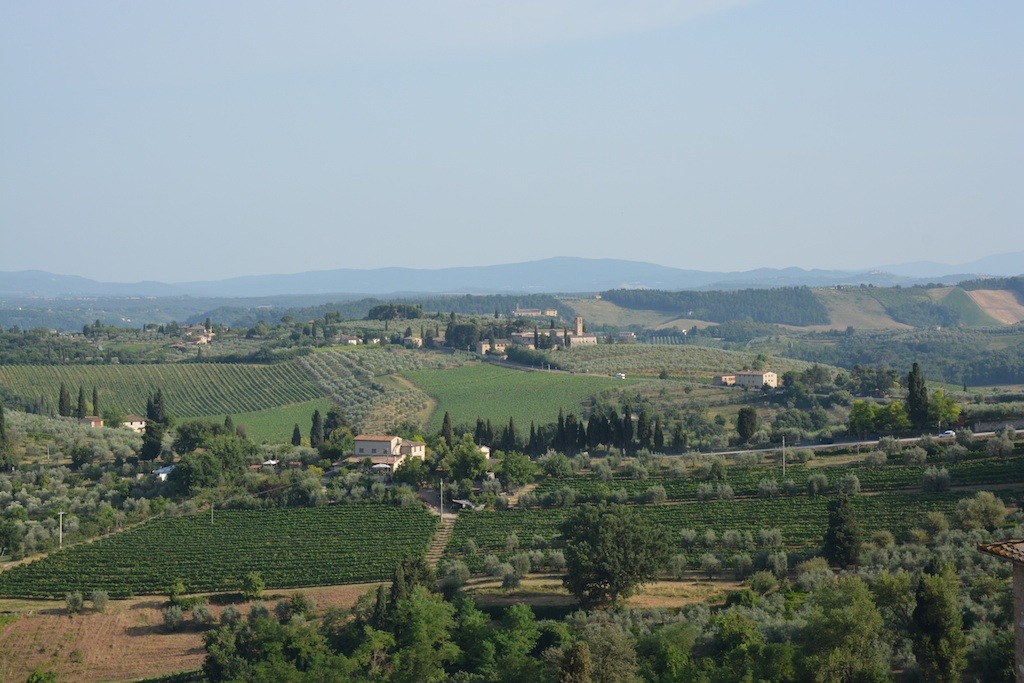 The sun continues to caress you with its warmth and you wonder ever so silently – how much more of this Tuscan heat can one take.  But as you look around you, the rolling hills, expertly manicured vineyards and strategically placed Cyprus trees, you are reminded that you are in one of the prettiest places in the world, and your worries melt away as you contemplate your impending stop for lunch.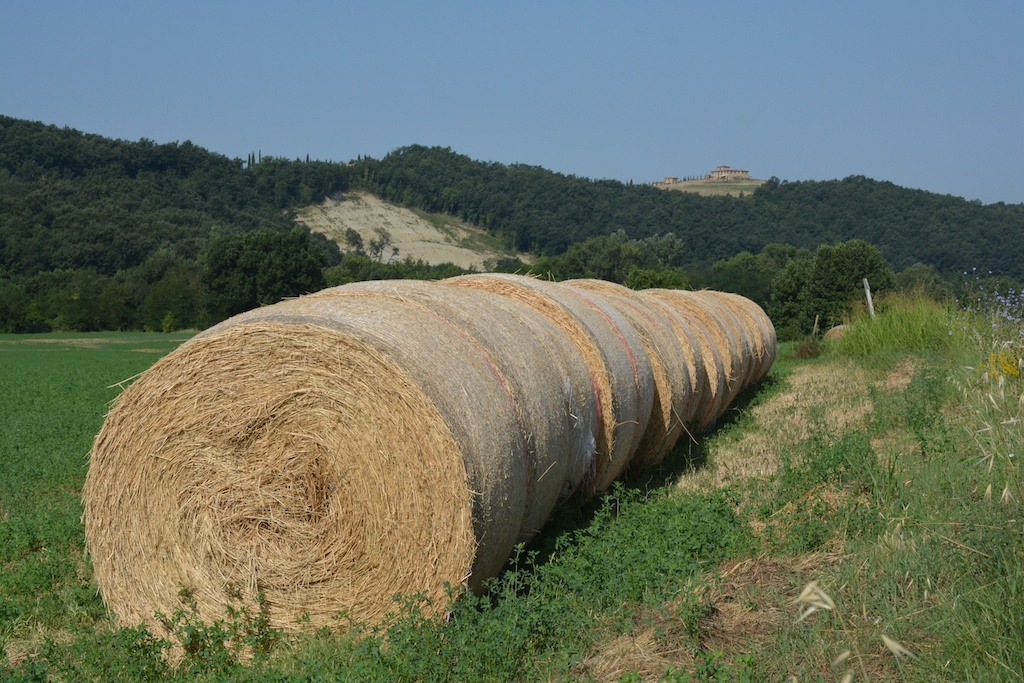 You enter into a pristine town that cools you by its simple but welcoming presence.  You cycle to the nearest charming restaurant and enjoy the hospitality and charm of the Italian countryside.  Your thirst is quenched by non other than the local Prosecco and beer and you indulge in the finest pasta and pesto ever.
Refreshed, rejuvenated and probably smiling a bit too much, you continue through the Tuscan hills to your destination Monteriggioni.  Nothing however, could prepare you for the elegance and grandeur of the Castel Pietraio.  At the end of a 40km cycle in the hot sun, your only thoughts are air condition and water.  At the Castel you are welcomed like kings and queens, ushered into exquisitely appointed rooms and told that the pool is just a short walk away in the well manicured garden.  Wine is served at 7 and you stroll into the village for dinner. Royal service indeed and nobody is complaining.
The ride to Buonconvento the following day is a bit more challenging to say the least, as we scramble up steep gravel trails, push our bikes up some 16% grade hills, curse the Tuscan heat, and endure the trials and tribulations of cramps and flat tyres. But the view, the memory, the sighting of fields of sunflowers all keep you going, with a smile on your face and a fuzzy feeling in your heart – or was that the Prosecco?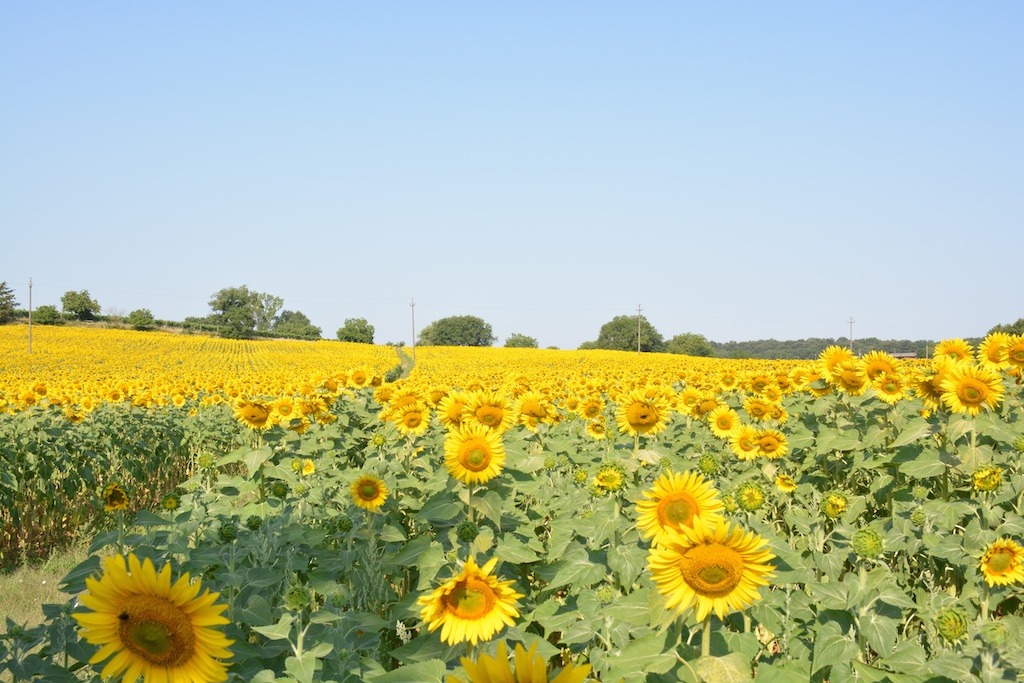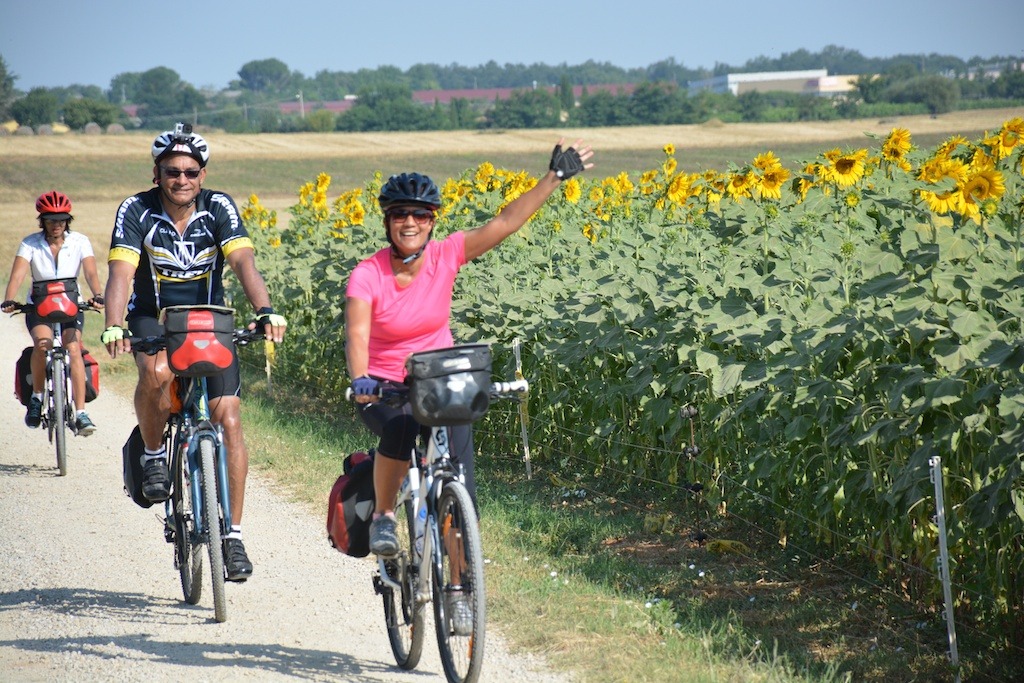 In the midst of it all a small quiet town with a water oasis calms and relaxes us, giving us the much needed energy and willpower to carry on.  We arrive at our destination – weary, weary and oh, did I mention weary?  But as usual the recap of the day, the local wine and beer and the cool breeze that accompanies the amazing sunset, lifts us and we end the day, once again, triumphant of what we have been able to accomplish and experience.
Stay awake Tuscany – the Trinis have not yet finished their journey.
A rest day is always welcome.  And where better to spend the day than lazing around La Fattoria Pieve a Salti, a hill top hotel overlooking one of the most spectacular views in Tuscany.  As with many of these establishments located on vast acreage, the pasta served is freshly made as was the honey, as this is part of their own industry.
Leaving is a bit difficult, but knowing that the first part is primarily downhill is certainly an incentive. As we head towards Asciano, the Tuscan region once again does not disappoint, with its smell of the pine trees, gentle rolling hills and intermittent gravel roads. You truly feel one with nature and the environment as you cycle along perfectly manicured vineyards and small towns on the way.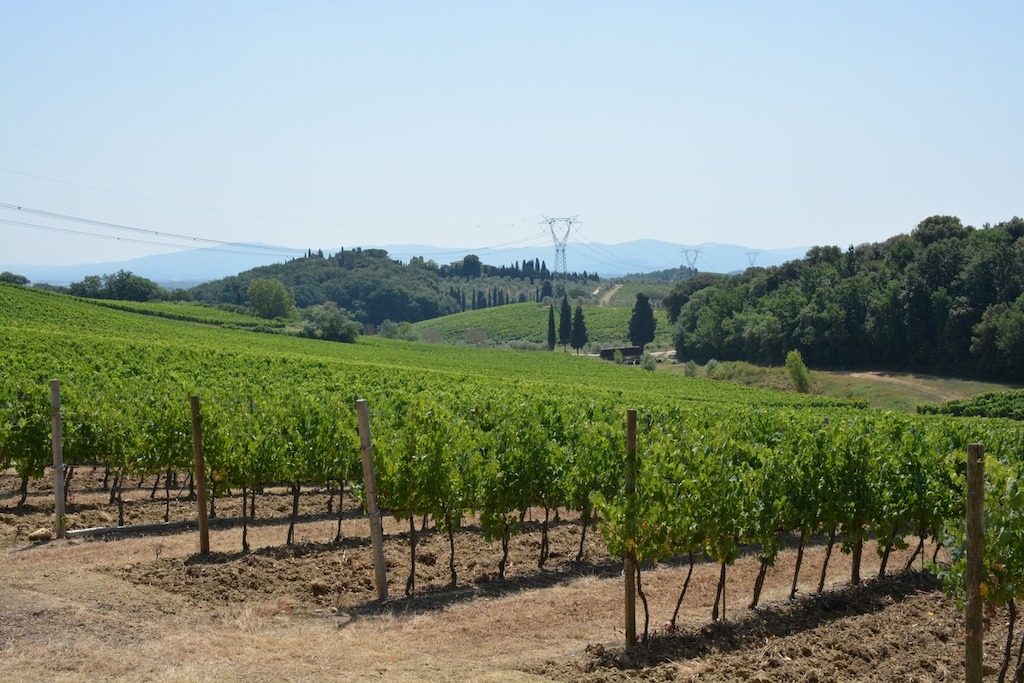 We skirt off course momentarily to visit the Monte Oliveto Maggiore. This is a large Benedictine Abbey located just 10km south of Asciano. The monastery is accessed through a drawbridge which leads to a medieval palace in red brickwork.  This structure began in 1393 and was only completed in 1526 and finally restored in the 19th century. After the entrance you are greeted with a long alley lined with cypresses bordering a botanical garden.  Strolling through this peaceful place calms you, and at the same time, energises you for your journey ahead.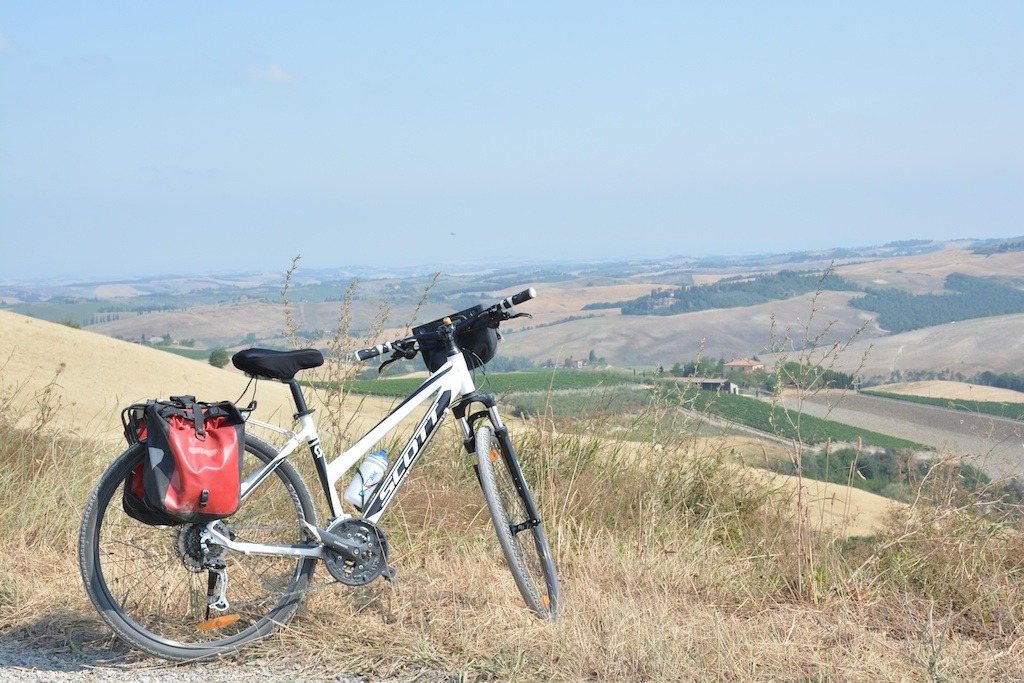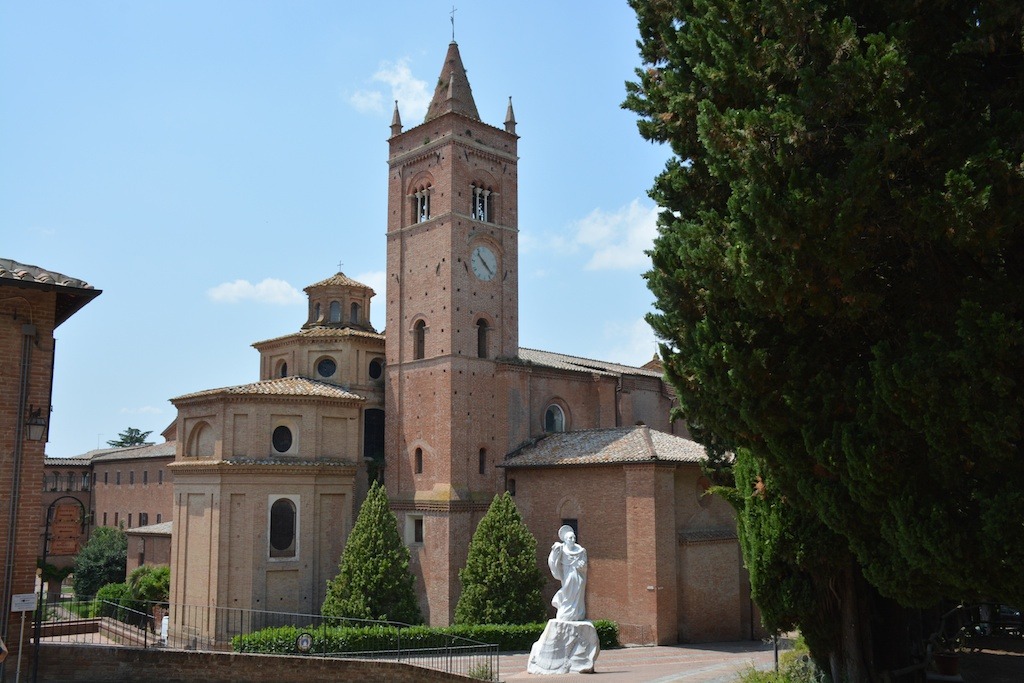 Asciano is a small town with just about 7000 inhabitants. Typical of Tuscany's history Asciano became the centre of attention between Siena and Florence in the 13th century eventually being won over by the Sienese after the bloodiest battle in the Italian medieval history in 1260.
Our final day takes us to Siena, certainly the most impressive of the Tuscan towns.  As we climb our final ascent, we are filled with pride and a great sense of accomplishment.  Along the way we are tempted to take the short and easy road but stay our course, and continue along the long and narrow pathways to our final destination.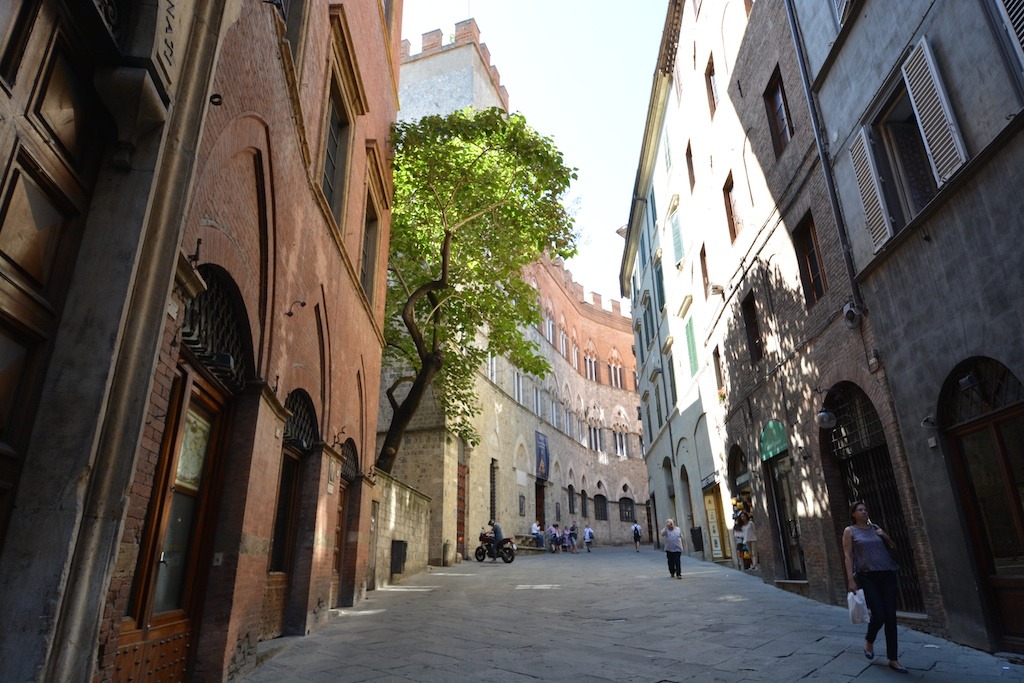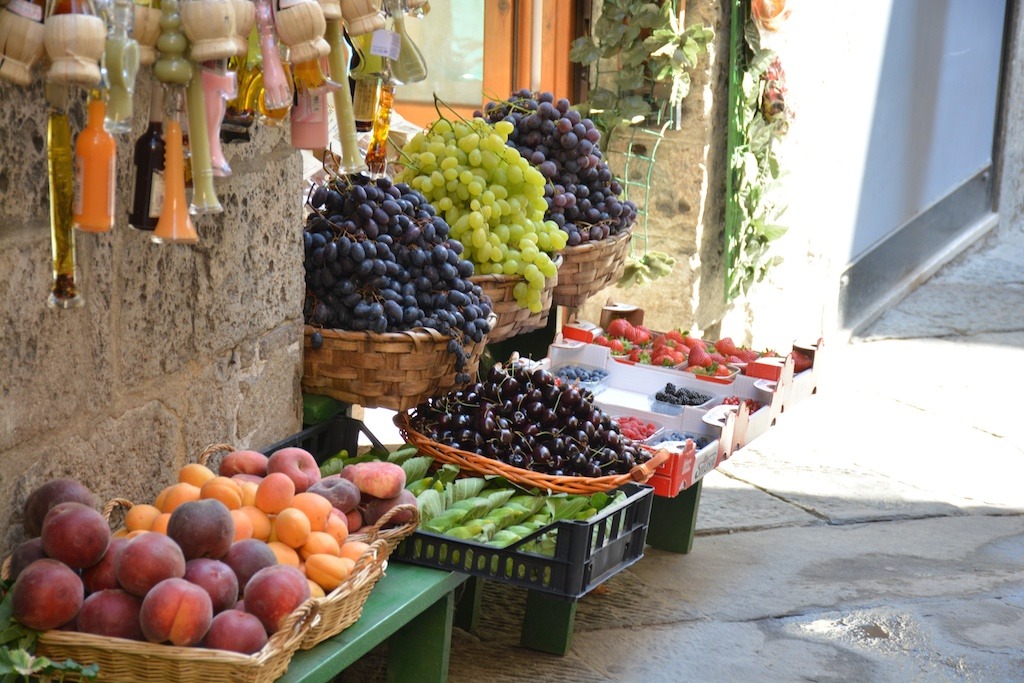 And well worth the journey – Siena rewards us with its magnificence, grandeur and imposing strength as we meander to our hotel Il Chiostro del Carmine – a former monastery with a small chapel and welcoming courtyard, where we eventually spend cool peaceful pre-dinner wine tastings.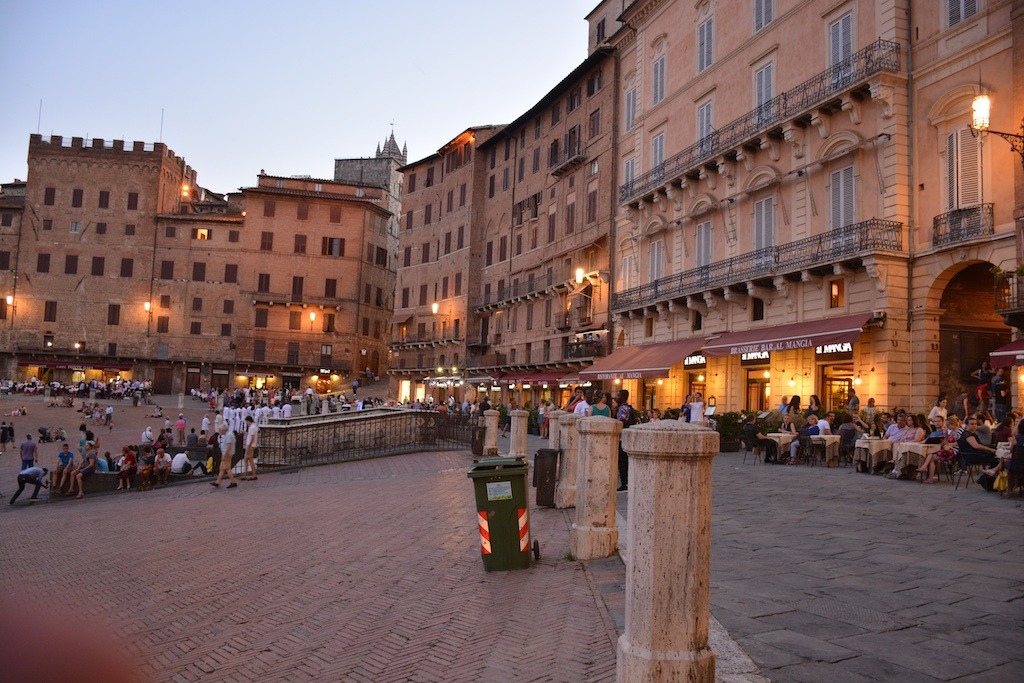 We celebrate the end of our journey with the now expected Prosecco and pasta, but even better, we are serenaded with the ringing of the bells from the Santa Maria de Asunto Cathedral.  The following day we venture further as we explore the town and its amazing Cathedral – a magnificent showcase of craftsmanship, artistry and simple dedication with intricate details of biblical history throughout.  We are fortunate enough to celebrate a small mass therein the following day.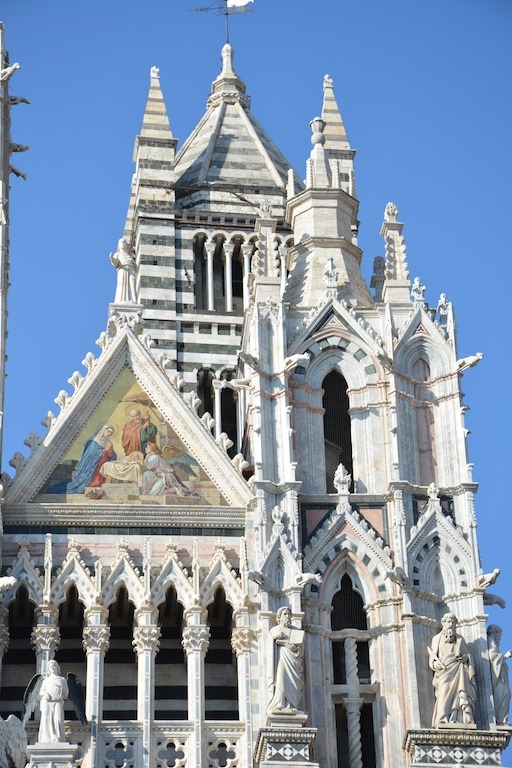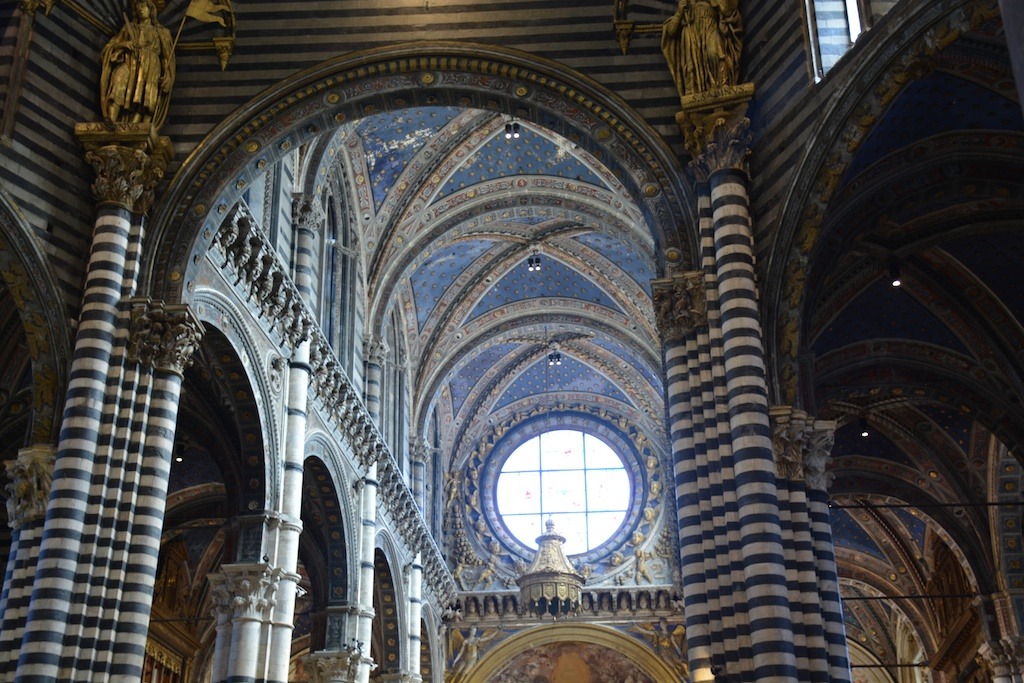 The stairs within the Museum lead to an amazing view of Siena and we are once again entranced by the beauty of this city and the Tuscan valley itself.  The days are hot but the nights are cool, and we engage in the Siena customs as we embrace the culture of **liming in the Piazza after dinner, just simply enjoying the moment, the environment and the company.  Happy to be there, happy to be a part, proud of our accomplishments.
What started as a simple cycling adventure through the Tuscan Valley, ended in stronger bonds of friendship, a greater sense of self and one's own physical ability, and of course, memories that will last a lifetime.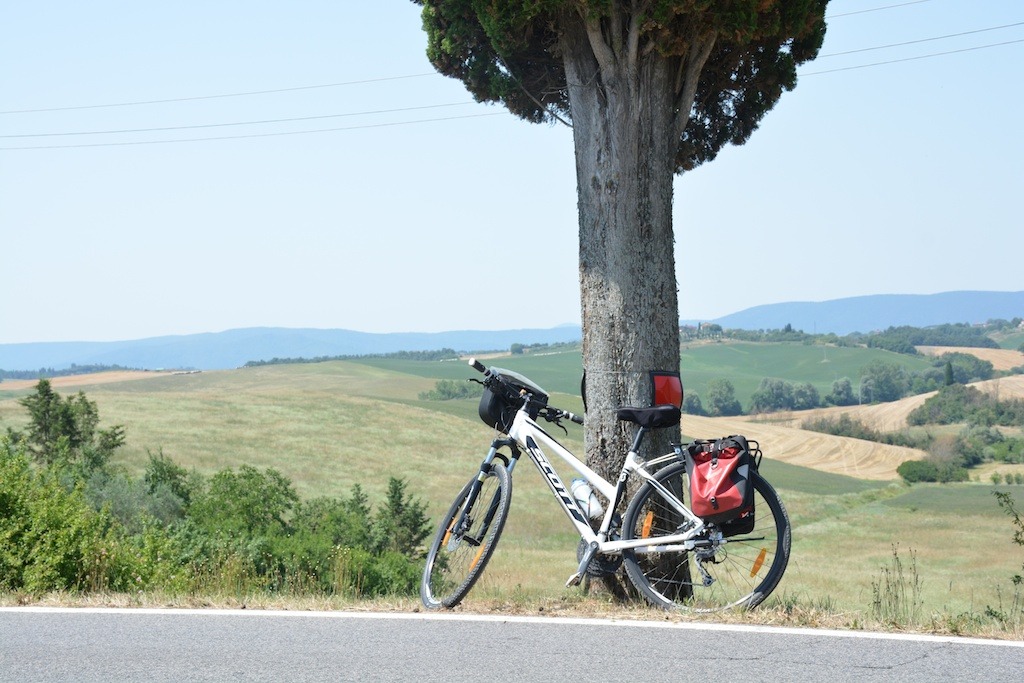 We are grateful that as friends we can continue to celebrate life together, and our resolve to continue life's journey is deepened.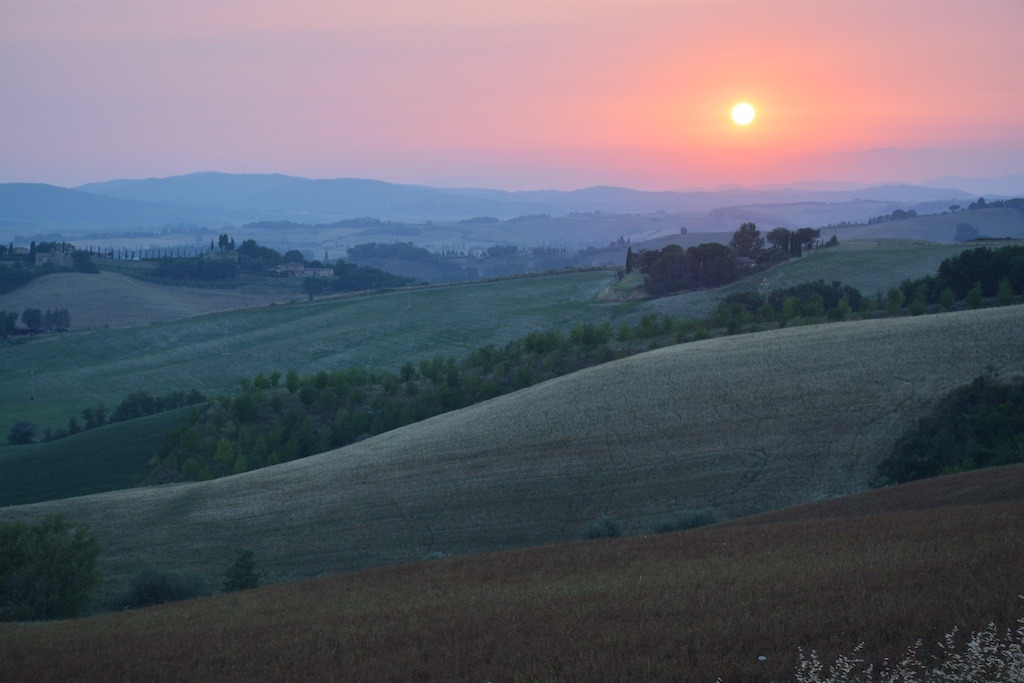 *   Trinis – Nationals of the Republic of Trinidad & Tobago – the southernmost Caribbean Islands
** Liming – Trini slang for hanging out.
Denise was cycling on our Taste of Tuscany self guided cycling tour. She is the winner of our July Customer Competition and has won £250 for sending us her fantastic articles.