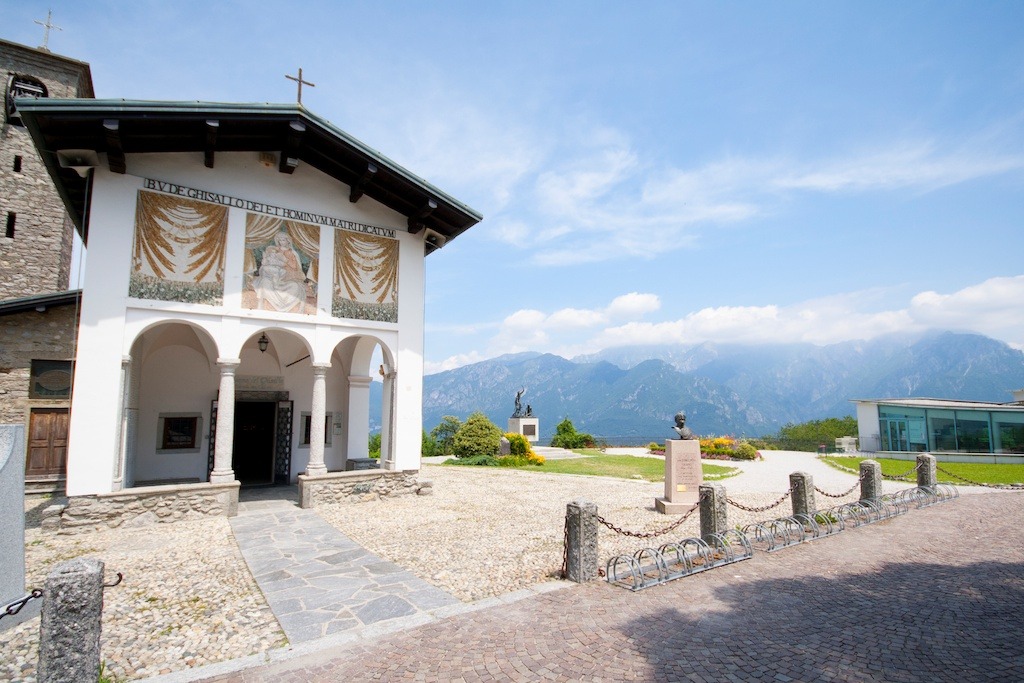 Amongst many keen road cyclists 'bucket lists' is the chance to cycle famous routes of the pro riders, and our tour in the heart of lake land Lombardia, offers the chance to do this and much, much more! With so much to offer we thought we'd send our office road aficionado, Kerry, along to see what all the fuss was about! Having packed her bags and with husband James in tow , the pair headed off to Italy for a week of sun, cycling and San Pellegrino…
The plane journey over gives me time to reflect on the forthcoming foray into Italy. The trip, booked with the lovely people at cycling holiday specialists Saddle Skedaddle, is an 8 day road cycling adventure (6 days of riding) across Italy's stunning lake district of Lombardy. The 300 mile trip will leave the shores of Lago Maggiore in the west and work it's way east via Lago di Como (we might see George Clooney drinking a Nespresso if we're lucky), Lago di Lecco, San Pellegrino (of sparkling water fame), Lago d'Iseo, Lago d'Idro, and finish in the foothills of the Dolomites at Lago di Garda. And, if the picturesque surroundings promised in the Skedaddle trip notes wasn't enough, there's a small matter of the climbs of the Madonna del Ghisallo (used in the Giro di Lombaria), the incredibly long Passo di Zambla, and finally the Passo di Maniva (used in the Giro d'Italia).
First Impressions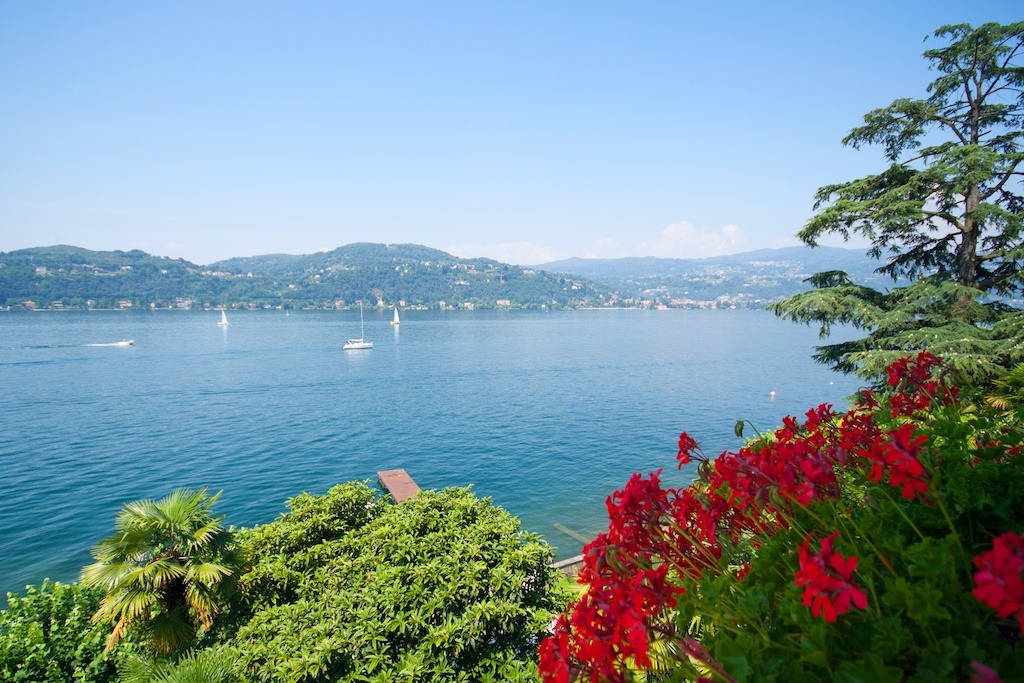 Our first night hotel sits proudly on the shore of Lago Maggiore, with our room not only overlooking the lake but also the hotel grounds below, which today is hosting a wedding. It's like something out of a movie scene – a kaleidoscope of colour surrounding a beautiful, elegant Italian bride, with a soundtrack of happy celebration and traditional music. Today she is the centre of the world, and I feel privileged to be on the periphery. Saluti. My first experience of Italian cuisine (in Italy that is) is what I'd expect – antipasti, pasta, pizza, sparkling mineral water from San Pellegrino, and of course the obligatory espresso.
Unlike in the UK where we drink the enormous soup bowls of milky coffees the US have given us, in Italy, a typical coffee is an espresso. In fact, it is simply referred to as un caffè or un caffè normale. It is the drink of choice for a lot of Italians, hence the lack of clarification needed when asking for one. In 8 days in Italy, I didn't have a single bad espresso.
This first night in Angera sets the scene and mood for the rest of the trip – sublime scenery that is almost surreal in nature, warm and welcoming Italian hosts, copious amounts of delicious food and drink, and a pleasant, friendly atmosphere within the group of fellow Skedaddle customers, or Skedaddlers as we're affectionately known.
On the road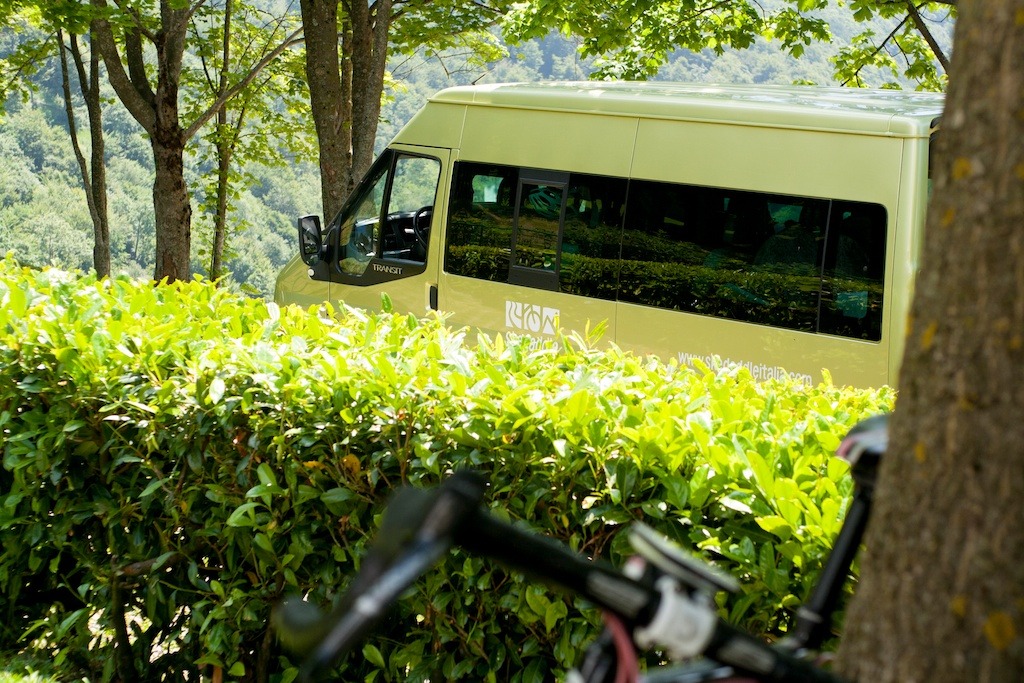 There's always an interesting mix of backgrounds, experience and abilities whenever a group of strangers get together to ride their bikes. I'm no stranger to riding in a bunch with mixed ability – it's something I do every week. From the strongest rider who surges up every climb as if the Maglia Rosa depended on it, to the rider who crafts their way gradually up an ascent, sometimes stopping to drink, eat or simply take in the views, group riding is about making allowances for all abilities. Thankfully, on a Skedaddle trip, it's not my concern. The ride has 2 guides at all times – a ride leader at the front, and what is essentially a "broom wagon" at the rear. The ride leader navigates us to our destination and pre-warns us of any dangers or difficulties ahead (or indeed where the next gelato stop is), whilst the guide at the back follows in a Skedaddle minibus carrying spares, supplies and the promise of an air-conditioned ride if the going gets too tough. Compared to self organised trips or club runs, it's a reassuring and care free way to ride. Puncture? Not a problem. Mechanical? You're covered. Need a drink or food? They're there. And in the unfortunate event of a crash or a climb too far? You'll be scooped up and pampered in the minibus.
Our lead guide is Massimo, who despite a love of mountain biking (strange chap) is an extremely strong road cyclist. He has just returned from a trip in the Dolomites to lead us through what must seem like flatlands to him. Our other guide is Gianfranco, who bears a passing resemblance to how I imagine Marco Pantani might have looked like now if he was still alive. They are unapologetically Italian in every way, and their enthusiasm for their country and cycling is contagious. Having said that, it's not difficult to see why.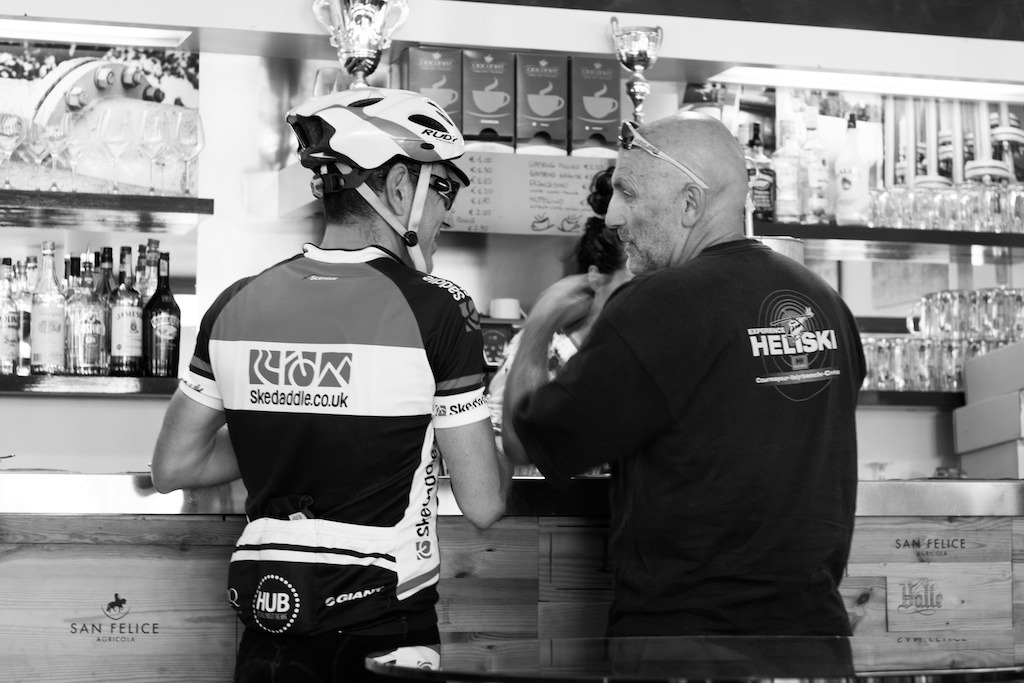 Breakfast
Breakfast is usually around 7:30 and at this time in the morning I am no company, but at least there's espresso on tap. The spread is generally continental – fruit juice, cereals, cold meats, cheese, pastries, croissants, bread and an assortment of spreads (including Nutella – although it tastes like dark chocolate in Italy). It can take a little getting used to, and by the end I was craving a good old fashioned bacon sandwich. A laptop shows the day's profile, which is a good or bad thing depending on who you are. After breakfast it's a case of packing our luggage (which is transported in the back of the minibus) and placing any items we might need on the ride in a "day bag". The day bag sits in the front of the minibus for easy access along the ride. We check out, gather in the hotel grounds, and with the collective sound of clipless pedals snapping and clicking into action, we depart.
Espresso Stops
The distances between stops are well balanced and placed at opportune moments. No large climb is attempted without checking the group is fed and watered, and regular stops are used by the Skedaddle team to check the wellbeing of the riders. Water bottles are routinely replenished, and an assortment of fruit, muesli bars and blueberry tarts (oh how I miss those blueberry tarts) are handed out to avoid the "knock". There is always a mid-morning cafe stop, an opportunity to regroup if there has been a split, and a chance to discuss any forthcoming climb and enjoy an espresso.
Once the coffee stop is over, the fun usually begins. On 3 of the days this means a challenging climb – the Madonna del Ghisallo, the Passo di Zambla, and our cimo coppi, the Passo di Maniva.
Madonna del Ghisallo
The Madonna del Ghisallo climb is unexpectedly tough. Living and riding in Northumberland, I am used to climbing, and I am used to the occasional severe gradient. Our Northumberland climbs are known for being short but steep, so the Madonna del Ghisallo doesn't worry me. The reality is quite different – the combined length, heat and gradients of 16% make the climb a challenge for everyone – and not for the first time the Skedaddle broomwagon is called into action. Thankfully for me, my stubbornness kicks in and grind myself to the peak, to one of the most famous places in cycling folklore.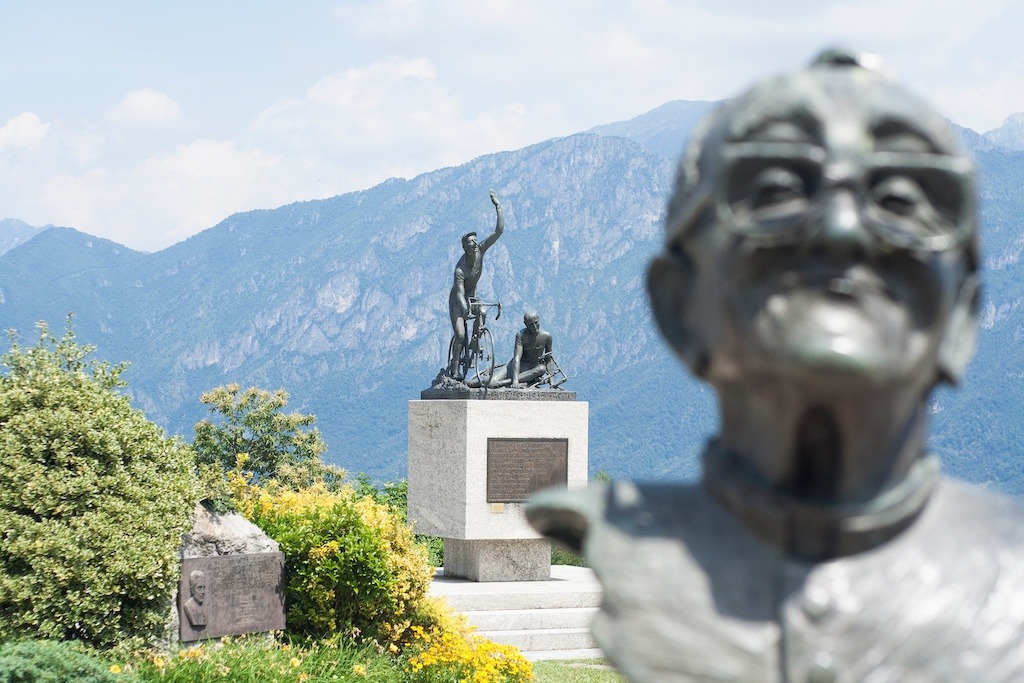 Whilst legend differs according to source, the 11th century count, Ghisallo, was attacked by bandits. When he prayed for help, the Virgin Mary appeared, terrifying the bandits who fled the scene. In an effort to spread the word of the miracle that had saved his life, he built a small church in her honour. The Madonna became the patroness for local travellers on the route, and when the climb became part of the famous classic Il Lombardia, she was eventually declared the patroness of cyclists by local priest, Father Ermelindo Vigano. The church is now a museum like shrine to past heroes of cycling such as Fausto Coppi, Gino Bartali, Fabio Casartelli and Francesco Moser. The sheer amount of memorabilia that has been collected has led to the opening of a separate museum next to the church. From such a lofty position, overlooking the Italian mountains and lakes, surrounded by the very fabric of cycling legend, the Madonna del Ghisallo is the closest we will ever get to the gods of the sport of cycling.
Passo di Zambla
At 23km long, the Zambla is the longest climb of the trip. It's not steep, and averages 3.9%, so it's less than some of the climbs I'm used to in Mallorca, just a lot longer. As we start in San Pellegrino Terme, we don't have long to warm the legs before beginning the climb. We approach the climb via a bike path along the valley, where the views of the surrounding mountains make it very clear there's only 1 way out! Sure enough, we take a sharp left off the bike path and the road becomes immediately more grippy. Off to Zambla we go.
A third of way in to the climb we hit a small town, one of the last we'll see, and road closures mean we must divert. The diversion is a killer – 20% plus gradients mean some will walk, whilst some will wrestle their bikes at walking pace back onto the main route. After this severe examination of our legs, we are (thankfully) back on the more gentle slopes of the climb, winding our way to a rest stop in the village of Dossena. The view from Dossena demonstrates just how far we've climbed, but alludes to how far we have left. The vista, however, is nothing short of stunning. Fully loaded with espressos and gelato we recommence our Zambla climb.
Winding roads through narrow, tree covered scenery may shade us from the sun, but does little to reduce the temperature. You can see the world from here, and at no point does the view become repetitive, nor can you take it for granted. As the legs begin to tire, the Skedaddle minibus passes us – and we know what that means. The final kilometres take us through a small town (where some of the luckiest people in the world live) and up to a chalet style restaurant and parkland – where there is a trip of some sort for a large group of Italian school children. The rows of coaches tell me their journey to Passo di Zambla, whilst probably no less rewarding for them, has been somewhat easier than ours.
Passo di Maniva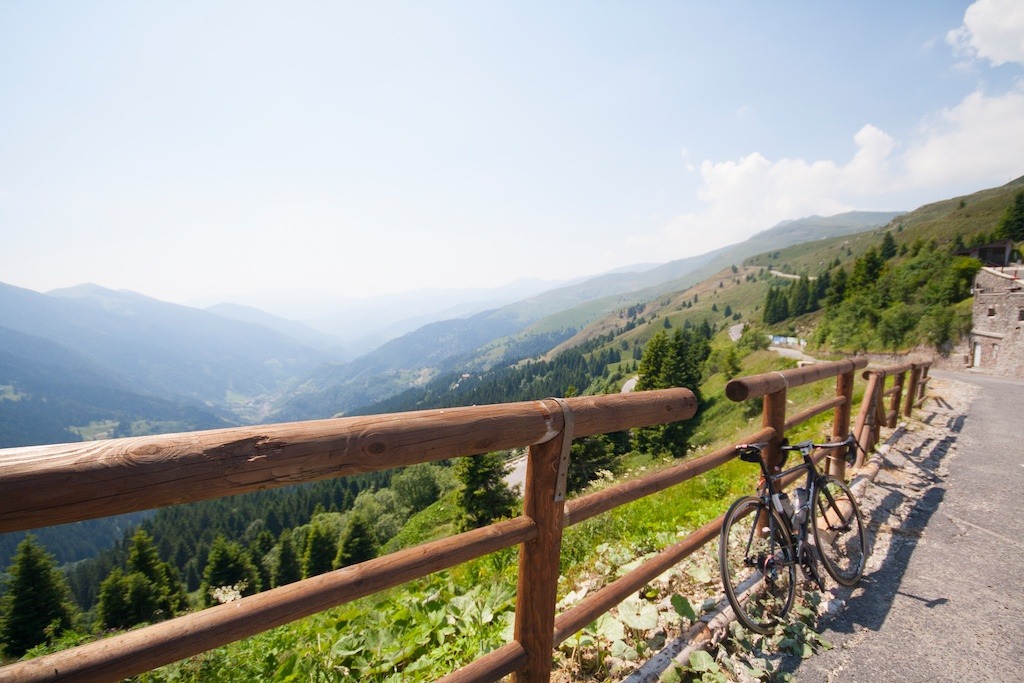 Maniva is the cima coppi of our trip – that is to say it is the highest point we will climb to. Maniva, in the province of Brescia, is a climb that has been used in Il Giro d'Italia. At 12.4km, it's average gradient is 6.7%, topping out at 1664m above sea level.
At it's peak is a ski station, and it can be reached via either Bagolino or Collio. We ride from Collio, on our way from Clusane. We stop for refreshments in Collio where we regroup, eat, drink and prepare for the pass. We've already been climbing steadily for some time through the valley. A Pro Continental race team is training on Maniva, and the riders all wave at us as they pass through. Everyone clips in and begins the ascent at their own pace – and for this climb I'm on pacing duties for my better half. The climb up Maniva is reminiscent of an Alp – the foothills are lush and green with running water and small towns and villages but as the climb proper starts, there are smaller villages and the terrain is slightly more exposed.
It's baking hot, and we're thankful for every bit of cool shade offered to us, but as the climb goes on the opportunity for shade gets less and less. After having ridden Huez, there's a familiarity to this rhythm. It's a left-right-left-right pattern that is designed only to make it to the top, regardless of speed or time. After what feels like an eternity – I can't remember what it's like to not be climbing – the Skedaddle minibus passes us and we know we aren't far away. The final kilometre comes, and I am released by my better half to enjoy the final part at my own pace, not that there's much left in the tank after such a climb. One final hairpin bend and we're into the ski resort, where a wide open car park with a restaurant and church welcomes us with a Skedaddle picnic. I've ridden Maniva like a faithful lieutenant, rather than riding to my limits – but I have enjoyed the experience more this way.
Lunch
More often than not, lunch is the famous Skedaddle picnic. You always know when you're close to the summit of the climb as the Skedaddle minibus passes you, on it's way to begin preparing the feast. Sometimes, I swear the minibus almost looked like a gigantic fridge on wheels as it passed. Fresh salads, pasta, meats, cheeses and breads are accompanied by ice cold mineral water and fruit juices, along with fruit, cake and tart. If the views offered by the Italian climbs weren't reward enough, the Skedaddle picnics certainly are.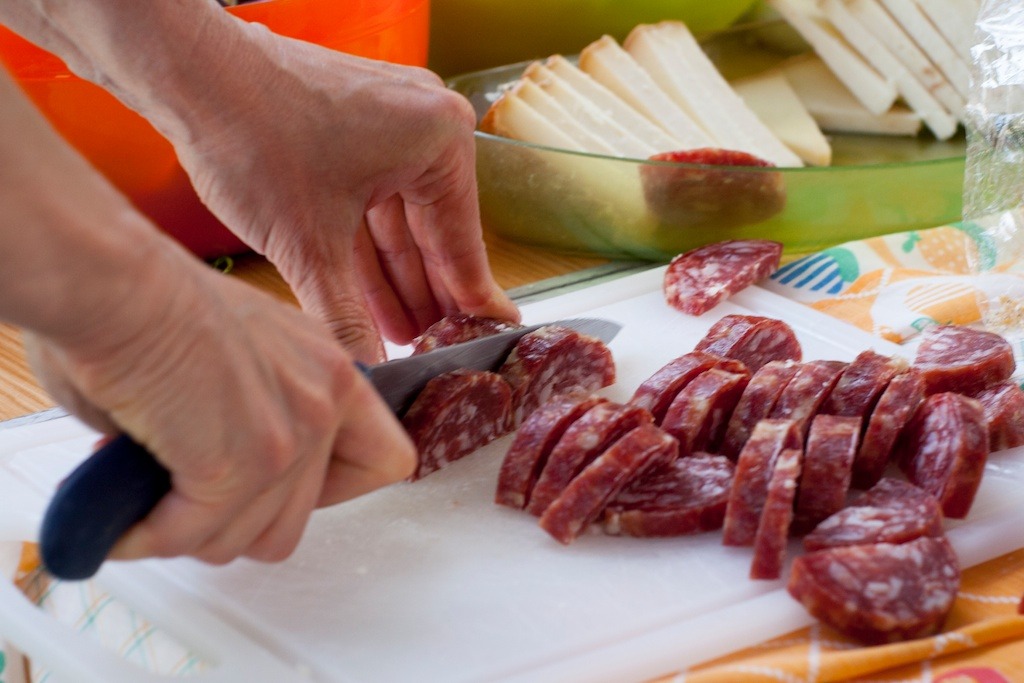 What goes up…


Inevitably, after the climb there is the descent. I enjoy the climbs, don't get me wrong. There's a challenge and an enjoyment in suffering, and in that respect cycling is nearly unique. However, the sheer excitement and reward of a descent is almost unparalleled. With the exception of the Maniva descent, the roads around the Italian lakes are superb for giving it some beans – smooth, well designed, predictable. There's very little in the way of nasty surprises. High speed chases are a real possibility. More than once over the trip my GPS registered over 50mph.
Arrivederci, Italia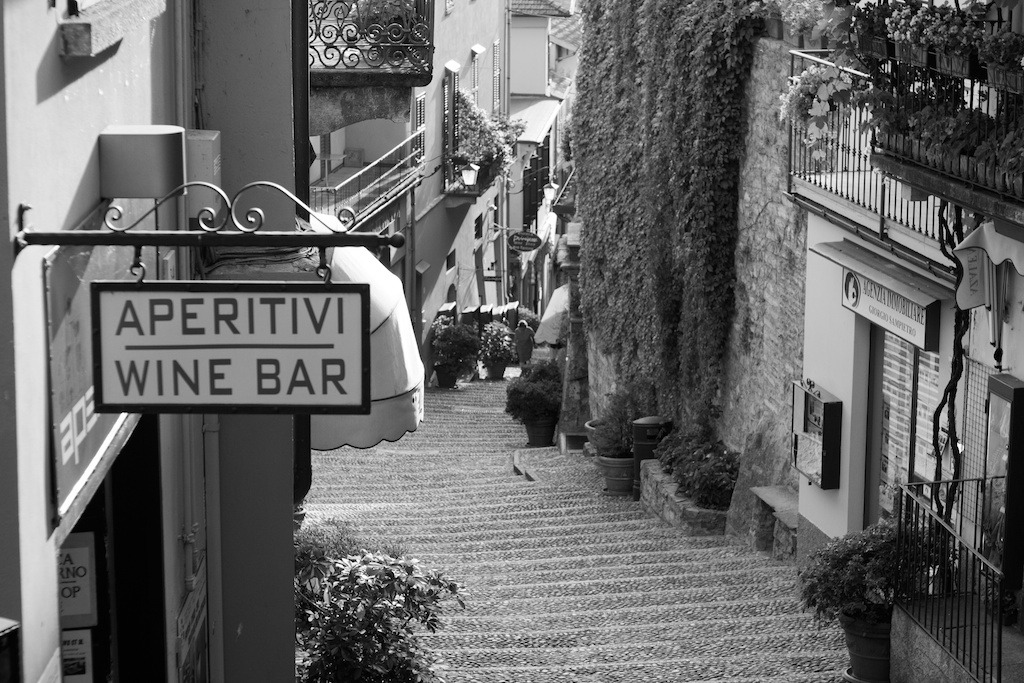 This is not a sightseeing trip of the Italian lakes. Nor is it an Alpine training week. It is something between the two, yet far more. It is an opportunity to sample the beauty of the Italian landscape whilst challenging yourself to some very decent climbs in the process. It is suitably rolling in terrain to encourage riders to push themselves without every day descending into a race for polka dot honours. It is also one of the most beautiful places I have ever been privileged enough to visit, and understand wholly why Skedaddle Italia designed the trip. I feel honoured and humbled to have seen such a place.
If you are looking to tick off famous climbs, this probably isn't the trip for you. If you're looking for a sedate journey through Italian countryside, I'd again recommend looking elsewhere. However, if you are a relatively strong rider, looking for a week of great riding, amazing food, fantastic company, and breathtaking scenery, then this is the trip you've been looking for.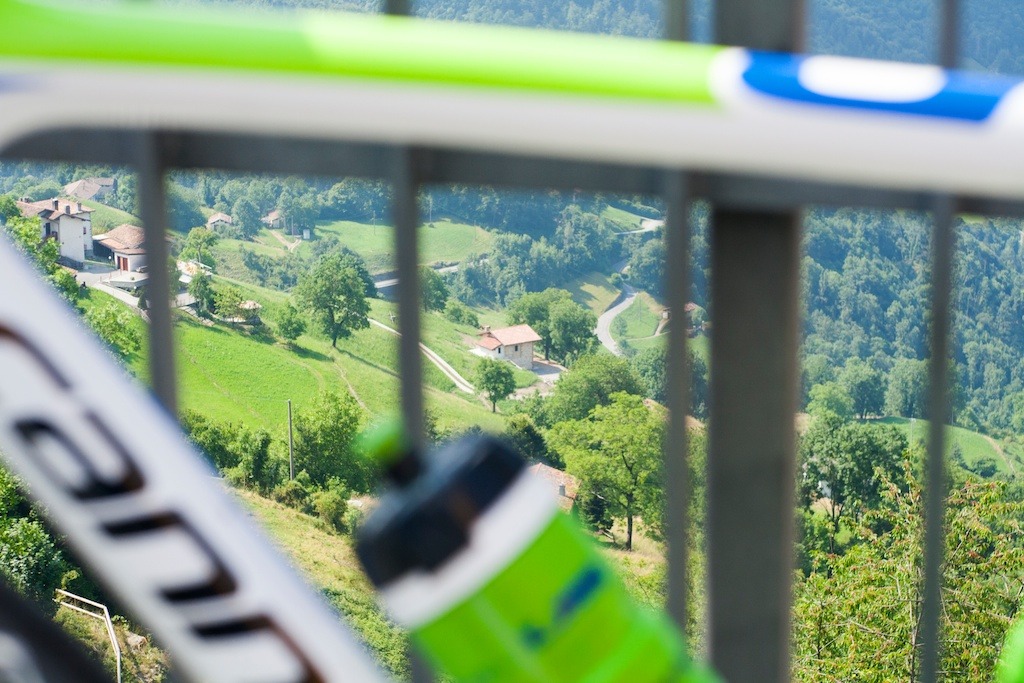 Trip Itinerary
Day 1 – Arrival, and an airport transfer from Milan Malpensa to Angera on Lake Maggiore.
Day 2 – Angera to Cernobbio (56 Miles / 90 Kms)
Day 3 – Cernobbio to Bellagio via Madonna del Ghisallo (45 Miles / 72 Kms)
Day 4 – Bellagio to San Pellegrino (42 Miles / 67 Kms)
Day 5 – San Pellegrino to (Sarnico 56 Miles / 90 Kms)
Day 6 – Sarnico to Lago d'Idro (54 Miles / 78 Kms)
Day 7 – Lago d'Idro to Lago di Garda (47 Miles / 75 Kms)
Day 8 – Departure, a transfer from Lago di Garda to Verona or Bergamo
Thanks to James for this fantastic insight into our tour of Lombardia! To read his original article in full CLICK HERE. For more information about our road cycling holiday, Lakes of Lombardia, see our website.