Welcome to Cagliari! In Sardinia it is known as Casteddu and translates simply as castle, the island's capital is packed with steep streets, where medieval meets modern, and it's here where you will discover the most peculiar mix of customs and traditions influenced by many different inhabitants who have called the city home over the years.
In a nutshell…
Cagliari is the largest city in Sardinia. As the island's capital, it has been very important throughout history, particularly because of its harbour, which is one of the largest ports in the Mediterranean Sea. Cagliari is built over seven hills, just like Rome, so be prepared for a few cheeky ascents as you explore!
Cagliari's beautiful Poetto beach extends for 8 km and is one of the longest beaches in Italy and interestingly all of Southern Europe – perfect for finding a spot to lay your towel down for the day! Right behind Cagliari, Molentargius Natural Park is also home to thousands of pink flamingos. See if you can spot them flying over the city skyline.
Sights not to miss…
Castello is the main historical and symbolic district in Cagliari. In the fourteenth century, it was a fortified area, safeguarded by two towers. Many of the original medieval walls were torn down, but you can still enjoy a stunning view from the top of the Tower of San Pancrazio and the Elephant Tower today. Not far from here, you will find the stunning Cagliari Cathedral and curious National Archaeological Museum.
Also in Castello, you will find Bastione di San Remy, the most important fortification in Cagliari. Pop in and you'll be spoilt with an open rooftop terrace, complete with a view of the city, surrounding mountains and the sea.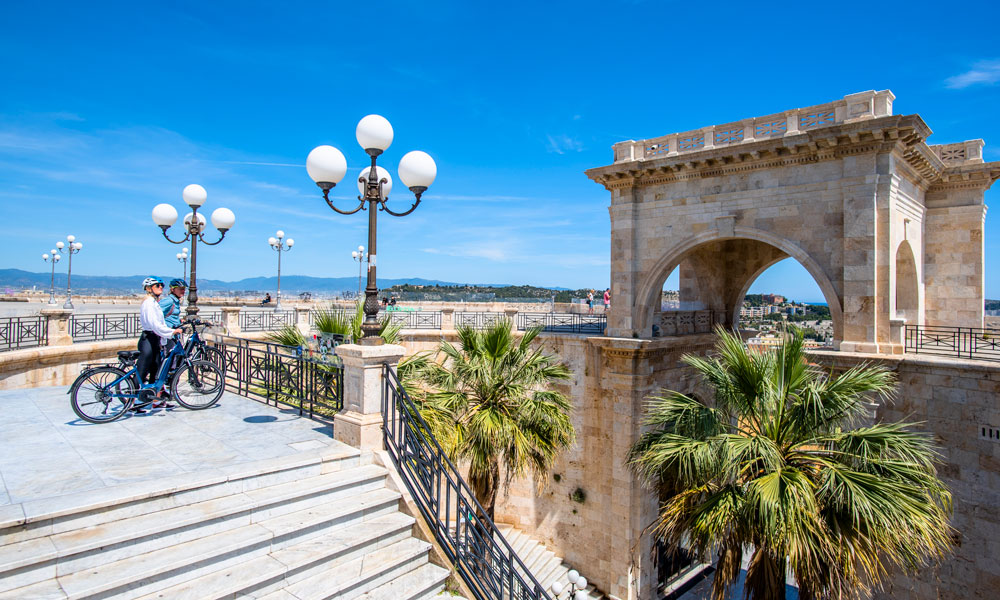 Santuario di Nostra Signora di Bonaria is a hugely popular pilgrimage site. It is the largest church in Sardinia and is definitely among the best places to see while here.
For those eager to explore beyond the city, we recommend heading to Poetto. One of the best things to do is a walk down the promenade (that also has a new purpose built cycle path) and take a short hike to the Sella del Diavolo – one of the most recognisable features of the city and well worth the walk!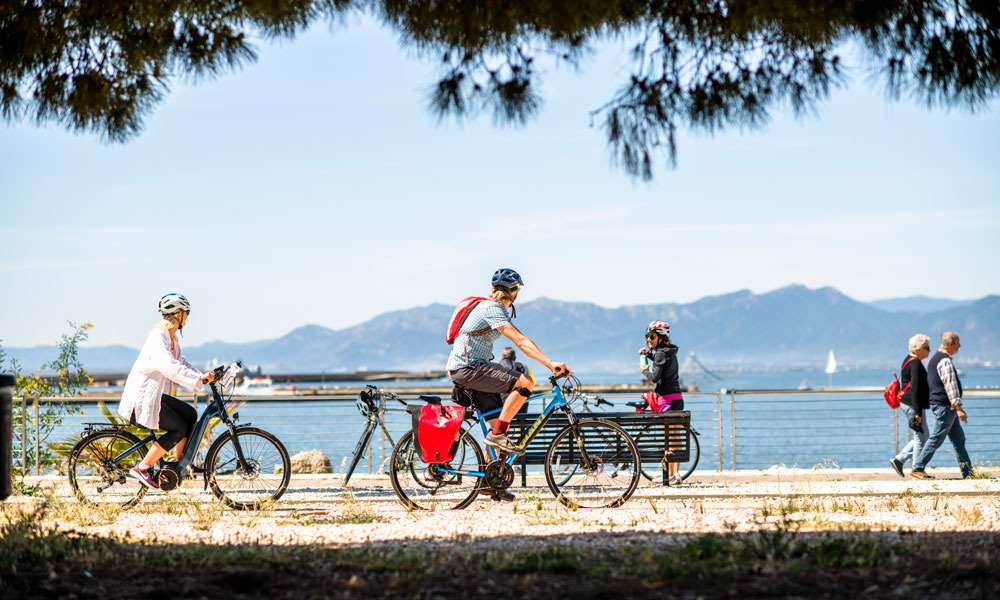 Flavours of Cagliari…

From intense to gentle flavours, Cagliari is full of temptations for the taste buds. The island remains tightly rooted to its social and cultural traditions and is blessed by a constant flow of fresh seafood.
Pop in to Sabores to get a taste of traditional products like wine, beer, cheese and meats! It's a great place to start your education of Sardinian foods. The owner and staff will be more than happy to share their expertise and answer your food and wine related questions too – local recommendations are, of course, always the best.
Dishes to try…
– The Fregola is a type of dry semolina pasta, which is prepared following one of the most ancient traditions of the island. In Cagliari it is typically served with clams.
– Porceddu is a suckling pig and one of the most cherished traditional dishes of Sardinia. The best ones are those cooked using lard and served on a bed of fragrant myrtle.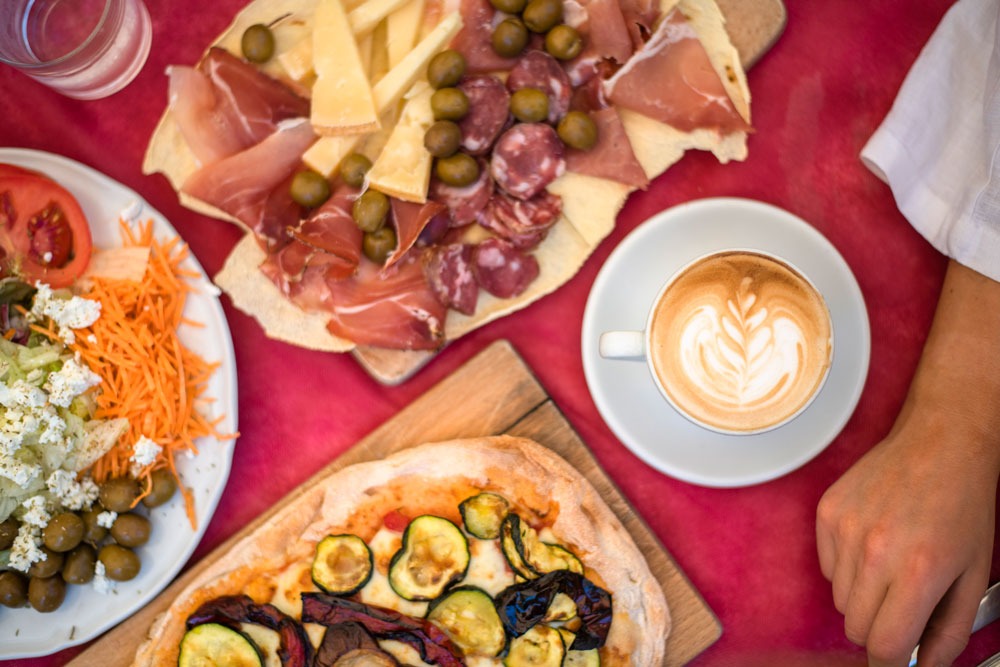 For a sweet tooth…
– Arantzada is composed of only three things: orange peel, honey and almonds and is a firm staple at Sardinian weddings and christenings. A luxury delicacy, if ever!
– Sebadas once were a starter, but now it's preferred to be eaten for the dessert. Filled with fresh sheep's cheese or ricotta, mixed with lemon or orange zest and different herbs, it typically comes served warm with honey or sugar on the top. Another unique Sardinian treat.
Other gems…

Explore the colours and flavours of Cagliari civic markets. It's a great opportunity to discover traditions and stories of the neighbourhoods, while enjoying the most authentic taste of Cagliari too. Cagliari is home of the largest covered market in Italy and one of the largest in Europe, the market of San Benedetto. Here you will find everything from fish, meat, fruit and vegetables to groceries and other produce too.
Our team says…

'My best advice would be to head into the area of narrow streets to the south-east of the Monumento a Carlo Felice and explore – lots of narrow streets, full of boutique shops, cafes and little piazzas to get lost in.' – Olly, Skedaddle videographer.
'Be sure to hang around historical districts of Marina, Villanova and Stampace. Have a coffee in Piazza San Domenico, take a break in Orto dei Cappuccini and have a special dinner in Stella Marina di Montecristo. Check out Cagliari Unofficial Guides Facebook page for inspiration and latest going-ons.' – Noemi from Skedaddle Italia, a true Cagliari local!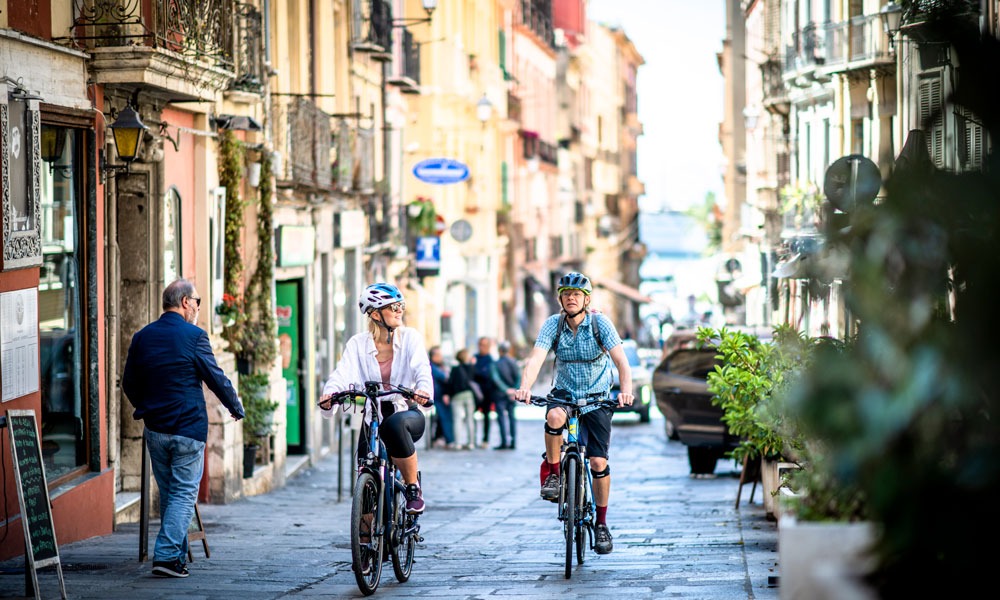 Feeling inspired? Experience Cagliari yourself…

With many flight options going to Cagliari, you always have an option to come here a day early or stay a bit longer after the trip to enjoy the city!
Cycling holidays in Sardinia