Welcome to Copenhagen! The capital city of Denmark, Copenhagen has long been a tourist hotspot of Nordic Europe – an intimate metropolis of culture and architecture, blended with urban design and functionality. If you're looking for a holiday destination with friendly locals, incredible tastes, an abundance of sights to see and most of all, cycling excellence, then look no further.
In a nutshell…
Copenhagen was founded in the 12th century. Over the years the city grew from its humble beginnings, eventually replacing Roskilde as the capital city of Denmark in 1443. Jumping forward a good few centuries, today Copenhagen welcomes over 1.6 million travellers a year and is now one of Europe's fastest growing cities. The world's leading travel guide publisher, Lonely Planet, has rightly chosen Copenhagen as the top city in the world to visit in 2019. Keep reading to find out why…
Sights not to miss…
Nyhavn Harbour is a real must-see. This picturesque 17th century harbour is lined with brightly coloured townhouses, the oldest of which, No 9, was built in 1681! The north side of Nyhavn is alive with bars and restaurants, making it a definite stopping point on a day out in Copenhagen.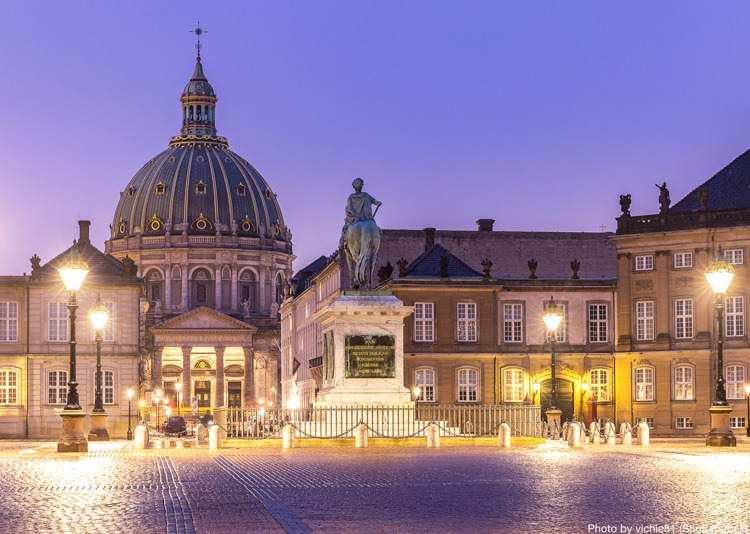 Amalienborg Palace is the winter residence of The Danish Royal Family and as such is not open to the public. However, in June, July and August the Royal Representation Rooms, the Gala Hall and other state rooms (which are still used by The Royal Family) are open for visiting. These rooms are only available on Saturdays for the rest of the year, however you can also observe the changing of the Danish Royal Guard (Den Kongelige Livgarde) at 12:00 noon every day, all year round.
For those who like to immerse themselves in art, Denmark's national gallery, Statens Museum for Kunst, features incredible collections of Danish and European art from the past seven centuries. In a mixture of permanent and changing exhibits, you will find here the works of great masters, as well as a collection of Danish contemporary art.
For an incredible cultural experience, be sure to visit the Vor Frelsers Kirke – a beautiful baroque church located a little further afield, in the Christianshavn district. Its gilded candy twist spire has made this a popular tourist attraction, as well as a national treasure.
Anyone who fancies a stroll, or even a relaxing pedal, can easily find a beautiful place to do so at any of Copenhagen's 3 adjacent lakes, which are right in the centre of the city. Throughout the summer months you can hire boats here – perfect fun for all the family!
Last but certainly not least is Tivoli Gardens, a 19th century historic amusement park which features one of the world's oldest wooden roller coasters built in 1914! With so many rides to try, plenty of places to eat and drink, and a variety of other seasonal entertainment, this is a fantastic stop for everyone.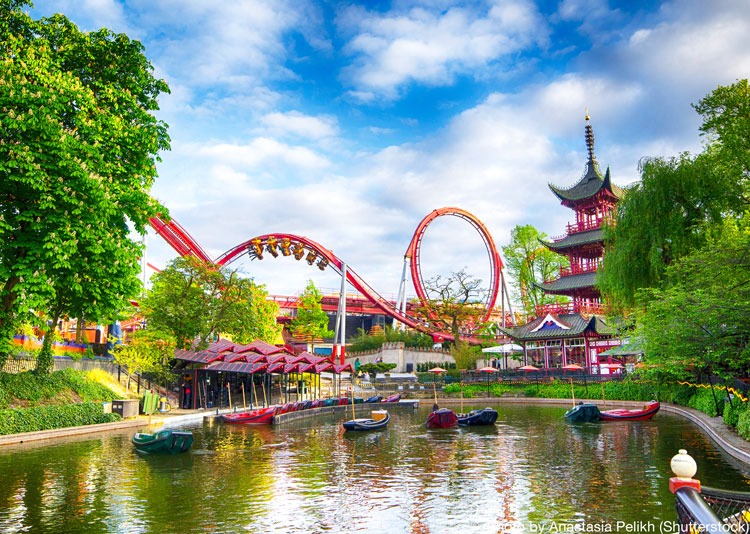 Flavours of Copenhagen…
2 Michelin starred restaurant, Noma, is renowned for its intricate Nordic/Scandinavian cuisine prepared by world famous chef René Redzepi. This world class restaurant has won 'Best Restaurant in the World' 4 times, and if you intend to visit, we suggest you try and book as soon as possible, as the waiting list can be up to a month long.
If you're looking for a more casual option, street food in Copenhagen won't disappoint! We recommend heading to Reffen – a street food market that hosts various street food vendors and is just a 15-minute bike ride away from Nyhavn. All vendors here were carefully selected judging by the taste of their product as well as their sustainability initiatives. Most food here is organic and made of local ingredients, and everyone is encouraged to recycle and reduce waste.
Dishes to try…
Smørrebrod – A traditional Danish farmer's lunch from the late 19th century; an open sandwich traditionally served on a piece of buttered Rye bread served with a wide variety of toppings.
Rød pølse – May remind you of a hot dog, a 'red sausage' served in a fresh bun and regarded as one of Denmark's national dishes.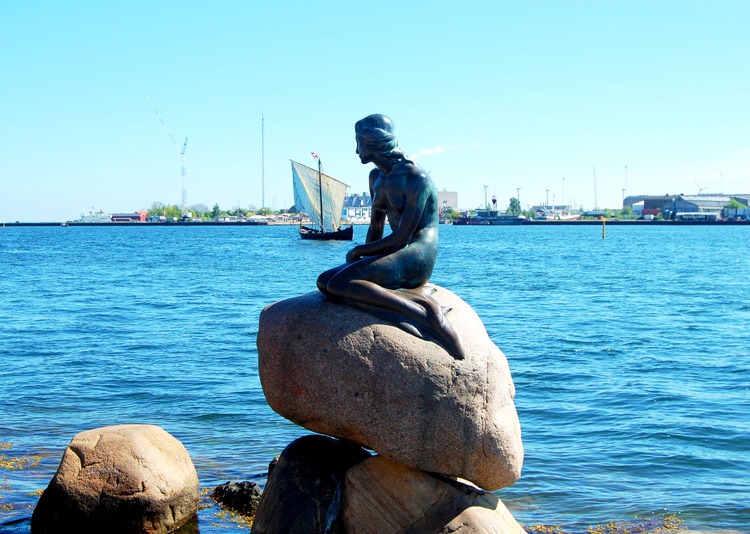 Our team says…
The Little Mermaid is a must see when spending time in Copenhagen, although I'd recommend getting there early in the morning for a good view of the tiny landmark! Alternatively if you're looking for something a little out of the ordinary, Assistens Cemetary (or Kirkegård), provides an atmospheric back-drop for an afternoon stroll. Some of Denmark's most celebrated treasures, like Hans Christian Anderson, are buried here and the gardens are really peaceful if you're looking for a moment of calm. – Kay, Leisure Cycling Expert.
For a good night out head to Kødbyen, Copenhagen's Meat Packing district – Jolene and Bakken are two stand out bars playing decent music with a creative but chilled vibe, for a more intense night of clubbing Strøm and Vega are good. Also for any David Lynch fans The Log Lady is a pretty niche but cool little bar, very in keeping with it's namesake. There's also lots of nice places to eat and have coffee in Kødbyen. For art lovers Louisiana Museum of Modern Art was my favourite gallery; although it's a 30min train outside the city the location is really pretty, right on the beach but also surrounded by forest. – Dan, UK Operations Coordinator.
Feeling inspired? Experience Copenhagen yourself…
Copenhagen is hailed as one of the world's best cycling cities and this is why in 2019, we have introduced two NEW cycling holidays in Denmark to our range that explore this stunning Scandinavian gem. Our leisure holiday, Coast, Castles and Copenhagen is a relaxed affair that allows you to explore Copenhagen and East Zealand at your own pace. Or, go for our family friendly version, Zooming through Zealand, that is similarly gentle, and pushes you to explore this spectacular city and country together with your family.