Total Womens Cycling magazine recently featured an article about a group of women from BikeRight! (residents of the Cycle Hub) who completed the Hadrian's Cycleway route over 3 days. Here's their account of the 174-mile adventure…
What could be more fun? 8 women riding the route of Hadrian's Wall together in the balmy post-Easter sunshine, combining challenge with camaraderie and the freedom of the great outdoors. That was our plan back in the dark days after Christmas when we'd all eaten too much and had resolved to give up drinking, just for a little while anyway.  We needed something to work towards that would set us up for a healthy year.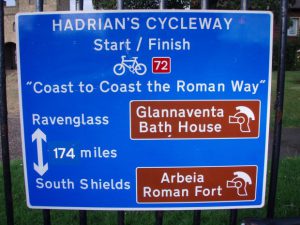 Several of us had completed the Way of the Roses in last year's torrential Jubilee weekend, so we wanted to give the cross-country experience another chance.  Hadrian's Cycleway presented exactly the opportunity we needed. Being based in Manchester, we arranged to use BikeRight!'s minibus and trailer to get us to the start at Ravenglass. A kind BikeRight! volunteer who'd drawn the short straw drove the van cross country, so three days later, when we finished, the transport was ready and waiting for us, at Newcastle Cycle Hub.
The easy bit was buying the Sustrans map of National cycle route 72, agreeing who would lead each day and find cafe stops along the way. Accommodation was booked at Queens Hotel in Silloth (highly recommended) and Once Brewed Youth Hostel. Then it got harder.
Deciding what to carry in our panniers, getting the balance between having everything a girl might need against minimalist packing to keep the weight down. One pair of shorts or two? None of us took a hairdryer, but we all took enough food and snacks to feed a whole family of starving cyclists and as the snowy weather continued week after week, more and more layers of winter gear were piled up, ready to be packed.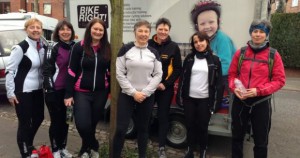 On the technical side, two of us had new bikes to try out. Others bought pedals, cleats, overshoes, merino wool base layer and skullcaps. The days leading up to the ride were taken up with test rides, clicking in and out of newly-adjusted pedals, saving the route onto Garmin's, checking of lists: first aid kit, phone charger, chamois cream, lip balm, water bottles, pump, tools, and last-minute additions – chain cleaner, rags, extra gloves, waterproofs.
Several of us had undertaken a 3-day tour of Cheshire only a few weeks previously, and the others had done a few thirty-milers in preparation, but the weather had made it hard to get out much, and for a couple of the riders, their cycling legs relied purely on the commute to work. They were about to get a rude awakening.
The first awakening was a heavy frost on day 1. Arriving in Cumbria amidst banked-up snowdrifts; just weeks ago this road was impassable. The mood in the group was quiet as we took our first photo at the Roman baths, the sense of trepidation about what lay ahead dominated the atmosphere.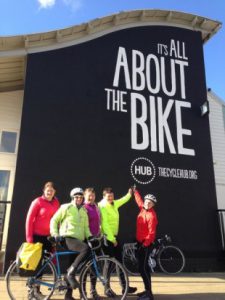 Once we got going, cycling up the West Cumbrian coast with the glittering sea on our left and snow-spotted Lake District hills and mountains on our right, our energy started pumping.  We dipped our bikes in the sea at the Coast-to-Coast monument at Whitehaven and skirted Sellafield on a long stretch of well-maintained off-road cycle path.  "Hello, Isle of Man," said one of us as Scotland hove into view across the Solway Firth. She wasn't born in the UK, that's her excuse.
Our landlady at the excellent Queen's Hotel in Silloth exclaimed as we pulled up in full sunshine "It always rains here; it's the exception if it's fine." We weren't arguing, as we indulged in a hearty meal at the equally excellent Golf Hotel down the road.
Next morning, it's 9am and we're raring to go.  The sun is blazing again, so we ignore the white frost sparkling in every shadow and start off for 30 miles of flat riding to Carlisle. With the sun warm on our backs and the icy wind slicing through our helmets, we warm up quickly.  As our route hugs the coast, we get to see the wonderful wildlife the British coastline has to offer; egrets, a heron, and further inland buzzards, curlews and skylarks.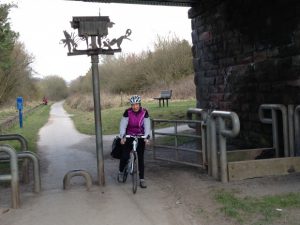 This is a long day. We get lost in Carlisle (low point) but then discover the Cathedral cafe with superb soup and cake (high point).  Then it's the serious business – another 40 miles to go.  Being a group of women riding together, there's a strong sense of support for each other, waiting at junctions, encouraging the woman who's never done a cycle tour before, taking turns leading against the wind. Our speeds vary wildly from 8 mph to 15mph.
We're sustained by home-made flapjack and almond cake (lightening the load in the panniers) and conversations, getting to know each other.  We know we're trying to do too many miles, and facing the constant 'Beast from the East' headwind means we're losing more and more time.  Then there are the frequent stops for photos – it's not our fault that the landscape is so beautiful, or that we keep passing historic monuments or just awe-inspiring sights.
At 5pm we're drinking coffee in Brampton, with 22 miles to go and the biggest hill yet to climb.  One of the group has cracked under the time pressure, and ridden on ahead.  Another had knee problems and took the train, promising to meet us this evening. So now we are six, halfway through day 2. We stuff down jelly babies, big gulps of water, and press on: two and a half hours of sheer determination, working together, whingeing and laughing, pushing through that wind.
When we reach the ridge and stand on the actual Hadrian's Wall – Banks East Turret –nobody's thinking of hardy Roman centurions. Instead it's just, how far is it now, and are we going to make it to the pub for our 7.30pm evening meal? The route has been very well signposted, but we opt for a short cut that shaves off 3 miles but adds three hills. We stumble into the pub – unwashed – at 8pm, three minutes before the kitchen closes, and devour our dinner. Unwisely, four of us finish off with a celebratory whisky, forgetting we have another day to go.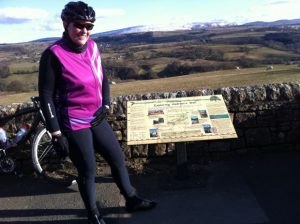 After the epic 70-mile effort, the final day's 50 miles is tame by comparison.  The headwind continues, but the terrain flattens off and before long we're trawling alongside the Tyne, sharing tips on riding technique and trying to forget about aching backsides and twinges in various joints. True to form, we stop at a fab cafe in Corbridge and stay far too long consuming scones and enjoying each other's company.  Everywhere we go we're a spectacle: eight women in full cycling kit, red-faced, triumphant voices proclaiming the latest achievement – a hill climbed, fear overcome, bruises from a fall.
Unbelievably, as we roll into Newcastle, we realise we've had three days with no rain and no punctures.  Fingers crossed, difficult with two pairs of gloves on, we progress to the Cycle Hub on Newcastle Quayside, where the hardy types amongst us carry on to the bitter end: nine more miles along a glass-strewn cycle path and a ferry ride to South Shields – the boat has a Route 72 sign on it – to the final stop at Arbeia Roman fort in the middle of a housing estate.
We've done it.  Together we've pulled ourselves through icy wind, long hours in the saddle, hills that seemed impossible, and pedalled 170 miles in 3 days, from one side of the country to the other.
Driving home in the dark, our last stop is Westmorland Farm Shop at Tebay Services.  Eating lamb hotpot in the minibus, Yasmin reflects on her first cycle trip:  "I made it. I can't believe I did it, I did those miles."